Congratulations—you have launched a new product or company. Now you need a name, one that is not only reflective of your brand personality but one that can withstand extensive legal screenings and lend itself to a strong domain.
One of the first decisions you will need to make about your name is whether you would like to develop it on your own or work with a naming agency.
Both options have benefits and potential challenges. Let's take a look at each.
Naming: Do It Alone or Hire an Agency?
The benefits of naming your company or product yourself or with the help of your in-house team include:
Affordability: Handling naming in-house is less expensive than hiring an agency, but you may still need to hire a lawyer to handle trademark issues.
Ease: You will control the entire process, and project management should be fairly simple.
Expertise: You know your business and your customers better than anyone. That knowledge might help you create on-target names.
Naming, however, is a difficult, complicated process that will probably require more time and energy than you expect. Companies choose to partner with professional branding and naming agencies because they trust their experience, creativity, and legal expertise.
If the process is managed correctly, outsourcing naming should save you time and result in a short list of powerful names you may not have come up with on your own. The benefits of partnering with a naming agency include:
Quality: Agencies draw on a wealth of experience. They understand what names work and why. Agencies can also help you step out of your comfort zone because great names aren't always the most comfortable.
Peace of mind: A naming agency has the know-how and legal resources that can increase your chances of avoiding the likelihood of confusion with another mark.
Time-saving: Naming is a full-time job. By outsourcing the process, you will save time and energy for other aspects of your business.
If you decide to go with an agency, the agency will drive the process, but your ability to communicate your business objectives and preferences will play a big role in determining the effectiveness of your relationship.
What is the Typical Naming Process?
Almost all agencies customize a project to meet the special needs of each client, but most follow some variants of the steps detailed below.
Step 1: Agency Conducts Research to Understand Your Industry and Interests
A naming agency knows the type of information it requires to best do its job. In addition to asking you pointed questions during your phone or in-person meetings, an agency will typically ask you to fill out a Naming Questionnaire.
Naming Questionnaires vary, but most agencies will ask you questions in the following areas: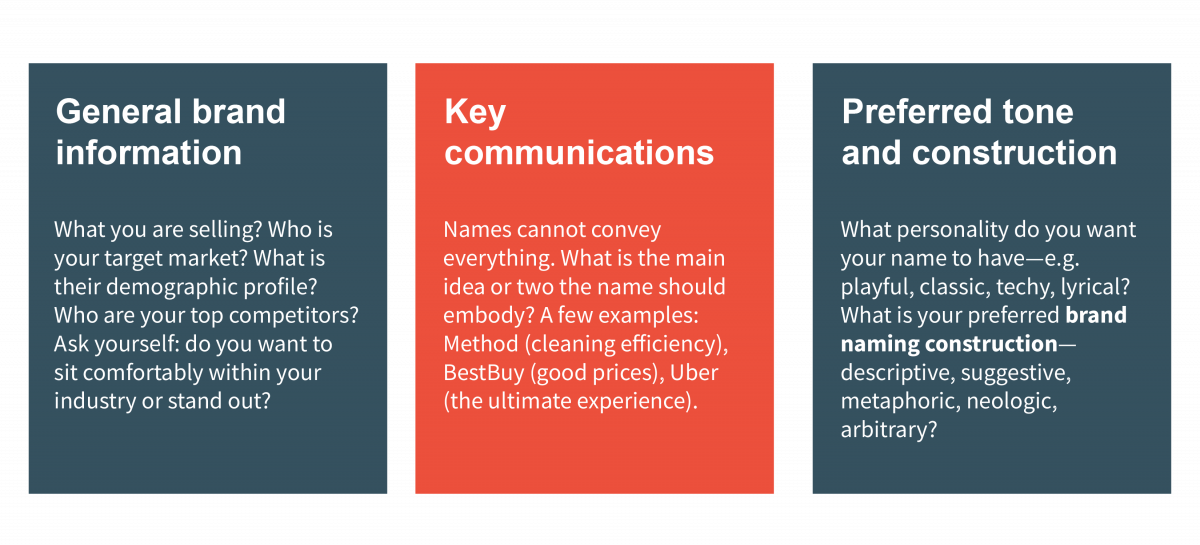 The agency will ask you general brand information, key communications, and preferred tone and construction to learn about your company and the type of name that would suit it best.
Step 2: Agency Develops the Naming Strategy and Creative Brief
Once you have provided your naming agency with the completed questionnaire, they will develop a naming strategy and summarize it in a creative brief. This brief is like a blueprint—it helps the naming team build viable name candidates.
One of the most critical functions of the naming brief is to identify naming themes—also known as territories, pathways, or routes.
For example, let's say you are seeking a name for a marketing agency that helps grow women's indie brands into established ones. Three possible naming themes might be: growth, bold and brilliant women, or democracy. Each of these themes would generate different kinds of names.
Step 3: The Naming Begins
Generally, a naming agency may employ anywhere from two to six namers to participate in name development. Although every namer has a different approach to name generation, one thing is certain: Naming is an exhaustive enterprise. Many projects require namers to come up with hundreds of initial ideas.
The namers will use the brief as a starting point and will likely explore literary and cultural references, metaphors, foreign language translations of keywords, interesting spellings, and suffixes and prefixes.
They will study the copy of relevant industries in magazines, search venture firm portfolios, and much more in search of interesting ideas.
The one thing most qualified agencies do not do is rely on a thesaurus. This is just a starting point. First, most relevant dictionary words that are similar to a concept of interest will already be in use. In addition, a thesaurus doesn't encourage lateral thinking—the solving of a problem through a new or indirect approach.
The role of lateral thinking in naming cannot be overestimated. One of the approaches we take at River + Wolf is to wander through stores selling products distinct from those we are naming. This often prompts unusual ideas.
Wine names, for example, might inspire creative names for a brand line of clothing. Computer technology names could prompt ideas for a new bicycle or yoga wear name. The names of tulip varieties could lead to interesting social media names.
Once your naming agency is satisfied that the team has pursued every possible angle, they will whittle down their choices to the strongest contenders.
Step 4: The Agency Presents Its Work
Next, the agency presents its work to you – either on-site or over a teleconference call.
Although presentation format varies from agency to agency, many use PowerPoint with one name and a rationale per slide. And although it is possible to do only one round of naming, most agencies prefer at least two.
Despite a well-articulated brief and in-depth upfront strategy sessions, it is sometimes challenging for clients to know what they want—or don't want—until they have seen a pool of names. It is not uncommon for the first round to lead to a new or modified set of naming parameters.
Depending on your agency, you will be viewing either unscreened or pre-screened names. Each approach has pros and cons.
In presenting a broader list that hasn't been subjected to a serious preliminary or knockout screening conducted by an IP attorney, there is a risk that you could fall in love with a name that is confusingly similar in sound, appearance, or meaning to a mark already registered or pending in the same trademark class at the United States Patent and Trademark Office (or its international counterparts).
Sharing too narrow of a list, however, might not provide enough of a choice for some clients.
Whatever approach you take, most agencies require between 3 to 6 weeks for a standard project. Large corporate projects and global naming can take much longer.
What Not To Do During a Naming Presentation
Remember, an agency and a client are a partnership. To help ensure you get the best work possible from your agency partner, remember to do the following: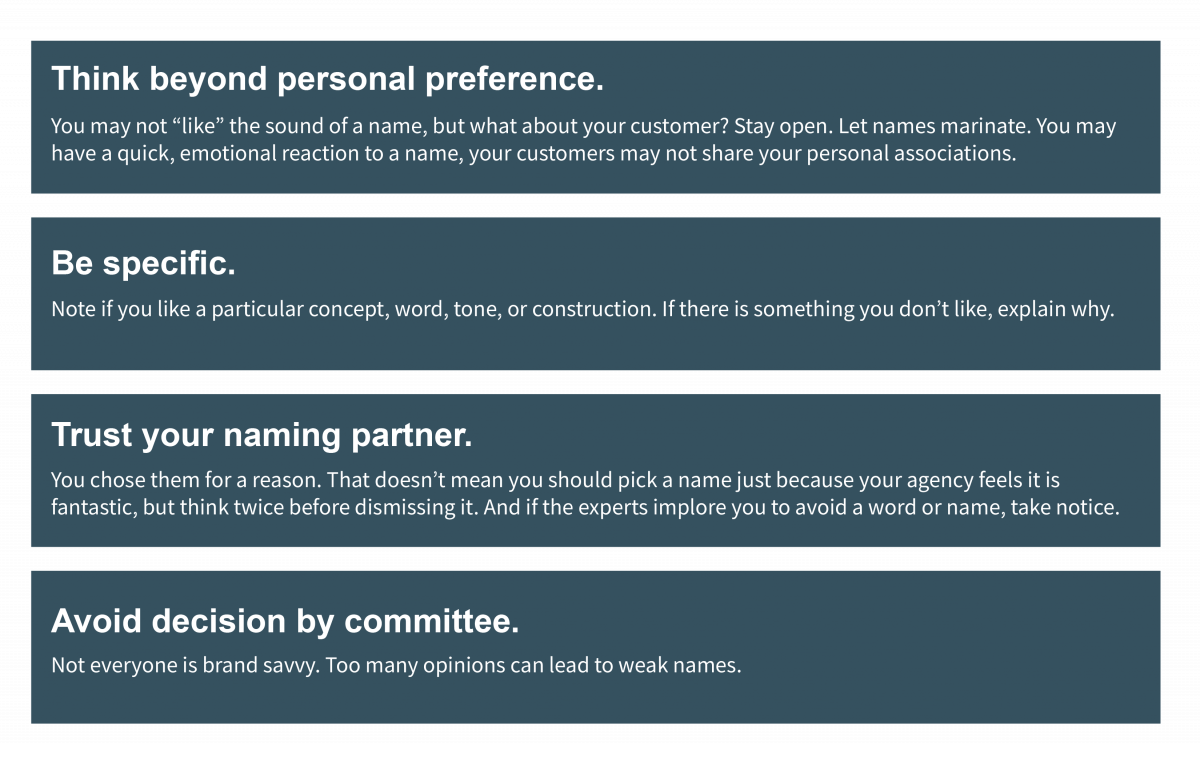 Think beyond personal preference, be specific, trust your naming partner, and avoid decision by committee.
Step 5: Have a Trademark Attorney Conduct a Full or Comprehensive Search
A preliminary trademark search is not sufficient. A qualified attorney must conduct what is known as a full or comprehensive search prior to registering a name because protection can also arise from names that have not been registered with the USPTO.
Continuously using your name in connection with your goods and services leads to common law trademark rights. That said, these rights only extend to the places where the trademark has been used in commerce. You will also have other important rights if you register with the USPTO.
Additionally, if you do not register, you will not have the right to use the ® symbol to give notice of your mark's status.
For a very brief overview of trademark issues, visit River + Wolf's blog.
If you are operating in international markets, you will also want your naming agency to perform a global linguistic check with speakers native to the places you will be selling.
Successful Client and Agency Partnerships
In sum, namers are experts at what they do, but it is your job to provide the agency with detailed and well-thought-out information to help ensure they hit the mark.
You should also be prepared to provide constructive feedback throughout the process so that, together, you can complete the elusive, exhausting but always fulfilling task of finding an exceptional name.
---
About the Authors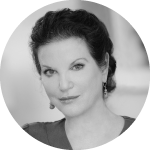 Margaret Wolfson is the founder and chief creative of River + Wolf, a top-rated branding, naming, and writing agency that creates product names, company names, and services names for companies of all size and in all industries, among them Yum China, Target, Burt's Bees, and Unilever, as well hundreds of mid-sized businesses and start-ups. Margaret has been featured in or written on the subject of naming for the media, including Forbes, The Huffington Post, Crains, AdAge, Fast Company, More Magazine, Inc., The New York Times, NBC News, and The Next Web. She is also an active educator and has delivered keynotes on naming and verbal identity at such places as the Harvard Business Club and New York University. She is also involved in the branding and development of the Arts and Entrepreneurship Initiative at UC Santa Cruz. Prior to establishing River + Wolf, Margaret had a long career as an award-winning author and accomplished performer, producing/performing spoken arts concert throughout the world. Margaret received a Masters from New York University in theater and literature.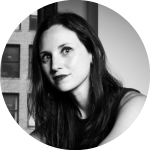 Jacqueline Lisk is the founder of JR Lisk, who partners with River + Wolf in the areas of messaging, naming, and naming stories. Jacqueline is a writer, editor, and marketing strategist with 14-plus years of professional experience. Her work has appeared in dozens of publications and newspapers, including Forbes, USA Today, Washington Post, Entrepreneur, AdExchanger and AdAge. Jacqueline also works directly with companies big and small to devise content marketing strategies. Past and present clients include Twitter, Anderson Technologies, Inc. mag, Blast PR, Mediaplanet, UberMedia, The UPS Store, MailChimp, MODCo Creative, H&M, Monster.com, Las Vegas Tourism Board, and Regions Bank. Jacqueline has a bachelor's in journalism from Boston University.