Updated April 1, 2022
In 2016, online shoppers expected to wait 4.8 days for a package delivery. In 2019? The largest percentage (48%) said they typically received a package within 2 to 3 days, according to Clutch's data.
Deliveries must move fast in the age of online shopping. Customers may not understand what exactly goes into getting a package to their doorstep in 2 to 3 days, though – and that their expectations for faster shipping have consequences, including pricing out smaller, local retailers that cannot offer fast shipping on the scale of major online retailers.
The small business landscape a few years ago was different. One in 12 small businesses close every year. Yet, 90% of Americans shop at small businesses weekly, and small businesses create 66% of new jobs annually. Consumers care about small businesses, but they also crave fast package delivery.
In 2019, Clutch surveyed 528 online shoppers to learn how quickly they typically receive packages and their opinions on shipping times.
Our report can help:
Consumers understand the real-world impact of their expectations for faster shipping
Small businesses learn strategies for adapting to faster delivery timelines
Package Data Statistics: Two Day Delivery
Nearly half of online shoppers (48%) say they normally receive packages within 2-3 days, and 42% receive them within 4-7 days. Consumers increasingly expect faster shipping from all e-commerce businesses. 

One in 20 consumers (5%) say they typically receive a package within 1 day.

Nearly half of consumers (45%) say they are unlikely to continue ordering from a company if it delivers a package late. Small businesses shouldn't promise quick delivery timelines if they can't execute, or they'll risk losing customers if they consistently send packages later than promised.
Amazon is by far the dominant online retailer in the survey, with 85% of online shoppers making a purchase from Amazon in the past 6 months. The next-most popular online retailers are Walmart (54%) and eBay (39%).

Amazon has set the standard for large-scale, fast shipping. Amazon Prime members are more likely to expect delivery to take less than 3 days (31%) than non-Prime members (20%).
Explore our directory of logistics service providers on Clutch.
Small Businesses Adjust Shipping Strategies to Meet Short Delivery Timelines
2019 DATA: The largest percentage of online shoppers (48%) say they receive packages within 2-3 days.
TAKEAWAY: Small businesses may adjust how they produce and ship items to keep up with faster delivery expectations. Clutch spoke with small businesses in 2019 that had:

Reduced their product offerings so they can focus on fulfilling orders for made-to-ship items faster
Opened new warehouses to improve shipping capabilities
The typical package delivery timeline has shortened, resetting online shoppers' expectations. Small businesses are adjusting their shipping strategies to keep up with larger online retailers.
In 2019, almost half of online shoppers (48%) said they receive packages in 2-3 days, and 5% typically receive packages in just 1 day.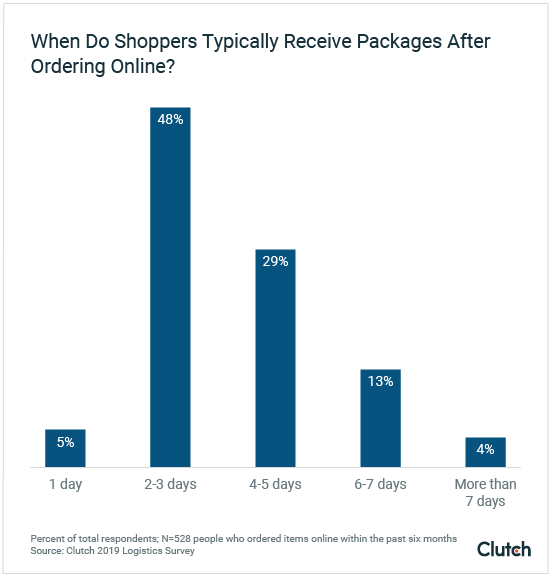 In April 2014, packages usually took 6.3 days to be delivered, according to Rakuten Intelligence.
Shipping stands out as a key differentiator among online retail giants that fight to gain an edge in the competitive e-commerce market. Small businesses must modify their strategies to compete with the likes of Amazon.
Jeff Moriarty is the marketing manager for Moriarty's Gem Art, a custom jewelry store in Indiana. He said that five years ago, his business shipped packages the cheapest way it could with insurance. That has since changed.
"Now, everything is shipped Priority Mail, with 2- to 3-day delivery to [the customer's] location," Moriarty said.
Faster shipping can complicate the production of items for small businesses, though. Kara Buntin, owner of A Cake To Remember, a cake-decorating supplies shop, changed the number of made-to-order items she offers to meet customers' shipping expectations.
"I recently unlisted an entire category of items that took a little longer than average to make and ship, and I'm concentrating on selling things that are ready-to-ship," Buntin said. "I make more things ahead [of time] and am able to get them in the mail the day after they're ordered, if not the same day."
Small businesses struggling to fulfill and ship orders quickly may want to investigate if they can streamline their offerings like Buntin did.
Sebastien Gibert is the director of The Hideout Clothing, a male streetwear clothing line based in Trinidad and Tobago. Gibert noticed that many U.S.-based shoppers abandoned their carts after seeing the high cost of shipping needed to profitably send clothing from the Caribbean.
"We knew that customers were not willing to pay excessive amounts for shipping," Gibert said. "As we continued to grow, we eventually got a warehouse in Florida where we pack and ship from."
Whereas shipping from Trinidad and Tobago could cost Gibert upwards of $23, it cost about $8 to ship from Florida.
The Hideout Clothing's Florida-based warehouse allows the company to offer free and fast ground shipping in the U.S., helping it better meet online shoppers' shipping expectations.
These small business examples show how to reevaluate and reshape shipping strategies to meet consumers' desire for fast shipping.
Businesses Can Lose Customers If They Send Packages Late
2019 DATA: Late deliveries leave lasting negative impressions on consumers. Almost half of online shoppers (45%) are unlikely to purchase from a company again if it delivers an item late.
TAKEAWAY: Small businesses can avoid these negative impressions by:

Communicating openly about delivery timelines, especially if some items will take longer to ship than others
Examining the reality of their shipping capabilities and not over-promising on delivery timelines
Did your business send a package late? Expect consequences.
Customers may abandon a company if a package is delivered late. Small businesses can mitigate the negative consequences of longer delivery timelines by communicating consistently and transparently about the items' arrival dates.
Nearly half of online shoppers (45%) said they were unlikely to purchase from a business again if a package was delivered late in 2019.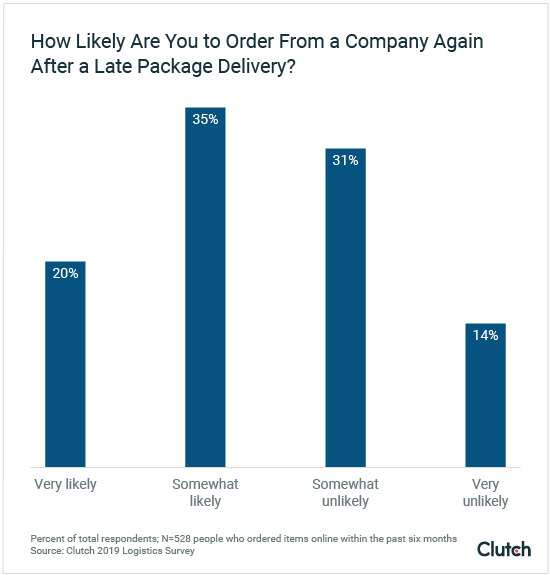 Ross Palmer is the digital marketing manager of Lab Society, a laboratory supply company. It's difficult for Lab Society to implement streamlined, fast shipping because it largely sells industrial, scientific items. Delivery timelines were especially complex when customers ordered small and large items together.
"We found that matching [small and large items] together wasn't the right way to go," Palmer said, stating that the company often had to wait on the manufacturer to finalize the large items when the small items could be shipped immediately.
Now, Lab Society ships the items separately when they are ready to go, while keeping customers as up-to-date as possible on the delivery dates for all the items.
"Recently, we unrolled new automatic shipment separation," Palmer said.
Automatic shipment separation works by automatically dividing the items at checkout that must be shipped separately. Lab Society notifies customers if a large specialty items requires freight shipping, as opposed to Lab Society's standard shipping, and tells them that a company representative will contact them within 48 hours of their purchase to discuss delivery timelines and costs. 
The upfront and consistent communication helps mitigate customers' frustration: "Our customers appreciate the clarity and insight before their purchase, rather than dealing with unexpected problems after," Palmer said.
"Our customers appreciate the clarity and insight before their purchase, rather than dealing with unexpected problems after."
It's important for small businesses to recognize their limits when it comes to shipping items and not to make promises they can't keep. Otherwise, they risk facing backlash from customers when orders aren't fulfilled in time.
Joel Poznansky is the owner of Wicked Uncle, an online specialty children's gift retailer based in the United Kingdom. It started doing business in the U.S. in 2017. Poznansky said that shipping expectations became an issue when the company began selling in the U.S., where consumers are spread out over longer distances than in the U.K.
"With gifts, including birthday gifts, offering an overnight option was too painful," Poznansky said. "Although it costs us some sales, we have to live with it to ensure goodwill continues."
Poznansky recognized that consistently sending packages late wasn't worth the extra sales that falsely promising overnight delivery offered.
Small businesses may be tempted to offer faster shipping to gain customers, even if those orders are difficult to fulfill in time. Instead, small businesses should be transparent about delivery timelines and communicate consistently with customers if shipping will take longer.
Small Businesses Can Access Economies of Scale Through Third-Party Logistics Providers
Amazon's massive size allows it to take advantage of cutting-edge technology, new methods of transportation, and economies of scale that smaller businesses don't often have access to.
Smaller businesses may want to consider using third-party logistics providers, or 3PLs, whose business is solely built around fulfilling orders for other brands.
Stephen Miller is the manager of sales operations at Dotcom Distribution, a third-party logistics provider. He said many small businesses can't meet fast shipping expectations affordably alone because they don't have access to the advanced technology that streamlines the process.
"[The advanced technology] is cost prohibitive and takes away from the core focus of the individual brands," Miller said. "Fulfillment companies take that responsibility so [small businesses] can concentrate on their marketing, sourcing, and supply chains."
"Fulfillment companies take that responsibility so [small businesses] can concentrate on their marketing, sourcing, and supply chains."
3PLs allow small businesses to access the economies of scale that e-commerce giants such as Amazon have built to ship quickly. 
Amazon itself even offers fulfillment services that small businesses can use. Millions of "third-party sellers" sell and ship their items through Amazon, though Amazon struggles to regulate these products and to punish retailers selling unsafe products.
Small businesses should seek outside help to take advantage of the manpower and technology required to profitably ship many orders within days.
The Journey of a Typical Package Passes Through Many Hands
The e-commerce industry allows consumers to purchase an endless variety of items with a few simple clicks of their mouse. When ordering an item online is such a seamless process, online shoppers may not realize the enormous effort required to deliver packages on a 2- to 3-day (or less) timeline.
Consider the typical journey of a package ordered off Amazon:
Once the consumer purchases an item online, the order is sent to an Amazon "fulfillment center," its term for a warehouse. Amazon has more than 185 fulfillment centers around the world.

Fulfillment centers use predictive AI to stock items based on what is most popular in that geographical area. For example, fulfillment centers in Massachusetts likely have more Boston Red Sox-themed apparel in stock than a center in California.

An employee selects the purchased item off the warehouse shelf. The order is packaged into a box by a human and sent on to delivery.
The package may end up at a sorting facility first, where humans work in tandem with robots to sort packages and bundle them on their way to the appropriate zip code.

Amazon has six types of fulfillment centers, each designed to most efficiently process and send out items both large and small, near and far.

"Amazon is trying to minimize the moving of that part from one warehouse to another. They have to have a really good predictive understanding of what the demand is going to be, and then based on that, they're going to order and stock their warehouses in those locations," said Shariq Mansoor, chief technology officer at Aera, which develops cloud-based supply chain intelligence software solutions.

Packages then get delivered. Delivery can happen by different means, including:

Trucks, which can be run by:

Amazon itself
Third-party carriers such as UPS, FedEx, and the United States Postal Service
Amazon partners

Amazon will give its own employees $10,000, three months' pay, and access to Amazon's delivery technology to start their own delivery business for delivering packages.

Planes

Amazon planned to have at least 70 planes in its Amazon Air delivery fleet by 2021. By the end of 2022, their fleet will include more than 85. 

Drones

Amazon first announced its plans for drone delivery in 2013. In June 2019, Amazon announced it would begin drone deliveries "in a matter of months." The drone plans are still in flux as of 2022.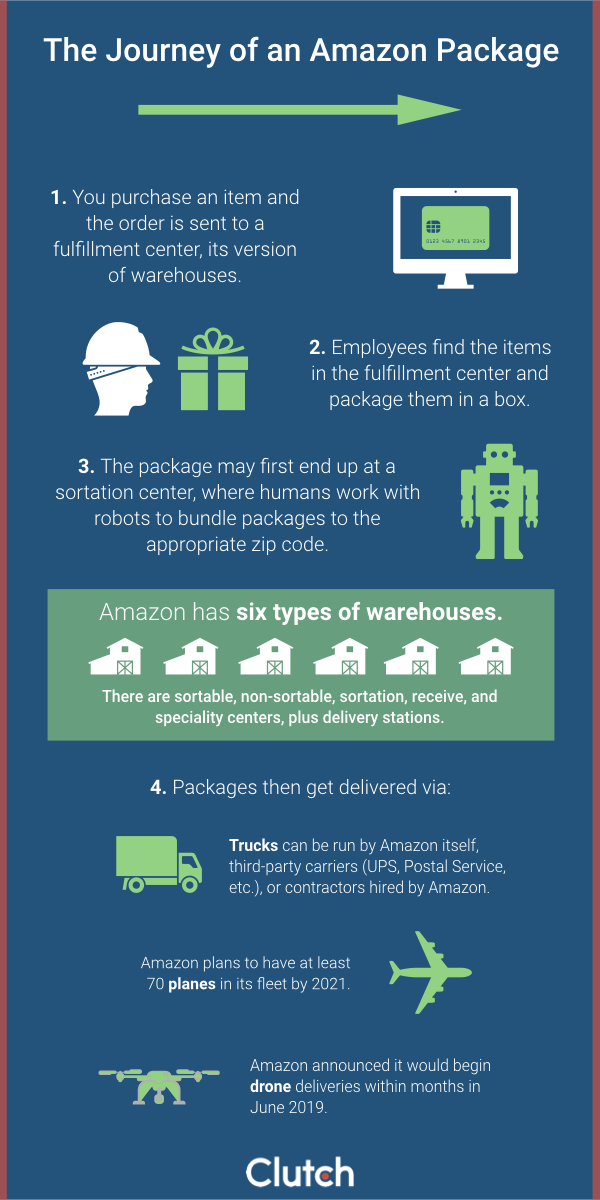 Amazon Reigns in the E-Commerce Industry, Setting Standards for Small and Large Businesses Alike
2019 DATA: The majority of online shoppers (85%) ordered off Amazon in the past six months. 

Prime members (31%) are more likely to say 2-3 days is the maximum acceptable shipping time than non-Prime members (20%).

TAKEAWAY: Amazon is driving the overall pressure on the e-commerce industry to ship faster.
Amazon continues to dominate the e-commerce space, popularizing its promise of fast shipping throughout the whole e-commerce industry.
More than 8 in 10 (85%) online shoppers ordered off Amazon in a six-month span of 2019. About 54% of respondents used the next most popular e-commerce retailer, Walmart.
Experts agree that Amazon is the primary contributor to consumers' expectations for shipping. Previously, fast shipping didn't make economic sense for businesses.
"Even 4-5 years ago, I had to pay steeply for just getting a two-day FedEx," said Ram Krishnan, chief marketing officer of Aera. "Those logistics options were available, but they were cost-prohibitive. If I want to get a $10 thing [in two days], I'm going to pay $20 on the shipping."
Amazon consumerized the shipping process by promising two-day shipping as part of its Prime membership. Now, other e-commerce companies large and small are expected to keep up.
"Amazon's domination is forcing merchants to compete with more delivery options, unique experiences, and faster-than-ever delivery times," said Jessica Thiele, director of marketing at VL OMNI, an e-commerce integration platform.
In fact, Amazon Prime members were more likely to say 2-3 days is the maximum acceptable shipping time for a package. One in five non-Prime members (20%) wanted their packages in 2-3 days, compared to 31% of Prime members.
Amazon, as the largest e-commerce retailer, is setting the overall industry's standards for shipping.
Small Businesses Must Prioritize Faster Delivery to Meet Customer Demands
Consumers want their online orders quickly. Small businesses must adjust their shipping strategies to compete or risk losing sales to larger e-commerce giants with more shipping capabilities.
Small businesses should:
Reconsider the popularity of their current product offerings and consider streamlining products that are less popular but more difficult to ship
Understand the benefits of shipping from certain geographic locations
Communicate constantly with customers about the progress of deliveries
Be realistic about their shipping capabilities and not over-promise on delivery timelines
Seek outside help from third-party logistics providers if they can't keep up with consumer expectations
In the end, however, online shoppers may also need to reconsider the reality of their delivery expectations. Online shopping can make the hard work behind seamless deliveries become invisible.
"The consumer [needs to] scrape the surface and question how on earth they can push a button one evening and get the jumper they've ordered the following day," said Neil Derrick, Yorkshire regional secretary at Britain's General Union, speaking on the exploitation of workers at an e-commerce company's warehouse.
Two-day shipping may be becoming the new standard, but it's not without consequences.