Most businesses want more press, but few know how to get it.
Part of the reason for this lack of understanding is the subjective nature of public relations. Unlike SEO or PPC, there are few hard metrics in PR, thus it is challenging to quantify relationships with journalists or influencers.
One way to make public relations a more readily understandable process for your business distil press outreach into a repeatable process.
This process can be easily scaled to help your business get press, regardless of its industry or business size.
This article will introduce a new approach to PR and walk through a simple four-step process for getting press.
Rethink Your Approach to PR
The conventional approach to PR is to create a product or a piece of content, then look for publications willing to write about it. Essentially, conventional PR takes a fully-finished piece of content, then tries to find an audience for it.
This approach is problematic on two fronts:
First, even though the PR team (yours or outsourced) is responsible for distributing the content, public relations isn't involved at any stage of the content ideation or production.
Second, the conventional approach fails to factor in what the end-user - the press - actually wants to see in a pitch.
The solution to this problem is to reverse the PR process, a practice based on the lean startup method.
The lean startup model is a concept founded by Eric Ries, and focuses on rapid iteration based on feedback from stakeholders on a simple product (called "MVP" or Minimally Viable Product)
In the reverse PR process, instead of creating a piece of content and distributing it, you consider what the press wants, what kind of pitches work, and then create content around those two factors.
Considering that 70% of journalists want to collaborate on a story instead of being handed a finished piece of content, it is clear that the conventional approach may not be the best way to pitch your content.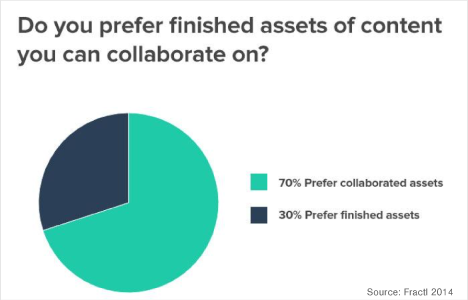 With the reversed approach, the PR team is a part of the content creation process from ideation through its eventual distribution. You consider what the press wants at each stage and fine-tune your content accordingly.
Ultimately, this approach helps you build a much more efficient PR machinery. Since the stakeholders (the PR team and the press) are factored in right from the start, your content has a better chance of getting picked up.
Use the following four steps, considering each of their components, in efforts to garner better press coverage for your content.
I. Build a List of Press Targets
Before you start creating your content, take the time to build a list of press targets. Developing relationships with the press takes time, so start reaching out early in your campaign and you'll likely have a few solid relationships once your content is ready to go live.
The following provides a framework for building a list of press targets and developing relationships with them.
1. Focus on People, Not Publications
PR is a people focused endeavor. Features in outlets like TechCrunch come as result of targeting the writers who write for it, not by emailing a generic editorial email address.
When approaching your target outlets for coverage, an important concept to keep in mind are various industry beats.
Essentially, every journalist covers a specific area that's called his/her "beat". The breadth of a particular beat depends on the publication. A small regional newspaper might have a single journalist covering "technology", while a tech publication might have separate people covering small tech niches like AI, IoT, etc.
Ideally, you want to contact journalists whose beat covers your industry or vertical.
What is the best way to find journalists?
Most publications will have an about page or a "masthead" with a list of all journalists and/or editors and their respective beats. Use these pages as a resource for targeting journalists for outreach.
If you have a news story in the social media space, for instance, contact the social media editor:
Recommendation: Search: "[publication name] + [masthead]" to find the "About" page. 
Once you find a list of journalists, try looking them up on Twitter. Most journalists will clearly mention what beat they cover on their Twitter profiles.
Another tactic for finding journalists is to use a tool like JustReachOut.io. Search for your niche and you'll see a list of journalists covering the beat along with their email addresses.
The point of finding journalists and building relationships with them (more on that below) is to get your content placed on your target publications, preferably under your name.
The benefits of such outreach go beyond mere backlinks. Google, for example, increasingly relies on author-level trust signals to determine rankings.
"While there's always a grain of salt involved with Google gospel, it does seem to follow along with what we knew (or suspected) about authorship: quality and trust signals are increasingly surrounding content and the individuals who write them."--Matt Cutts, Google's former head of web spam
Essentially, if an individual is trusted, any content he or she produces will be treated favorably in Google search rankings. For example, if Elon Musk writes an article about electric cars on a brand new domain, Google has incentive to push it up the SERPs because of Musk's known trust and authority.
Thus, in order to build this authority, getting placed on reputed publications is a must.
2. Invest in Relationships
While you may be able to get a post accepted by smaller publications or blogs through cold email, you will need an existing relationship to get featured on any large publication.
This doesn't have to be a "close" relationship; you don't have to know them for years before you can ask them a favor. In this scenario, a "relationship" essentially means "not a spammer".
Essentially, your job here is to start a conversation with the influencer. If your email lands in their inbox, they shouldn't have to wonder who you are.
The right way to build this sort of relationship is to slowly make yourself visible. You can establish a communication cadence that escalates to more "intimate" channels (email, Skype) over time. The following qualifies as an appropriate frequency:
2-3 Twitter replies
2-3 blog comments
1-2 emails
For your outreach, adopt the principle of "give before you take". Don't ask for anything in your first messages. Instead, offer help, share tips, leave valuable feedback or introduce them to people they might benefit from.
Establish a daily cadence for such outreach. Do this while your team brainstorms and creates the content. This way, once the content is live, you'll have a large list of journalists willing to listen to you.
II. Brainstorm Content Ideas
The most important step in the PR process is to come up with content ideas that can convert to press coverage. The four main factors of consideration for converting ideas to coverage are as follows: 
1. What Journalists Want
While journalists at each publication want different things, there are some broad inferences we can make based on existing data and research.
Most journalists want exclusive research. Apart from "breaking news", exclusive research is the top preferred content for 39% of journalists, according to a study from Fractl, a content strategy firm.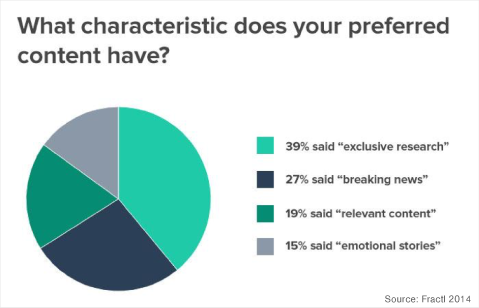 Visual stories get preferential treatment. Infographics, data visualizations, images, videos and mixed-media pieces make up 5 of the 6 most preferred content formats.
Keep this in mind when brainstorming content ideas.
2. Your Goals
What kind of content you create will depend a lot on the objectives behind your press outreach.
If you want visibility, focus on shareable, visual stories, especially those tackling controversial or emotional topics. Data-backed stories work particularly well here.
If you want engagement, focus on stories that have an "ask" (a call-to-action). Your job here is to get visitors to click through and engage with your site or content.
If you want backlinks, focus on stories that can act as "resources" and attract links over time. Case studies, original research, etc. do well for this.
If you want press mentions, offer a unique perspective on an existing issue. Founder stories, interviews, case studies do well.
Regardless of your goals, it's always a good idea to include some of your target keywords in your content. Even a few pointed links to a keyword optimized article can get you first page rankings (and the free traffic that comes with it).
3. Your Target Publication Requirements
Another critical component of the PR process involves research into the type of stories your target publications want.
An easy way to do this is to plug the publication's URL into Buzzsumo, a content analysis and research tool. Buzzsumo shows the most shared content on any topic or domain across social networks. Use Buzzsumo it to look for top stories over the year, the past 6 months, and the past month.
For top stories, make note of the following:
Story-type: Whether the story is an opinion piece, original research, a case study, breaking news, etc.
Story format: Whether the story is an article, a video, a slideshow, a listicle or photo essay.
Headline: Make note of the kind of language (casual, formal) and format used in the headline.
4. Your Content Creation Capabilities
Finally, evaluate your own content creation capabilities. Take stock of the following:
Prior experience creating different content types (infographics, videos, articles, etc.)
Access to creative resources (writers, designers, videographers, etc.) in-house as well as outsourced.
Access to data, or the ability to find or mine data (critical for data-backed research stories).
Access to necessary tools and software - video editing, photo editing, etc.
Ideally, you should have extensive experience and/or resources to create your target content type. For instance, if you've never made an infographic before and have no design resources, it would make sense to target a different content format.
This knowledge will help you come up with ideas that are impactful and will actually get picked up by the press.
III. Create Content
Next step: actually create the content.
This process can either be relatively straightforward or notoriously difficult, depending on your existing expertise and access to resources.
Regardless of the situation, there are a few things you should focus on when creating content:
1. Emphasize Emotions
When creating content, it's a good practice to punch-up its emotional quotient, especially in its title, in order to drive views and shares. 
Positive emotions, in particular, tend to get more shares.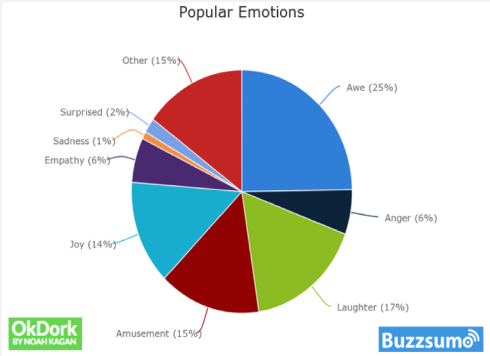 Amplify these emotions in your content through the using images or "power words" (aka emotion-rich adjectives like "mind-numbing", "incredible", etc.) to increase the emotional impact of your headlines.
2. Focus on Readability
Making your content more readable should be a priority, no matter who you're producing the content for.
Readable content contains the following characteristics (pullout box):
Short sentences.
Short paragraphs (2-3 sentences max).
Images every 5-6 paragraphs.
Plenty of sub-headers.
Bullets, blockquotes, etc.
This is a great example of a highly readable article. Notice how the author makes some words bold to draw attention them?
Besides formatting, strive to write for a 5th-8th grade reading level (use the site ReadabilityFormulas to calculate your score). You can use an app like Hemingway to check your reading level as you write.
3. Content Packaging
Before you pitch your content, package your content in a clean, easy to read and easy to share format.
Ideally, this should be a separate landing page on your site with a short, shareable URL. This page should list the key findings and takeaways of your content in a visually rich format.
Fractl's research reports are a great example of this.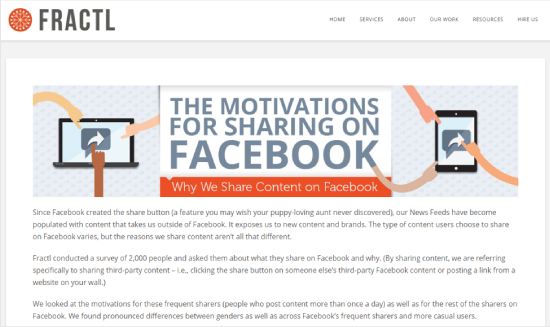 If you can't create landing pages, package your content as a short PDF.
When journalists ask for the story, you shouldn't have to direct them to a busy blog post. A well-packaged PDF or landing page will help them read and understand your content much faster.
IV. Pitch Your Content
If you've followed this strategy so far, you would now have:
A list of journalists
A well-packaged, targeted piece of content
The final step is to actually pitch your content
The final step is to actually pitch your content. Consider the following for this vital, final step:
1. Work on Your Subject Line
85% of journalists decide whether to open an email or not based on the subject line alone, according to Fractl's study.
Since journalists are flooded with emails (many receive over 100+ emails a day), your job here is to grab their attention.
The easiest way to do this is to think of your subject line as a blog post headline. Use power words and curiosity-evoking subject lines to get a look in.
Another Fractl study indicates that among the most impactful words in subject lines include are content, size, and marketing. 
2. Personalize Your Pitch (and Keep it Short)
Personalization is a no-brainer - it helps you stand out and shows that you're not just another mass emailer. If combined with an outreach program as outlined in step #2, it will ensure that your pitch gets read.
If you want to personalize at scale, try using a tool like MixMax, which provides a tool called "mail merge" that imports contacts and personalizes individual emails.
For your top targets at premier publications, however, I would recommend sending personalized emails by hand. 
Make sure that your emails are short. A majority of journalists say that they wouldn't read anything beyond 200 words.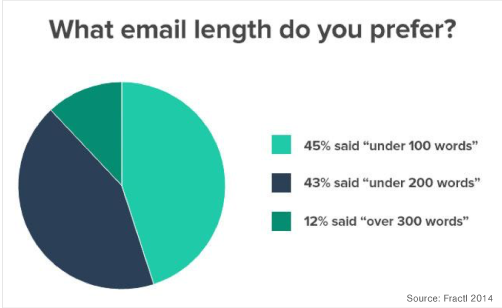 Borrowing lessons from business emails is a good practice something tangible from the contact (a meeting, a reply or a click to a link), they tend to have strong actionable language.
Getting Press is Hard, But Not Impossible
There is a mistaken belief that getting press is either a matter of luck, or a matter of hiring an expensive PR agency.
The truth is that any business can get press as long as it creates something the press actually wants to write about.
As with most things in marketing, PR is a process. Once you identify the parts that make up a successful PR campaign, you can repeat and scale it.
These five steps are a good way to understand how the PR process works and how you can incorporate it into your marketing mix. 
About the Author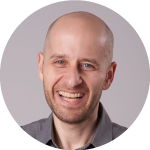 Dmitry Dragilev runs JustReachOut, a SaaS launched in early 2016, used by over 4,000 businesses (including Airbnb, HubSpot, Leadpages and Nickelodeon) to pitch journalists and get press coverage without the help of PR firms. In his spare time, he writes on CriminallyProlific and coaches students to reach out to prospects through the PRThatConverts coaching program.