Today, individuals dedicate a greater portion of their time to mobile phones compared to any other gadget. This shift in behavior necessitates a more meticulous approach from designers when it comes to crafting user interface designs for applications.
The significance of this task has increased as it plays a pivotal role in enhancing usability and ensuring user engagement. Merely possessing an app concept falls short in today's competitive landscape.
Regardless of the uniqueness and trendsetting nature of your idea, your app must be brimming with features, highly functional, and effortlessly navigable, with a particular emphasis on an intuitive user interface.
If your app fails to captivate your intended audience, all the hard work and effort you put into it will be futile. It will be unable to achieve success, as users will swiftly install and uninstall it, leaving no lasting impact.
In this article, we will look at five of the best mobile app design examples to inspire your app design.
Looking to hire a mobile app designer? Search leading service providers on Clutch. Then filter based on client ratings, location, and company size to find the perfect partner for your project.
What is Mobile App Design?
Mobile app design seamlessly combines two fundamental concepts: user interface (UI) and user experience (UX). The user interface (UI) encompasses the visual aspects and overall aesthetics of the app, including color schemes, font choices, and design elements. 
On the other hand, user experience (UX) design focuses on optimizing the app's functionality and usability. While many individuals have brilliant app ideas, without a top-notch UI and UX design, it becomes challenging to retain users. Regardless of the app category, be it an e-commerce app, internal employee app, fitness app, or any other, prioritizing design is imperative. 
That's precisely why investing in app design from the outset holds immense significance. By making an initial investment, you not only ensure a higher return on investment (ROI) for your app in the long run but also save costs along the way.
What Makes a Successful Mobile App Design?
Designing a successful mobile app is a challenging endeavor. A well-crafted app goes beyond facilitating transactions, providing information, and enabling communication with your business. 
It incorporates an intuitive interface that avoids user frustration and includes robust features that ensure the protection of personal information. By developing a mobile app that empowers users to effortlessly accomplish their goals, you can foster a loyal user base that consistently returns to your app and engages with your business for further interactions. 
The essential characteristics of a successful UI design are:
Functionality
Ease of use
Aesthetics
A good design should effectively fulfill its intended purpose, offer user-friendly operation, and possess visually appealing elements. Typically, accomplished app designs embody imaginative and artistic concepts executed through clean and uncluttered layouts. 
Such designs are guaranteed to enhance the user experience and consequently achieve immediate success. Additionally, color choices play a significant role in creating a visually appealing application. 
A well-designed app should strive to be streamlined and simple, reducing any unnecessary complexity. It should enable users to easily comprehend and interact with the interface without difficulty.
Top 7 Mobile App Design Examples:
Venmo
Venmo offers a digital wallet app for making and requesting payments. Sporting a clean and user-friendly interface primarily in blue and white, Venmo conveys a sense of reliability.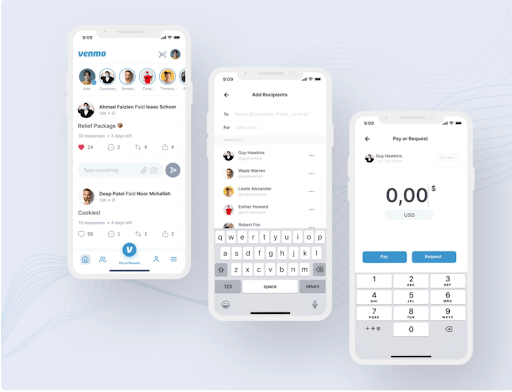 With an impressive user base of over 40 million users and more than 220 million customer accounts, the app has gained popularity. 
Venmo adopts an agile approach to product development, focusing on serving one client at a time rather than taking on multiple projects. 
Venmo offers a delightful and lighthearted experience for users to interact with their friends and family. 
The app effortlessly guides users through a quick and efficient setup process. Completing transactions and requesting money is a breeze, with just a few clicks, and users can add a touch of fun by using emojis. 
Furthermore, users have the option to make their transactions public, appearing in the feed for friends to see and respond to. 
With its clean, minimal, and vibrant design, Venmo has become an indispensable tool for young people, propelling us into the future. Its sleek aesthetics perfectly complement its functionality, making it a must-have app that users simply can't do without.
Wealthsimple 
Wealthsimple provides users with a platform to effectively manage their wealth by aligning their investment goals with their desired level of risk.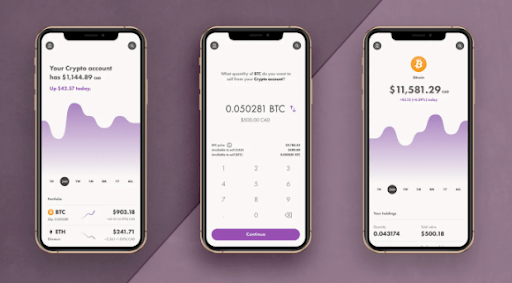 Wealthsimple simplifies the process of understanding stocks and diversification by providing personalized portfolio recommendations for future investments. 
As a financial services app, Wealthsimple requires more comprehensive personal information compared to typical apps. However, the designers have skillfully structured the onboarding flow to prevent cognitive overload and ensure user engagement. 
The intuitive mobile app UI design of Wealthsimple enables effortless navigation, displaying only the essential information needed to view your portfolio or add funds to your investment account.
Starbucks
Starbucks is one of the most popular apps in the world because of its simple interface. Every day, millions of users use the app to order their favorite drinks on the go.
The app's navigation is simple; when a user opens the app, they are able to choose from five menu options. The options include a home page, scanning function, ordering, gifting, and offers. With just a few clicks, users can order their drinks ahead or earn rewards if they're ordering in-store.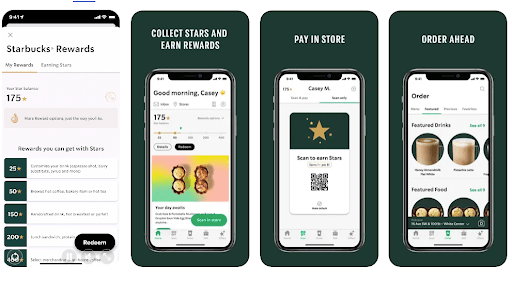 The convenience of ordering ahead combined with the ease of use has helped the coffee chain build a loyal user base.
Additional reading, 'The Success of Starbucks' App: A Case Study'
Towson Hot Bagels 
What many people don't realize is that small businesses can benefit from building a mobile app too. Like larger businesses, having an app allows them to connect with customers more effectively, provide a better customer experience, and increase sales.
Towson Hot Bagels, a Baltimore-based bagel chain and deli, built a user-friendly iOS mobile app that allows customers to order ahead. The app is easy to navigate thanks to navigation at the bottom of the screen. This makes it easy for users to reach important pages like the menu and rewards pages.
To make it easy to order, users can quickly find a location near them using the geo-location feature. Then they can easily find what they want on the menu thanks to navigation features at the top of the screen, allowing them to find different categories. If they order frequently, they can view previous orders and order them again.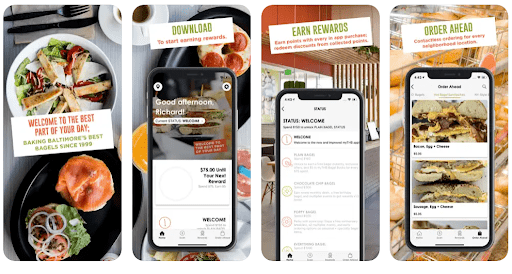 Source 
Similar to the Starbucks app, users with the THB app are able to enroll in a rewards system. They can receive points with qualifying purchases that can be redeemed for some purchases, which helps the shop build customer loyalty.
Sleepiest
Sleepiest, a meditation and sleep app, is specifically designed to assist individuals with insomnia in achieving restful sleep, making it an ideal solution for those seeking tranquility at bedtime.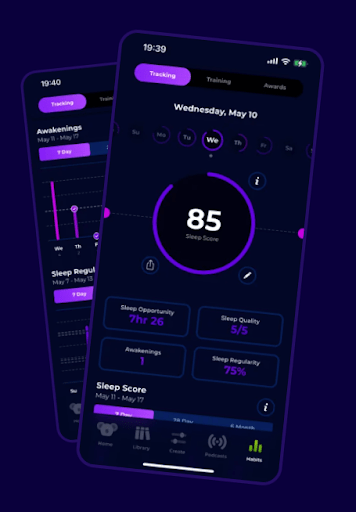 Sleepiest offers a variety of options to facilitate relaxation and improve the quality of your sleep. You can select from a collection of bedtime stories, soothing soundtracks, or calming meditations to unwind and prepare for a restful night's rest. 
To improve your sleep, the designers have opted for a dark theme UI design, minimizing the impact of blue light that can disrupt sleep. Vibrant orange call-to-action buttons enable users to quickly access the desired features, reducing overall screen time. 
Additionally, users have the convenience of setting a timer within the app to automate their bedtime routine, eliminating the need to interact with their phone again before drifting off to sleep.
Tumblr
Tumblr is a prominent social media platform widely embraced by young individuals and students, ranking among the largest platforms of its kind globally.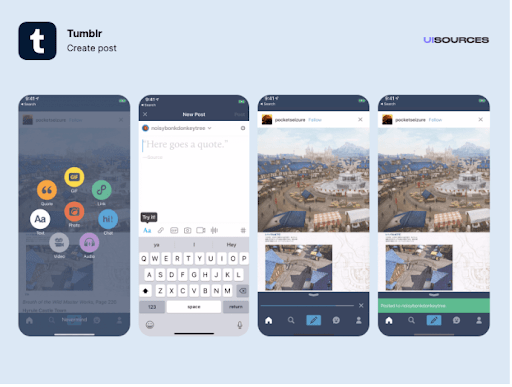 Tumblr serves as an exceptional platform for exploring art and staying up-to-date with the latest pop culture trends among young individuals. It's a hub where you can discover some of the internet's most captivating memes and GIFs. 
The designers of Tumblr have skillfully crafted a mobile app experience that reflects the platform's dynamic content and thriving community. By employing a vibrant color palette, intuitive buttons, and seamless navigation, they have created an engaging and immersive user experience that radiates enjoyment.
Evernote
With a vast user base spanning the globe, Evernote reigns as the largest note-taking and productivity platform, catering to hundreds of millions of individuals worldwide.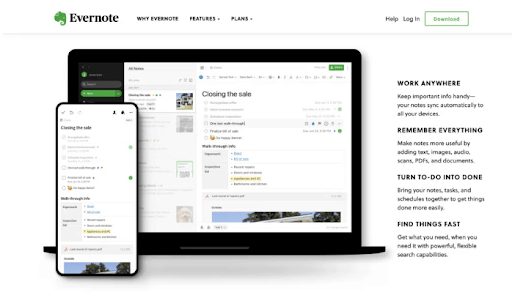 Evernote has successfully streamlined the process of capturing, organizing, storing, and sharing notes, delivering maximum productivity to its users. 
Notably recognized by Apple as an "Editor's Choice" and a regular recipient of Webby Awards in the Work & Productivity Apps and Software category, Evernote has established itself as a leading platform. 
The mobile application design of Evernote matches the comprehensiveness and user-friendliness of its desktop counterpart. Despite offering numerous features and options, UX designers have skillfully ensured that users are just a tap or two away from creating notes or organizing tasks. 
The Scratch Pad feature on the home screen allows users to effortlessly jot down notes without the need for any additional clicks. The distinctive "Evernote green" color accentuates important call-to-action buttons, ensuring easy identification in both light and dark modes.
How Can a Great Mobile App Design Boost Your Apps Success
A great mobile app design relies on essential principles that guide the user interface (UI) and user experience (UX), which are crucial for achieving user retention and overall success. 
Of course, these design principles are most effective when complemented by other necessary factors and when the app genuinely addresses a specific need. App developers must strive to stay ahead of the competition by adopting cutting-edge techniques, as the market has become increasingly discerning and demanding. 
As always, those who can deliver what the market desires will reap the greatest rewards in terms of success. Mobile app design is important for the success of your app primarily because it profoundly impacts the user experience. 
The visual appearance and fluidity of your app play a pivotal role in shaping the user's emotions and overall satisfaction while interacting with it. 
The user's perception of your app significantly influences their usage behavior and their likelihood to share it with others. The size and engagement of your user base directly impact the value and success of your app. 
The impact of your mobile app design on the user experience directly influences the rate at which your user base can grow and the efficiency with which you can monetize it.
Additional Reading: