Updated May 23, 2022
In February 2020, working was different.
Office dress codes, commutes, and in-person meetings have all been replaced or eliminated at many companies since COVID-19 was declared a pandemic in March 2020.
As businesses navigate the COVID-19 business environment, many employees are now working remotely.
When the data was taken, close to half of employees (43%) already had spent most of their time working remotely in the past 30 days.

The changed workplace environment could have an impact on team culture, which represents the values, attitudes, and behaviors of the employees who make up the team.
We surveyed 301 workers to learn about their companies' culture since COVID-19 was declared a pandemic in 2020.
In general, companies are aware of the challenges that COVID-19 and remote work pose to team culture. We found that workers are socializing less with their colleagues and that an increasing number of companies are hosting virtual social events.
Most importantly, we found that most workers have retained similar access to their managers and supervisors, largely through the capabilities of remote technology.
Look through our 2022 staffing report to receive updated small business insights into the team culture landscape. 
Our Findings
63% of workers have spent less time socializing with coworkers since COVID-19 was declared a pandemic, suggesting that companies need to find ways for employees to socialize remotely.
35% of companies have not held a virtual team culture event during the COVID-19 outbreak, though experts believe that more companies will host them as remote work becomes the norm.
52% of workers say their boss's availability has remained the same as before the pandemic, suggesting that companies are committed to maintaining the relationship between employees and managers.
26% of companies have given their employees more access to communication technology during the COVID-19 pandemic, suggesting that companies view employee communication as an important component of team culture.
1. Employees Now Spend Less Time Socializing With Co-Workers
As remote work and telecommuting becomes standard, companies will have to plan for employees spending more time away from their co-workers.
When this data was collected, 63% of workers had already spent less time socializing with their colleagues since COVID-19 was declared a pandemic.

To experts, the decline in employee socializing makes sense.
"When working remotely, there's not really the option to have a quick chat with your co-workers by the coffee machine," said Sara Bandurian, human resources and operations coordinator at Online Optimism, a digital marketing and design agency.
Without normal office conversation, companies are working to give people new opportunities to socialize during the workday.
For example, Shivbhadrasinh Gohil, co-founder and chief marketing officer at Meetanshi, a Magento development company, says his team conducts an activity called "Photos at 4" every workday to keep connected while working remotely.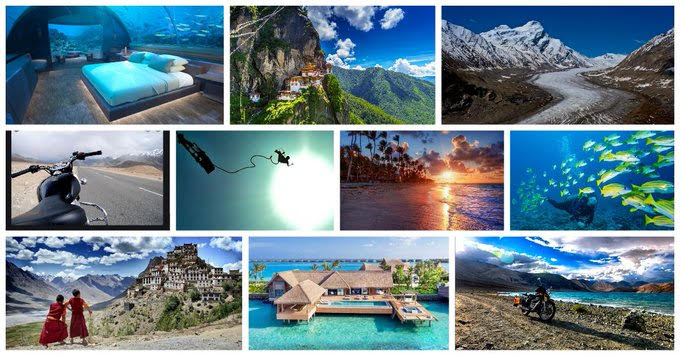 To participate in "Photos at 4," employees respond to a prompt by sharing a photograph. Examples include:
Favorite quarantine snack
Unique household item
Dream vacation
Gohil believes that these prompts allow his employees to take a break and talk about something other than their work.
Other companies will likely make their own efforts to ensure that employees still have the opportunity to socialize.
2. Virtual Events Are Becoming More Common to Boost Team Morale
Employees value the opportunity to socialize with their co-workers, and companies will likely provide more opportunities for them to do so as the COVID-19 pandemic persists.
When this data was collected, roughly one-third of companies (35%) were not hosting virtual social events. Experts believe that as businesses acclimate to remote work, they will host more virtual happy hours, meals, and professional development sessions for their employees.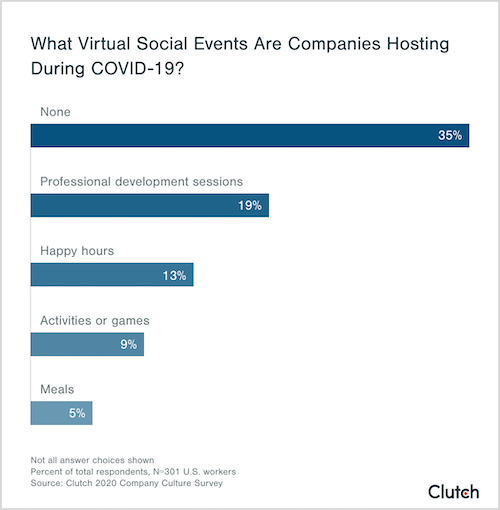 Other virtual events that businesses organize include:
Professional development sessions (19%)
Happy hours (13%)
Activities and games (9%)
Meals (5%)
By 2022, more company culture events took place online. This trend is set to continue even after a full return to work.
George Kuhn, the president of Drive Research, a market research firm, says his company has introduced two virtual events:
Social coffee hours usually take place in the morning. Teammates join a shared video call and have an open work session. Nobody is required to talk, but everyone can make casual, office-type conversation as they work. Kuhn says this is a low-pressure way to give employees the feeling of working with others. Plus, "coffee hours" accommodate for teammates who may not feel comfortable during late afternoon or evening happy hours with alcohol.
Virtual games such as trivia, scavenger hunts, and card games provide an alternative to the standard small talk of happy hours and virtual meals. Recently, Kuhn's company presented an Amazon gift card to the winner of a virtual scavenger hunt. In a bleak business environment, virtual games can provide a fun, competitive outlet for employees.
Drive Research catered its virtual events to the business's capabilities and employees' desires. The company will continue to offer virtual events that boost team morale during the COVID-19 pandemic.
Companies affected by COVID-19 will likely introduce more virtual social events to boost team morale and performance.
3. Managers Are Still Available to Employees During COVID-19
Working environments may have changed, but most employees have not lost access to their boss.
More than half of workers (52%) said their direct boss or manager's availability had not changed since COVID-19 was declared a pandemic.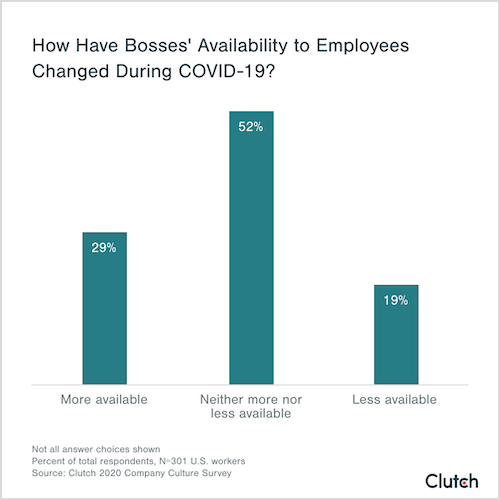 Despite drastic changes in how employees are working, only 19% of employees said their boss is less available than before the COVID-19 outbreak.

For companies, making sure that employees have access to their manager while working from home is essential to maintaining company culture.
"When working remotely, it can be easy to get lost, confused, or overwhelmed without that leadership you're used to in a normal workplace," said Chane Steiner, CEO of Crediful, a personal finance website.
To prevent such confusion, companies are emphasizing just how available managers are.
"Make sure your open-door policy is visible in a remote setting," said Ian Kelly, vice president of operations at NuLeaf Naturals, which sells organic cannabidiol (CBD).
NuLeaf managers demonstrate their availability by:
Maintaining an updated active, inactive, or busy status in their company's messenger platform
Giving direct reports notice about upcoming travel or work absences
Blocking time on their calendar during which employees can schedule longer discussions
As the COVID-19 pandemic continues, maintaining a culture of accessible bosses will likely be a priority for many companies.
4. Companies Use Communication Technology to Build Strong Team Culture
With an increase in remote work, companies are increasingly likely to invest in new resources that allow employees to communicate with one another easily.
More than one-quarter of companies (26%) had provided their employees with greater access to communication technology in April 2020.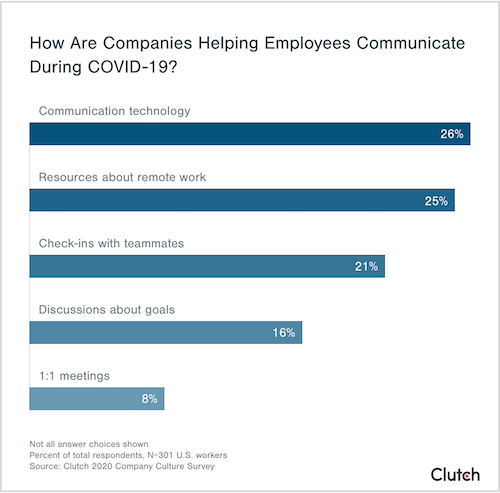 Other common methods to maintain employee communication include:
Giving employees access to resources about remote work (25%)
Team or departmental check-ins (21%)
Discussions about team and individual goals (16%)
Increased 1:1 meetings (8%)
Experts say that effective company communication in the remote work age requires strong communication technology.
Austin Denison, CEO of Denison Success Systems, says communication technology should:
Ensure a common understanding of team and project objectives
Structure communications
Delegate individual tasks and responsibilities
For businesses, determining the right platforms to use is a matter of organizational needs.
Jeff Gapinski, co-founder of Huemor Rocks, a full-service digital agency, says his company relies largely on a set of communication technologies that allow for remote connection:
Slack is a messenger platform that can be integrated with other digital tools such as HubSpot to provide a convenient, encompassing workplace direct messenger.
Asana is a centralized task management tool that allows distributed teams to deliver information, tasks, and deadlines to teammates and clients.
Companies can also choose from a variety of services to host video chats and team meetings:
These communication tools have likely seen a revamp as remote work has become a staple.
Overall, businesses such as Gapinski's use communication tools that help employees know what they need to do, when it needs to be done, and how they can ask for assistance and feedback.
To maintain their team culture during the COVID-19 pandemic, companies should make effective communication technology a priority.
Businesses Are Creating a Positive Team Culture Amid COVID-19
The COVID-19 business climate has made team culture-building a priority for companies. With more people working remotely and spending less time socializing with colleagues, companies have emphasized:
Virtual events such as meals, happy hours, and games so that employees can socialize
Continued access to bosses and managers so that workers feel essential to the business's mission
Strong communication technology so that employees can perform their roles effectively
Maintaining and improving team culture should be a major emphasis for businesses during the COVID-19 pandemic and beyond.