More small businesses understand the value of a well-targeted mobile app.
Mobile apps can boost customer loyalty, brand image, and employee efficiency. However, for a mobile app to succeed, a small business must truly understand the app's goals, its target audience, and the resources needed to build and maintain the app.
We surveyed 351 small business owners and managers in 2018 to discover the state of small business apps, including why small businesses are building apps and which mobile features are most valuable to small businesses.
Read our analysis to learn if a mobile app is a valuable marketing opportunity for your small business.
Looking for how apps for small businesses are doing in 2022? Check out the 2022 app trends report on The Manifest. 
Apps for Small Businesses in 2018
Nearly half (42%) of small businesses currently have a mobile app, and 30% plan to build one in the future.
Yet, small business app growth is stagnant. Compared to 2017's data, the same percentage of small businesses currently have a mobile app (42%).
The largest percentage of small businesses (28%) say they primarily built a mobile app to attract new customers, but experts caution that this is a misguided goal.
Small businesses say that mobile payment is the most valuable feature on their apps, though this finding surprised experts.
Over half of small businesses owned by millennials (55%) have a mobile app, but only 13% of small businesses owned by baby boomers have one.
Small Business Mobile App Growth Remains Stagnant
Though previous data predicted a sharp increase in adoption of mobile apps by small businesses in 2017, small businesses were not following through on their intention to build mobile apps.
At the time of Clutch's Small Business Mobile Apps: 2017 Survey, nearly half (42%) of small businesses had a mobile app, and another 25% planned to build one by the end of 2017.
2018's data shows that once again, 42% of small businesses had a mobile app. Nearly one-quarter of small businesses (23%) said they planned to build one by the end of 2018.
Thus, while 2017's survey predicted strong growth in mobile apps among small businesses, the data indicates that no growth in small business adoption of mobile apps actually occurred.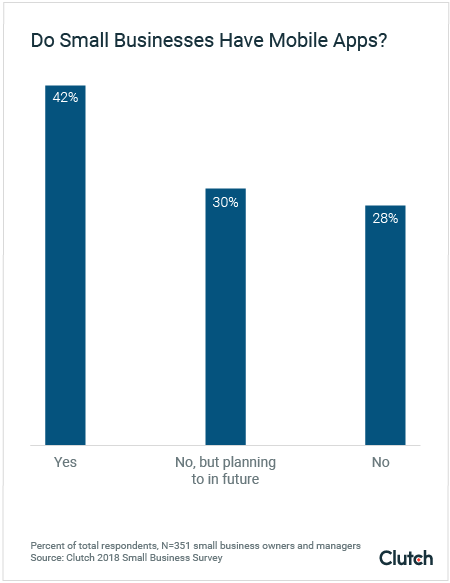 Though the surveys had the exact same respondent criteria, the 2017 and 2018 survey did not have the same respondent pool. This could account for some of the lack of growth.
Still, experts weren't surprised that small businesses aren't following through on mobile app plans.
Woody Zantzinger, vice president of business development at WillowTree, Inc., a mobile app development company in Charlottesville, Virginia, says that small businesses may not understand the scope of resources needed to create a mobile app, such as cost and employee labor.
"With less capital and smaller teams, I would expect these barriers to be even harder for smaller business to overcome," said Zantzinger.
These barriers may derail small businesses' mobile app plans before an app is launched.
Zantzinger also says that not as many businesses are launching mobile apps for the first time.
"Most companies where mobile is core to their bottom line have already explored and built mobile products," he said. "If a company doesn't have an app by now, I'm not sure what could change their mind."
Instead, many companies in 2018 with established mobile products are seeking to build a second or third mobile app.
Mobile Apps Offer Value But Need Clear Goals and Audience
Mobile apps offer valuable marketing opportunities – but only if they are created with a clear purpose.
Despite the lack of companies building mobile apps, Peter Mezyk, chief operating officer of Nomtek, a mobile application development agency in Poland, says that most small businesses should at least consider the potential benefits of a mobile app.
"Generally speaking, there's always a potential for enhanced communication or enhanced business metrics as a result of introducing mobility," said Mezyk. "Every business should at least consider whether or not there should be a mobile app in place."
If your small business decides to build a mobile app, you should clearly define your goals and target audience.
"The more rigorously you assess whether to invest or not to invest in a mobile app, the better," said Mezyk.
"The more rigorously you assess whether to invest or not to invest in mobile app, the better."
Do not build an app simply because you think you should or because everyone else has one.
Mezyk offered a reliable process for analyzing whether your small business truly needs an app:
Reflect on your customer journey and identify current touchpoints with your customers that can be enhanced by a mobile app. A touchpoint is any moment when you communicate and exchange information with your customers.
Assess whether a mobile app will truly impact your business. A successful mobile app must have clear goals, such as increasing sales, or building customer loyalty.
Set specific metrics related to your goals and determine what qualifies as success. How many customers will redeem a coupon after you send out a push notification? How many will sign up for your email newsletter via your app? Answering these questions will help you evaluate whether your app is effective.
Deploy the simplest and cheapest version of the app first.
If the simple version of the app is on track to meet your success criteria, continue developing it.
By following these steps, you can avoid deploying an unnecessary mobile app that doesn't actually benefit your business.
Mobile Apps Not Guaranteed to Attract New Customers
Have you ever found a new business simply by stumbling across their mobile app? Likely not. Given the poor search functionality of app stores and the overwhelming number of apps available, a small business should not build a mobile app primarily to find new customers.
However, this is exactly why the largest percentage of small businesses (28%) said they built an app in 2017.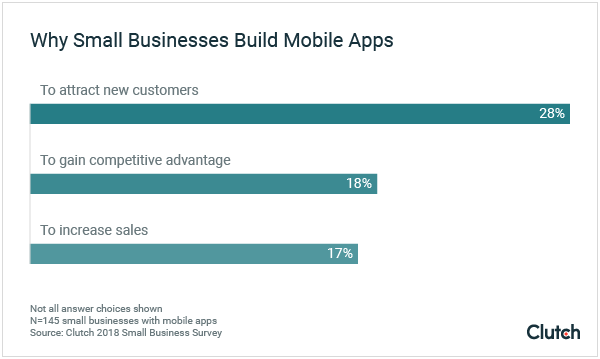 Zantzinger points out that the app store is not where people go to discover new businesses.
"The app store is terrible for discovery," explained Zantzinger. "It's hard to search for applications. There are 2 million apps on the Apple App Store. There are thousands added every day."
Because users must actively seek small business apps, mobile apps are not natural inbound funnels for new customers.
To attract new customers with a mobile app, you'd have to spend a significant amount of money on marketing the app on other channels, which would greatly increase the investment required for your app to succeed.
Mobile Apps Enhance Customer Communication, Loyalty
Small business apps offer stronger benefits when it comes to enhancing communication with existing customers.
"When I think of a mobile app, companies with a lot of repeat customers benefit the most," said Zantzinger. "If you're going to have an app that lives ever-present on someone's phone, it provides businesses with new marketing opportunities to reach out to customers again and again."
For this reason, mobile apps work well for businesses with loyalty programs. Mobile apps can keep track of rewards points, send push notifications on discounts and new products, and offer other functionalities that make existing customers even more invested in your small business.
Charles Cridland, the technical director of YourParkingSpace, a UK-based online parking marketplace, describes how an app enhanced customers' loyalty:
"We've seen the average number of bookings for app users grow hugely," said Cridland. "On average, an app customer makes over 3 times as many bookings as a desktop customer – with the convenience and one-click re-booking functionality really driving repeat bookings and overall customer lifetime value."
If you're thinking of building a mobile app simply to increase your new customer count, you should reconsider. But mobile apps offer powerful opportunities for strengthening ties with existing customers.
Read this: "How to Find and Hire an App Developer"
Mobile Payments Offer Greater Convenience
Although paying for products and services through a mobile app was once niche, it's become more accepted by the general population.
Our 2018 survey found that the largest percentage of small businesses (26%) listed mobile payment as the most valuable feature on their apps.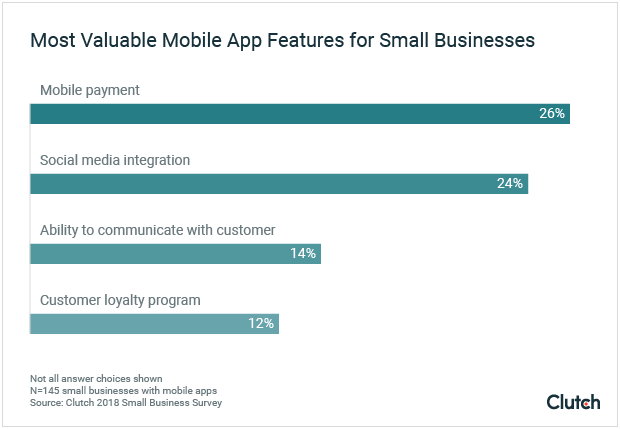 This finding surprised Zantzinger of WillowTree, especially when considering in-store mobile payments. "Mobile payments at the point-of-sale [register] are almost entirely dominated by first-party solutions, such as Google Pay and Apple Wallet," he said.
However, there are methods for small business apps to more easily incorporate in-store mobile payments.
For example, LevelUp is a mobile payments platform for restaurants. They offer a mobile software development kit (SDK) that allows developers to incorporate LevelUp's functionalities for in-store payments and ordering ahead into a restaurant's branded app.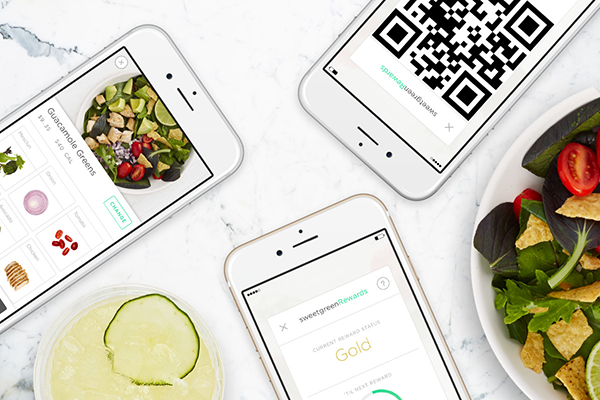 Popular salad restaurant chain Sweetgreen uses a LevelUp-powered app.
The SDK makes it easier and cheaper for smaller restaurant chains to build an app that includes in-store mobile payments.
No matter if an app allows you to purchase online or in the store, mobile payments are increasingly more common and can offer streamlined purchasing for your customers.
Millennial Small Business Owners More Likely to Have App
The younger small business owners are, the more likely they are to build a mobile app.
Over half of millennial-owned small businesses had a mobile app when asked in 2017. This percentage drops for each subsequent generation.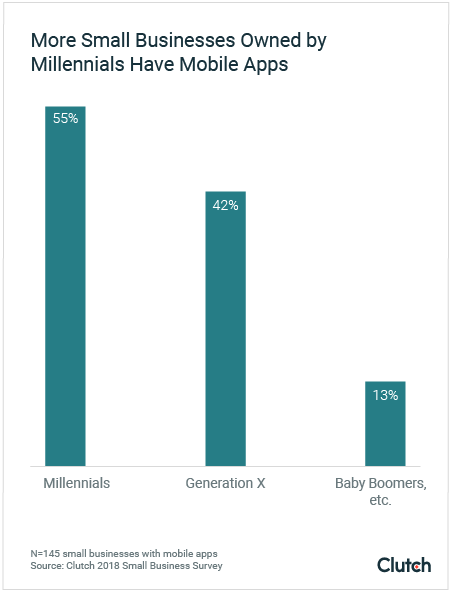 This data does not surprise Mezyk.
"By definition, [mobile apps] come more naturally to the people who were immersed in this since they were born," he said.
Thus, the trend suggests that small business apps will be more widely accepted in the future.
"This is something that will gradually move up across the demographics," said Mezyk. "Even people now in their 50s are much more digitally aware than 10 years ago."
Zantzinger says that the data points to a greater difference in how millennials are using software in situations that previously required human interaction.
"Millennials are trusting software to solve problems that historically people didn't want to trust software to solve," said Zantzinger. "Like using OpenTable [to make a restaurant reservation] – they don't want to call the restaurant. They want to do it via software."
"Millennials are trusting software to solve problems that historically people didn't want to trust software to solve."
"People don't want to call their insurance agent," he continued. "They just want to take a picture of their crash with their phone and send it off and fill out a form and be done."
Given this behavioral shift, mobile apps will be used in more situations in the future.
Mobile Apps Require Great Investment But Offer Great Value
For many small businesses, a mobile app can offer valuable opportunities for enhanced customer communication.
Yet, small business app growth is stagnant despite projected growth. This shows that some small businesses may see an opportunity for an app but can't overcome the obstacles required to build one.
Small businesses must clearly outline their goals and metrics for a mobile app before launching one. Building an app purely to outpace competitors, or simply because it looks cool, is a recipe for disaster.
Lastly, generational trends show that mobile apps will be more widespread in the future. Millennial small business owners are far more accepting of mobile apps than Gen Xers or baby boomers.
Only you can truly know if your small business needs a mobile app. But, in-depth analysis with your colleagues and app development experts may prove that an app is exactly what your small business needs to succeed.
Invest in a top mobile app development company using our directory.