Updated: February 18, 2022
Have you ever had a package stolen? You are not alone.
Porch pirates, or thieves who steal packages left in front of consumers' homes, have stolen everything from boxes of potato chip bags to a package containing live tarantulas. 
The thieves use manipulative tactics such as having children take the boxes off porches or impersonating the recipient if the delivery requires a signature.
These stories, which widely circulate on media publications, emphasize why online shoppers must be aware that their packages may become lost or stolen and know what they can do to protect their shipments.
2019 data from Clutch shows that 51% of online shoppers did not receive at least one package they ordered online in the past six months. Nearly one-third (32%) say their last undelivered package was lost in the mail, while 16% say the package was stolen after delivery.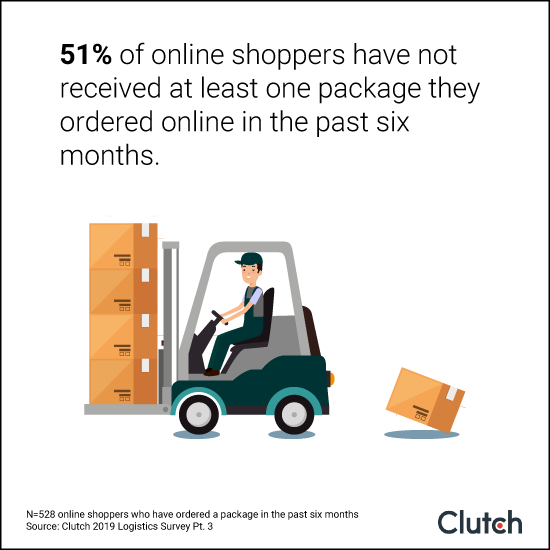 In 2019, Clutch surveyed 528 people who ordered a package online in a six month span to analyze the frequency of lost packages and what consumers can do to avoid this occurrence.
Online shoppers can prevent lost packages by: 
Is your business in need of a logistics or supply chain provider? Check out our directory of top companies. 
Mail Theft Statistics:
More than half of online shoppers (51%) have not received at least one package they ordered in the past six months. Most respondents say their packages were lost in the mail (32%). Consumers have certain rights regarding lost mail, but it depends on the delivery carrier and if insurance on the package was purchased.
Sixteen percent (16%) of online shoppers have not received a package in the past six months because it was stolen, while another 29% aren't sure why their package wasn't delivered.
As package theft increases, consumers should analyze the security of where their packages are left. More than half of online shoppers (57%) say their packages are typically left in an outdoors, unsecured area, such as a front porch, after delivery.
Secure package pick-up kiosks can provide a safer alternative if consumers are afraid of package theft at their home. The most popular type of kiosk is FedEx's Ship&Get (20%), though Clutch believes Amazon Locker (13%) may be more popular than the survey suggests.
Updated Theft Stat: According to the United States Postal Inspection Service, "From March 2020 through February 2021, the Postal Inspection Service opened a total of 753 mail fraud cases — an increase of 170 cases (29 percent) over the prior 12 months — and opened 1,090 mail theft cases — a decrease of 49 cases (4 percent) over the prior 12 months. Of those opened cases, 216 (29 percent) mail fraud cases and 61 (6 percent) mail theft cases were related to the COVID-19 pandemic."
1. Understand Why Packages Get Lost
Not every undelivered package is due to theft. Packages may get lost in the mail, but the consequences of this issue can be lessened if the consumer purchases insurance.
Clutch data in 2019 found that nearly one-third of online shoppers (32%) have not received a package because it got lost in the mail, while 23% did not receive one because it was never sent by the retailer.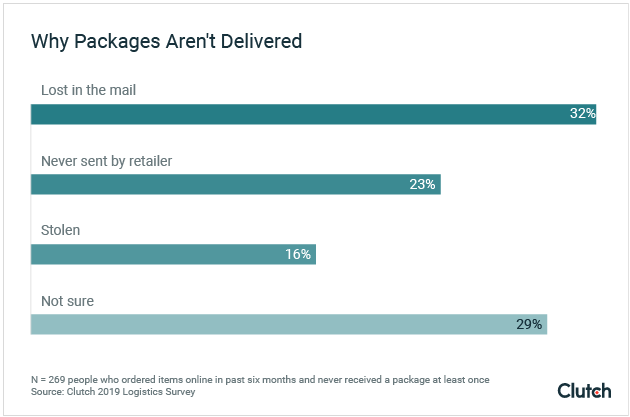 If a package is lost in the mail, it's often due to the shipping label being incorrect or falling off, according to Karan Singh, Principal at Kersch Partners, a business management consulting firm that offers supply chain and consumer packaging consulting.
"A shipping label might seem like a small piece of sticker on the package, but it's the most vital piece of information on that box or envelope, which makes sure the consumer gets their package on time," Singh said.
People or businesses sending packages should take extra care to ensure the accuracy and stickiness of their shipping labels.
The compensation a business or consumer can receive for a lost package depends on the delivery carrier and if the package was insured.
Not every retailer automatically adds insurance to its items. If the package is not insured, delivery carriers often assume little to no liability for lost or stolen packages per their terms and conditions of services.
For example, FedEx offers liability for up to $100 for a package, unless additional insurance is purchased. The United States Postal Service (USPS) offers no compensation unless the item is shipped through Priority Mail.
"It's really between the consumer and retailer to sort this one out," Singh said.
Both businesses and consumers should strongly consider purchasing insurance for their packages or else risk losing the cost of the items because delivery carriers often don't assume liability for uninsured packages.
In addition, if a retailer doesn't send an item within a reasonable, transparent time frame, The Mail, Internet, or Telephone Order Merchandise Rule, administered by the Federal Trade Commission, dictates that the seller must communicate a new delivery timeline to the consumer or refund them for the items.
Mail theft only causes some lost packages. Consumers must understand why their package disappeared to take steps toward preventing it from happening again.
2. Evaluate the Security of Where Your Stolen Packages Were Left
Porch pirates take advantage of the fact that packages are often left haphazardly on front porches, near public mailboxes, and in other easily accessible, unsecured, and unmonitored areas. Consumers should consider increasing security in the areas where their packages are left and prevent the opportunity for a package to be stolen.
In 2019, more than half of online shoppers (57%) said their packages typically are delivered in an outdoors, unsecured area such as on a front porch.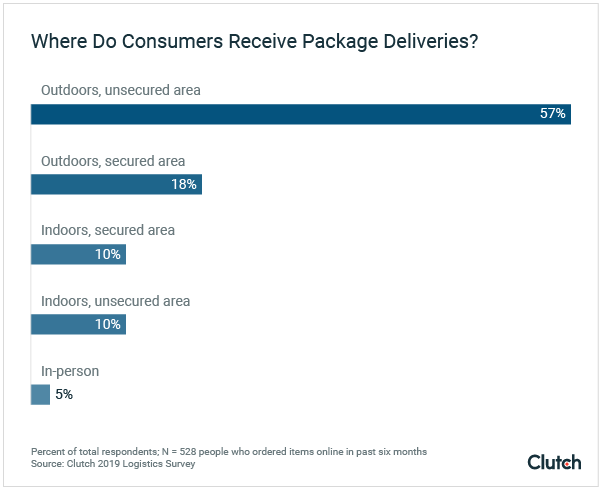 Consumers can take active steps to protect their packages from theft, including:
Installing a secure package delivery box
Installing a security camera
Using services such as Amazon Key, which allows couriers to enter homes to leave packages
Jacob Dayan, CEO of Community Tax and Finance Pal, installed a drop box after dealing with a package theft.
"The [box] we purchased is large, reinforced, and requires the delivery person and recipient to enter a code to open," Dayan said. "It also protects packages from the rain and matches with the colonial design of our home."
Butler said no more packages of his have been stolen since installing the box.
These drop boxes can be purchased online, in home improvement stores, and elsewhere. Codes for the boxes can then be sent in the delivery notes for the package.
Arthur Ruth, the owner of a cleaning service in Memphis, Tenn., went one step further and signed up for Amazon Key. The service requires users to install a smart lock and security camera in their entryway. Amazon delivery carriers can then use an app to unlock people's doors and leave packages inside.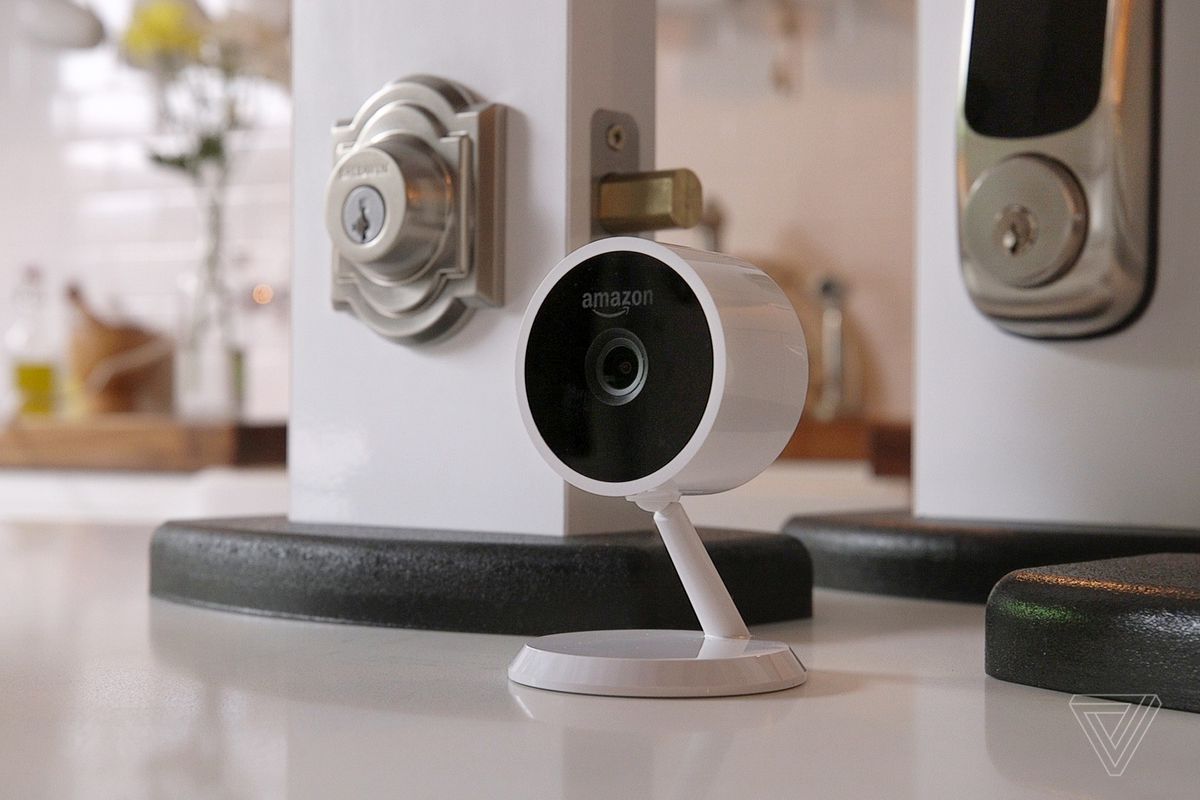 The service faced skepticism upon release in 2017, with some fearing that giving couriers access to their home could lead to theft as well. Ruth has benefitted from it, though: "I have never lost any package since. This is a revolutionary world, where you just need an app to have the best service possible."
Amazon Key also allows consumers the option to have packages dropped off in their cars or garages.
Consumers have also taken more creative approaches to fending off package thieves that don't involve smart locks or drop-off boxes. 
For example, a woman in Massachusetts left a "glitter bomb" inside a fake package to surprise a regular package thief. After getting surprised with a shower of glitter when trying to steal the package, the thief never came back.
Consumers have options ranging from advanced technology to creative annoyances to ward off package thieves.
3. Transition to Using Secure Package Lockers to Prevent Theft
Public package delivery lockers can be found in convenience stores, grocery stores, chain stores, and more. These lockers offer a convenient but secure option for receiving packages that may otherwise be left on an unattended doorstep. 
Couriers deliver packages to the lockers, and the consumer picks the package up at their convenience, typically using a unique security code to access the locker.
Nearly half of recent online shoppers (45%) say they have used a self-service package pick-up locker before, with the most popular brand being FedEx Ship&Get (20%).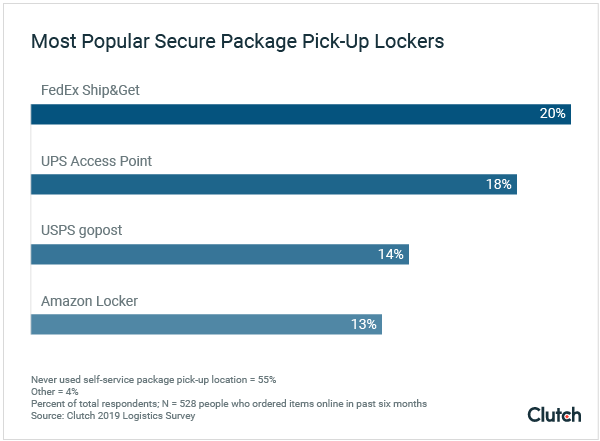 UPS Access Point (18%) came in second, followed by USPS gopost (14%) and Amazon Locker (13%).
The lockers are often found outside or in locations that are open throughout the day, such as grocery stores or even inside apartment buildings.
Clutch was surprised to see FedEx's brand of lockers as the top brand, considering the lockers are only found in Texas and Tennessee. 
Respondents of the survey may have confused FedEx's small locker network with its much more extensive retailer pick-up network. FedEx allows consumers to ship packages to more than 15,000 retail locations nationwide, including participating FedEx, Walgreens, and Dollar General locations. These packages aren't held in self-service lockers but, rather, behind the store's counters.
UPS Access Point is a similar network of local retailers through which consumers can send packages to the location to later pick up. UPS claims to have over 8,000 locations for pick up. Some contain self-service lockers, while others simply hold packages behind the store's counter.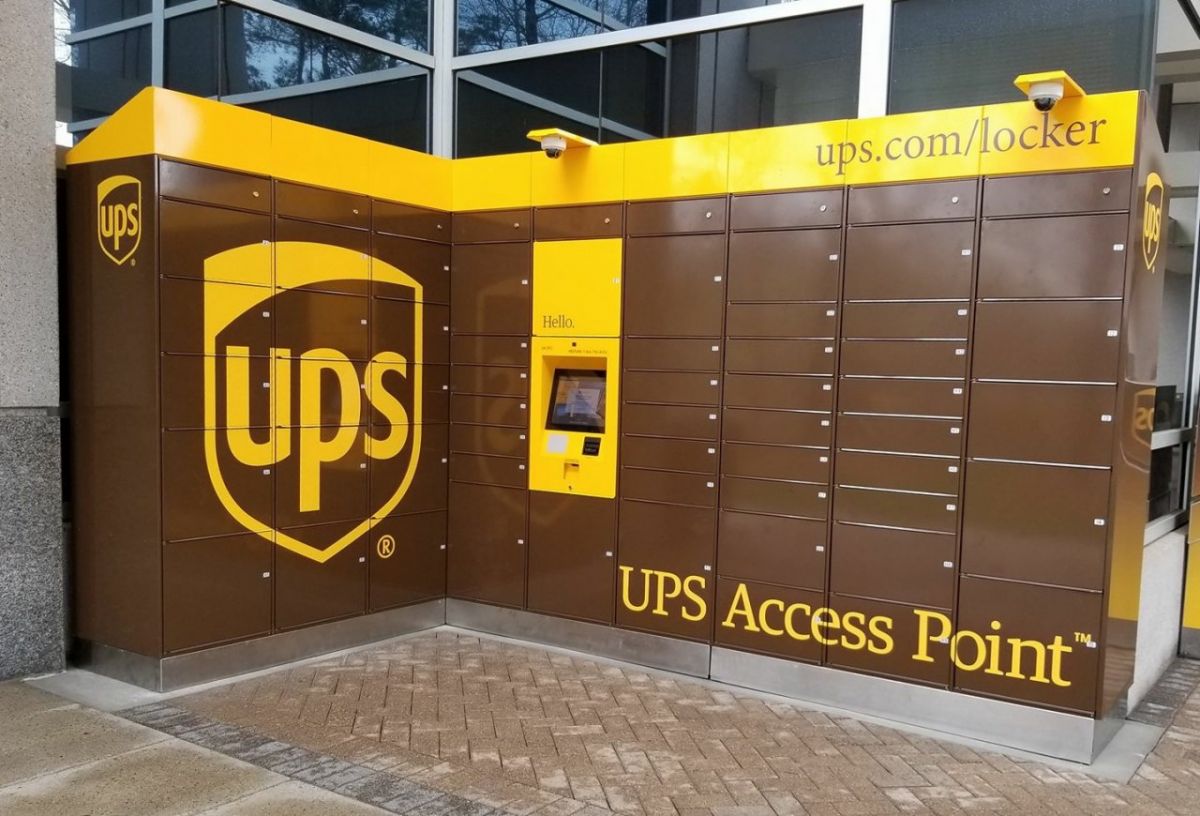 The United States Postal Service's gopost lockers first launched in 2011 but did not expand quickly. The service currently has locations in New York, New Jersey, Virginia, and California.
Amazon, on the other hand, has placed its self-service lockers in more than 900 U.S. locations, indicating one of the largest dedicated package locker networks. However, the fact that the lockers only service consumers who ordered on Amazon may explain its lower ranking.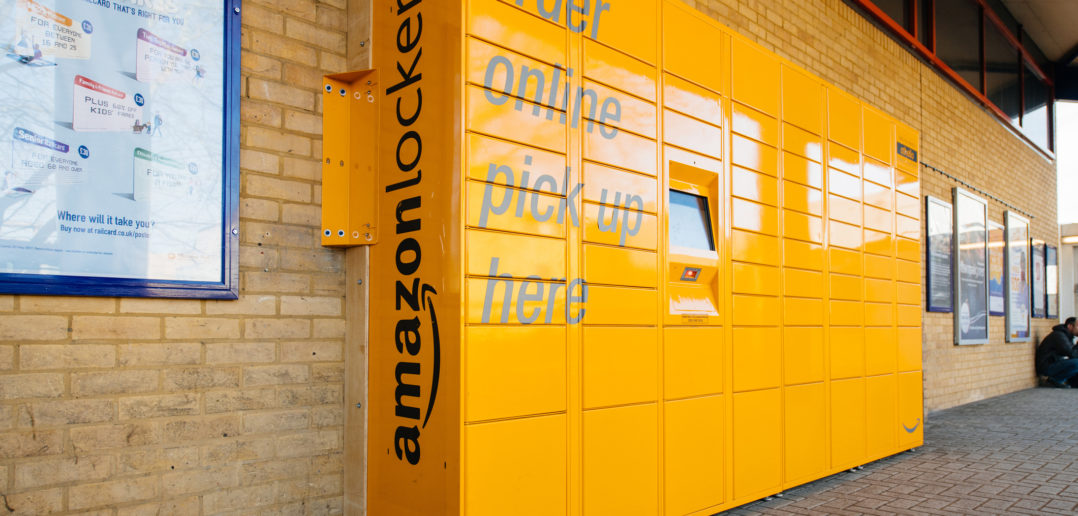 Self-service package pick-up lockers can thwart porch pirates and allow consumers to receive packages in secure, convenient locations.
Take Active Steps to Protect Your Packages
As consumers increasingly order items for delivery, one in two online shoppers in 2019 did not receive at least one package they ordered online in the span of six months.
Mail theft statistics show that these packages may disappear in the mail, never get shipped by the retailer, or be stolen off a front porch after delivery.
To protect their deliveries, consumers should:
Understand why their package was lost because it can disappear for a variety of reasons
Check if retailers they purchase from insure items because delivery carriers often assume little to no liability for uninsured items
Invest in extra security measures to prevent theft after delivery, such as a secure package drop box or a security camera
Consider shipping packages to a secure public package locker
From high-volume delivery systems to porch pirates, packages always face obstacles on their way to consumers' doorsteps. However, through proactive steps, businesses and consumers can prevent lost packages in the future.
Browse through our list of top-rated supply chain management providers.