According to Instagram's user data, nearly 80% of registered users follow a business profile, making the platform an ideal means of engaging potential customers and capturing sales. But navigating Instagram for marketing purposes can be a challenge.
As the founder of Avex, I've seen how much marketing has changed in the age of social media. It takes more than a website to bring in sales, and these updates on Instagram have allowed our clients to explore new marketing options.
Technological advances happen fast, especially with social media, so it's important to prepare your next move. This article will help you start using Instagram marketing to benefit your business.
Why Instagram is an Effective Marketing Option
Instagram marketing allows a natural engagement between a brand and its customer.
A company's Instagram profile not only raises brand awareness, but tells that brand's story. As a brand, it's very important to engage and interact with your followers on a deeper level.
Data backs up these claims: according to Statista, Instagram boasts more than 500 million active users, which makes it a powerful marketing tool. Consequently, the number of advertisers who use Instagram has doubled over the past six months.
A 2016 Bloglovin' survey found that influencers regard Instagram as the best platform for customer engagement. Facebook, on the other hand, only garnered the support of 18% of influencers.
Case Studies: Madewell and Bandier
Instagram conveniently optimizes business/customer relations. An eMarketer study concluded that more than 84% of US smartphone users shop via mobile apps, which streamline the shopping process and make shopping more convenient.
Many large retailers, such as Madewell, have started to use Instagram's new shopping tools.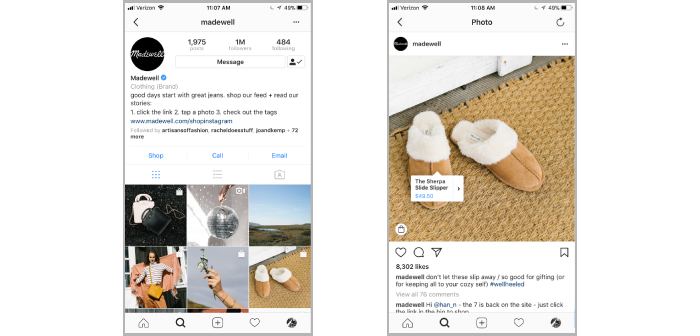 The tool is also beneficial to smaller brands trying to grow their audience, such as Bandier, a fitness clothing boutique based in New York.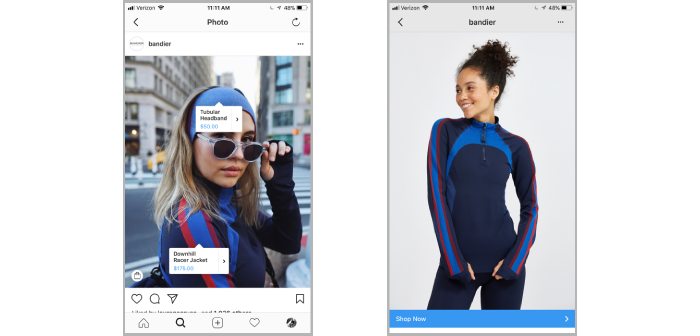 Products being worn or used shows the customer exactly what they're getting, and the ads encourage customers to imagine themselves wearing the brands' clothes.
The success of Madewell and Bandier shows that businesses of any size can use Instagram to take advantage of their customers' desire for convenience.
Instagram's Sponsored Posts: Subtle Marketing
Instagram recently added a shopping feature, which allows businesses to incorporate sponsored, shoppable content into their posts.
When customers shop for a specific item, they likely consider several types before making a purchase. According to Jim Squires, director of Instagram's market operations, more than 60% of prospective customers consider a variety of options prior to settling on a purchase.
Showing a product through images is one of the most powerful ways to sway a customer who's considering their options, and sponsored Instagram posts allow brands to put their products in front of potential customers' faces.
Sponsored posts are less intrusive than an email newsletter, since the marketing is integrated into Instagram's platform. Consequently, many retail businesses have used posts like the one below.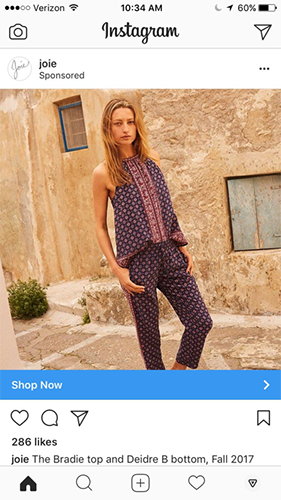 These posts contain an icon at the bottom of the image. Users tap this image to display a tag with information about the product, including pricing and related products. Businesses can also include a "buy now" link, which takes customers to their web page.
To do this, you must:
Link your brand's Facebook to your Instagram account
Add an account
Create a campaign
Finally, create an ad set
Additional Reading: 'What is BeReal? A Guide for B2B Providers'
Instagram's Shoppable Platform: Connected to Your Website
In 2016, Instagram implemented an additional shopping platform.
This feature enabled customers to view product details and access the business's website directly from the post. Several businesses, such as Kate Spade, have used the feature to great effect.
While the "shoppable posts" feature was only for sponsored posts, the shopping platform connects directly to an e-commerce site. Customers can shop products linked to your website in real time. Anyone who follows your brand, or goes to your brand's page, can browse through the Instagram images.
When you scroll past an image, you may see these small circles pop up on the products.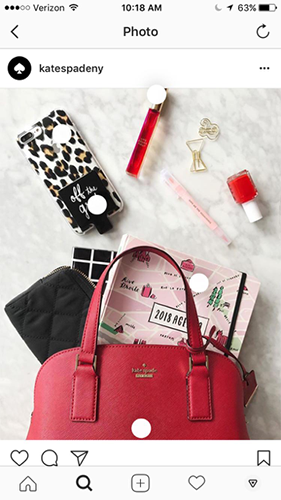 When you tap the image, product details appear.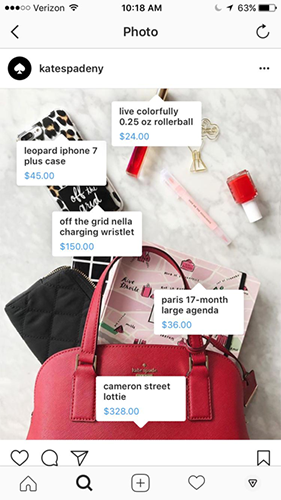 If you want more information, you can tap a tag and land on a shop page, where you may also scroll through the other products.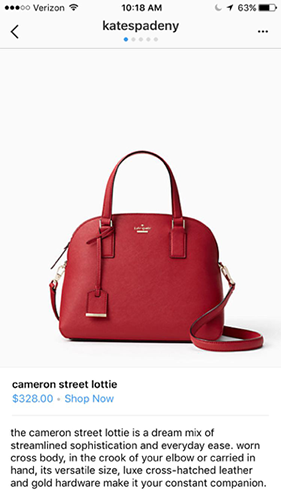 While the shoppable platform was initially limited to a few companies, Instagram is expanding it for wider usage. This means that Instagram users will be able to shop for products directly from their feeds. Additionally, businesses can connect product catalogs to their accounts.
Even better, Instagram will provide analytics for each post, which assists businesses in providing customized content.
How to Get Started With Instagram Marketing
1. DIY Instagram Marketing
First, create an Instagram account, which is easy and can be done in just a few steps.
Next, consider strategy. There are a few ways you can do this:
Start by creating a content calendar. This will help you and your team schedule and organize content efficiently.
Create post templates for various types of posts and stories. This will keep creative consistent. Your design team can make these on programs such as Photoshop or Sketch. This helps to ensure that branding is consistent with doing promotions or Instagram stories.
Decide on a style. Create a moodboard (the one on the right is by Cassie Byrns) that speaks for your brand and stick with it.
Schedule posts at different times throughout the day to see when your followers are most active.
Utilize Instagram's analytics. Make sure to see who your demographic is and where they live. In the future, you can use this information to target customers more narrowly.
2. Use a Digital Agency
Agencies have in-depth marketing experience and can give an informed perspective on business strategies. Non-tech-savvy businesses might want to partner with a digital agency that will take care of Instagram marketing.
This lets businesses focus on internal operations while still maintaining a relationship with their customer base. You can work with an agency once to develop the strategy or have a continuous relationship with them.
3. Connect With Influencers
Connecting with influencers, or social media figures with a large following, can lead to that influencer's followers checking out your brand.
Consider offering a small amount of money, or gift the influencer your product in exchange for advertisement. Depending on the size of your business, you can develop relationships with influencers who agree to promote your brand.
For example, if you're a fitness brand looking to sell a new collection of clothing, reach out to a popular fitness blogger. Once you initiate that relationship, you can hopefully work with the blogger in the future.
If you can't offer much compensation, look to influencers with less than 50,000 followers.
4. Test Target Markets
Understanding and testing target markets is crucial, and one of the best ways to do this is through Instagram advertising. Testing can seem tedious at first, but if you find the right audience, you'll have an easier time developing strategy.
Focus on your brand's followers' demographic, the other accounts they follow, what your competitors are doing to market themselves on Instagram.
If you have a business profile on Instagram, checking your followers' demographics is simple.
Go to the app's analytics section.
Scroll down to the followers section.
Look at the gender, age, location, and activity breakdown of your followers.
This is beneficial for a number of different businesses, especially fashion brands. Understanding their market and analytics can help them understand what their customer likes in terms of product, promotions, and even types of photos they see on their feed.
You can also use external apps (like Keyhole, AgoraPulse, Brandwatch, and more) to see how your engagement relates to the hashtags you're posting.
In addition, test your target market on Google. What are some of the keywords you might use to describe your brand? Search a variety of terms on Google and see what other brands come up. Then, analyze their social profiles and see how they both succeed and fail.
Reach New Customers With Instagram Marketing
Social media is one of the most effective ways of reaching potential customers, and Instagram is leading the charge.
Promoting a new product through Instagram's advertising and shopping features is a great way to reach a new audience.
---
About the Author
John Surdakowski is the founder and creative director at Avex Designs, a digital agency in New York City. John has been working in the digital space for 15 years and loves sharing his thoughts and experiences about web design, development, and marketing. In his spare time, he's writing music, spending time with his family or in the mountains snowboarding.