IT management is a big deal—keeping core business processes running smoothly is essential. IT systems of businesses in any industry may be vulnerable to cyberattacks, data breaches, or other threats, and an IT services provider will be key in taking appropriate security measures.
Choosing the right provider is no small task either. Finding a good match for your business best ensures an optimized IT environment moving into the future. From cybersecurity to cloud services, be proactive in your search for IT partners. This guide will assist you in navigating the journey of selecting the right IT services company.
What are IT Services?
IT departments require a host of information technology (IT) activities. Here are some of the services you may want to look into:
Network management
Cybersecurity
Software development
Cloud computing
Data management
The wide range of services IT companies offer can be addressed by managed IT service providers (MSP) or more specialized firms. MSPs offer a broad range of outsourced IT services and are able to handle any or all of the above tasks. Still, some companies with more technical, niche projects may benefit from outsourcing to an IT specialist with a wealth of experience in a specific subject area.
IT providers are dedicated to offering tailored services offer tailored services to maintain and improve operations, yielding greater efficiency and ROI. Their work can touch everything from design and IT infrastructure to reporting on performance metrics.
Leveraging the expertise of an IT company empowers businesses to enhance data protection efforts, eliminate downtime, and foster innovation within their technological ecosystem.
How to Choose an IT Company
Define Your IT Goals
Establish a Budget Based on IT Requirements
Research Potential Providers
Shortlist Top Candidates
Interview IT Service Providers
Narrow Down Your Options Based on Business Needs
Engage the Right IT Provider
1. Define Your IT Goals
Prior to engaging with potential IT service providers, it's critical to have a good understanding of your company's IT needs. This is the only way you'll be able to communicate effectively with potential partners about your requirements.
Spend some time clearly outlining your business's IT goals. Perhaps, opt to conduct an IT audit in-house if you have the internal resources to do so.
Make a list of the most pressing priorities. Particularly with IT, it's tempting to forego early research for the sake of pacing. However, mapping priorities will help you get the most mission-critical IT activities done quickly.
Note any ongoing high-risk areas, such as disaster recovery needs or downtime. These pressing matters should be fixed before you request upgrades or other system improvements.
Having low, medium, and high-priority list items will also make communications easier with your IT provider. Whether you're aiming to bolster cybersecurity, migrate to the cloud, or improve software efficiency, articulating your objectives will enable better collaboration and facilitate IT strategy development.
2. Establish a Budget Based on IT Requirements
With an understanding of your needs, it's time to focus on your budget.
Determining how much you're willing to spend depends on many things internally, but presenting a ballpark spending range to possible IT partners is important.
Typically, IT budgets can be divided into service fees and hardware and software costs. If you're aware of any hardware or software needed for your project, it's a good idea to research how that will impact the overall cost of IT services.
Further, having a general engagement timeline in mind makes establishing a budget easier. It's typical for managed service providers to be long-term partners with their clients. Similar to retainer fees for agencies, MSPs charge recurring monthly fees for ongoing maintenance.
Remember to bring a drafted budget into conversations with prospective providers when you come to a drafted budget. In these conversations, also discuss the pricing structure and other factors that dictate costs, such as project complexity, duration, and location.
Learn more about budgeting for IT services in 'How to Create an IT Budget [With Template].'
3. Research Potential Providers
Once you've collected all the internal information you need to communicate requirements and needs, you have the resources you need to start searching for partners.
Between seeking recommendations from peers, reading online reviews and testimonials, and conducting online searches, keep the following factors in mind:
Services offered: Are they experts in network management, cybersecurity, cloud solutions, etc.?
Expertise in specific technologies: Do they specialize in Microsoft solutions, AWS, or other technologies relevant to your business?
Cost: Do their rates align with your budget?
Company size: Are you looking for a smaller boutique firm or a larger, full-service IT provider?
These criteria as well as soft skills like fast response times should help companies compile a list of potential IT providers.
4. Shortlist Top Candidates
Different companies require different things from IT service providers. Using the criteria mentioned above as well as your IT goals and requirements, begin narrowing down your options into a shortlist.
Narrow your list of potential IT providers by examining client reviews and ratings on reliable platforms like Clutch. There, you can look into detailed insights into past projects, costs, communication effectiveness, and outcomes.
Online reviews are a great way to filter providers based on services, client satisfaction, price, and location. Align these with your starting requirements to find the providers that are right for you.
Ideally, a shortlist will contain 3–5 IT provider possibilities. Remember, shortlists are meant to be short because these are the companies you will be reaching out to for proposals and interviews. It's in your best interest to save time in the interviewing process by only reaching out to best-match candidates.
5. Interview IT Service Providers
Reach out to the providers on your shortlist with a Request For Proposal (RFP) or for an interview. When interacting with the providers, this is your chance to get a feel for what it would be like working together.
The questions you ask will be crucial. Interviews should delve into their approach to addressing your IT goals and how well their strategies align with your business vision.
Questions to ask potential IT partners include:
Do you specialize in providing services for a specific industry (ex., healthcare, manufacturing)
What certifications do your team members hold?
How do you communicate progress and updates?
Who will be the primary point of contact for our project?
Which metrics do you track, and how do you measure success?
What type of reporting do you provide?
What is your pricing structure?
These questions should put all parties on the same page, helping to manage expectations further down the line.
6. Narrow Down Your Options Based on Business Needs
With the knowledge you've gleaned from interviews, pricing information, and your own IT needs, it's time to narrow your shortlist down to one provider.
Consider the benefits and potential shortcomings your business would encounter working with each provider. Did any notable differences come up between you in the interview phase? Can some be eliminated right away?
If things get tricky, think back to the priorities list you created. Think through which provider aligns most closely with the goals, communication needs, and other preferences you established initially.
Of course, when weighing recommendations and referrals, remember that what suits one company's needs might not fit another's. Prioritize a partner that meets your unique criteria and aligns with your culture.
7. Engage the Right IT Provider with an SLA
Once you've made your choice, it's time to hire the IT provider that best fits your needs. To make the partnership official, you'll need to contract them for the work with a service level agreement (SLA), which will document the terms and conditions discussed leading up to the collaboration.
The SLA should include the scope, levels of communication, and cost of the project, along with any additional fees that may be incurred if the scope expands. Be sure to read your agreement thoroughly in preparation for your work together.
How to Choose an IT Provider Checklist
Searching for the right IT partnership? Use this checklist to begin leveling up your IT support services.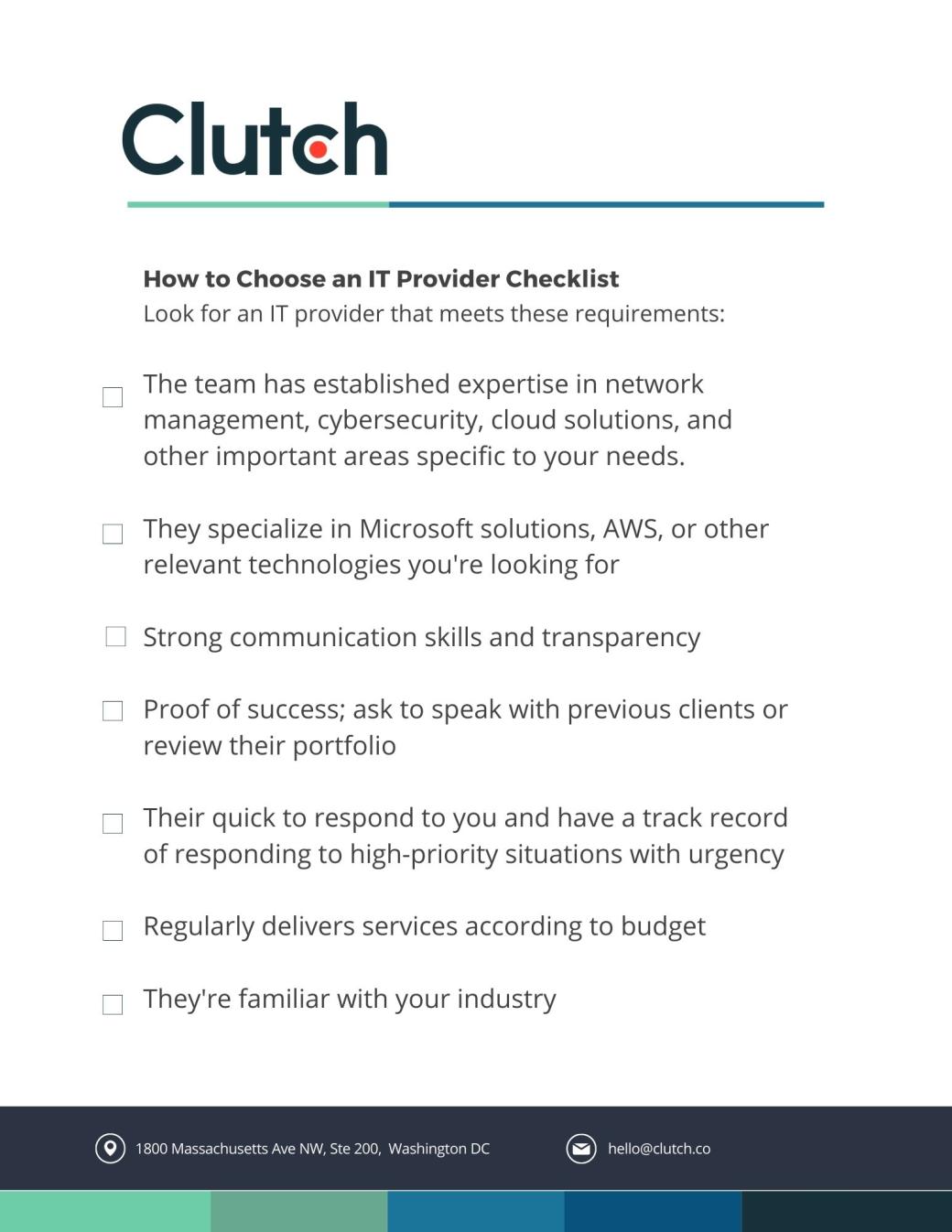 Download this checklist before onboarding an IT services provider.
IT Providers Address Critical IT Needs for Small Businesses
Selecting the right IT provider is a critical decision that can significantly impact your business's technological capabilities and security.
Identifying an IT partner that aligns with your goals, budget, and business values is critical for make-or-break endeavors such as disaster recovery and overall business continuity.
Ready to embark on the journey of connecting with the ideal IT partner? Start your search by exploring
reputable IT service companies
, considering client feedback, and assessing their compatibility with your business needs.