Updated August 11, 2022
Gen Z is all grown up. 
As they've come into adulthood, they now make up more than a quarter (26%) of the global population. More significantly, they command about 40% of all consumer spending; a number that is sure to rise as they become older and assume the majority of the global workforce. 
So what does this mean for your business? 
Companies must adjust their marketing strategies to appeal to a growing group of young consumers. Here are a few Gen Z marketing tips to increase your ROI. 
Who is Gen Z? 
Generation Z, or Gen Z for short, is the generation born between 1996–2010. Currently between the ages of 12 and 26, they're the most diverse and are expected to be the most well-educated generation in history. As a result, their perspectives are very different from those of their predecessors. 
5 Gen Z Marketing Tips 
Focus on Consumer Research About Gen Z 
Over the last few years, companies have spent so much time and resources gathering data on Millennials  in order to gain information about their lifestyle and habits. In doing so, they've been able to create content  and advertisements that appeal to young audiences. 
However, many marketers have mistakenly conflated Gen Z and Millenials, thinking that because they're young, they have similar interests. Additionally, they believe that because their marketing strategies work for one, they will work for the other. 
However, there are some major differences between Gen Z and Millenials, so marketers need to think of Gen Z as more than just "Millennials 2.0,"
For example, Millennials communicate with text, but Gen Z is more likely to use and respond to images, an important distinction for marketers looking to connect with their target audience.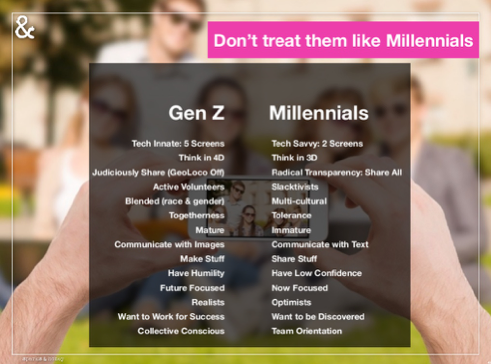 Instead, marketers will benefit most from conducting market research to help them understand Gen Z better. 
Looking at the chart below, it's easy to see that each generation has different needs, desires, and attitudes. For example, one generation may focus on homeownership, while the other is more worried about job security.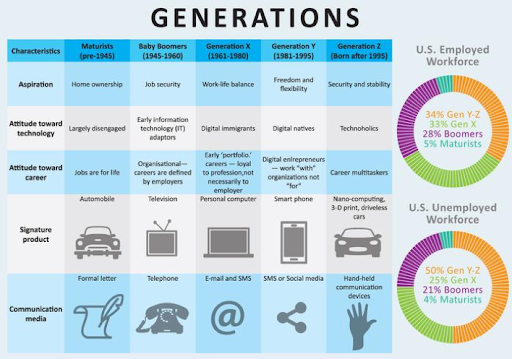 By gathering information about Gen Z, companies can create content that appeals more to them. 
Currently, marketers know these facts about Gen Z: 
They are savvy in finding good deals and are not willing to pay full price 
They expect deep levels of personalization in all of their experiences
Price is still a huge draw for them
Balancing price with being unique is a defining trait
Need help with consumer research? Connect with market research companies on Clutch.
Create Video Content 
According to Google, 40% of Gen Z users prefer video content such as Instagram Reels, Stories, and TikTok.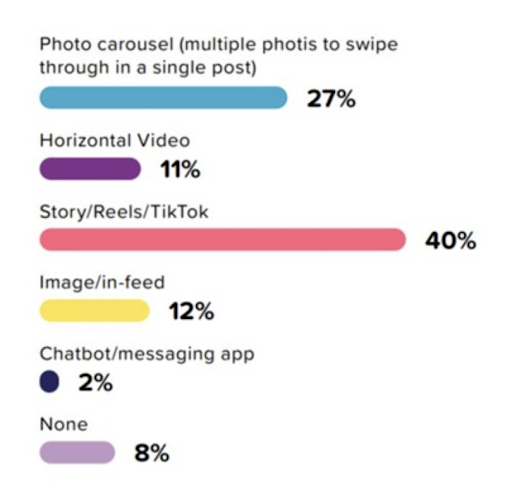 As new video platforms have become prevalent, it has become a driving marketing strategy for several companies targeting young audiences. In fact, 81% of marketers claimed that video has a direct, positive impact on sales, making it one of the most effective marketing strategies available.  
Implement Emerging Tech 
The advancements in technology are seldom in isolation, and there will be creative synergies that continually enhance the retail experience. Here are some of the advancements and directions that we can predict that retailers can take advantage of:
Macy's implemented VR across 90% of its stores this year, which allowed users to design their own spaces. VR-influenced sales went up by 60%, and return rates were as low as 2%. 
In the future, we could see services that allow users to create a functioning replica and digital twin of their home. This digital twin could be potentially be shared with a retailer so users can drag and drop items to see how they fit. 
The digital twin can work with predictive analytics to notify users if they need to pick a replacement or offer an alternative at a discount.
Use Aerial and Subterranean Options for Last-Mile Delivery
The last-mile delivery capabilities in the future will expand and make close to instantaneous delivery a reality. No longer confined to just roads, last-mile delivery will expand to the skies and underground. 
A drone delivery network with hot-ticket items being circulated and ready to be dispensed is a distinct possibility. With Amazon Prime Air already in the works, drone technology can be silent, and reliable enough for this to happen.
A UN report predicts that up to 70% of the world's population will be living in cities by 2050. Cities extending their infrastructure underground will be the future as we experience greater population densities. 
Countries such as Singapore are already exploring plans to integrate an underground component. Transport and logistics components can be planned and an underground highway built for the delivery of consumer goods will change the last-mile delivery game.
Ensure Interconnectivity for a Universal, Visible Presence
Gen Z's expectations of automation translate to an evolution in the way financial services work for them. Financial institutions, fin-tech firms, and retail solutions will seamlessly meld into the background in the future. 
Financial services aided by AI will likely need to become more personalized and robust. They can help guide the generation through a comprehensive lifestyle map and help with decisions to reach their financial goals.
This level of involvement means that retail platforms can be in the background of a Gen Z consumer's experience, no matter how active or passive they are. 
Expect financial institutions, fin-tech firms, and retail solutions to work diligently to provide a lifetime of value to their Gen Z customers. They'll need to optimize, stretch, and innovate to match Gen Z's price and value expectations. 
Build Your Online Presence with Social Media 
According to the National Retail Foundation, 72% of Gen Z consumers said they would be more likely to buy from brands they follow on social media. 
Since 2020, people have been spending more and more time on social media, but none as much as Gen Z, who averages over three hours a day on social media.
As Gen Z spends more and more time online, it's best for companies to meet them where they are. By building social media profiles on Gen Z's preferred platforms—such as Instagram, TikTok, and Twitter— they can build their brand awareness and expand their reach. 
As a result, many companies are investing more in social media than ever before. Companies can look at partnering with influencers, creating ad campaigns, and other strategies to boost their following and overall engagement. 
Here are some resources to help you build your social media strategy:
Need help creating a social media campaign? Clutch has compiled a list of the top social media marketing companies in the world for you to check out. 
Take a Stand through Corporate Social Responsibility
Recent data shows that Gen Z prefers to work with businesses that are socially responsible. In fact, 71% of people think it's important for businesses to take a stance on social movements.
They are using their purchasing power to take a stance on social issues. In fact they prefer to work with companies that:  
Take a stand against injustice
Are sustainable 
Provide clean and safe working conditions
Give back to communities 
Support diversity, equity, and inclusion (DEI) in the workplace and in advertising
By responding to issues that their young audiences care about, companies are able to  improve their brand image and build relationships with Gen Z. 
How are companies including social responsibility in their marketing efforts? 
Example 1:  
Let's consider how companies responded to the 2020 protests for racial justice.
At the time, many companies released statements, updated their website, and revamped internal DEI initiatives to address events. 
Amazon, for example, redesigned its header to provide support for the Black Lives Matter movement. 

Source: Clutch
Example 2
In 2022, many companies spoke out when the Supreme Court overturned Roe v. Wade. Some, such as Lyft, JPMorgan, Yelp, Ellevest, and Dick's Sporting Goods, expanded their healthcare policies to cover travel expenses for employees seeking abortions outside their home states.
Prepare Now for the Future with Gen Z Marketing
With all of these evolving needs for the upcoming generation, it's important to take the time now to remain relevant in the future. 
As you adapt your retail experience for the buyers of tomorrow, you should:
Understand that needs and markets shift with the changing generations. 
Leverage technology to better know and serve your Gen Z customers, otherwise risk losing their loyalty.
Embrace integration, as standalone retail platforms will likely be replaced by hybrid versions. If you can't adapt, you'll likely be excluded.
Structure your business to provide easy and utility to your customers. Retailers who can provide unparalleled support will see their efforts pay off.
Seamless, hassle-free experiences like the ones above are benchmarks of the future of retail. It's vital to take the necessary time to integrate these changes into your retailer's existing approach. 
To avoid getting left behind from the future of tomorrow, it's time to optimize, stretch, and innovate to meet the needs of your newest demographic: Generation Z.