NFTs, or non-fungible tokens, are assets backed by blockchain technology that certify ownership, which can't be overwritten unless sold or traded. NFT sales are only expected to increase over time at an estimated 18.55% annual growth rate.
Generally, NFT projects take the form of digital artwork, entertainment, or exclusive access to coveted content.
You can buy your own NFT by engaging with NFT marketplaces like Opensea and purchasing an asset using cryptocurrencies like Bitcoin or Ethereum. 
NFT creators, investors, and NFT influencers aspire to profit from assets they acquire and play a role in the growth of emerging technologies.
The NFT community is fiercely passionate about web3, fintech, the metaverse, and the world of NFTs, so it's smart for entrepreneurs to consider involving themselves in the NFT space. However, given the freshness and dynamism of the space, a run-of-the-mill social media marketing campaign may not work on its own.
To attract attention with your NFT campaign, you will have to think outside the box. Take note of how top NFT marketing initiatives have made waves in the community, so you can apply your learnings to your own efforts.
NBA Top Shot
The NBA took NFTs a step further than most brands or individuals doing NFT drops by creating its own licensed NFT platform. Called NBA Top Shot, the platform facilitates the buying, selling, and trading of licensed NBA highlights. These collectibles are digital NFTs.
The marketing effort turned iconic moments in NBA history into NFTs, which created a sense of exclusivity around ownership of the clips. Investors can acquire and trade basketball moments by rarity, player, year, and more.

Source: NBA Top Shot
The NBA was able to leverage the existing popularity of basketball and the devoted fandoms dedicated to the sport in its Top Shot marketing effort. These NFTs appealed to collectors and typical sports fans without knowledge of web3.
The platform's association with a well-established and respected sports league helped build trust and credibility. But that credibility was furthered by an easy-to-understand, accessible model reminiscent of trading baseball cards.
Companies looking to get into NFT marketing should know their audiences and offer unique and exclusive digital collectibles to build a sense of urgency and demand among fans.
Kings of Leon's NFT Album
Since NFTs grew in popularity, people have also used them to market music and events, providing exclusive experiences through digital tokens.
For instance, Kings of Leon released their "When You See Yourself" album as an NFT. The NFT offering also offered fans the option to buy exclusive versions of the album specific to the NFTs. These versions had extras like limited-edition artwork and concert tickets.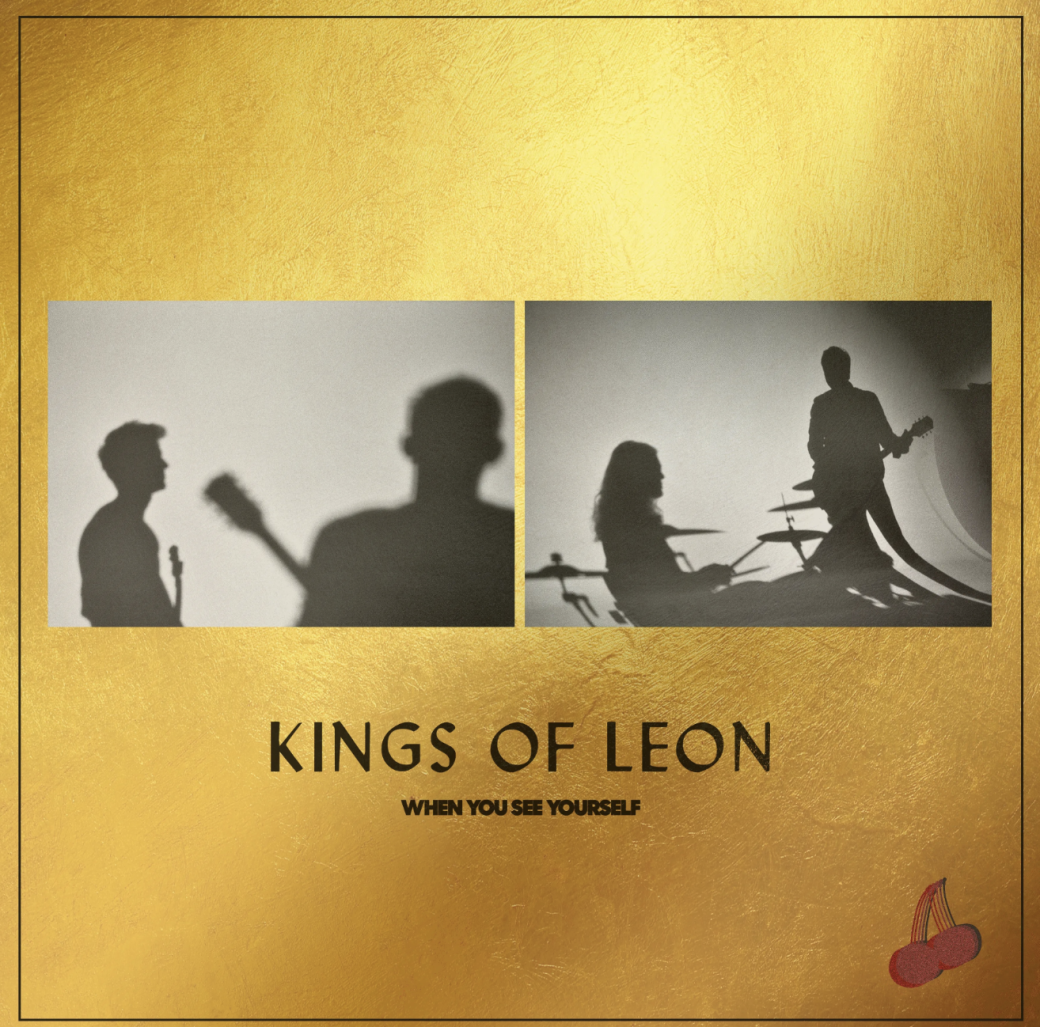 Source: Opensea
The effort began to make people rethink the ways people could use NFTs. Kings of Leon was the first band to release an album as an NFT, and it paid off. The album generated $2 million in its first week of release, during the COVID pandemic when people weren't spending a lot on extras.
NFT albums paved the way for new approaches to artist-to-fan interaction. Fans could now support bands while receiving unique rewards unavailable to just anyone.
Companies looking to emulate the success of this effort should consider offering exclusive content or experiences through NFTs to incentivize customer participation and engagement.
Beeple's "Everydays: The First 5000 Days"
Especially in the digital art world, it can be nearly impossible to stand out and create brand awareness for oneself. NFTs really changed the status quo, centering artists early on for their ability to create tradeable NFT collections that stored value.
One example of an artist touted for creating some of the best NFT digital artwork is Mike Winkelmann, who goes by Beeple. This artist sold a collection of his artwork titled "Everydays: The First 5000 Days" as an NFT for a record-breaking price at auction.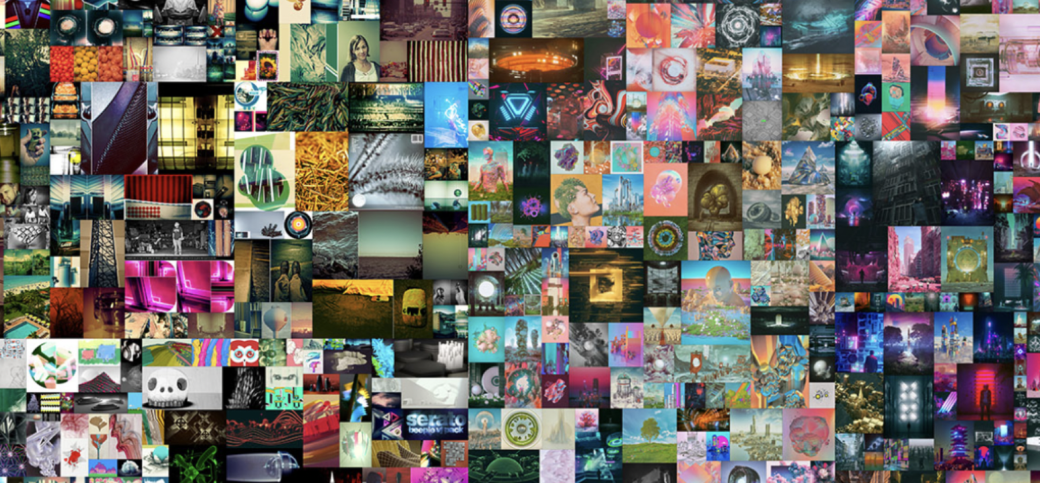 Source: Play to Earn
The final price was 42,329.453 Eth, which was worth over $69 million when sold. However, in August 2023, it would be worth more than $78 million if sold for the same amount as Ethereum.
It's important to note that Beeple already had a good reputation as an established digital artist. However, the work's historical significance also contributed to its high price point. Compiling an image every day for 5,000 days, Beeple created a digital collage of major historical events dating back to 2007.
The staggering cost of the JPEG at auction stirred significant media attention, which drew attention to the NFT art market. This led to NFT influencers and dilettantes creating their first NFT to try out digital artmaking and selling.
Now, NFTs are a well-known medium for artists to gain recognition and reach a global audience. This opportunity can also extend to companies looking to build brand awareness and reputation in tech while significantly impacting value and demand.
Axie Infinity
Axie Infinity is a blockchain-based game where players can collect, breed, and battle creatures called Axies. Players can earn and trade NFTs within the game, so the gaming experience contains an NFT platform of its own.
Gaming is a huge industry, and gaming enthusiasts also tend to be on the cutting edge of new technologies. The interest in crypto and jumping into the metaverse already existed, and Axie Infinity took an opportunity to cater to its target audience.
The game succeeded due to this existing interest and how Axie Infinity gamified the experience of owning NFTs, making it more appealing to a wider audience.
The game uses a play-to-earn model to get players involved in earning their own NFT characters and learning more about blockchain without getting too technical. 
Play-to-earn (P2E) is already being discussed in gaming, and the jury's still out on whether it's a strong long-term plan. However, it has been proven to get users through the door. Introducing a P2E model caused user acquisition numbers to skyrocket.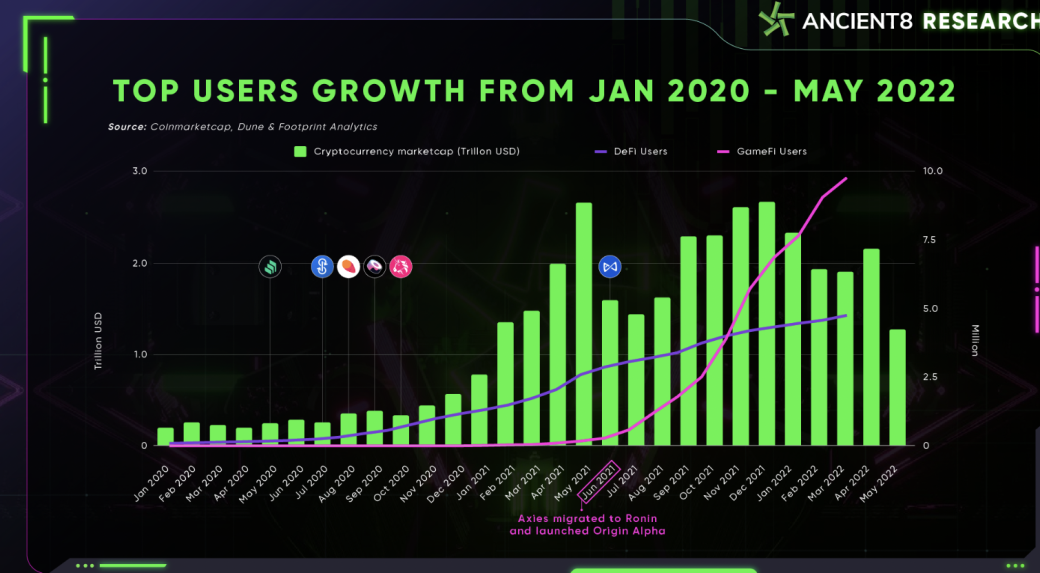 Source: Ancient8
Companies should remember within their marketing efforts that gamification makes for more enjoyable experiences. Users are more incentivized to try new things and learn about tech when the experience is fun and entertaining.
Further, play-to-earn can be of service to brands fearing that complicated blockchain processes could hurt acquisition, engagement, and retention. By treating crypto activity as milestones (ex., wallet setup, first asset trade, etc.), brands can keep users engaged without burdening them with technical jargon.
Gucci's Digital Sneakers
Luxury fashion brand Gucci released limited-edition virtual sneakers as part of a digital fashion collection.
With the growth of the metaverse, Gucci leaned into digital assets by marketing virtual versions of physical Gucci sneakers. Players can "wear" the shoes in virtual worlds such as Roblox and VR Chat.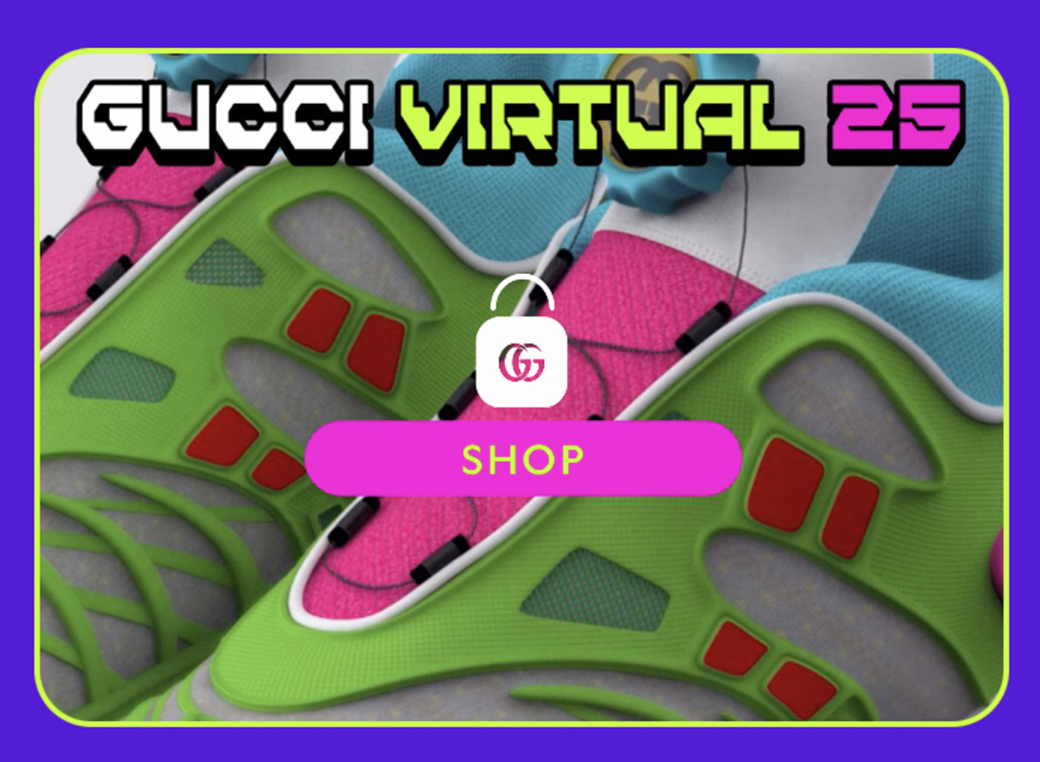 Source: Gucci
Gucci's reputation as a high-end fashion brand and the limited supply of the NFT sneakers created exclusivity and appeal among fashion-forward consumers. It's important to point out that these shoes aren't a true NFT—they can't be sold or traded to others in virtual worlds. This makes them a faux inclusion on our list, but they maintained the futuristic and innovative elements that drive interest in web3 and the metaverse.
Especially for the luxury fashion industry, as it's known for being traditional, it was a big statement for Gucci to embrace digital assets early by creating their own.
Still, Gucci isn't the only company in the fashion industry to turn shoes into 'NFTs'. We've also seen Nike execute virtual footwear called Cryptokicks, which have sold for up to $134,000.
Incorporating NFTs and wearable digital materials into the fashion industry is bound to open tech up more to trend-focused buyers. Companies looking to replicate Gucci's thinking should consider how they can link virtual assets to existing physical products. The fashion industry values status and exclusivity, and NFTs may be a lucrative way to leverage this characteristic.
NFT Marketing Strategies Elevate Digital Marketing Performance
NFT marketing that really works in connecting with target audiences isn't about stellar content marketing, SEO, or email marketing alone. The most important things in your marketing toolkit are strategies that create exclusivity, leverage brand equity, or offer unique experiences or rewards to customers.
Companies looking to replicate this success should consider how NFTs can add value to their products or services, foster community engagement, and tap into the growing interest in digital collectibles. Considering partnerships with companies already tapped into NFTs may be beneficial early on.
Additionally, connecting with an agency of experts with the know-how and marketing tools you need to ensure success may be advantageous.
Work with an NFT marketing company on Clutch to execute ideal NFT marketing campaigns.