Economic uncertainty surrounding the coronavirus pandemic has left many businesses with smaller recruiting and hiring budgets.
Despite the uncertainty, companies in many industries — especially tech, food, medicine, and supply chain services — still need new employees.
Fees that recruiting agencies charge can be costly, and the time necessary to find and actively recruit potential candidates can be prohibitive.
For affordable and effective hiring, companies should implement an employee referral program.
We surveyed 353 recruitment professionals whose companies offer an employee referral program to learn what makes referrals effective and what the biggest benefits of referrals are for their business.
Businesses should award cash bonuses and social praise to employees who participate in an employee referral program to hire effective and engaged people.
5 employee referral strategies companies should use:
Reward cash bonuses to employees referring new employees.
Publicly and prominently praise employees who refer new hires.
Implement a shorter recruiting process for referred job candidates.
Budget less money to hire referred candidates than other job seekers.
Prepare for referred job candidates to fit your company culture and stay at your company longer.
Our Findings
71% of companies believe cash bonuses are the most effective compensation for employees who refer a hire.
27% of companies compensate referring employees with social praise such as public shoutouts at company meetings.
46% of companies typically complete the recruiting process in one month or less.
55% of companies say that hiring someone a current employee referred is less expensive than hiring a non-referral job candidate.
49% of businesses say that job hires from employee referrals typically stay at the company longer.
1. Reward Cash Bonuses to Employees Who Refer New Hires
There are many ways for companies to compensate employees who refer job applicants for openings at their company, but money compensation is the most successful.
Close to three-quarters of companies (71%) believe that cash bonuses are the most effective employee referral compensation.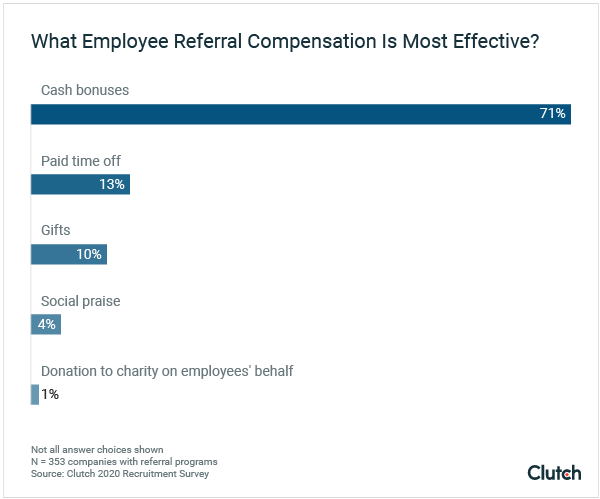 In comparison, 13% of businesses believe that additional time off is the most effective compensation reward. Only 10% believe that gifts are the most effective, and 4% say social praise.
Experts say that companies' belief in cash bonuses for employee referrals is unsurprising: This practice is widespread and generally effective.
In the tech and financial industries, for example, large companies such as Google and Ernst & Young sometimes offer up to $10,000 to employees who refer new hires.
Cash compensation doesn't have to be limited to large companies — smaller companies such as Voices.com, an online marketplace that connects businesses with professional voice talent, also rewards cash bonuses to employees who refer new hires.
Even for companies with more modest budgets, cash bonuses for referrals are achievable. For example, Voices.com offers a $300 bonus to referring employees.
"We believe that top talent knows other top talent," CEO David Ciccarelli said. "The referral program is tremendously helpful for finding the right person for a job."
The referral program is tremendously helpful for finding the right person for a job.
Ciccarelli safeguards the employee referral process by waiting to pay referring employees until the new hire has completed 90 days of work. This way, the company has time to ensure the new hire is there to stay.
For Voices.com, cash bonuses provide a tangible and valuable benefit to employees who refer their colleagues. For all businesses, cash bonuses for referrals:
Can be adjusted based on how much money the company is able to spend
Provide a simple, valuable incentive for employees
Enable competition with other business, who probably already have cash rewards for referrals
Whatever combination of rewards businesses decide to provide referring employees, those that can afford it should consider starting with a basic cash bonus.
2. Pair Cash Rewards With Social Praise for Referral Bonuses
Cash bonuses may be the most prominent and widespread compensation for employees to refer new hires, but they do not have to stand alone. Business owners and managers should publicly and prominently provide social praise to employees who refer new hires, especially if their business is looking to limit expenses in the COVID-19 economic climate.
Although companies are most likely to compensate employees who participate in referral programs with cash bonuses (69%), roughly one-quarter of companies offer social praise (27%), gifts (27%), or extra time out of the office (25%).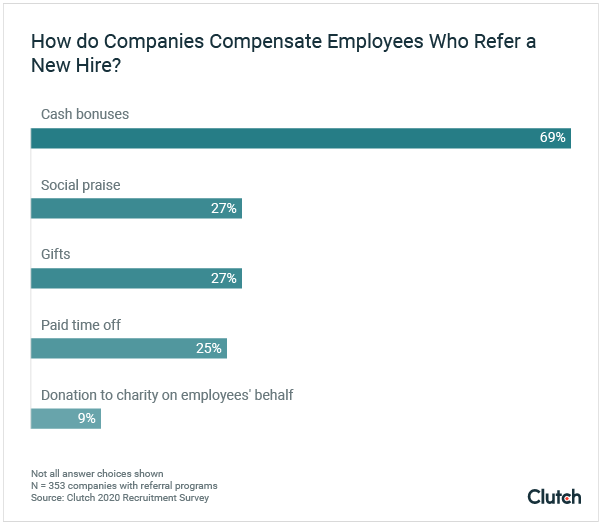 In addition to cash bonuses, companies should offer shoutouts and public praise to employees who refer new hires.
At smaller companies, employees naturally earn recognition by referring hires.
Saurabh Jindal, the founder of Talk Travel, a voice services mobile application for travel-related queries, says that simply thanking employees who refer new hires in front of their colleagues is enough to keep the team at his small startup referring their friends and associates.
At larger companies, social praise needs to be more explicit. Businesses can provide social praise by:
Announcing an employee's successful referral at an all-staff meeting
Including information about an employee's referral in the company newsletter
Posting referral statistics on company bulletin boards or online workflow tools
By pairing modest cash bonuses with prominent social praise, companies can incentivize referrals and make the importance of referrals clear to employees.
No matter the money compensation, companies that reward employees who refer new hires should use social praise.
3. Plan to Implement a Shorter Hiring Process for Referred Candidates
The average length of the hiring process can vary widely for companies in different industries and different locations.
Regardless of the length of a company's recruiting process, companies should plan to shorten their timeline for a candidate who applies as part of a referral program.
Already, close to half of companies (46%) spend 1 month or less on their hiring process.

Companies with a hiring process longer than 1 month may be at a recruiting disadvantage that employee referrals can help reduce.
Experts say that employee referral programs can significantly shorten the length of a company's hiring process, as time spent on preliminary phone interviews and basic background checks is reduced.
Ollie Smith, CEO of Card Accounts, a payment data merchant service provider, said he hires referred candidates twice as fast.
Smith has hired two employees since instituting an employee referral program. Because someone has already vouched for the candidate, Smith spends less time calling references. In both cases, a 4-5 week hiring process was reduced to 2 weeks.
Referral programs help speed up the process of turning applicants into employees.
Businesses can demonstrate their commitment to making faster, better hiring decisions with an effective referral program.
4. Use Employee Referral Programs to Save Money on Hiring
It's natural for companies to want to reduce the amount they spend on hiring, especially in the current economic climate. For most positions, the overall cost of hiring new employees is between $3,000 and $5,000.
Employee referral programs are a simple and effective way for companies to decrease the significant costs associated with hiring new employees.
More than half of companies (55%) say employee referral programs reduce the cost of hiring.

Referral programs reduce or eliminate a range of costs, including:
Experts say the costs cut through employee referral programs can be significant.
Anna Papalia, CEO of ShiftProfile, an interviewing consultancy, said that in her career as an HR and staffing consultant, she relied on employee referrals.
In one position, she was responsible for recruiting and hiring $7.2 million in yearly salary.
"We relied heavily on a generous employee referral program and leveraging our internal networks," Papalia said. "I believe one of the best and most reliable talent pipelines is a referral program."
By eliminating nearly all recruiter fees, Papalia estimates that the referral program for this staffing project alone saved her company upwards of $1 million.
Companies should implement strong employee referral programs to save money on recruiting, no matter if they are working with a large or small staffing budget.
5. Expect Referral Programs to Reduce Employee Turnover
Companies value candidates who seem likely to work at the company for an extended period of time. Employee referral programs are an effective strategy to reduce employee turnover.
About half of businesses (49%) say hires who employees refer generally stay at the company longer.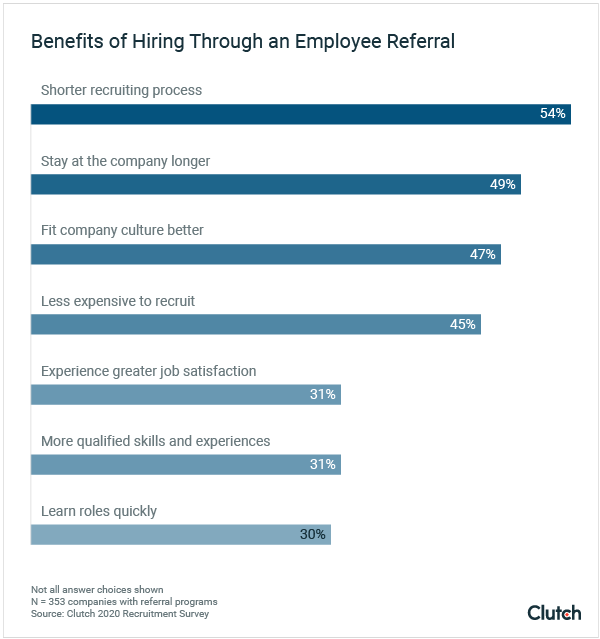 Meanwhile, fewer than one-third of businesses believe that referred hires are likely to experience greater job satisfaction (31%), have more qualified skills and experiences (31%), and be more productive in their jobs earlier in their tenure (30%).
Experts say employee referral programs reduce turnover for two reasons:
Hires are more likely to be aware and accepting of a company's culture.
Referred employees likely have a friend at the company already and may become friends with their coworkers more quickly.
Joey Price, CEO of Jumpstart HR, an outsourcing and small business consultancy for small businesses and startups, says he usually attributes the lower turnover of referred employees to the bonds they have with their coworkers.
"It's likely that an employee who is referred already has a close connection with the person who referred them," Price said. "Working with people you like is important because you're more open to positive and constructive feedback, attempts at team building, and buying into corporate vision."
Companies who want happy, productive, and long-lasting hires find employee referral programs a worthy investment.
Use Employee Referral Programs to Hire Top Talent
Businesses should use employee referral programs to hire more selectively and effectively, especially given the economic uncertainty caused by the coronavirus outbreak.
Businesses can use employee referral programs to hire talent that is effective and more likely to remain at the company long-term.
Companies that implement an employee referral program should:
Reward cash bonuses to referring employees, if possible
Prominently praise employees who refer new hires to make it part of the company's culture
Plan for a shorter hiring process for referred employees
Expect their referral program to save money and reduce employee turnover
Businesses are most likely to make the best hiring decisions when they use an employee referral system.