Updated 09/01/2022
Brand awareness is the key to earning more revenue and driving new prospects to your company. By increasing brand awareness, companies can stand out from competitors and ensure that their brand stays on consumers' minds. 
Looking to improve your brand awareness? Connect with top branding agencies on Clutch. 
What is Brand Awareness?
Brand awareness measures how well consumers within a target audience can recognize your brand and distinguish a brand name from other companies. A company with a strong brand identity, marketing efforts, and metrics will likely have solid brand awareness. 
Businesses seeking to increase brand awareness often engage in marketing activities on search engines and social networks. 
Brand Awareness vs. Brand Recognition
Brand recognition is the first step to building brand awareness. Brand recognition means that consumers know and recall a company's logo and products. 
However, brand awareness involves a bit more than that. Brand awareness involves consumers recalling emotions and information about their brand experience. This implies a deeper connection to the brand that exceeds product and company name identification. 
Importance of Brand Awareness Strategy
This is why brand awareness can play a major role in lead generation efforts and establishing brand loyalty among customers.    
Without an established brand, it's going to be more difficult for customers to connect with your products and services. There are tons of alternatives in most markets too, and a solid brand awareness could be what makes a prospective customer select you rather than a competitor. 
It's important to have a strategy when starting branding efforts. While giving your brand a personality sounds straightforward and informal, it can be a lot more challenging than it looks.
In order to ensure you're creating a cohesive brand that customers can connect with, you'll want to plan, document, and track the success of each effort attempted. 
Not only will brand awareness draw in prospective customers with name recognition, it will also help you secure repeat customers for the long-term.
10 Approaches to Increase Brand Awareness and Brand Recognition
There are plenty of unique ways to improve branding, and you can use this article to master 10 effective strategies.
Top ways to boost brand awareness include:
Referral programs
Compelling website content and SEO
Infographics 
Local partnerships
Physical marketing assets
Paid and organic social media 
Podcasts
PPC advertising
Remarketing campaigns
Influencer marketing
These approaches allow businesses to stand out in the marketplace and maximize their brand's performance.
Looking for help building a strong brand? Connect with a top branding company on Clutch.
1. Referral Programs Drive Word-of-Mouth Marketing
Users will enthusiastically advertise your product or service if you offer an incentive. Referral programs provide a reward in exchange for word-of-mouth marketing, driving new awareness of your brand.
According to research by Nielsen, people are four times more likely to buy when referred by a friend. Every new referral is four times more likely to lead to a purchase, compared to a non-referral. 
Some major companies already use this branding strategy. For example, Dropbox offers 500MB of extra storage space for users who refer their friends. 
Dropbox makes it easy for users to refer their friends by syncing with users' Gmail contacts.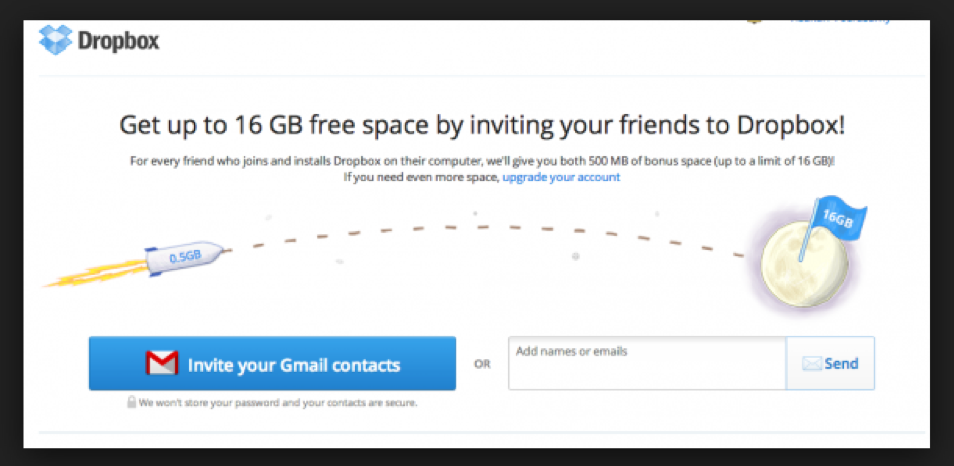 By offering an inexpensive incentive, Dropbox can gather new leads directly from its users.
2. Create Compelling Content to Engage Consumers and Boost SEO
Compelling content can catch consumers' attention, building new awareness of your brand.
To tap into other companies' audiences, create content to share on trustworthy blogs. Guest posting is a powerful tool to get your name in your industry. Write content that creates a lasting impression on your new audiences. 
Rather than creating purely keyword-focused content, create content that's audience-focused.  
Brainstorming a High-Quality Content Marketing Strategy
Prepare your content marketing strategy by asking questions such as: 
Who do you need to target? 
What are their needs?
What types of content does your audience want? 
What expertise does your brand offer? 
How to Build a Content Marketing Strategy
Once you've sketched an idea of your audience, focus on best practices to create a successful content marketing strategy:
Set clear and specific goals
Brainstorm content ideas by researching what your audience is looking for
Present your company's expertise in a way your audience understands
Promote your content in social media as well as on other websites by writing a guest blog or article
When you submit your articles to prominent websites, you can establish your company as an industry leader to a new audience, enhancing your brand's reputation with new readers. 
3. Infographics Catch Readers' Attention
Infographics are a visual representation of interesting statistics and data your company collects. 
Infographics help people analyze and explore data more easily. 
For example, Wordstream produced an infographic capturing the most valuable keywords:

Source
The full infographic listed the top 25 keywords in an interesting visual format. This infographic earned more than 1,500 shares on Facebook alone.
Infographics and other visual content are highly shareable on social media and other platforms, making it a great tool for brand building. You can use infographics to gain valuable links and social shares. 
4. Local Partnerships Build Relationships between Businesses
Local partnerships can help your business build stronger community connections, increasing awareness of your brand. 
To start forming local partnerships, introduce yourself to local business leaders or join them in local events such as seminars or festivals. You can also sponsor or donate to the local sports teams or events to help your community while promoting your brand.
For example, Pottery Barn and Sherwin-Williams launched a co-branding campaign called "Color Your Room."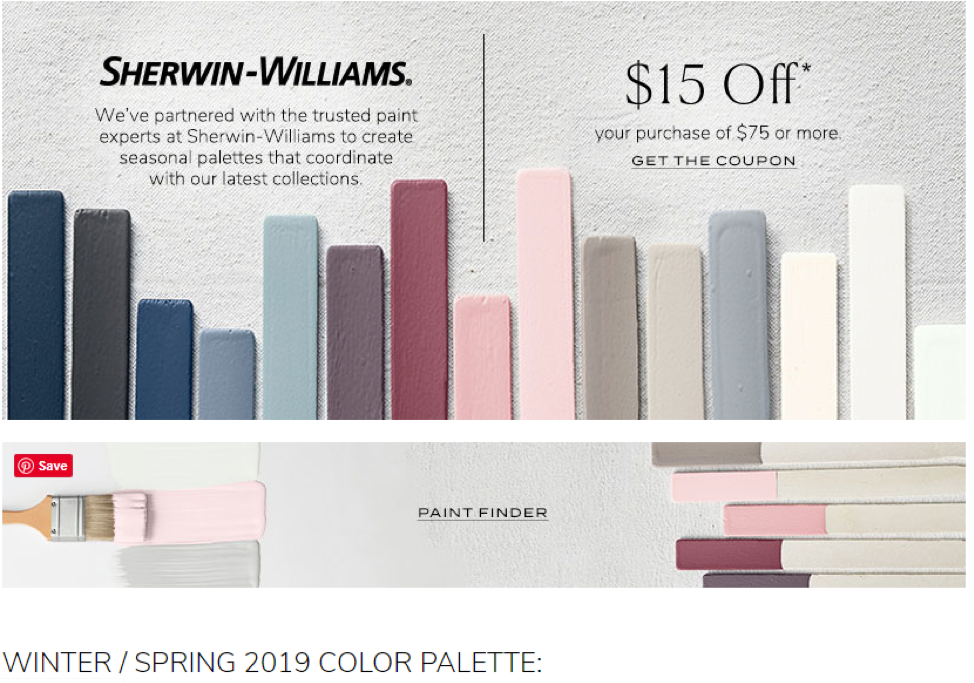 This campaign allowed the two companies to partner and create an exclusive selection of products, driving sales to both companies by helping customers pair new furniture with new paint. 
Getting your brand's name out with local events will help local consumers become more aware of your brand. 
5. Physical Marketing Assets Help Raise Awareness
Physical marketing assets are attention-grabbing, helping to raise awareness of your brand.
For example, some brands use car wraps that are customized with a branded design.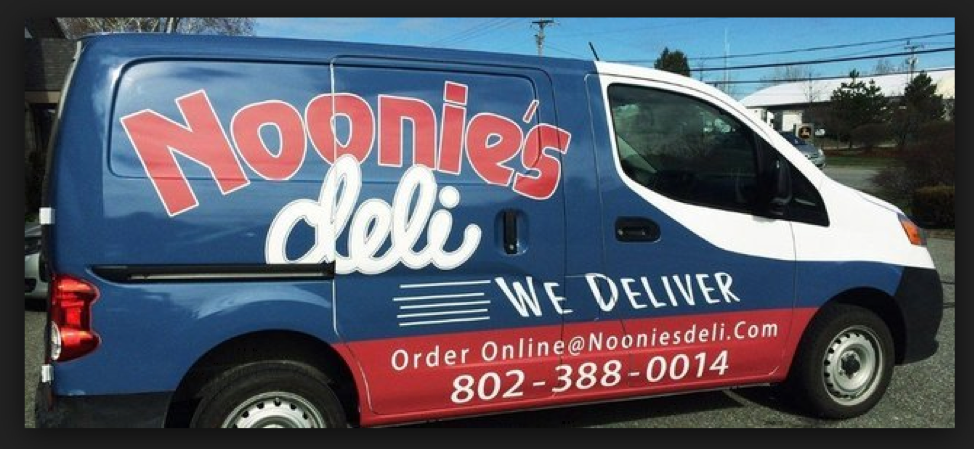 Someone driving past this van might remember Noonie's Deli from seeing the car wrap.
According to the Outdoor Advertising Association of America, vehicle wraps can drive up to 30,000 to 70,000 impressions per day, depending on where your business is located.  
Another option is to offer free, branded items.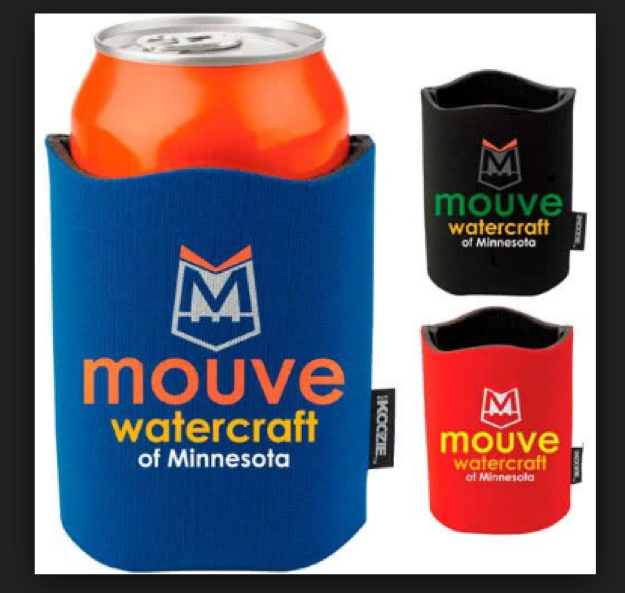 For example, this koozie by Mouve reminds users of its brand every time they take a sip.
Everyone loves free items like pens, Frisbees, and koozies, and they'll quickly recognize your brand if its name is on an item they use frequently.
6. Paid and Organic Social Media Reach Users Online 
Paid and organic social media are an essential step in raising awareness of your brand.
First, analyze your ideal customer persona. Determine which network best suits your business and focus your efforts on that network. For instance, if you have a photo-heavy site, you should focus on a visual platform like Instagram or Pinterest. 
By discovering where your ideal customers gather online, you can focus your efforts on the platforms that are most effective. 
One way to engage people is by running a social media contest. Contests allow you to promote the brand by encouraging contestants to share your content or profiles with their friends and family members. You can also require contestants to take actions such as following or favoriting your profile page.
For example, Altum's Horticultural Center & Landscape runs contests that offer a prize to participants who meet certain conditions, such as liking the status and sharing the status with their friends. These conditions help drive new engagement.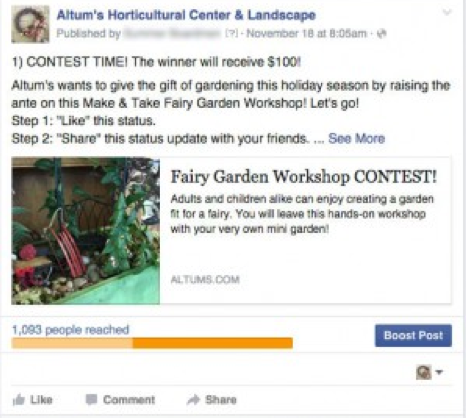 Contests like this one can reach more people than a normal post. 
Organic social media marketing is less effective than paid social media advertising. Facebook and Twitter both allow companies to run ads at an affordable rate to promote the brand. 
The important thing you have to notice is the size of your target audience. 
For example, a target audience of 29 million people is too broad.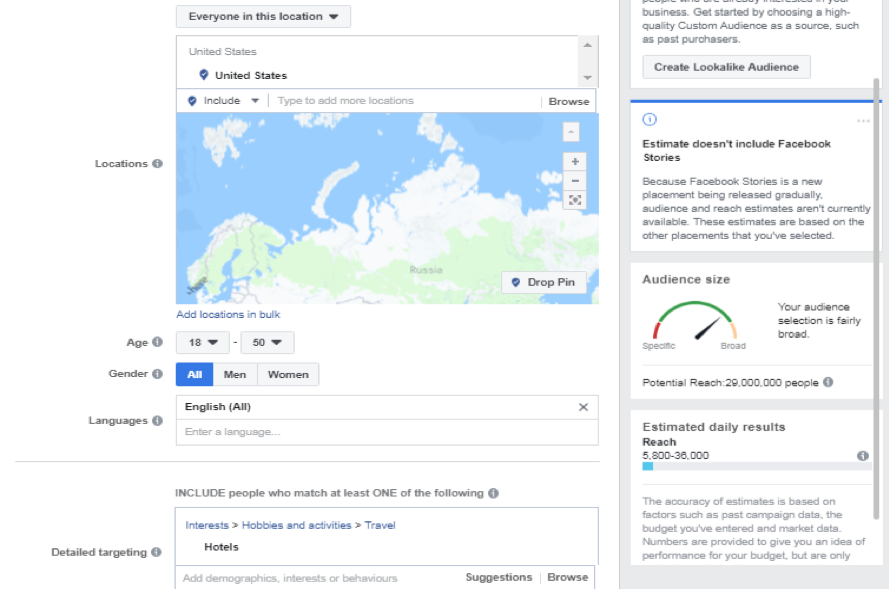 Set realistic expectations for how many people you want to target and track during your paid campaign. 
Whether or not users convert instantly, social media marketing can gradually nudge users toward making a purchase.
7. Podcasts Provide Advertising and Relationship-Building Opportunities
Podcasts are an emerging form of media that can help you expand your audience.
Some businesses might choose to start their own business podcast where they can examine industry trends and interview experts. This is a great idea to grow your brand while also promoting relationships with other members of your industry. 
For example, the TED Talk podcast provides fascinating insights into a wide variety of topics.
You could also try podcast advertising, in which you purchase time on an already-popular podcast. This can help you gain new brand awareness.
8. Pay-Per-Click Advertising Earns Top Spot in Search Results
Pay-per-click (PPC) advertising can help your brand retain the top position in Google search results. You can run a PPC campaign with targeted keyword research so your brand shows up in the top spot for relevant Google searches. 
For example, a search for a real estate class generates organic search results as well as a PPC ad from Harvard Business School. Harvard's PPC ad is visible above the organic search results.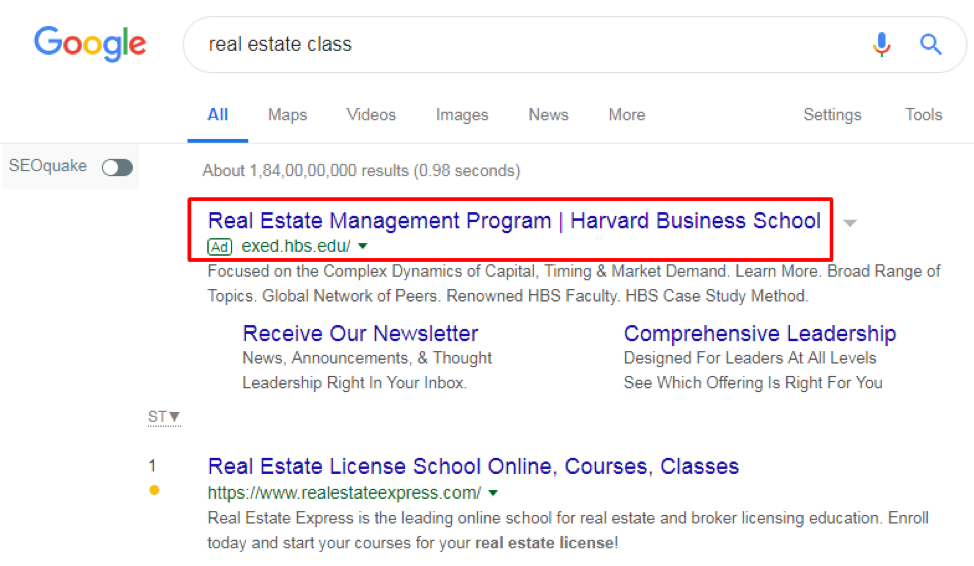 Though all users won't end up clicking your ad, you can still gain their attention and build awareness of your brand.
9. Remarketing Campaigns Engage Past Website Visitors
Remarketing campaigns display ads to users who have previously visited your website. 
After a user clicks away from your website, they'll be served ads on their favorite blogs, search results sidebars, social media platforms, and more. 
For example, Perfect Audience uses remarketing tools to display its ads to people who visit its website. 

Remarketing campaigns remind users that they were once interested enough to visit your website, encouraging them to return and complete a purchase. 
10. Influencer Marketing Gains Brand Endorsements
Find popular influencers in your industry who can help introduce your business's products to their audiences, or turn existing customers into brand promoters. 
Sperry, a popular shoe company, works with micro-influencers who are fans of the brand.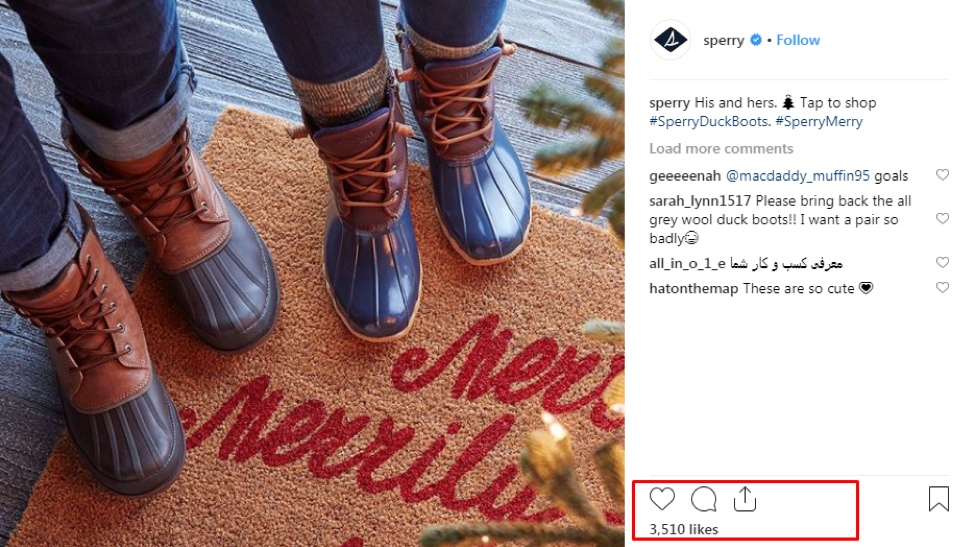 Influencers help spread awareness of new products and offerings.
Measure Brand Awareness Following Brand Awareness Campaigns
Certainly, these branding strategies and examples will help companies get an idea of what's possible for their own branding approaches. However, it's important to note that you won't be able to attribute growth or success correctly without measuring brand awareness metrics as you implement these strategies. 
Depending on your target channels and audience, you may choose a plethora of different marketing metrics to track. Here are some popular ones to get the ball rolling:
Brand impressions on social
Change in website traffic
Social media engagement
Direct traffic increase 
Increase in search volume for branded keywords
Organically-won backlinks from external sites
These indicators will help marketers understanding if branding efforts are being successful in practice. 
Brand Awareness Examples in Action
Small businesses become known brands through marketing efforts that foster customer loyalty and brand recall.
Digital marketing and social media posts are some ways to increase brand visibility within a target market, but they aren't the only pathways to becoming an established brand.
Let's take a look at some marketing campaign examples that effectively communicated brand messages and built a strong customer base:
Coca-Cola: the soft drink company has marketed Coke in plenty of awareness campaigns, but one of the most memorable was the Share a Coke campaign. This effort skyrocketed social media engagement while boosting sales 7%.
Band-Aid: this brand is commonly discussed when brand awareness comes up. This company's commitment to branding and marketing has helped its brand name to function as a synonym for the term 'bandage' in conversation.  
Nike: this massive shoe brand gained popularity by using experience branding to attract customers to a lifestyle within the brand's name. When purchasing Nike shoes, customers are buying into brand concepts of athleticism, drive, and determination. 
Building Brand Awareness Can Drive Revenue and Sales
According to top branding agencies, building brand awareness should be a top priority for businesses that want to attract new customers and grow their revenue. 
Top strategies include engaging potential customers through referral programs, website content, infographics, and local partnerships. Brands can also invest in physical marketing assets, social media marketing, podcasts, or PPC advertising to drive new awareness.
Additionally, remarketing campaigns and influencer marketing can both remind potential customers of your brand as they browse the internet, helping to engage them even when they're not on your website.
With these tips in mind, you'll be ready to build awareness of your brand.
 
---
About the Author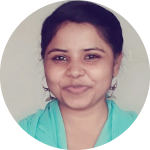 Fazeela is a digital marketing executive at Bright Bridge Infotech, a law firm marketing company. She enjoys learning about the digital marketing field. She specializes in guest blogging, blog publishing, and social media. She is an avid reader and writer and loves to write impeccable content pertaining to digital marketing. She holds a bachelor's degree in engineering.