If a small business is looking to showcase its services or products, build an online presence, and reach a wider audience, having a website is the right place to start.
A website can be used to provide customer service and establish brand loyalty with existing customers. A well-designed website can also establish credibility with new audiences.
When it comes to creating a website for your business, you have two options: hiring a web developer or using one of the many website builders on the market. Each option has advantages and disadvantages, so it is important to consider all your needs before deciding.
Website builders can provide quick and easy results, but custom web developers can create an experience that more closely fits your specific needs.
This article will explore the pros and cons of using a website builder versus hiring a custom web developer to help you decide which is right for your business.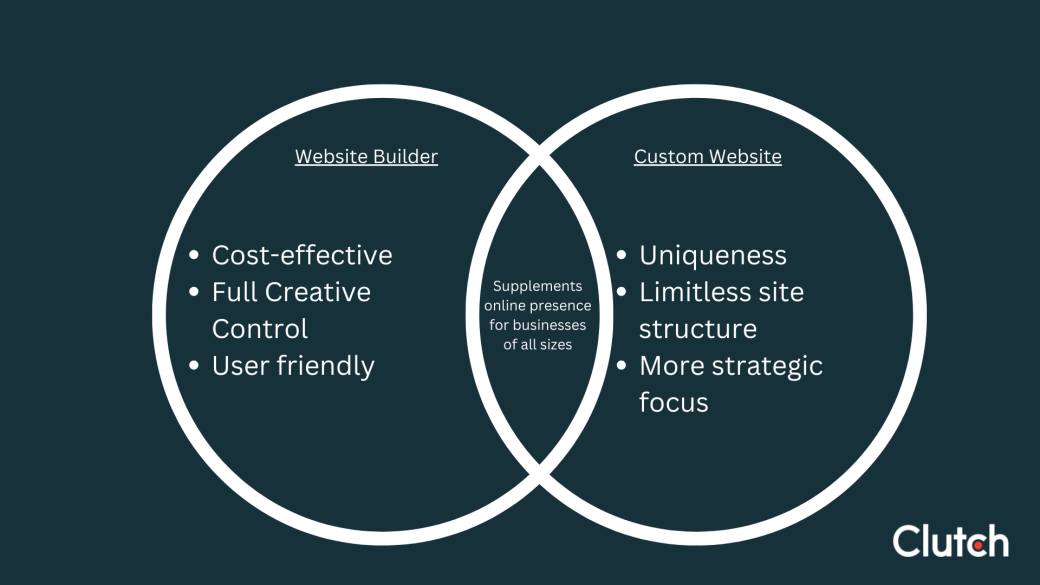 Website Builder
Website Builders
Time for DIY. A website builder makes it easy for anyone to create a new website without needing any coding or technical knowledge.
Website builders can be used for e-commerce stores, blog sites, and more.
Website builders are known for being affordable and user-friendly for beginners. Many popular website builders include pre-designed templates or themes, making the website design and development process easier. Web hosting, domain name registration, and other functionalities are also included.
Pros of Website Builder
Many pros for using a website builder involve the quickness and ease of use. 
If your business chooses a popular website builder for your company's website, you'll see the following: 
Easy-to-use features, integrations, and plugins 
Cost-effective processes with no development costs 
Variety of pre-designed templates 
Automated updates and security systems 
Full creative ownership 
Cons of Website Builder 
Along with the pros of using a website builder for your company's professional website, several cons could impact your company's overall online presence. 
Negatives involved with website builders include: 
Lack of scalability 
Lack of uniqueness 
Limited SEO options 
Limited site responsiveness & technical support 
Not the best for larger sites 
Custom Web Service 
Custom Websites 
On the other hand, a custom website is built from scratch by a website development company. It generally involves a custom build with unique designs and custom code. 
Custom websites offer flexibility that most website builders typically don't offer. These websites are great for brand identity and any digital marketing aspects. 
Pros of Custom Websites 
Custom professional websites are more appropriate for well-established organizations with a sizable budget set aside for custom web design and development.  
View the pros of hiring a web development company to build a custom site:  
Focus on uniqueness and user experience  
More strategic insight into site performance  
Limitless site structure  
Upfront expectations  
Opportunity for digital marketing and social media support  
Cons of Custom Websites  
Hiring a web developer to build a custom site doesn't work for everyone. Learn some of the cons:  
Higher costs  
Dependency on others for updates and optimizations  
Longer project timelines  
Lack of creative ownership over web design  
Requires more resources  
Consider All Factors for Web Development  
Clearly, all businesses need an effective, well-designed website to stay ahead of the competition. But should your business hire a web developer for a custom-built website or focus on keeping everything in-house by investing in a website builder that can create a platform with all of your company's desired functionalities?  
It all comes down to your business needs and goals. Website builders are a great option for creating an online presence quickly and easily. However, they can need more flexibility and customization than a web developer offers. Website builders are ideal for small businesses that need to get online fast and don't have a large budget, while web developers are better for larger businesses with more complex needs.  
Make an informed decision by reviewing all of your company's options. If you're working with a limited budget and need a site quickly, a website builder could work, but if you're running a large business with a lot of inventory and need a website with complex features, a custom website might be necessary.  
Create a budget using our trusted template before hiring a web developer for your new website.