If you're an avid user of social media, chances are you're familiar with influencer marketing. In simple terms, influencer marketing is a type of social media marketing that leverages partnerships with influential individuals online to promote products and services, ultimately driving conversions.
When executed effectively, influencer marketing campaigns can provide numerous advantages for brands compared to traditional marketing channels.
Not only are they cost-effective and time-efficient, but they also have the potential to reach the target audience more efficiently than traditional advertising, search engine optimization (SEO), or email marketing.
This article explores five successful examples of influencer marketing.
Looking to improve your online marketing strategies? Search for leading influencer marketing agencies on Clutch. Filter based on client ratings, industry, and budget to find the perfect partner for your project.
What is Influencer Marketing?
Influencer marketing is a marketing approach that allows businesses to partner with individuals who have a significant following, thereby amplifying brand exposure. Companies often engage individuals with a substantial social media presence to create and share content that promotes their products or services.
As people tend to follow individuals they trust on social media, leveraging the endorsement of someone they already follow instills a sense of trust, which can effectively enhance conversion rates. An essential aspect of implementing an influencer strategy involves identifying the influencers who align well with your company's values and objectives.
Why Is Influencer Marketing Effective?
While the outcome of your campaign relies on your strategy, there are several notable advantages to utilizing this form of marketing. Here are a few advantages to consider:
These points highlight why it is worth considering a partnership with influencers. It is crucial to ensure you collaborate with the right influencer to maximize the benefits of this relationship.
Establish credibility and trust.
One of the challenges faced by many businesses when it comes to selling their products and services is the difficulty in establishing credibility. It is essential for your business to project credibility in order to inspire confidence and drive consumer purchases. By partnering with an influencer whom their followers trust, you can swiftly enhance your own credibility.
Cost-effective.
Another notable advantage of employing influencer marketing is its cost-effectiveness. By selecting the appropriate influencers for collaboration, you have the potential to generate a substantial return on your investment when employing this strategy.
Attract quality leads.
Through the utilization of influencer campaigns, you can effectively connect with individuals who are highly inclined to be interested in the products and services you provide. Consequently, you have a greater opportunity to enhance your conversion rate.
Boost brand awareness.
By collaborating with influencers, you gain immediate exposure of your products and services to a vast audience, ranging from hundreds of thousands to even millions of followers in some cases. This wide reach offers numerous opportunities to leverage influencer marketing as a powerful tool for increasing brand awareness.
Additional reading, 'Influencer Marketing: 5 Ways to Improve Your Strategy.'
Top 5 Influencer Marketing Examples
Here are the top five examples of successful influencer marketing campaigns.
Sprint: #LiveUnlimited
Sprint not only succeeded in convincing Verizon's iconic "can you hear me now?" guy to switch to their network but also forged partnerships with musicians, entrepreneurs, and actors, captivating a substantial young audience.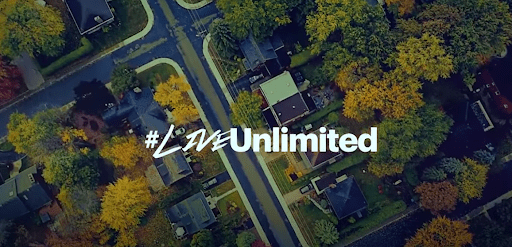 The campaign represents a collaboration between Sprint's Latin and US teams, strategically selecting influencers who possess crossover appeal, effectively targeting both markets.
It employs a straightforward storyline that integrates narratives relevant to each influencer's distinct personal brand, showcasing how they embody the concept of #LiveUnlimited.
The campaign team prioritized influencers whose values aligned with the campaign's objectives, ensuring that their brands were authentically represented and avoiding the kind of misstep witnessed in Pepsi's partnership with Kendall Jenner.
By crafting the campaign message around each influencer and their personal story, the resonance with their respective audiences is further amplified.
Fiji Water: "Bodyworewhat"
You're likely familiar with the popular water brand Fiji, but you might be more acquainted with its campaign partner under the Instagram handle, @weworewhat.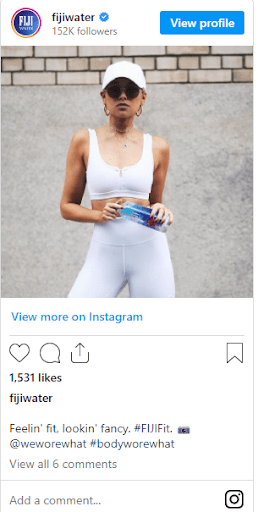 We Wore What, the renowned fashion blog by Danielle Bernstein, has recently collaborated with Fiji Water to launch Bodyworewhat. This influencer marketing campaign provides eight-minute workout videos featuring Bernstein and personal trainer Eric Johnson.
The aim of this campaign is twofold: to showcase Fiji's dedication to hydrating individuals who aspire to achieve a level of fitness and well-being similar to Bernstein, while also assisting her fans on their fitness journey by providing them with the necessary motivation and resources.
Litter-Robot: Promo Links on TikTok
Back in 2021, TikTok surpassed YouTube as the most popular streaming platform. Since then, businesses of all sizes have used the platform to get their brand in front of potential customers.
Litter-Robot, an automatic, self cleaning litter box partnered with a pet content creator @catmanjohn to highlight one of their most popular products on TikTok.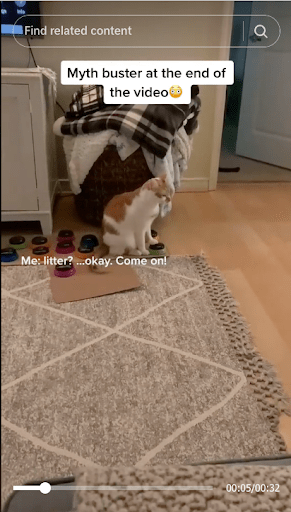 In the video, the cat uses "talking buttons" to signal to his owner that the litter needs to be cleaned. Flash forward to the litter box, and users see that the litter box has a flashing light signaling that it needs to be cleaned.
The video had 189k views and earned nearly 24k likes, helping grow the brand's exposure.
@catmanjohn also included a link in their bio, which gave viewers $25 off their own Litter-Robot, encouraging people to purchase the smart litter box for their own feline friends.
Stride Gum: Using Snapchat
When it comes to figuring out how to get a devoted following on Snapchat, few have mastered it as successfully as hip-hop artist and producer DJ Khaled.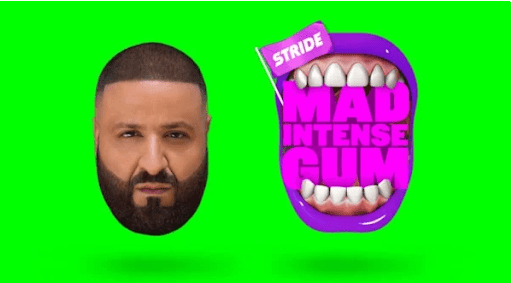 Source
From being a relatively minor figure in the music industry, DJ Khaled has achieved unprecedented success on the ephemeral photo-sharing app, with each of his snaps amassing an average of over 3 million views. His reputation as the "King of Snapchat" has made him highly sought-after for influencer campaigns with various brands.
Khaled frequently engages in "Snapchat takeovers," where he assumes control of a brand's corporate Snapchat account for a short period, allowing for unfiltered and entertaining content. In collaboration with W+K London, Stride Gum launched a Snapchat takeover campaign last year featuring Khaled to promote its "Mad Intense Gum" campaign.
Described as an unpredictable and enjoyable experience for his followers, the takeover added a unique and captivating element to the brand's marketing efforts.
Don Julio Tequila: Sponsored Instagram Stories
For years, brands have been turning to Instagram influencers to promote their content. Recently, Don Julio Tequila sought to reach young professionals by partnering with influencers on Instagram.
@corporatenatalie, an influencer who relates to young professional women, posted an Instagram story of her sipping on a mixed drink with the brand's name on the glass.
 
Source
She also tagged Don Julio and included the #ad to make it clear to her followers that she was compensated for the post.
Instagram stories usually are more affordable than a grid post because they only appear for 24 hours. Still, they're a great way for companies to get their brand in front of potential costumers.
Influencer marketing is a particularly effective way to reach specific audiences. In this case, Don Julio was able to target young professional women specifically.
How To Create a Successful Influencer Marketing Strategy
If you want to get the most out of your influencer strategy, some of the most important steps you need to keep in mind include:
Identify your goals.
What objectives must you achieve? How can you effectively measure your key performance indicators? How will you determine the success of your influencer marketing campaign? It is crucial to establish a well-defined set of goals to maximize the desired outcomes.
Determine your audience.
Next, it is important to analyze your audience. Who precisely is your ideal customer? What challenges or issues do they face? Which social media platforms do they frequent? By addressing these inquiries, you can strategically engage with your target market and effectively reach them.
Create a budget.
Developing a budget enables you to assess the financial resources available for your influencer marketing initiatives. This is particularly valuable when considering direct payments to influencers for their services.
Find the best influencers.
It is crucial to invest time in finding the most suitable influencers for your brand. Who are the ideal collaboration partners? What are the characteristics of their followers? Would you prefer to team up with a social media celebrity or someone with a significant following within a specific industry?
Track metrics and optimize your strategy accordingly.
Lastly, it is essential to monitor and analyze your metrics. How effective is your influencer campaign? Are you achieving the desired results? If necessary, what adjustments can be made to enhance its performance?
Enhance Your Influencer Marketing Campaign
Influencer marketing has gained immense popularity due to several compelling reasons. It not only allows for rapid brand exposure but also offers a cost-effective approach to reaching consumers who are genuinely interested in your product. However, to ensure the success of your campaign, it is crucial to carefully select influencers who align well with your brand values.
Failure to do so may have detrimental effects on your company's reputation. Once you have identified the ideal influencer for your campaign, leverage our social media marketing tools to elevate your efforts to new heights.
Streamline your posting strategy using our organic social posting platform, allowing you to plan and schedule posts in advance. Additionally, maximize your reach by running targeted ads on platforms like Facebook and Instagram.
Additional reading: