Pay-per-click (PPC) advertising is a model in which advertisers are charged every time their ads are clicked. It can refer to several different ad formats, though, including ads that appear on search engine results pages (SERPs), social media ads, display ads, and more.
PPC ad companies offer a variety of services to help their clients earn the highest return on their investment possible. This includes everything from drafting ad copy and designing ad campaigns to managing ad budget, tracking metrics, and generating reports.
With the help of a PPC company, businesses can generate high-quality leads, increase online visibility, and even grow sales.
This article will break down how to go about finding, vetting, and selecting a PPC partner that can help your business meet your goals. 
How to Choose a PPC Company
1. Determine Goals
When hiring a PPC partner, it's important to know your business's primary goals so you can effectively communicate your needs with potential service providers and outline an effective PPC strategy.
How a PPC provider sets up your ad campaign and measures success will depend on the goals of your project.
For instance, many businesses use PPC ads to grow brand awareness and consideration. The idea behind this is that the more a potential customer sees a brand name, the more likely they are to remember the business and hire them in the future.
To increase impressions, PPC advertisers will target a broader audience and retarget users to ensure brand consideration. However, this strategy won't be effective for businesses who are measuring success based on revenue because the conversion rate may be too low and the cost too high.
Other companies use PPC advertising to grow traffic to their website or increase sales. Unlike those who just want to increase brand awareness, these companies will want to target specific audiences that are more likely to convert. Additionally, with a focus on increasing their ROI as much as possible, they will want to minimize their ad spend, which will likely minimize their reach as well.
When interviewing potential service providers, sharing your goals and your budget will help them explain how they would reach your goals. This can help you narrow down your options when interviewing potential service providers later in the search process. 
2. Budget for your PPC Project
PPC budgets can be broken down into two categories: ad spend and agency fees. Companies need to budget for both, but when hiring a PPC provider, it's important to discuss their rates first and foremost.
The cost of hiring a PPC company varies wildly depending on the project scope, the duration of the partnership, the agency's location, and more. Because of this, it can be difficult to estimate how much your project will cost.
Instead, it's more important to determine a specific number for what you are willing to spend each month. This makes it easier to identify partners that fit your budget and prevent overspending.
PPC companies will charge their clients based on an hourly rate, by project, or offer a monthly fee if they're on retainer. When discussing cost with potential PPC partners, be sure to discuss their pricing model and be transparent about what you're willing to spend.
You should also discuss how much you plan to spend on the ads. The cost of running a PPC ad depends on the platform the ad is running on, the audience, location, targeted keywords, industry and more. This will help them determine the scale of the project and help them create an informed PPC strategy that uses your ad spend more effectively.
Learn more about budgeting for a PPC campaign in, 'How to Create a PPC Budget [With Template].'
3. Research Potential Partners
Once your leadership team has formulated a plan that includes their project goals and budget, they can begin researching potential PPC agencies. Companies can begin the research process by contacting others in their industry or other professionals for recommendations or by searching online.
You may need to create a list of specific criteria when looking for a PPC partner. When looking online, here are a few things to look for when compiling a list of potential PPC agencies:
What services do they provide? 
Do they have experts in Google Ads, Facebook Ads, Bing Ads, Instagram Ads, or other platforms you may consider? 
How much do they cost to hire? Do they fit your budget? 
Are you looking for a freelancer, small agency, or a full digital marketing agency?
Keep this in mind as you narrow down your list of potential PPC companies. 
4. Shortlist Top Choices
There are countless PPC service providers around the world, but it's impossible to interview all of them. Instead, business leaders must narrow their list to a few top choices.  
One of the best ways to familiarize yourself with potential PPC partners is by reading through client reviews and ratings on a third-party review platform. Clutch has compiled a list of the top PPC agencies in the world and has collected detailed client reviews from top service providers to help you narrow down your search.
Clutch reviews include information about projects that each service provider has worked on, such as how much the project cost, what platforms they advertised on, how effective their communication was, and the results of the project.
Business leaders can then narrow down their list based on what's most important to them. They can filter based on the services they offer, client ratings, price, and location to find the perfect fit for their project.
When searching for a PPC company, consider what is most important to your business and look for partners that meet that criteria. 
5. Interview Potential PPC Companies
With a list of potential PPC partners, you can contact them and set up an interview. The interview process should help you understand how they would help your business goals using PPC.
In addition to getting a better understanding of how they would approach your project, you can also use the interview to gauge how well you would work together.
Here are a few questions you can ask potential PPC partners:
How many people will be dedicated to our project, and what is their skillset? 
What certifications do your paid experts have? 
How do you communicate with partners? 
Who would manage my account? 
What metrics do you track, and how do you measure success?  
What type of reporting do you provide? 
What are your rates? How much do your services cost?
Additional reading, 'B2B Service Providers: Questions to Ask Potential Business Partners.'
6. Narrow Down List of Service Providers Based on Business Priorities 
Once you've met with potential service providers, asked all of the questions you've needed to, and weighed the pros and cons of each potential partner, you can narrow down your list of PPC agencies to just one provider.
Of course, the one PPC agency may be perfect for one business but not for another because their priorities and goals differ.
While one company may choose to prioritize hiring a low-cost PPC agency, others may look for agencies with more experience. At the same time, one company may choose to work with a business that communicated well throughout the hiring process in the hopes of streamlining their workflow, while the other may prefer to work with one located in the same city as their offices.
Be sure to consider all the factors of working with a service provider before hiring. 
7. Hire A PPC Company to Support Digital Ads
As long as you keep your budget and goals in mind, you will be able to find a reliable PPC agency to support your business's digital strategy.  
Whether you're hoping to grow brand awareness on social media, want to target audiences with high conversion rates using Google Ads, or are hoping to create a comprehensive digital advertising campaign, hiring a PPC professional can help.
Search for leading providers with experience working with companies in your industry that can fit within your budget, and are easy to collaborate with. 
How to Choose a PPC Agency Checklist
Still need help hiring a PPC agency? Use this checklist to find the perfect partner for your project.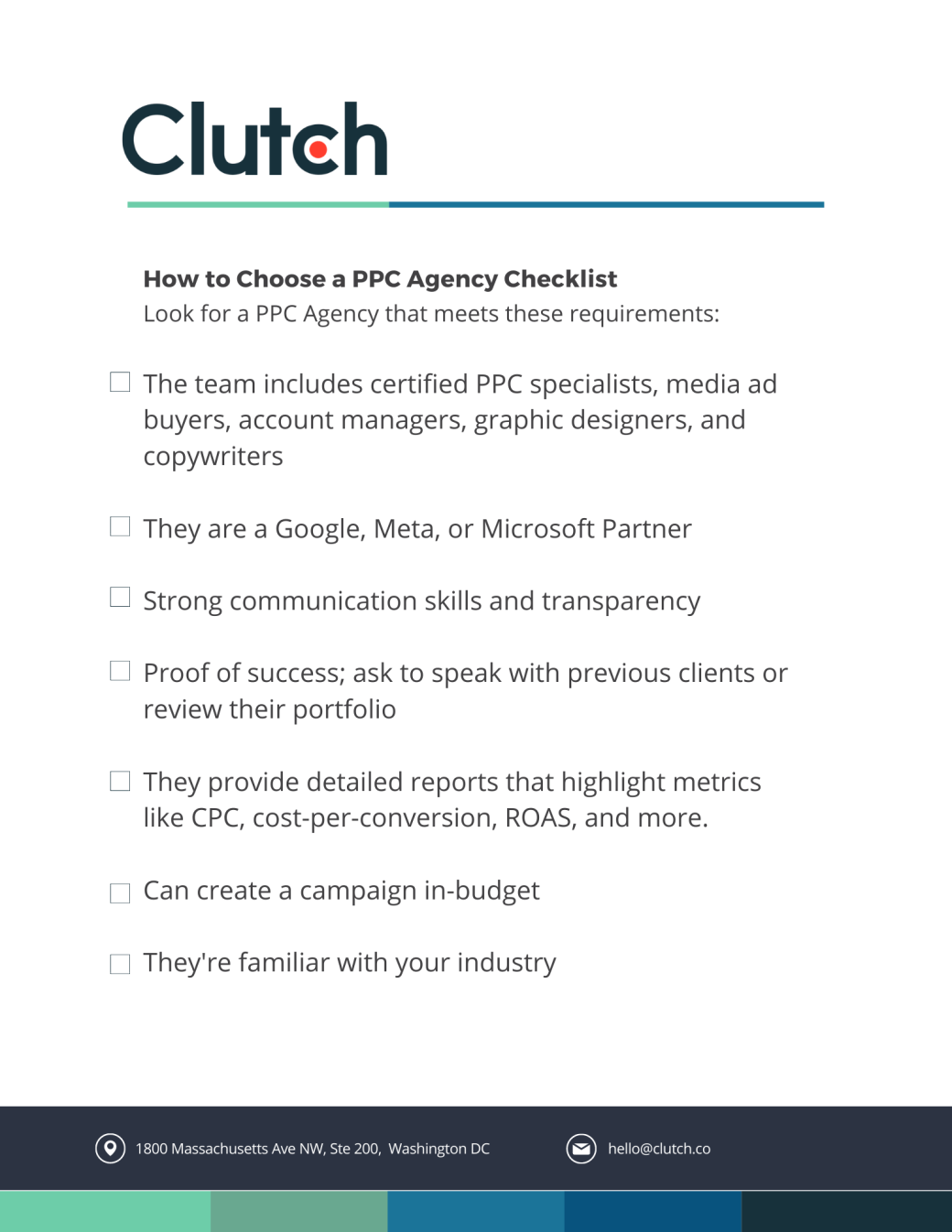 Download this checklist before hiring a PPC agency.
Hire a PPC Agency that Can Meet Your Business's Specific Goals
PPC advertising is a great way to grow brand awareness, increase traffic to your website, and increase sales. Regardless of your goals, the right PPC agency can create a custom solution to meet your business's needs.
With so many great PPC agencies out there, choosing a partner for your business shouldn't be that hard. This checklist will help you identify a PPC partner with the skills and experience needed for your campaign.
Ready to hire a PPC agency? Search for leading PPC companies on Clutch. Search top providers and filter based on client ratings, location, and price to find the perfect partner for your project.