Social media benefits small businesses trying to increase the exposure to their message and brand.
I first entered the online world business right when social media really took off. Since then, social media has helped expose my small website to a much larger market at a fraction of the cost many marketing experts were quoting me.
Based on my experience using social media to grow my small business, this article explains how social media can help you market your startup or small business without breaking the bank.
Social Media Creates the Potential for Greater Customer Engagement
Social media is a hugely powerful marketing tool that puts you in touch with tons of potential customers at the click of a button. Nearly all (95%) of young adults, for example, are likely to follow a brand online.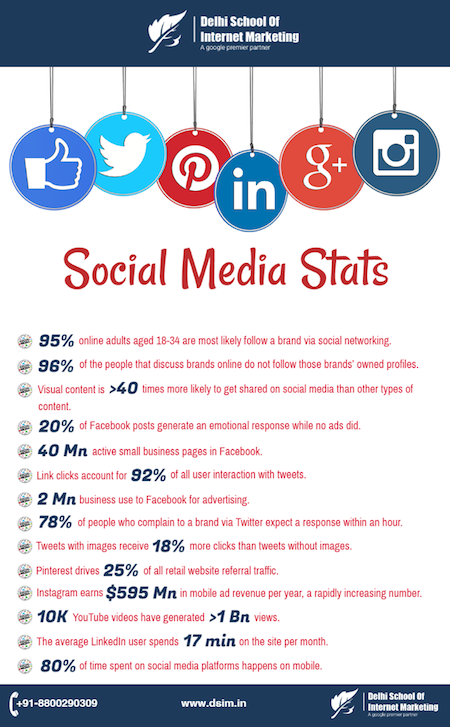 Source: DSIM
Use your social media channels to offer personal insight, special news, or other valuable content to entertain your clients.
Make sure everyone in your business—employees and customers—is aware of all your social media information. Every customer should be reminded to follow you when they enter your business. If you've got a physical location, display your Facebook, Twitter, and Instagram profiles prominently.
Social Media Increases Customer Loyalty
People want to feel connected to a brand. Social media creates a two-way communication channel that lets you stay in touch with customers beyond simple transactions, which improves loyalty and drives sales.
If you can get someone to follow your business on social media, they're already showing a level of loyalty to your brand that was practically impossible before social media. They're actually telling people that they LIKE you.
Once they like your business, your social audiences now act as marketers for your business by spreading your message to their friends. This kind of marketing reach used to be hard to come by or was very expensive. Now, it's practically free.
Incentives Engage and Reward Your Followers
Your followers are one of the most valuable assets to your business; you need to remain engaged with them.
Facebook is actually the most successful at notifying follows about a product sale. Interestingly, Pinterest is the most popular channel for finding out additional product information before making a purchase.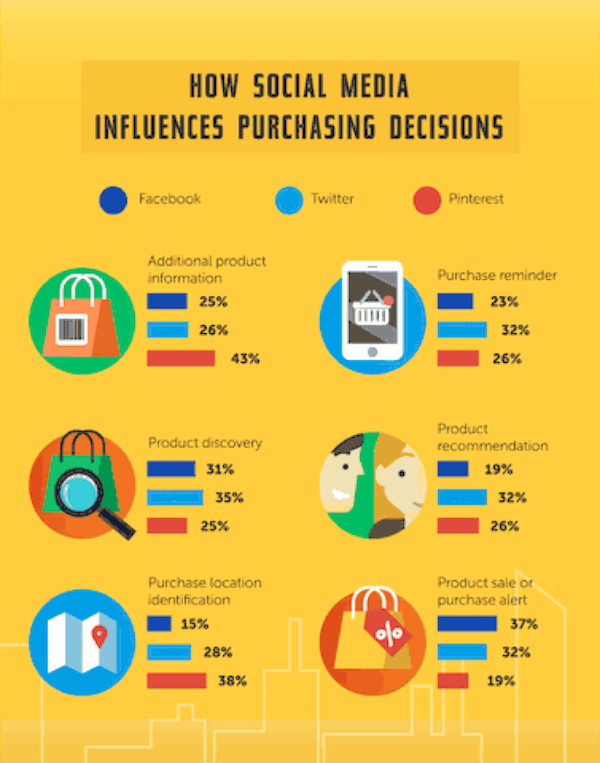 Source: Online Sales Guide Tips
I personally make sure my followers are the first people I tell about special offers. For example, I give exclusive discounts that only people on my Facebook or Twitter pages can access.
Instead of sending out door-to-door promotional mail to existing customers, which are expensive and time-consuming, now all I have to do is fire off a quick tweet or post.
For example, I offer contests and competitions to my social media followers to keep them actively engaged. Engaging with your followers through incentives shows how social media can help your business grow through keeping in touch with people who already like you and opening the door to attracting new customers.
Use Creativity to Develop an Effective Social Media Presence
You don't need social media marketing agencies to develop an effective social media presence. You can do it yourself, especially if you're on a budget.
Managing your social media accounts doesn't have to be a full-time job, but it's important that you take advantage of the benefits it can bring your business.
Without a full-time social media staffer or management firm, think creatively about how to run your social accounts.
Look to younger staff members to take control of your social media accounts, since they are more likely to be familiar with social channels and contemporary ways of engagement through social media. 
I actually caught one of my young staffers wasting time on Facebook a few times when they were supposed to be working. Instead of punishing them, I gave them a bit more responsibility when they had quiet periods at work.
Negative Feedback on Social Media Can Be a Customer Service Opportunity
One mistake some businesses make is to ignore the negativity commonly found on social media.
It's important to deal with complaints on social media quickly, confidently, and effectively. It says a lot about your business if you can offer immediate solutions to problems that customers express through social media.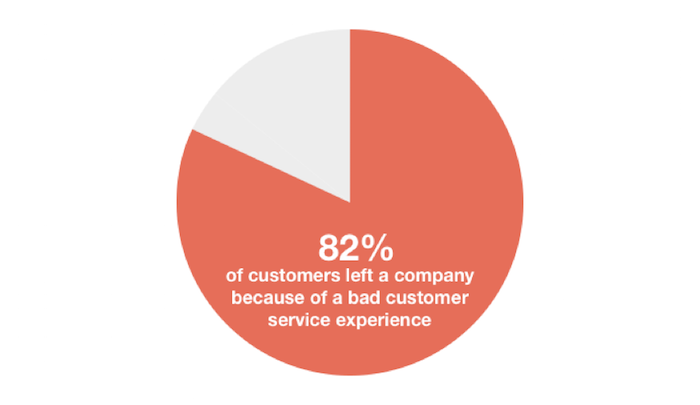 Source: GrooveHQ
You need to go above and beyond to make sure that unhappy customer returns. If that means giving them something for free, then so be it.
Use Social Media to Effectively Market Your Business
Social media can be incredibly effective for your business. A strong social media campaign doesn't have to cost much at all. Just be engaged with your followers and keep them entertained. 
---
About the Author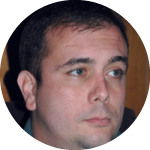 Peter Ellington has years of experience writing about social media issues and business marketing. He has started a number of successful startups and enjoys sharing his knowledge with those looking to do the same. He knows how important a business education can be, and he also writes for the SmileTutor blog.