More than 2 billion people worldwide are active on social media, a number that is expected to reach 2.5 billion in 2018. When it comes to purchasing products and services, social media influences consumers almost as much as television ads and continues to trend upward.
Clutch partnered with Smart Insights, a publisher and learning platform that helps companies plan, manage, and optimize their marketing, to survey 344 social media marketers from around the world to determine the value of social media, the most engaging content to share, common challenges, and social media resources businesses invest in.
As the number of social media users worldwide continues to grow, companies increasingly will find that social networking influences their revenue and sales.
Businesses can use this report and its case studies to choose which social media platforms to use, which content to share, and how to measure success.
Our Findings
The most valuable social media platforms for businesses are Facebook (89%), LinkedIn (83%), YouTube (81%), and Twitter (80%).
Written articles (27%), videos (26%), and images (24%) are the three most engaging types of content on social media
Nearly 80% of companies share mostly original content on social media.
The most important metrics for tracking the success of social media are engagement (36%) and conversion rates (35%).
More B2C companies (58%) consider investing time and money in social media valuable than B2B companies (46%).
The major challenges companies face with social media are not having enough human and financial resources (26%), lacking a formal strategy (24%), and building a community of followers and influencers (24%).
The Value of Social Media
A company's ultimate goal is to make money, and social media helps increase revenue and sales.
More than half (52%) of social media marketers said social media has helped increase their company's revenue and sales, while 48% said it has had a limited impact but still needs to be managed.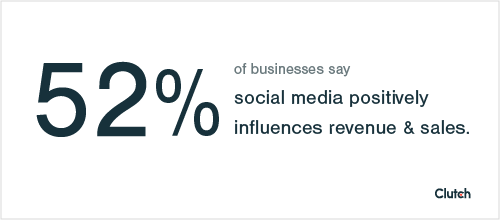 The number of companies that view social media as a positive influence is expected to increase.
"I think that's a huge number for people to be reporting, given the age of social media," said Steve Pearson, CEO of Friendemic, a company that provides online reputation and social media software and services. "Ten years ago, the question would have hardly made sense to most people. I feel quite confident in saying that number is growing dramatically and will continue to grow. Social media is not going anywhere."
As social media ages, it will become influential to more companies.
Facebook and LinkedIn Are the Most Popular Platforms
The most valued social media platforms for businesses are Facebook, LinkedIn, YouTube, and Twitter. Instagram is the fifth most valuable platform but is growing in size and popularity.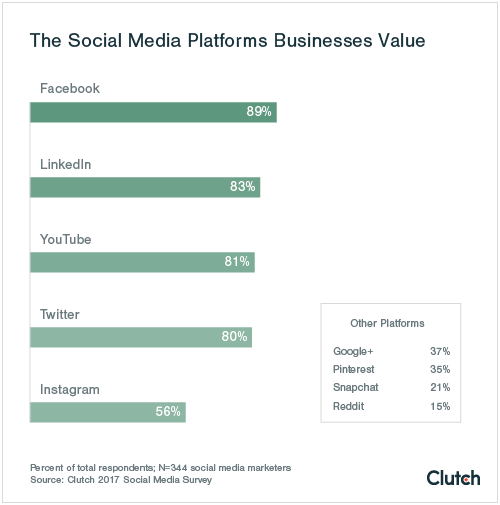 More than 50 million businesses use Facebook, and in 2015, the platform influenced 52% of consumers' online and offline purchases—an increase from 36% in 2014.
"Facebook is valuable because it's multigenerational," said Charlotte Chipperfield, CEO of Chipperfield Media, a social media marketing agency that works with the specialty food, beverage, and consumer packaged goods industries. "It's often the case with social media that users are seeking a solution to their problems, so that's a huge opportunity for brands or companies to provide that solution."
Facebook appeals to a wide range of people, which is attractive to companies. The platform also helps build communities of users with similar interests.
GREAT WINE, a wine producer in Bellevue, Wash., uses Facebook to educate and connect with wine enthusiasts and regularly posts wine-drinking tips.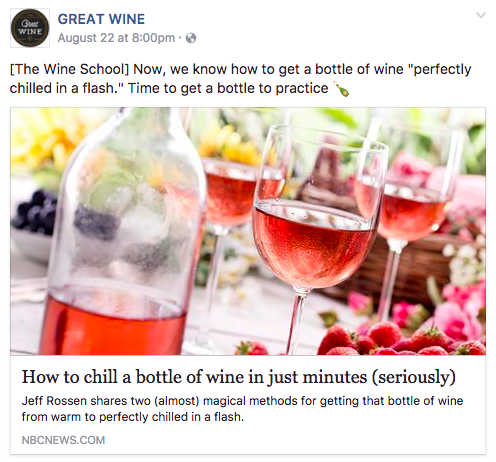 GREAT WINE Director of Brand Marketing Michella Chiu hopes these tips build relationships with followers.
"Our goal is to build a community where we can share wine knowledge, offer promotions, and communicate with everyone," Chiu said.
Facebook helps GREAT WINE connect with the wine-loving community.
The second-most valuable platform, LinkedIn, has 450 million user profiles, followed by YouTube, with 1.5 billion active users, and Twitter, with 1.3 billion accounts.
Instagram, in fifth, is rapidly increasing in popularity and revenue, and nearly one-third of teenagers consider it to be the most important social network.
Instagram is the most valuable platform for some companies, such as Forged Axe Throwing, an axe-throwing company in Whistler, British Columbia.
"We spend a really long time on the visual identity of our brand," said Forged Axe Throwing Co-Owner James Anderson. "Instagram lets us show off our company, and people see it and really identify with the brand. I'm confident that we would never be where we are today without our social media following, especially on Instagram."
For Forged Axe Throwing, showing off the company visually through Instagram is essential to the success of the business.
The company posts pictures of events, such as bachelor and birthday parties, on Instagram.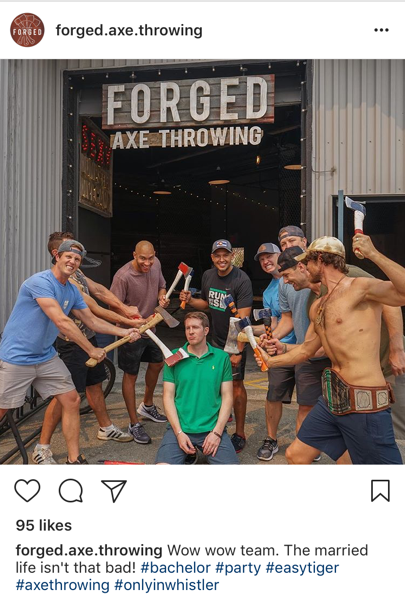 Forged Axe Throwing's efforts on Instagram have paid off. Since it was founded in February 2017, Forged Axe has gained more than 3,000 followers on Instagram—more than five times its number of likes on Facebook.
Articles, Videos, and Images Engage Consumers Best
Social media content engages consumers and teaches them about the company, especially in the form of written articles, videos, and images.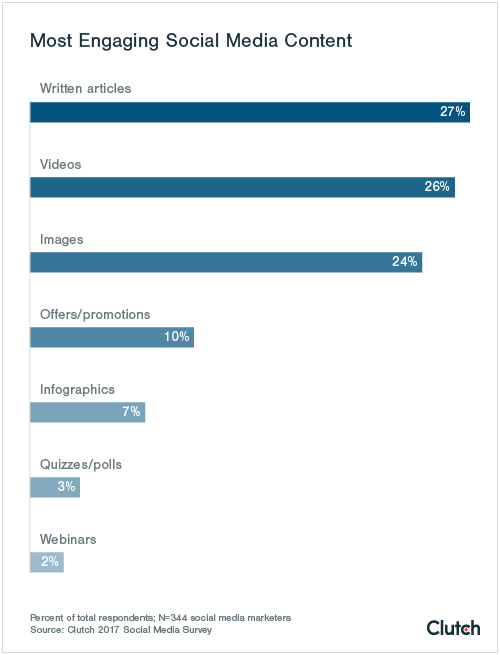 Articles, images, and videos reach consumers most effectively, but other content, such as offers and promotions, infographics, and quizzes and polls, can perform well if it appeals to a company's target demographic.
"I think written articles, images, and videos sound the most like what consumers share with other consumers, and brands pay close attention to that because they don't want to be part of the noise," said Josh Krakauer, founder and CEO of social media marketing agency Sculpt. "The other content can be engaging but only if it's relatable to your customer base."
Businesses want to relate to consumers through social media.
Written articles, videos, and images are often successful in reaching a company's targeted audience.
"These content types are effective in getting cut-through in newsfeeds," said Smart Insights CEO Dave Chaffey. "So, it's important not only to use these types of content but to invest in them so the quality is there."
H2O Media, an advertising agency in Eden Prairie, Minn., shares a mixture of content, including articles, images, and videos.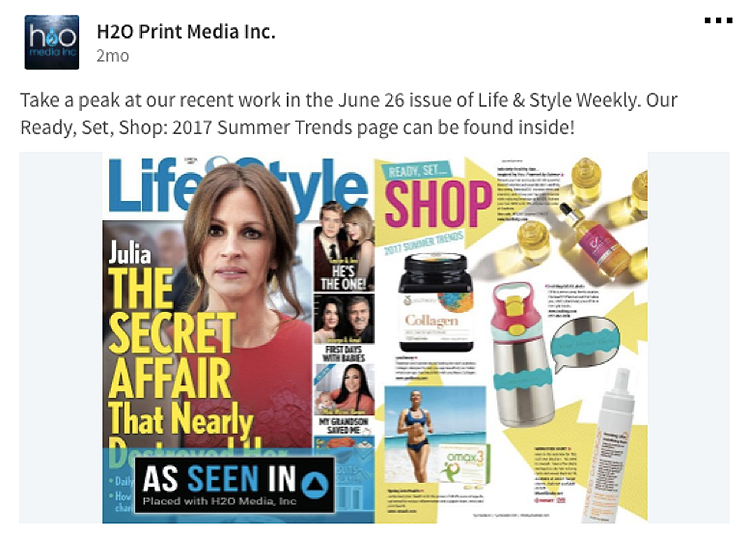 The company posts images and videos of past work as well as upcoming deals and articles from around the advertising industry.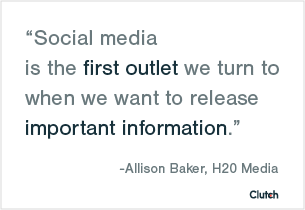 "Growing our social media following has helped us connect with fellow businesses, build stronger reputations with our clients, and give businesses a better idea of what we offer," said H2O's Social Media and Marketing Coordinator Allison Baker. "Social media is the first outlet we turn to when we want or need to release important information."
Posting a variety of content to social media helps businesses like H2O Media earn more customers and build a better reputation.
Visual content is especially important for companies and is 40 times more likely to be shared on social media than any other type of content because it can appeal to a broad range of customers.
For example, GiftBasketsOverseas, an e-commerce company that ships gift baskets to 200 countries, uses YouTube for video promotion in different languages.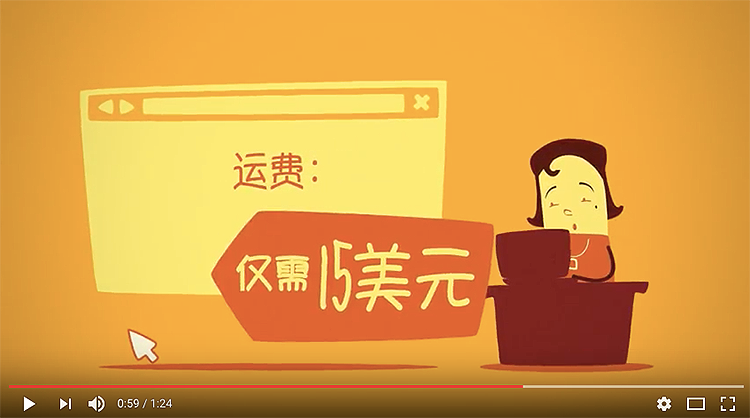 Using video allows customers from different countries to better understand the company in their own language, which leads to more sales.
"Social media gives us the ability to meet our customers where they actually spend their time, including YouTube" said GiftBasketsOverseas Digital Marketing Strategist Natasha Kvitka.
With 1.5 billion active YouTube users, companies can successfully reach customers on the platform and appeal to their visual interests.
Businesses Post Mostly Original Content
Businesses find the most success in sharing their own, original content.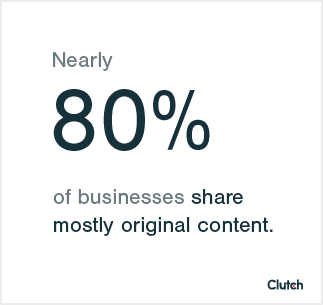 About 78% of businesses share mostly original content on social media, or content produced by their company. Of that number, 19% of companies share only original content.
Just 6% of businesses mostly share content that is curated from other reputable, relevant sources.
Companies that post original content show consumers more about themselves.
"It gives the person digesting the content the feeling that they're having a unique experience with that brand," said Clay Darrohn, founder of digital marketing firm fishbat. "If you see duplicate content throughout the web, it doesn't give you the feeling that the brand you're working with is authentic."
The content that engages best is the content consumers have not seen anywhere else.
Engagement and Conversion Rates Are Most Important Metrics
Companies find that the most successful posts on social media result in a high number of likes, shares, and comments, which equals high engagement, or leads and shares, which equal high conversion rates.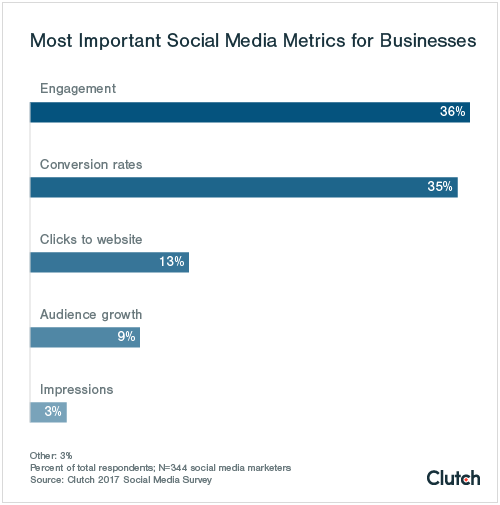 Other metrics, such as clicks to website and impressions, are important to companies but not as essential as engagement or conversion rates.
Blue Mountain Resort, a ski resort in the Pocono Mountains in Pennsylvania, uses social media for customer service, which increases both engagement and conversion rates.
"Social media allows us to provide exceptional customer service," said Marketing Specialist Melissa Yingling. "We want people to know they are being heard."
Blue Mountain regularly responds to customer comments on social media.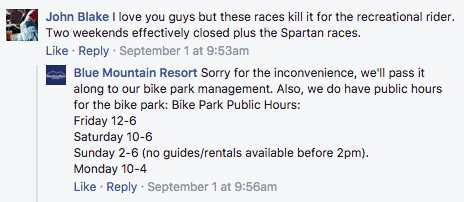 These comments ease customer concerns and answer questions, which encourage more customers to ask questions (engagement) and plan a visit to the resort when their question is answered (conversion).
B2C Companies Find Social Media More Valuable Than B2B Companies
More B2C (58%) than B2B companies (46%) said social media has a positive influence on their revenue and sales.
One reason is that B2C customers are more likely to make purchasing decisions on social media, according to Pearson of Friendemic.
"If I have responsibility over purchasing something for my organization, I generally do that on company time, where I'm dedicating effort to that project, and I'm not going to think to go on social media to do that," Pearson said. "It just makes more sense for B2C companies because of the mindset people are in when they're on social media. They're in consumer mode, not business mode."
B2C businesses have more success on social media because more of their target audience is looking to make purchases on social networks.
B2C and B2B Businesses Prefer Different Platforms
B2C businesses prefer Facebook and YouTube, while B2B businesses see the most value in LinkedIn and Twitter.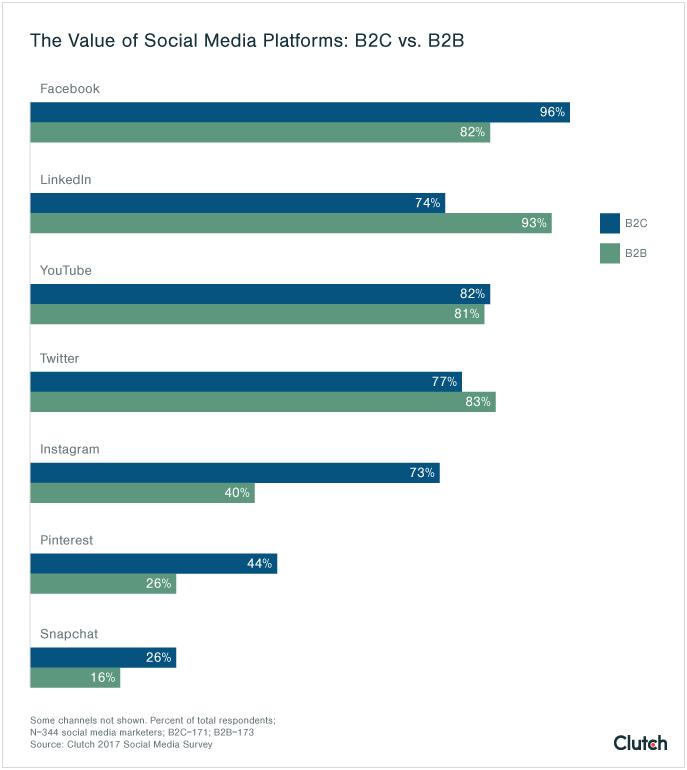 B2B and B2C companies can achieve different goals with their preferred social media platforms.
"When you're on LinkedIn, you have a business mindset, so I think B2B marketing can hit home," Pearson said. "On Twitter, B2B companies can reach out to a vice president or senior-level purchaser, which is easier on there than on other channels that are more closed. For B2C, Facebook and YouTube are what reach the most consumers, and that's where the most people are actively engaged."
B2B companies find value in social media platforms like LinkedIn and Twitter because it helps them reach out to business professionals; B2C companies prefer Facebook and YouTube because those platforms reach the most potential customers.
B2C Companies Post More Original Content
About 82% of B2C companies and 74% of B2B companies post mostly original content on social media.
B2B companies post less original content because they aim to become authorities in their industry by sharing more outside content, while B2C companies prefer to promote their business.
"B2B lends itself to curated content where the brands can help their audience through sharing curated news and best practice content to help individuals develop their skills and careers," Chaffey said. "In B2C, there is less scope for sharing news and advice, so instead, brands tend to share more original content related to their products and services."
B2B companies teach new skills via social media, while B2C companies promote their businesses and connect with customers.
SummitSync, a B2B platform that helps businesses automate their workflow, shares a mix of original and curated content on its three most successful social media channels: Twitter, LinkedIn, and Facebook.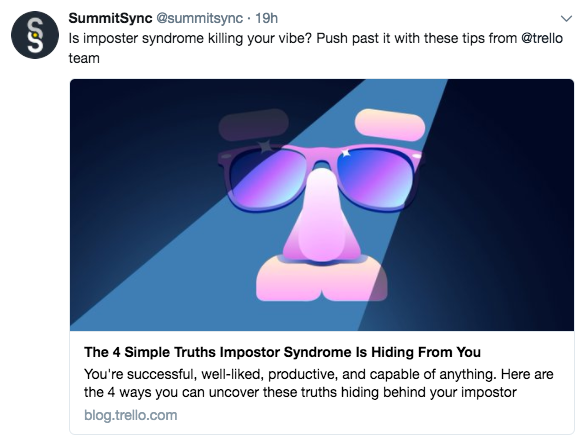 Posting curated content helps SummitSync connect with other businesses.
"I share a lot of the content our followers post directly, which shows a mutual trust," said SummitSync Director of Marketing and Growth Kathryn Kosmides. "If done correctly, social media is a bountiful opportunity to generate organic leads while creating deep industry connections. It allows us to get our story and brand out there while offering value to our followers beyond just our content."
Posting a mix of original and curated content allows B2B businesses like SummitSync to become authorities in their industry.
The Challenges of Social Media
Although social media can positively influence companies of all sizes, it still comes with challenges.
"One thing to be careful of is that social media can make a good business great if it's used the right way, but it also can make a bad business worse," Darrohn said. "It's important that you have all your ducks in a row before you decide to invest in any type of social media, or you will be facing some challenges."
If companies don't have a social media plan or approach in place, they will struggle when trying to implement it.
The top three challenges social media marketers face are:
Not having enough human and financial resources
Refining social media efforts into a formal strategy
Building a community of followers and influencers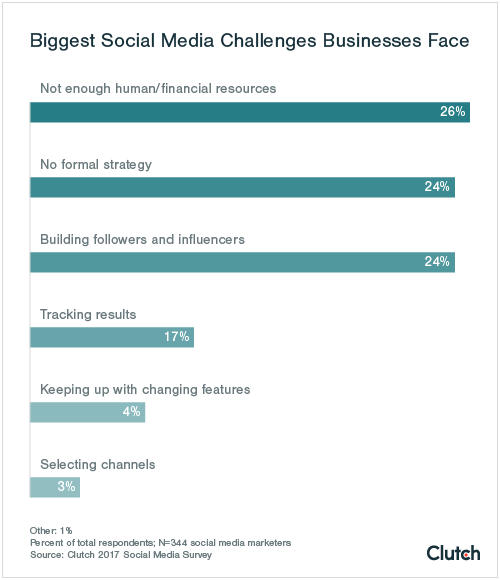 Other challenges include tracking results and keeping up with social media's changing features.
To be successful in social media, businesses need company leaders to invest in the success of their social media efforts.
"The only way to overcome these challenges is to have a smarter strategy that is more focused," Krakauer said. "Nothing replaces having a leadership team or decision maker inside an organization that gets social media and is willing to put in long-term effort."
If a business's leaders do not see value in social media, the business will continue to struggle with these challenges.
Outside Resources Help Businesses Overcome Challenges
To overcome the challenges companies face with social media, more than half use outside resources, such as social media management software (44%), digital marketing or social media marketing agencies (28%), or freelancers/consultants (9%).
Social Media Marketing Software Maximizes Productivity
Social media marketing software helps companies save time.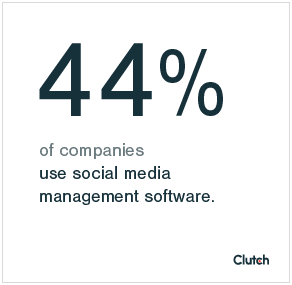 "Software is a no-brainer because it helps reduce the time spent on a daily basis and allows for scheduling posts ahead of time," Chipperfield said.
Users of software can schedule social media posts in advance, so they can save time by not posting every time they want to add new content.
Companies choose their specific software because of its features and capabilities (42%), price and value (33%), and a free trial (27%)
Social media marketers often use Hootsuite, Adobe Social, and Buffer to help them be more productive on social media.
Social Media Marketing Agencies Increase Results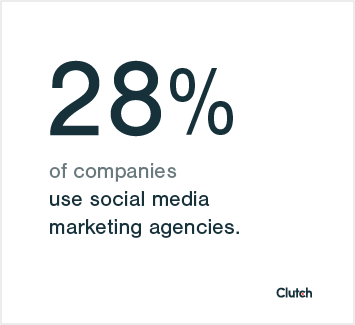 Digital marketing agencies can make a company's social media efforts more successful. However, an agency is only effective after a company has invested in social media.
"I recommend hiring an agency only after someone has understood the value of social media and has maxed out their capabilities or resources to produce good results and to reach the next level," Krakauer said. "Once that is done, an agency can do wonders in increasing results."
An agency will not help a company find worth in social media, but it will help a company achieve results.
The main reasons companies choose their current agencies are price and value (37%), referral from a friend or colleague (34%), and culture fit (26%).
Businesses Need Social Media
Social media is a powerful marketing tool and will continue to increase in value for companies. Although social media comes with challenges, businesses use it to find and keep customers and become a source of authority in their respective industries.
Clutch and Smart Insights' survey of 344 social media marketers from around the world shows that most businesses believe social media increases their sales and revenue, a trend that will continue.
As social media becomes more popular, more consumers will go to social media for purchasing decisions, and companies without social media could lose potential customers.
---
About Clutch and Smart Insights

A B2B ratings and reviews firm in the heart of Washington, DC, Clutch connects you with the agencies and software solutions that can help you enhance your business and meet your goals. Our methodology maps agencies and software solutions based on customer reviews, the type of services offered, and quality of work.

Smart Insights is a publisher and learning platform that helps members plan, manage, and optimize their marketing using downloadable planning templates, guides, and interactive learning tools. We help individuals improve their personal digital marketing skills and businesses increase their leads and sales by creating action plans to transform their use of digital media, technology, and data. We have 150,000 active members across 100 countries and a monthly readership of ½ million.
About the Author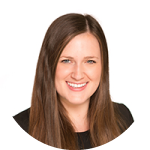 Kristen is a content developer and marketer at Clutch, a B2B research firm in the heart of Washington, DC. Connect with her on LinkedIn, or reach out with any questions, comments, or concerns at kristen@clutch.co or 202-840-6690.