Outsourcing is a very popular way for businesses to get development work completed. Unfortunately, outsourcing the development of a project can be challenging.  
In many cases top issues mentioned by business owners interested in digital transformation are mainly about: 
Irrelevant experience in a certain domain/industry
Niche-specific business needs that are not well understood by the external team
Outdated technologies 
Hard to handle legacy code 
Language and cultural barriers
None of the above challenges will come your way if you choose a development team that can respond to your specific needs. 
This article will break down the following factors businesses should consider when selecting the right web development team:
Explore our directory of web development teams on Clutch. 
How to Outsource for Web Development Projects
First things first: how do you know you need to outsource the development for your mobile and web projects?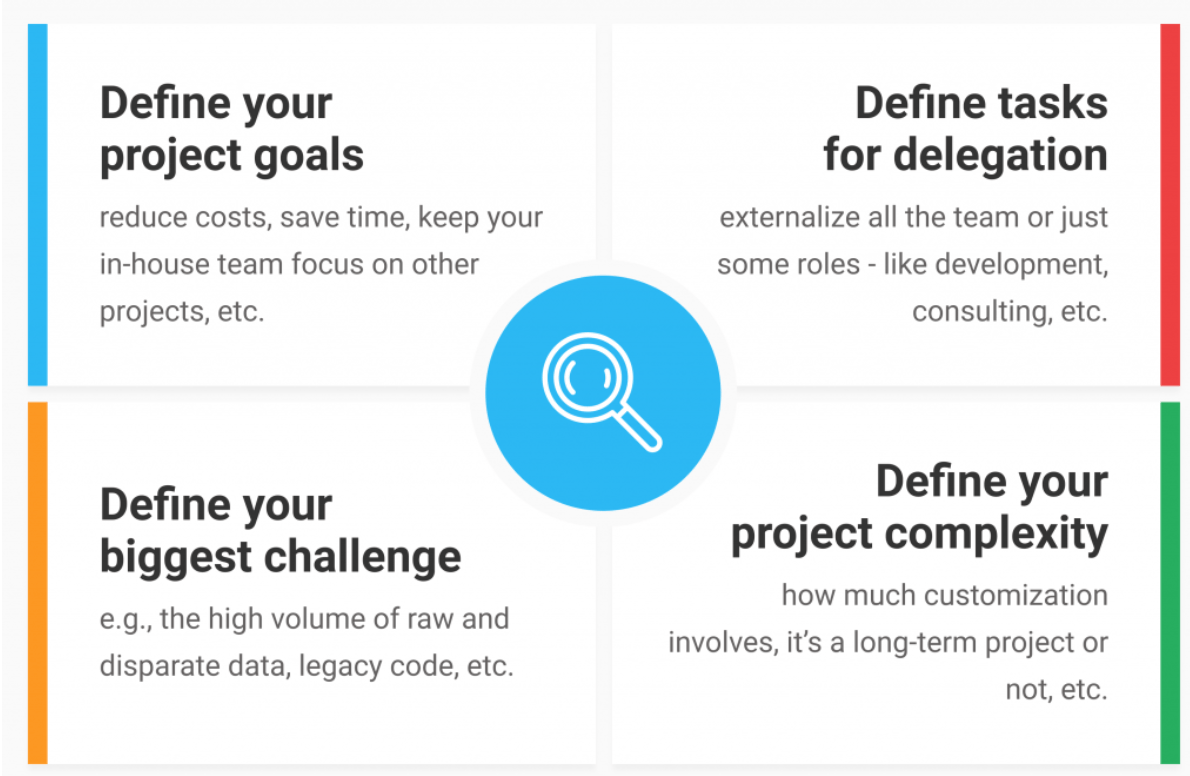 Several signs indicate your web & mobile development projects need an external team:  
Your business must adapt fast to a new market context/changed business environment (and the pandemic is, probably, one of the best examples of how the context forced companies to adapt). So, you have to operate in new ways, accelerate digital transformation adoption, or even switch to new working models; 
You are struggling to keep your business one step ahead of the competition - so, you don't afford to waste time and effort in building in-house teams for developing digital projects; 
You need to rely on a predictable long-term profit, so you can plan new investments and/or extend to new market niches. 
Development Team Models
Explore which development team model might work best for your project:
The dedicated team model - what does it mean?  
The client or company will pay the salaries for each person in the development team engaged in the project (developers, designers, QA specialists, project managers, etc.) and administrative costs. 
The client will have the entire control of the project's evolution, while the provider takes over the responsibility for the development process. 
Suitable for: complex & ongoing projects with custom requirements. 
The "time and material" model - what does it mean?
The company will pay only for the time allocated to the development. Usually, this type of approach in project development is used to cover missing resources. 
Suitable for: specific digital products, less complex, with predefined requirements. 
The fixed-priced model - what does it mean?
If your client has a new digital product and wants to test the impact initially it would have on a predefined target, this model is definitely the one he should choose for developing the project. 
The major benefit: the client will have control over the development time to obtain a strategic time-to-market. 
Suitable for: recommended for specific product developments that do not involve complex resources. 
Why Do Companies Choose to Outsource?
Outsourcing is a reliable choice for the following reasons:
The new tech trends and employee shortages generate an overwhelming environment for industries, companies, and entrepreneurs.
The role of outsourcing services providers is shifting from execution to partnership. 
More independence in the technical process, and more control over the projects' delivery.  
Outsourcing companies become key-solution for working with expensive professionals. 
Low-skilled jobs lose ground to automation.  
Less focus on costs, and more focus on product quality.   
Cost cuts are not the answer. It's more about getting cost-effective solutions.   
A hybrid workplace becomes a reality. And so are the dedicated digital solutions.   
Native app development – most wanted by companies and users.  
Some languages become more preferred than others

There are also several advantages for outsourcing custom web development work:
Fast access to a valuable pool of talents for several roles
Flexible system to build a custom team (different roles and seniority levels)
More focus on your business strategies and objectives - the dedicated dev team takes over the entire process.
Less effort, time, and money invested in building custom web and mobile solutions.
Several development models and approaches (staff augmentation, project-based, dedicated teams)
Scalable team – according to your dynamic business needs.
Optimized time-to-market
Specific expertise that represents the foundation for the fast and reliable development of new projects. 
Top Criteria for Choosing the Right Dev Provider
While outsourcing web & mobile development, bad experiences can happen. But also, can be avoided easily by simply choosing what suits best to your business needs. 
Explore the following when making your decision about web development:
Experienced team that can understand fast the project's requests
Affordable developers with highly experienced on similar projects 
Clear development process
Flexibility for adapting fast to changes and dynamic objectives
Affordable costs
With these, the development team you choose should deliver a reliable app with as few reworks as possible.
Must-Have Guarantees with an Experience Web Developer
From the beginning, your team should deliver these with any web development project:
Providing bespoke and reliable software development through significant improvements on several levels: costs, efficiency, security.
Covering end-to-end software development services - from consultancy to development and post-implementation support.
Relying on highly-experienced teams for the entire development process
Covering the complete team architecture with relevant roles (software developers, PMs, product owners, business analysts and tech consultants, scrum masters, UX designers, UI designers, QA specialists, etc.)  
Broad expertise in several industries and markets by developing apps using modern technologies  
No language & cultural barriers and relevant experience in working with clients from various markets and countries  
Reliability - predictable cost, budget control, and using Agile methodology 
These factors will bring your company's web development project to the next level. 
Find the Perfect Web Development Team for Your Business
Working with the right dedicated team could help you adapt quickly to market changes, be one step ahead of the competition, and rely on a predictable long-term profit. 
Once you decide to work with external teams to develop web and mobile apps, you'll have instant access to a wide pool of talents, modern technologies, providers' expertise, etc.
Experienced development service providers can usually cover end-to-end digital transformation needs - from business analysis, consultancy, and architecture to post-implementation testing and maintenance.
Relying on a dedicated development team means that you can focus more on your business strategies and objectives by investing minimum resources, effort, and time in the development part. 
Additional Reading: