Updated July 26, 2022
Matthew Bonestroo knows trailers, not TikTok.
But Bonestroo, the owner of Phoenix Mobile Home LLC, wants to use every possible avenue to reach Arizona people interested in buying or selling mobile homes. On TikTok, users share and view short-form videos, often set to music and featuring dance routines.
Many young people are on TikTok, and some companies now use TikTok to promote their products. Bonestroo's small business is about to become one of them: He has outsourced to a videographer who will edit Phoenix Mobile Home's TikTok content for $50 per hour.
Bonestroo is behaving like most small business owners and managers by outsourcing a business function. In 2022, 90% of small businesses plan to outsource business tasks.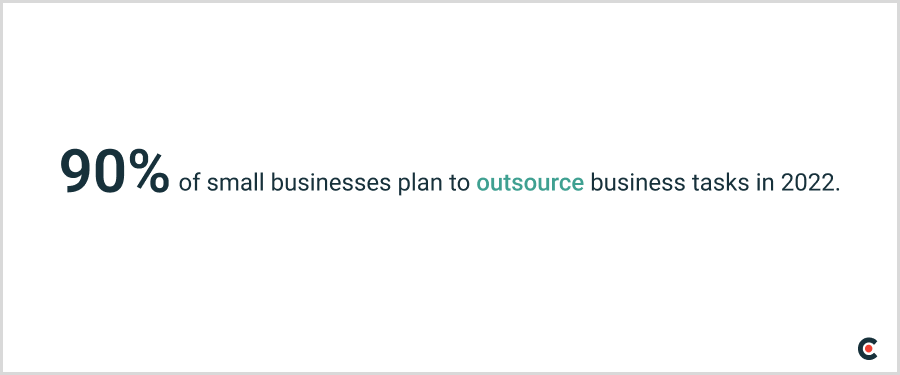 ​
Outsourcing has only gained popularity over time among small business owners. Just a year prior, in 2021, 80% of small businesses said they planned on outsourcing work.
Outsourcing involves contracting out work to a different firm or freelancer, which offers a wide variety of business benefits. Especially as remote work becomes the new normal, outsourcing has only become more accessible to small businesses that have grown comfortable with work-from-home policies. 
Clutch surveyed 1,003 small businesses in the U.S. in 2022 and 500 in 2021 to learn about how small businesses handle outsourcing tasks. The survey results found that companies plan to outsource in order to realize a host of benefits, including improved efficiency, business growth, and the chance to work with experts.
From social media to IT to legal affairs, outsourcing will be a significant part of business models and small business success in 2021, 2022, and beyond.
Browse our BPO (business process outsourcing) directory to find outsourcing companies that might match your company's needs for customer support. 
7 Benefits of Outsourcing for Small Businesses
SAVING TIME: 27% of small businesses are most motivated to outsource in hopes of improving their efficiency and saving time in both 2022 and 2021.
SUPPORTING VARIOUS BUSINESS PROCESSES: 90% of small businesses plan to outsource in 2022. Part of outsourcing's popularity is due to the range of business tasks it can help support, including IT, finances, legal, and public relations.
ACCESSING FLEXIBLE RESOURCES: 33% of small businesses outsource in order to access flexible resources, indicating that small businesses value short-term and seasonal workers.
WORKING WITH EXPERTS: 26% of companies with 10 employees or fewer outsource mostly in the hopes of working with an expert, demonstrating how expertise is a valuable commodity for the smallest businesses.
COLLABORATING WITH DOMESTIC OR INTERNATIONAL PARTNERS: Most small businesses that plan to outsource intend to do so onshore in both 2022 and 2021, demonstrating that companies find value in streamlining communication with providers nearby.
DISCOVERING NEARSHORE COMPANIES: 21% of small businesses outsourcing tasks in 2022 intend to hire a nearshore company. Up from 15% in 2021, small businesses are discovering and exploring the benefits of investing in nearshore outsourcing teams.
GROWING A BUSINESS: 19% of small businesses with 251 to 500 employees primarily outsource in order to scale their business. Outsourcing is an important component of growth for many small businesses.
1. Outsourcing Increases Business Efficiency
Every businessperson knows the phrase "time is money," and many businesses consider that sentiment when deciding whether to outsource with an outsourcing provider.
Outsourcing specific business activities can help any small business or startup improve their efficiency.
In fact, more than one-quarter of small businesses (27%) primarily outsource in order to work more efficiently — this data point remained steady from 2021 to 2022.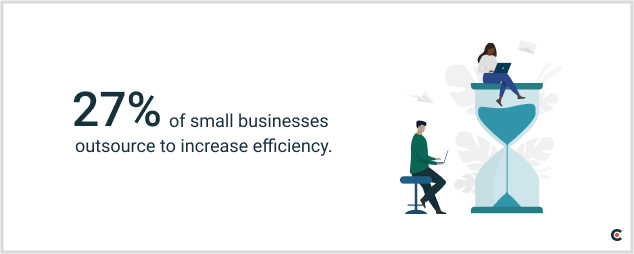 For some small business owners, outsourcing certain tasks is a must.
James Surrey, founder of Review Home Warranties, a company that helps buyers find the best home warranty, uses outsourced workers to write, fact check, and publish home warranty reviews.
"If our staff were to publish every review piece by ourselves, the publication rate of new reviews would be a snail's pace," Surrey said. "This would significantly delay our ability to reach new readers and potential customers."
Surrey's business consistently provides new reviews to existing customers and reaches as many new customers as possible. Outsourcing review writing makes both achievable.
However, some small business owners find it challenging to relinquish control of certain components of their company.
"As an entrepreneur, trying to do everything yourself can slow down the growth of your business," said Chelsea Kane, the founder and sole proprietor of First Cup Morning Series, a daily mindfulness audio program.
When starting her business, Kane learned how to use audio software, but she was still spending nearly 30 hours per month editing audio clips.
Kane hired an expert that edited the same amount of audio in less than half the time. Now, Kane has time to focus on other priorities, and her listeners hear higher-quality audio clips.
"Outsourcing has enabled me to focus on the parts of the business I love, and leave the other parts to respective experts in their own field," Kane said, noting that she has since decided to outsource bookkeeping and graphic design responsibilities as well.
"Outsourcing has enabled me to focus on the parts of the business I love, and leave the other parts to respective experts in their own field."
Now, Kane devotes her time to working directly with customers and performing the long-term planning necessary to grow the business.
For small businesses, outsourcing provides the substantial benefits of improved efficiency.
2. Outsourcing Can Support a Variety of Business Functions
The value of outsourcing is rooted in the range of business operations and business functions it can help support.
What Services Do Companies Outsource the Most in 2022?
Small businesses intend to outsource business tasks relevant to a variety of industries in 2022, primarily for technical support. The most commonly outsourced services in 2022 were as follows:
IT services: 27%
Digital Marketing: 24%
Legal: 23%
Finance: 23% 
Development:21% 
Customer Support: 19%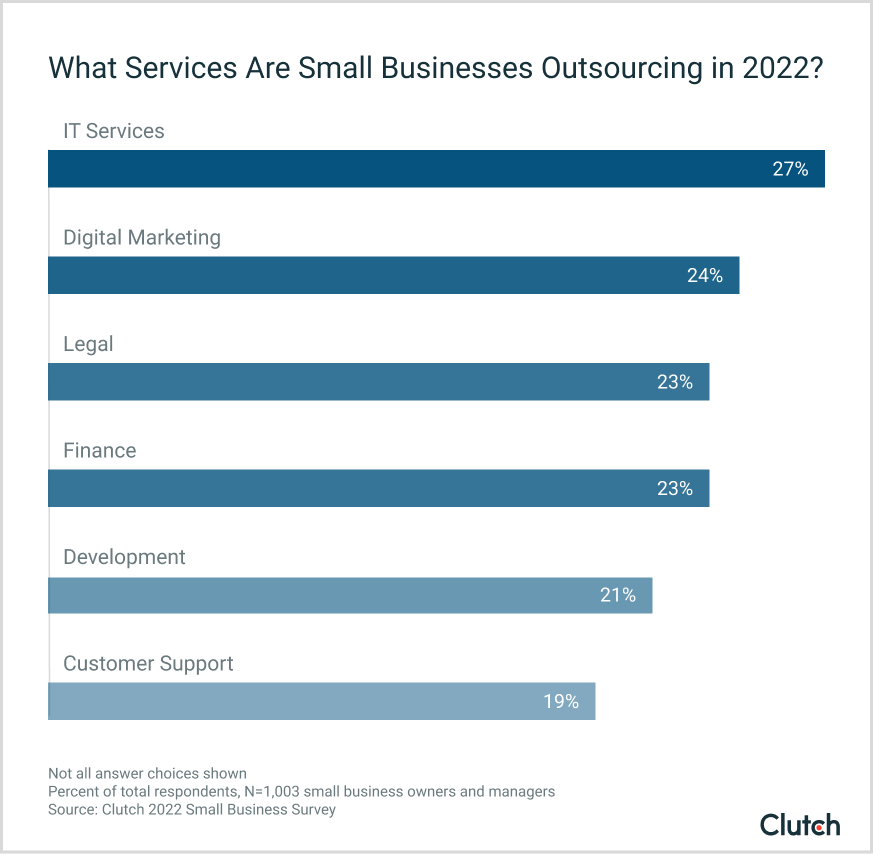 ​
Small businesses opted to keep other tasks such as PR, automation, and administrative support services in-house, rarely outsourcing business tasks in these two areas. 
What Services Did Companies Outsource the Most in 2021?
Between 2021 and 2022, most of the most commonly outsourced industries stayed consistent. The top 5 outsourced services remained the same, but small businesses were more likely to outsource human resources in 2021.  
In 2021, businesses planned to outsource a number of core business tasks, including IT services (27%), finances and accounting (23%), legal work (21%), digital marketing (20%), and human resources (10%).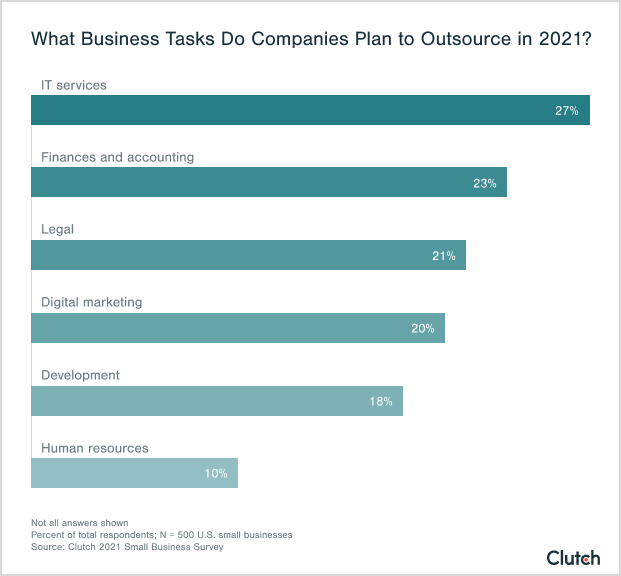 Small businesses have different motivations for outsourcing each of these processes, but primarily, businesses want to work with outsourcing providers that can provide them with a competitive advantage against other businesses with similar core business models. 
What Should Businesses Look for in Outsourced Customer Support Providers?
New employees generally cost money – which is one of the main reasons why businesses might choose to outsource. Small businesses should look within the outsourcing industry and compare the operating costs by location, service provided, and other factors. 
Outside of labor costs, small businesses looking into the outsourcing market for a provider should look for support that helps with business goals and core competencies. In order to know what to look for in a customer support service provider, small businesses must understand what their customers expect from your support services. 
When selecting a service provider to outsource to, make sure that you're confident in the candidates' abilities to meet each of these customer needs. 
3. Outsourcing is Effective for Seasonal or Need-Based Work
Outsourcing is effective for businesses looking for seasonal or need-based work.
One-third of small businesses (33%) are motivated to outsource in order to access flexible resources.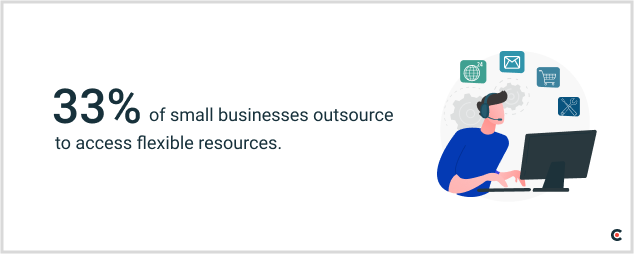 Such flexibility allows businesses to find short-term workers when they are needed. An accounting firm, for example, might use outsource help during tax season.
Milosz Krasinski, managing director at Chilli Fruit, a web consulting company, usually hires a short-term social media manager for the months of November, December, and January, which are crucial months for social media marketing. He also sometimes hires promotional staff when his company hosts live events.
In general, outsourcing provides companies the opportunity to find flexible, affordable resources for short-term work.
4. Outsourcing Allows Small Businesses to Work With Experts
More than one-quarter of businesses with 10 employees or fewer (26%) say that their company's main motivation for outsourcing is to get help from an expert.
Eighteen percent of small businesses (18%) said that working with experts is their main motivator for outsourcing in 2022. 
Some tasks particularly lend themselves to professional assistance.
Marissa Tilley owns Lady Black Tie, an 4 employee formalwear business that sells online and operates a retail showroom in Andover, MA.
Tilley specializes in formalwear but not in photography, graphic design, or digital marketing. So, she outsources photoshoots to an agency in Florida that hires models and takes photos for social media accounts. An outside vendor handles graphic design and another creates, edits, and places ads on Google and Facebook.
Now, Tilley can focus on her strength and passion for formalwear.
Outsourcing is a valuable opportunity for the smallest businesses to leverage expert knowledge and ability.
5. Companies Can Outsource Onshore, Offshore, or Nearshore
As globalization changes business, companies must decide whether to outsource business tasks to firms in their own country or outside of it.
Businesses say that a major benefit of outsourcing is the ability to contract with companies both domestic and international. Most companies (56%) weighed their options and decided to invest in onshore work in 2021.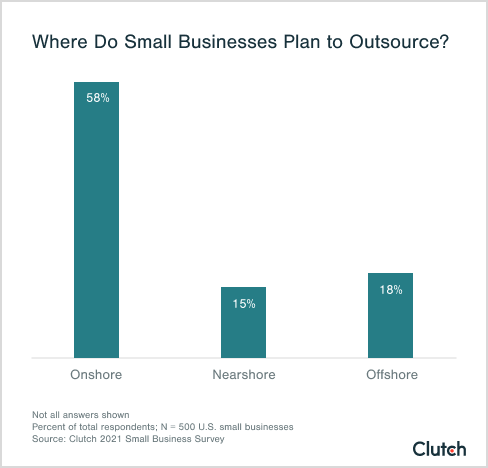 In comparison, less than 1 in 5 companies planned to nearshore (15%) or offshore (18%).
What are the Three Types of Outsourcing?
Three geographic categories describe where companies choose to outsource:
Onshoring means outsourcing to a firm or contractor in the same country where your business is headquartered.
Nearshoring means outsourcing to a neighboring country with similar or identical time zones.
Offshoring means outsourcing to a distant country with significantly different time zones and culture.
While investing in nearshore outsourcing was not as popular as onshore or offshore in 2021, the approach is gaining traction moving into 2022. 
6. Nearshore Vendors Offer Savings and Collaborative Convenience
In 2022, more than one-fifth of small businesses (21%) intend to hire a nearshore company to handle their outsourced services.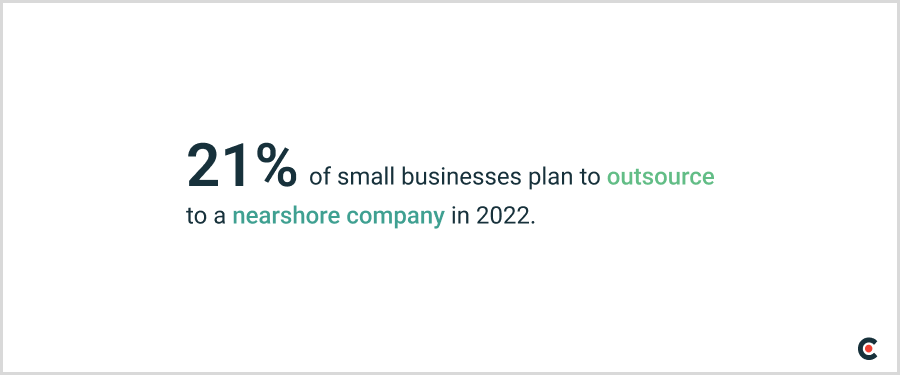 ​
Like offshore companies, nearshore firms provide high-quality services and can hit the ground running on project execution — often at more affordable rates than onshore companies. 
The big differentiator is that nearshore companies operate in similar or the same time zone as the business hiring them. While this may seem like a simple convenience for scheduling, it can often amount to much more than that.
Working in the same time zone means that small businesses can be more confident coordinating their project, setting timelines that include in-house and outsourced teammates, and timely communication with outsourced teammates during business hours.  
7. Outsourcing Can Help Scale a Business
Efficiency makes a business more valuable for its customers, and a company that provides value to customers is better suited for growth.
Outsourcing helps businesses increase their sales and grow their market share without reducing revenue or product quality.
About one-fifth of small businesses (19%) who have 251 to 500 employees use outsourcing primarily to scale their business.
In comparison, only 4% of businesses with 10 or fewer employees are most motivated to outsource by the opportunity to scale.
Companies targeting growth use outsourcing to access short-term consultants.
"During our growth years we didn't hesitate to hire short-term consultants and experts to help complete certain work," said Akram Assaf, co-founder of Bayt, a job-search platform for workers in the Middle East with more than 200 full-time employees. "Outsourcing is very powerful for scaling and growth, and more companies should do it."
"Outsourcing is very powerful for scaling and growth, and more companies should do it."
For companies that are growing quickly, outsourcing some tasks may benefit both the businesses and its customers.
Overall, outsourcing helps companies grow by offering their services to more customers and a wider pool of locations.
But there are some cases where businesses could potentially fail at outsourcing if they don't follow best practices and succumb to the difficulties of the process.
Reasons for Company Outsourcing Failures
1. Unfamiliarity With the Industry
Agencies must understand their clients' business spaces. If a client has a question, you better know the answer. Don't shake a client's trust in your agency.
The entire transfer process should be painless. Be confident, well-informed, and educated.
Clients are willing to move their business away if they feel you're unprepared and not helping with their business strategy. Answering simple questions doesn't take much work, but it's critical to demonstrating professionalism and reliability.
2. Client Dissatisifaction
It is important to demonstrate that you are always available to assist clients. Be the one point of contact that clients can rely on.
You can do this by being proactive in setting up phone calls and emails. Simply remind the business that you are there to answer any question. 
Being responsive and communicative will keep your clients feeling appreciative and involved. 
Raw feelings happen. It's a part of business and certainly a part of outsourcing. Clients and customers can naturally become upset, defensive, and uncomfortable with outsiders running an operation that was previously in-house.
To avoid fully alienating your clients, your employees must weather emotional storms and deploy top-tier customer service. Train your employees and ensure they can properly deal with people-facing or time-consuming aspects of their roles.
3. Internal Disorganization
This may seem obvious, but problems will run rampant if your agency isn't organized. 
Keeping everyone on the same page is important. This is as simple as making sure all staff involved are properly trained. It's important to have rules and processes for day-to-day tasks. This keeps everything running successfully and makes dealing with negative situations easier.
4. Unclear Costs & Expectations
Failing to establish clear costs and benchmarks for an outsourcing project is courting disaster.
Clients will be uninformed about a project's KPIs without a clear definition. A lack of information causes distrust, which can breed anger directed by clients to your agency.
Communication in all levels of business will help improve trust, and any form of effective communication includes clear expectations and costs.
Making sure clients understand the process will help them relax and let the agency handle things. 
Treat every client like their business is the most important thing in their life. Chances are it is.
5. Cater Target Audience
Any product you produce for a client must be catered to its target audience.
User psychology is what drives sales, site visits, and all manner of user behavior. By changing small details – such as the font, formatting, and color of a website – you can prod users towards an ideal behavior.
For example, a website must be user-friendly. It may seem most convenient for an outside agency to focus on SEO keywords, but jamming a page with keywords will worsen the customer experience.
Remember your target audience when your agency outsources.
Outsourcing Benefits Small Businesses
Small businesses will continue to outsource some business tasks in both 2022 and 2021.
For small businesses, outsourcing comes with many benefits, including:
Saving time and improving efficiency
Supporting various business processes
Accessing short-term and seasonal workers
Partnering with experts
Collaborating with domestic and international business partners
Discovering nearshore service providers
Growing and scaling company operations
Overall, outsourcing allows small businesses to improve their existing operations and expand into new markets. But it is important to be wary of outsourcing pitfalls. 
Be thoughtful and intentional about your agency operations to run a successful outsourcing strategy. 
Looking for help outsourcing business processes? Connect with the experts on Clutch.