By utilizing CRM software, businesses can effortlessly gather and manage customer data from various channels, creating comprehensive customer profiles. This, in turn, facilitates personalized customer engagements while maximizing the productivity of customer-facing teams. In today's business landscape, organizing and comprehending CRM data insights has become a crucial responsibility for every customer-facing role within a company. 
However, as the significance of audience information continues to expand, so does the volume of details that businesses must effectively manage and monitor. Fortunately, numerous customer management tools can streamline and automate these operations, allowing small businesses to focus on building stronger relationships and maximizing customer satisfaction.
Since every company operates and engages with customers differently, your specific CRM requirements will naturally vary. Investing time in determining how your strategy aligns with your goals is crucial to tailor a CRM approach that best suits your unique business model. 
This article will explore the eight best customer management tools specifically designed for small businesses, providing a comprehensive overview of their features, benefits, and how they can empower entrepreneurs to manage their customer base efficiently. 
The best CRM tools will assist you in identifying areas that require focused efforts, facilitating the organization, and streamlining of all your business processes for improved efficiency. Whether you're a startup or an established small business owner, these tools can revolutionize how you interact with customers and enhance your overall business performance.
Connect with the best CRM consultants in the business on Clutch.
What is CRM?
Customer Relationship Management (CRM) is a strategic approach and a set of tools and processes designed to help small businesses effectively manage and nurture customer relationships. A CRM system provides individuals across various departments, such as sales, customer service, business development, recruiting, marketing, and more. Further, CRMs offer the enhanced ability to manage external interactions and cultivate relationships crucial for success. 
At its core, CRM is all about understanding and meeting the unique needs of individual customers, ultimately fostering long-term loyalty and driving business growth. It goes beyond simple contact management by providing a centralized platform to store and analyze customer data, enabling businesses to track interactions, monitor sales pipelines, and identify opportunities for upselling and cross-selling. CRM solutions today are characterized by their increased openness, enabling seamless integration with a wide array of your preferred business tools. 
Whether it's document signing, accounting,  billing systems, or survey platforms, these CRM systems facilitate bidirectional information flow, offering you a comprehensive 360-degree view of your customers. By leveraging CRM, small businesses can streamline their sales and marketing efforts, personalize customer experiences, and make data-driven decisions to optimize their operations.
8 Best Customer Management Tools for Small Businesses
Here are some of the best customer management tools for small businesses:
Semrush CRM
Hubspot CRM
Pipedrive
Salesforce
EngageBay
Capsule
Agile CRM
Zoho
1. Semrush CRM
Semrush CRM provides digital marketing agencies, freelancers, and consultants with the ability to work easily and efficiently with multiple clients.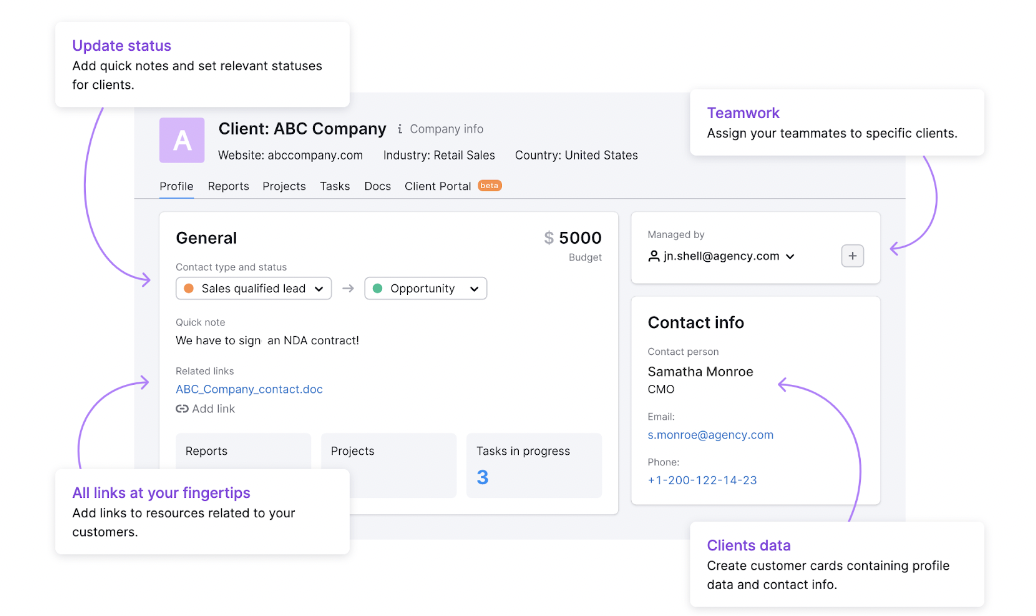 Source: Semrush
By using all the available features offered by SEMrush, your company can enhance its search engine rankings and its overall website effectiveness. A successful digital marketing plan encompasses various components such as SEO, PPC, social media, branding, and more, all of which can be supported by SEMrush.
Benefits of Semrush
SEMrush provides numerous advantages for businesses and agencies alike. The intuitive software conveniently organizes your websites into "projects," with dedicated tools selected for each specific website. While the program is customizable to suit your particular requirements, we outline below several key benefits that have contributed to SEMrush's popularity as one of the leading digital marketing tools available on the internet.
1. Easily Monitor and Manage Your Organic Rankings
Effortlessly ascertain your website's online visibility, identify your primary keywords, and evaluate your competitive position with remarkable speed using SEMrush. Additionally, SEMrush provides insights into how your organic rankings appear on both desktop and mobile platforms, which can vary significantly.
2. Create Simplified Reports That Your Team Will Enjoy
SEMrush lets you gather data and export results into user-friendly PDF reports or Excel spreadsheets. These reports can be customized according to your specific requirements and easily shared or distributed via a quick link or email. This seamless sharing capability ensures that your entire team stays informed, regardless of their work location. With SEMrush, you can generate straightforward reports that your entire team will love.
3. Track and Analyze Social Media Effectiveness
Establishing a strong online brand necessitates the implementation of social media marketing strategies. The content you share on social platforms, including images, videos, posts, stories, ads, and customer interactions, significantly impacts the perception of your company by potential customers. Furthermore, you can monitor the activity of your social audience and their engagement with your brand or competitors on popular platforms such as Facebook, Twitter, Instagram, and YouTube.
4. Take Your Content Marketing to the Next Level
SEMrush excels at revealing the performance of keywords that are driving traffic to your website and identifying areas for improvement. It enables you to gain insights into the strategies employed by your competitors for similar pages. Furthermore, SEMrush provides a comprehensive overview of websites linking back to your site, identifies any potentially harmful backlinks, tracks online brand mentions, and uncovers opportunities for acquiring high-quality backlinks.
2. HubSpot CRM
HubSpot CRM is the leading inbound marketing software that enhances the inbound marketing process and helps in developing strategies to edge over the competition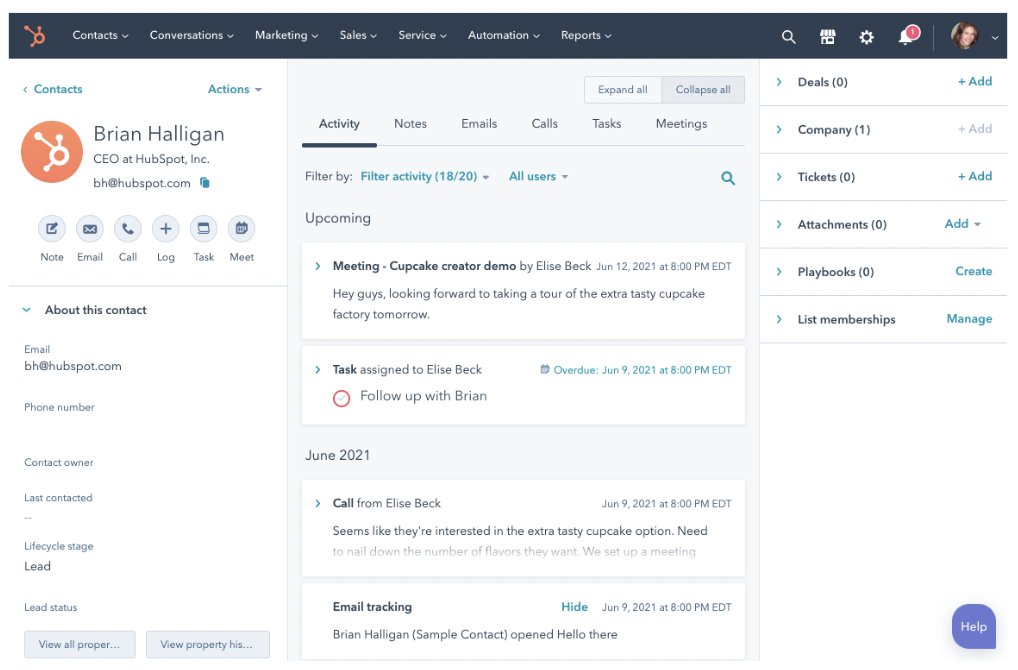 Source: HubSpot
It enables the generation of high-quality leads, maintains long-term relationships with customers, and assists prospects at every point. HubSpot works on a customer-centric approach. It ensures smooth and efficient interaction with your customers.
Benefits of HubSpot
HubSpot is a CRM platform that brings together all the essential components necessary for scaling companies to provide a superior customer experience in a single unified solution. Here are some of the benefits of HubSpot:
1. Manage Your Pipeline with Total Visibility
A visually appealing and organized dashboard gives a real-time overview of your complete sales funnel. Easily track and analyze deals won and lost, schedule appointments, send contracts, and perform against your quotas, all within a user-friendly interface. Effortlessly sort deals by name, owner, amount, or stage using custom filters, allowing you to access actionable insights in a fraction of the time it would take otherwise.
2. Log Sales Activity Automatically
HubSpot's complimentary CRM tools automatically track customer interactions, regardless of whether they occur in emails, social media channels, or during phone calls. By syncing with Gmail or Outlook using HubSpot Sales, you can effortlessly capture and record every call, email, or meeting in real-time, ensuring that no valuable interaction goes unnoticed.
3.  See All the Information About a Lead in One Place
HubSpot meticulously organizes every interaction with a lead into a neat timeline, encompassing calls, emails, meetings, and notes. With HubSpot, you can effortlessly pick up where you left off and stay up-to-date on each customer journey stage.
4. Get Started for Free
Take action today to embark on your CRM journey with a remarkably lightweight and robust solution, offered completely free of charge. No contracts, credit card commitments, or extensive training are necessary. Simply sign up and utilize the most user-friendly and powerful CRM you've ever encountered.
3. Pipedrive CRM
Pipedrive provides small business owners with advanced CRM capabilities at an affordable price point.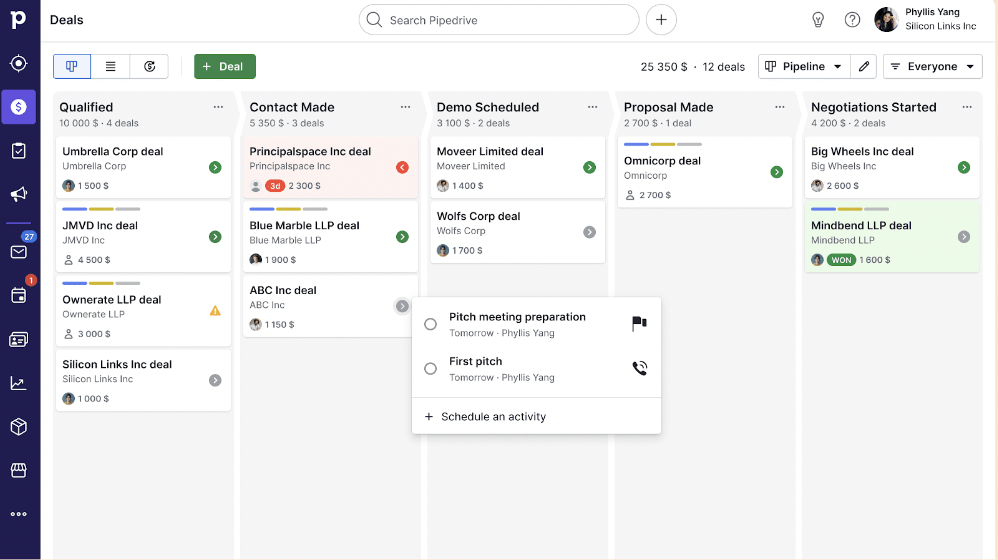 Source: Semrush
With its distinctive pipeline management features, such as email tracking, comprehensive reporting, and lead monitoring, Pipedrive offers exceptional value for your investment. The platform strongly emphasizes sales process control, enabling you to scale your business effectively as you expand. 
Utilizing an activity-based methodology, it effectively tracks sales and simplifies lead follow-ups. Pipedrive offers a compelling feature that holds great appeal for many small to midsize businesses (SMBs): the ability to map out the entire sales process visually. 
This particular capability has the potential to enhance efficiency and eliminate the uncertainty that often hampers teams, ultimately addressing a common cause of CRM implementation failures. Designed as a beginner CRM, Pipedrive caters to smaller businesses and is an excellent choice if you seek sales-oriented CRM software for your organization.
Benefits of Pipedrive
Pipedrive is one of the easiest-to-use CRMs out there because of its clean user interface and minimalist design. It's packed full of benefits that will help you boost your productivity.
1. Setting Up Reminders for Key Activities
With Pipedrive's prompts and reminders, you can maintain productivity and stay updated on critical deals and scheduled meetings. Additionally, it helps you prioritize client follow-ups and ensures that no potential customer slips through the cracks. You can optimize your workflow and maximize your sales effectiveness by leveraging these features.
2. Use Filters to Segment and Target Leads
Accessing crucial data swiftly can be invaluable when you're finalizing a deal with a client, pitching important ideas to superiors, or presenting quarterly results to your team. Pipedrive simplifies the process by allowing easy customization of filters and search criteria for vital sales, existing customers, and lead information.
3. Integrate All Your Tools in One Place
By seamlessly integrating with popular platforms such as Google, Apple, and Microsoft, Pipedrive serves as a centralized hub for all critical sales communications within your organization or team. It synchronizes the CRM's inbox and calendar, automatically capturing essential emails, texts, contact details, and calendar events, and associating them with relevant deals and contacts.
4. Salesforce
While typical CRM systems often revolve around file sharing, sales tracking, team messaging, email integration, and dashboard functionalities, Salesforce, the world's top CRM software, surpasses these features by offering additional tools for marketing automation and customer service.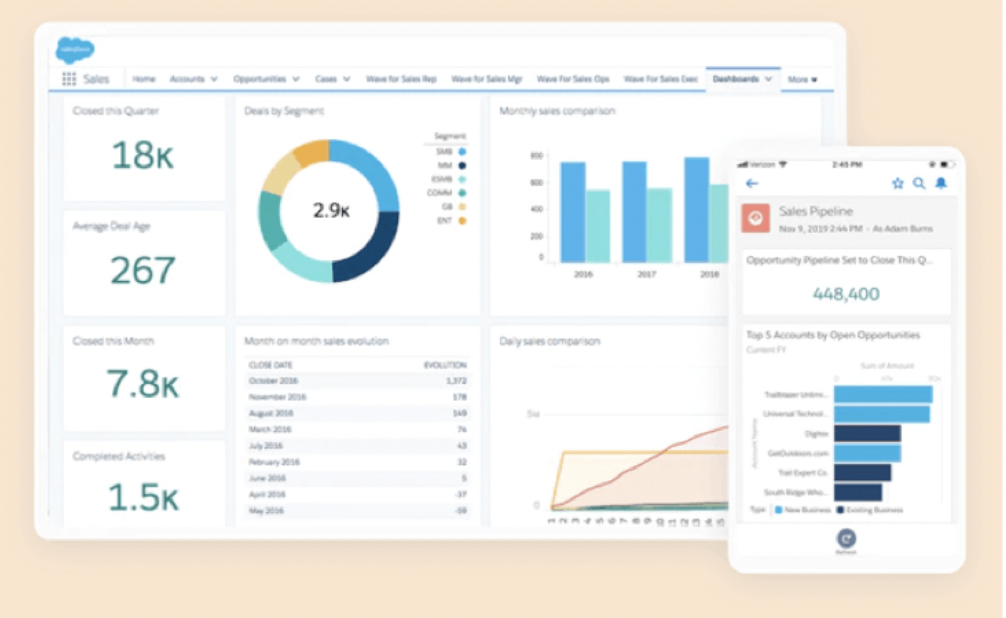 By incorporating these capabilities, Salesforce goes beyond conventional CRM functionalities, enabling you to foster strong relationships with your leads and customers. Salesforce empowers users with a comprehensive suite of tools designed to effectively manage customer data, automate processes, analyze valuable insights, and deliver personalized customer experiences. 
Additionally, Salesforce offers extensive solutions catering to diverse needs, including customer service, marketing automation, commerce, app development, and more. It facilitates a deeper understanding of your audience, empowering you to effectively nurture these relationships and meet their expectations. 
With Salesforce, you can enhance your customer management practices and deliver exceptional experiences that align with your customers' needs.
Benefits of Salesforce
While the fundamental aspects that make Salesforce CRM one of the most prominent customer relationship management tools remain evident, its array of benefits facilitates businesses in meeting and exceeding customer expectations. Some of these notable benefits include:
1.  Automation Tools
Incorporating this chatbot into your operations can significantly enhance customer satisfaction by providing timely responses and establishing better connections with your customers. This chatbot ensures that customers have a memorable experience each time they engage with your brand, whether it's through your website or social media platforms.
2. Utilizing Data Analytics Tool
Utilize data analytics to uncover critical insights, such as the most visited sections of your website, top-selling products, preferred methods of customer contact, and daily fluctuations. Salesforce offers a suite of reporting tools and interactive dashboards, enabling you to collect and analyze data efficiently. This empowers you to respond to evolving data trends and make informed decisions promptly.
3. Syncing Data From Various Applications
Salesforce CRM offers enhanced customer experiences through its portable nature. The Salesforce Mobile App allows you to access and manage your data anytime and anywhere conveniently. This mobile app seamlessly navigates across various platforms while effortlessly updating and adding new data.
5. EngageBay
EngageBay provides a highly inclusive CRM solution that caters to a wide range of users, from solopreneurs to established companies, all at affordable prices.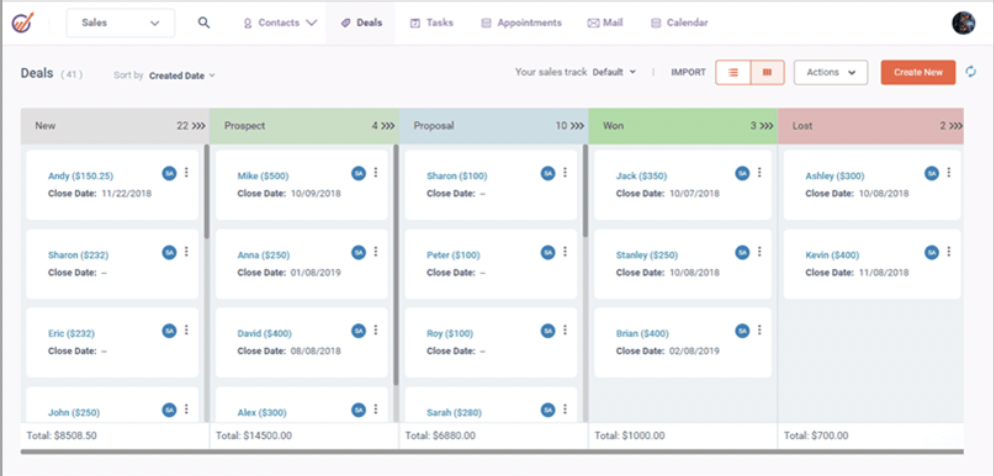 With an extensive array of marketing tools, including landing page builders and lead generation forms, this CRM software is ideal for businesses seeking to streamline their sales and marketing operations within a unified interface.
Benefits of EngageBay
EngageBay is a CRM automation software crafted explicitly for small and medium-sized startups. Its primary objective is to provide you with a comprehensive suite of features required for scaling and expanding your business operations effectively. 
With EngageBay, you can leverage the tools necessary to propel your business toward growth and success. Here are a few benefits of using EngageBay:
1. All-in-one Platform
Streamline your marketing processes and sales funnels effortlessly by automating them within minutes. Access a comprehensive suite of marketing tools through user-friendly integrated software, enabling you to automate various aspects of your marketing operations efficiently. This automation simplifies your workflows, saving time and effort while ensuring consistent and effective marketing strategies.
2. Convert Web Visitors Into Leads
Effortlessly transform website visitors into leads by designing personalized web forms and landing pages. Utilize pop-up forms that appear when visitors open or exit the webpage, allowing you to capture their contact information effectively. Additionally, optimize subscription opt-ins by requesting email addresses, enabling you to expand your email marketing database and nurture valuable leads.
3. Generate Reports and Analytics on Sales Figures
Leverage the reporting module to generate comprehensive reports and analytics regarding your sales figures. Customize these reports to analyze data in a meaningful and insightful manner, providing valuable insights into your sales performance. Additionally, utilize the reporting feature to generate reports on customer engagement, enabling you to identify the marketing content that resonates most effectively with your target audience.
6. Capsule
Capsule is an elegant online solution for customer relationship management, designed specifically for businesses that heavily rely on cloud-based platforms for work and collaboration.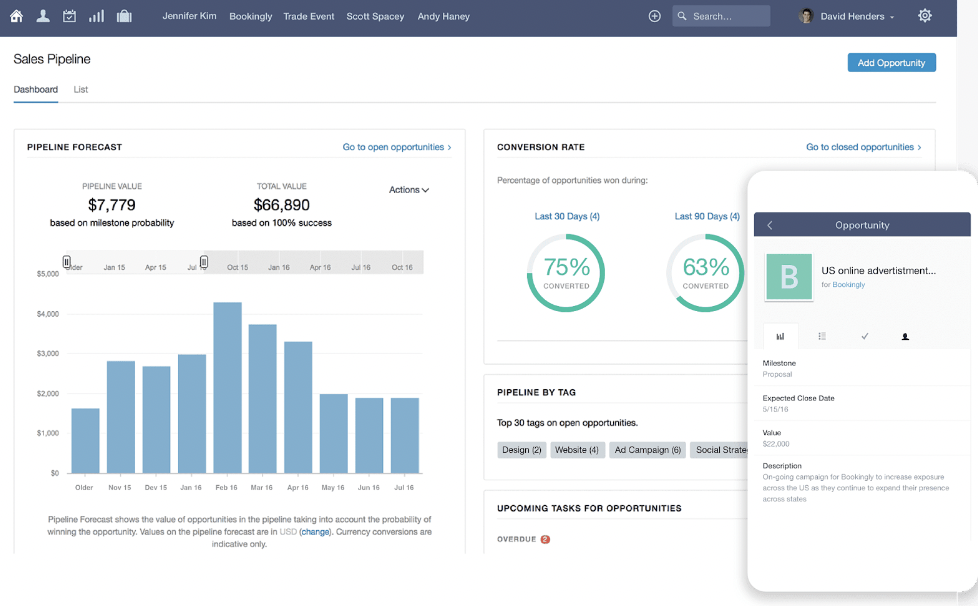 With many customizable features, such as user permissions, custom filters, and sales pipeline views, Capsule is a trusted CRM system utilized by numerous businesses worldwide. Its extensive customization options make it ideal for small companies upgrading from basic solutions to a more sophisticated CRM with advanced capabilities.
Benefits of Capsule
Capsule empowers you to effectively manage your business relationships by organizing and tracking contacts, companies, and ongoing communications. Additionally, it aids in managing your opportunities pipeline. Here are a few benefits of using Capsule:
1. Contact Management
With Capsule's contact management software, you can do far more than simply store contact information. It allows you to enhance your contacts by adding crucial details like phone numbers, addresses, notes, emails, files, and tasks related to each contact. A contact profile within Capsule is a comprehensive repository, capturing a complete record of all your interactions with individuals or organizations.
2. Emails and Activity
Capsule CRM seamlessly integrates with popular email platforms like Gmail and Microsoft Outlook, enabling users to manage their emails and store email conversations within the CRM system. With these convenient add-ons, you can effortlessly create new contacts, tasks, cases, and opportunities directly within your inbox without the need to navigate away from your email interface.
3. Sales Pipeline
Capsule provides a flexible and customizable sales pipeline that allows you to visualize, manage, and monitor your sales deals. The great advantage is that you can create custom milestones tailored to your unique sales process, ultimately increasing your chances of successfully closing more deals.
7. Agile CRM
Agile CRM is a comprehensive platform designed for small businesses, offering an array of powerful functionalities akin to those found in Fortune 500 companies.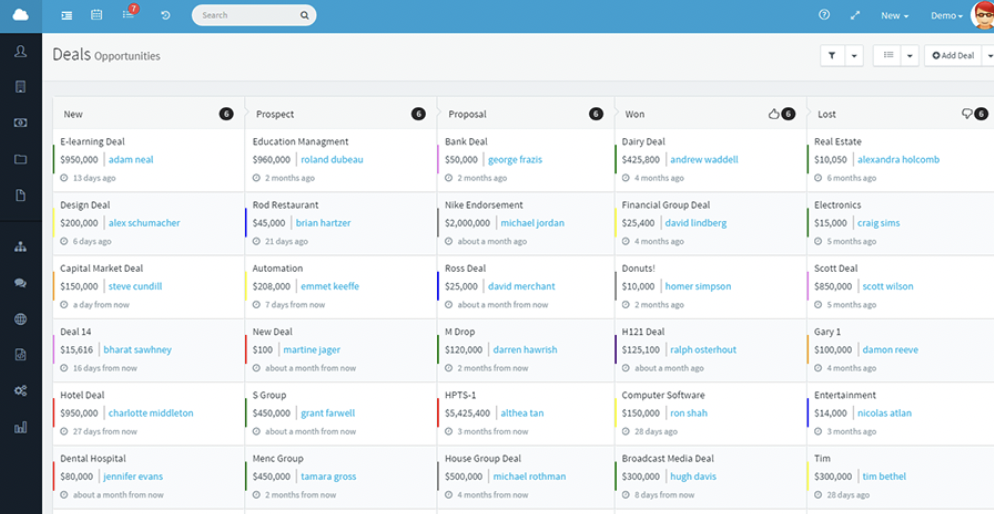 These capabilities include sales gamification and even a convenient built-in wireframe tool for prototyping digital assets and products. Additionally, Agile CRM simplifies the integration process by providing one-click plugins and seamless connections to various third-party apps and services that you currently utilize in your business operations.
Benefits of Agile CRM
Agile CRM delivers various features. These features help businesses to manage their customer data, automate their marketing campaigns & streamline their sales functions. Some of the benefits of using Agile CRM include:
1. Enhanced Data Security
Agile CRM incorporates a comprehensive set of robust data security features, such as data encryption, user permissions, and role-based access controls. These measures are in place to safeguard customer data, preventing unauthorized access and potential breaches. With Agile CRM, you can rest assured that your valuable customer information remains protected and secure.
2. Improved Lead Conversion
Agile CRM provides businesses with lead scoring and nurturing tools that empower them to prioritize and engage with leads more efficiently. By utilizing these features, businesses can enhance their lead conversion rates and ultimately boost their revenue. Agile CRM offers the means to effectively manage and nurture leads, resulting in improved business outcomes.
3. Increased Efficiency
Agile CRM enables businesses to automate their sales, marketing, and customer service operations, effectively saving valuable time and resources. By automating these essential functions, Agile CRM empowers businesses to prioritize their core activities and concentrate on their key objectives. With Agile CRM handling automated processes, businesses can streamline operations and maximize productivity.
8. Bigin by Zoho CRM
Bigin, developed by Zoho CRM, is a CRM solution specifically designed for small businesses.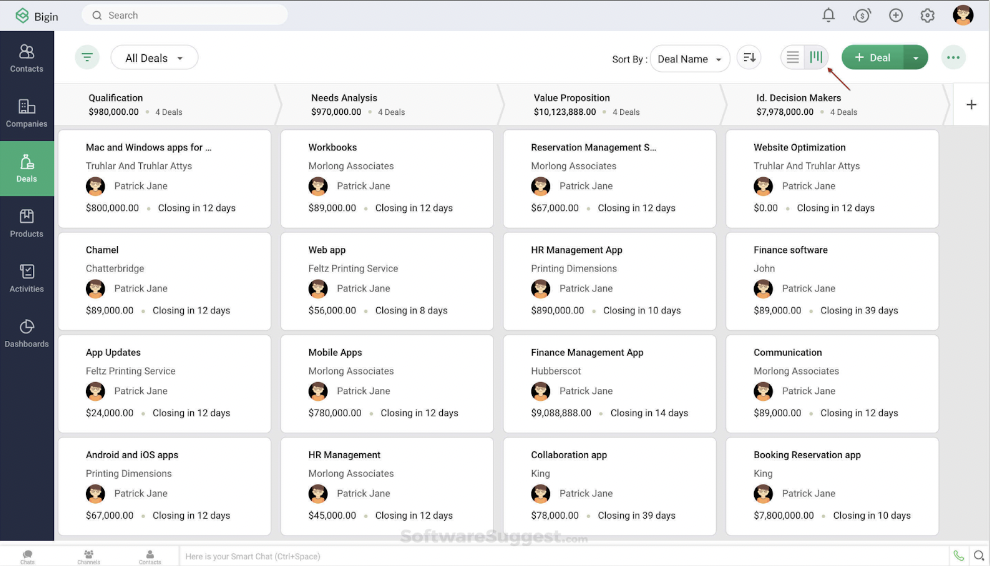 This pipeline-based CRM focuses on simplicity and ease of use, offering all the essential features required to establish a robust CRM system. 
By omitting complex functionalities and avoiding a steep learning curve, Bigin ensures its users a lightweight and user-friendly experience. It caters to the specific needs of small businesses, providing them with a streamlined and efficient CRM solution.
Benefits of Zoho CRM
Zoho CRM offers a comprehensive solution for businesses that nurture customer relationships and enhance organizational infrastructure and productivity. With a wide range of advantages, Zoho CRM provides everything you need. Here are a few benefits of using Zoho CRM:
1.  Conversational AI to Power Your Sales Team
Zoho incorporates an advanced capability that leverages its virtual assistant, Zia, to accurately predict the likelihood of success for individual leads and deals. In addition to handling routine tasks like note-taking and sales calculations, Zia diligently analyzes patterns and offers recommendations for automating repetitive tasks. With this intelligent feature, Zoho CRM optimizes efficiency and productivity while minimizing manual efforts.
2. Simple and Easy to Use
Zoho CRM stands out for its exceptional user-friendliness. It offers a simple and intuitive interface that can be easily customized to align with your specific requirements. 
Moreover, Zoho CRM seamlessly integrates with popular workplace apps like Google Workspace, eliminating the need for a complete software system overhaul to leverage its targeted functionalities.
3.  Pain-Free Migration from Spreadsheets and Other CRMs
Implementing Zoho doesn't require sacrificing additional work or time, as it is specifically designed for seamless migration from spreadsheets or other CRM systems. 
Zoho offers a user-friendly data migration wizard that ensures a precise transfer of your data from your current CRM to Zoho, eliminating the need for manual data movement and minimizing the risk of losing any crucial information along the way. 
Regardless of the CRM system you have been using, whether it's a well-known platform or a lesser-known one, Zoho CRM provides a tailor-made setup to facilitate a smooth transition.
Choosing the Right CRM for Your Small Business
CRM software brings numerous tangible benefits to startups and small businesses, ranging from pinpointing pain points to expanding the reach of your target audience. These solutions are essential in understanding and effectively managing the intricate sales process. 
By integrating social media marketing and marketing automation capabilities, CRM software equips your business with a competitive edge, enabling you to stay ahead of industry trends and maintain a prominent position in the market.
Getting your CRM right requires more than just the software itself. Find and hire the right CRM consultant for your needs on Clutch.