You've avoided looking at your phone to focus on a new task at work, but something is in the back of your mind as the hours drag on.
Then, a notification pops up on your phone that you aren't allowed to ignore. You freeze and think about how you and your surroundings appear.
This is real life; it's time to BeReal.
BeReal, the newest social media app that might rival the attention of TikTok, has become a prime social media platform for social media enthusiasts. But what is BeReal?
How can businesses capitalize on the app that has hit the minds of potential customers?
This guide will break down the in's and out's of BeReal, their main competitors, the social media platform's history, who their target audience is, and how businesses in the B2B space can leverage the platform for their use.
A Guide to BeReal
What is BeReal?
For those unfamiliar, BeReal is an emerging social media app that prompts users at a random time each day to take a candid, unfiltered snapshot within a two-minute window.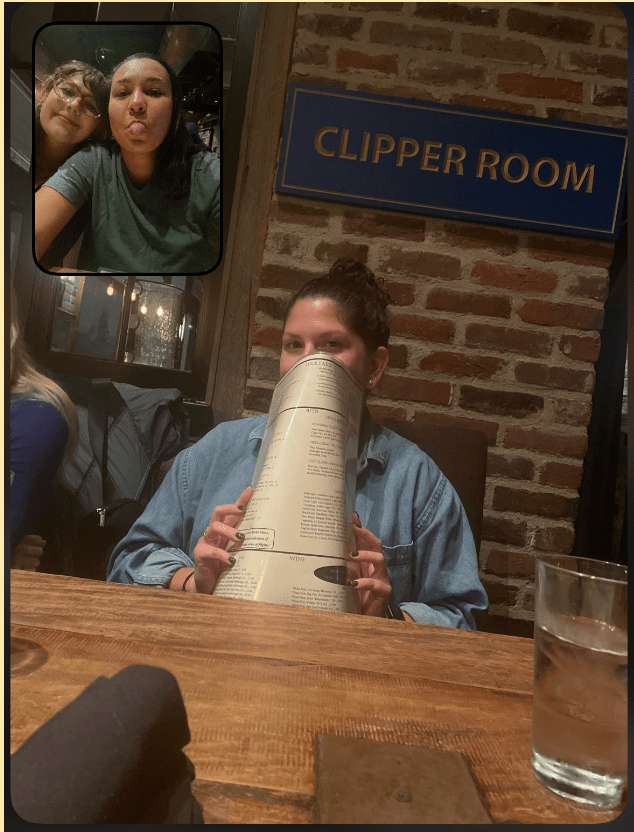 Josh Snoddy, owner & co-founder of Ripely Ltd, a social media marketing agency, first heard about the social media app after seeing a viral TikTok from singer Lewis Capaldi in August 2022.
Snoddy believes that BeReal is marketing itself as the "anti-social media platform" by bringing back authentic and personal views into users' lives.
"Most, if not all other social media platforms have been publicly accused of exploiting their users in some capacity, monetizing aspects of their platform to the detriment of user experience," Snoddy said. "However, BeReal's mission statement is to reconnect users with 'real friends' and 'real experiences.'"
However, BeReal's mission statement is to reconnect users with 'real friends' and 'real experiences.'
As the anti-social media platform, BeReal still poses rules and traditions of classic social media platforms.
Additional Reading, '5 Tips for B2B Companies on TikTok.'
How Does BeReal Work?
Each day, at a random time, the BeReal app sends users a notification that it's "time to BeReal."
Once they click and enter the app, a user must take a real-time snapshot within the two-minute timeframe. It takes a selfie as well as a photo of what's in front of the users. You can also caption it however you'd like.
The alert to BeReal can go off at any time - when a user is in a meeting, on the train, or even sleeping.
If a user misses the two minute alert, they can still post on BeReal (it is a requirement to post before you can see your friends' posts), but everyone will know how late you are to posting.
Users can also retake photos, but the app also gives you a personal count of how many times you weren't "being real."
For each post on your feed, you can react to them with realmojis that show different emotions.

BeReal is meant to showcase the daily life of its users, but there are both advantages and disadvantages of the photo sharing app.
What are the benefits of BeReal?
Exclusivity: While users can see other posts from all over the world, users can send friend requests to their close network and have only their posts in their main feed.
No Ads: At the time of this article, BeReal doesn't allow advertisers as part of their terms. This provides a cleaner experience for users of the social media app.
Authentic Content Creation: As the anti-Instagram, BeReal gives users the chance to avoid any social media trickery and influencer content. It is a platform to showcase relatable, real-time moments.
What are the downfalls of BeReal?
UX/UI Difficulties: It is a popular discussion amongst the BeReal community about how unreliable the app is.


BeReal's technical difficulties lead to dissatisfaction with the app that promotes being on time. If BeReal seeks to continue its rise and grow its user base, their team must figure out how to prevent the frequent crashes.

Lack of Monetization Opportunities: For businesses, it is important to think creatively about how to use BeReal. In their terms, BeReal's team prohibits the use for "advertising or commercial purposes to publish or facilitate the transmission of advertising..."While this shouldn't be a surprise for a platform that strives to be authentic, it does present a challenge for businesses looking to break into the BeReal market.
Security Concerns: Like with any budding social media platform, there are privacy concerns for using the app. The app shares your location, and the time-based nature could also lead to challenges as well with what content you're sharing (yes, people are zooming into your work spreadsheet) and more. Users can update their permissions to avoid share specific data about pictures they share.
How is BeReal Growing?
While BeReal is just hitting the consciousness of social media users, it has been around since 2020.
Since its launch, monthly active users have grown by over 300%.
A lot of factors might point to the belated success of the photo-sharing app - for example, platforms like Instagram and TikTok have shifted to more algorithm-driven content for their posts and reels, whereas BeReal takes a different approach.
Users, with their two-minute window prompt, generally aren't scrolling through the social media app all day. Additionally, with the lack of editing options and filters, users feel less pressure to post – besides the countdown clock.
The word of mouth promotion for BeReal and cross-promotion on apps like TikTok have allowed the platform to reach new heights from its humble beginnings.
History of BeReal
Founded in 2020 by French entrepreneur Alexis Barreyat, created the app to encourage users to be their true, authentic selves, which is lacking on other social media networks.
The app's description in the App Store echoes that statement, highlighting that "BeReal won't make you famous."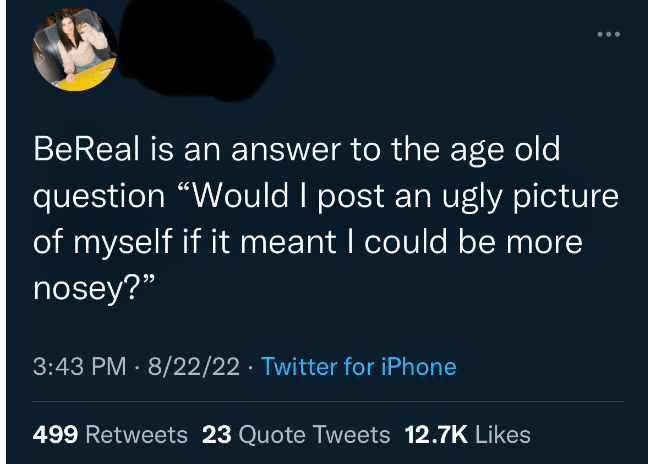 Barreyet seems to be a fitting founder of the anti-social media platform – he is somewhat elusive regarding comments about his product.
After breaking into the US market, BeReal is now the top-ranked iOS social networking app in the App Store.
BeReal is a free app, but it received its first funding round, and their valuation was set to reach about $630 million.
So now begs the question, who is on BeReal
Who is on BeReal?
With over 22 million app global downloads, it is time to investigate who exactly is on BeReal.
BeReal's ascendence in the social media sphere comes at a time where the original social media giants like Facebook and Twitter are being challenged by TikTok, Gen Z's favorite social media app.
BeReal has taken that crown, which The Guardian citing the social media app as their new favorite.
A large chunk of BeReal's downloads are credited to Gen Z and Millennials - this is likely due to BeReal's promise of authenticity, which appeals to younger audiences. An audience that has become harder and harder for businesses to attract.
Additional Reading: 'Gen Z Marketing: How to Target Young Audiences'
Who are BeReal's competitors?
BeReal's main competitor in the social media space is Instagram - because of its token as the anti-Instagram. It appears that Instagram is taking this to heart: with the release of "candid challenges," they appear to be mimicking the core message of BeReal.
Snapchat is also releasing a similar dual-camera feature that will allow users to capture video and photos using the front- and back cameras on their mobile device.
Despite its goal to not make users famous, BeReal has become a trendsetter in the social media market.
Popular Brands that Use BeReal
Chipotle
Since BeReal doesn't allow formal advertising, brands like Chipotle have to be creative with their strategies.
The restaurant was one of the first major brands to join the app.

Chipotle shared reusable prompt codes in their first week, rewarding the first 100 users with a free meal.
Each of the 100 codes was redeemed within a minute of being posted, which suggests that users of BeReal are eager for engagement.
PacSun
The American retail brand, Pac Sun, used BeReal's image for marketing purposes.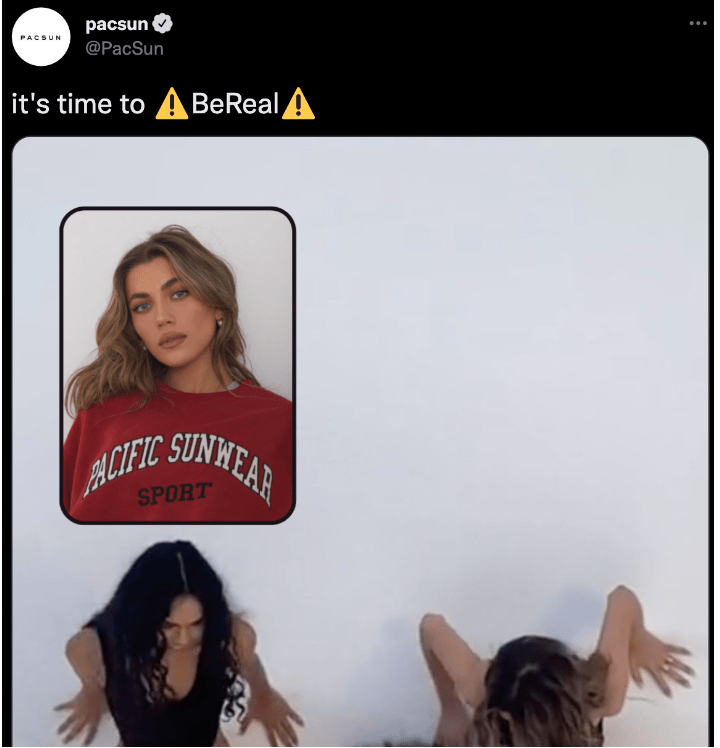 By staging a photoshoot as a BeReal post, the brand was showcasing their knowledge of their target audience while putting a creative spin on marketing their product.
Love Island
The popular global dating show also followed the BeReal meme craze by posting a BeReal-inspired post on their Twitter account.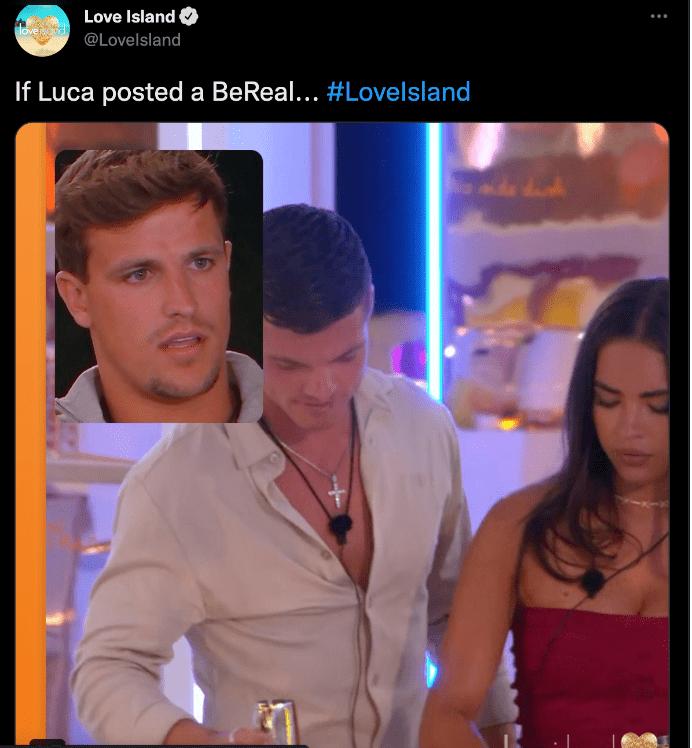 The tweet received over 600 retweets and over 16,000 likes, which shows the increasing popularity of the social networking platform.
With the lack of monetization of the app, Snoddy believes businesses will have trouble using it for effective marketing campaigns.
"At present, I don't believe there are enough businesses on BeReal to create an effective B2B marketing campaign," Snoddy said. "However, should BeReal grow in popularity for businesses, I do believe it could strengthen and create core relationships."
However, should BeReal grow in popularity for businesses, I do believe it could strengthen and create core relationships.
For businesses looking to leverage BeReal, it is clear they must think outside of the box while finding opportunities for authentic human connection.
How B2B Providers Can Use BeReal
Once you get the users to friend you on BeReal, the real work begins.
1. Craft an Expanded Online Presence
Most B2B providers have mastered Facebook, Twitter, and Instagram, making it time to venture into a new social networking landscape. Especially if a new target audience finds themselves raving about it.
"Many studies have shown that Gen Z is more radically, ethnically diverse and educated than any previous generation, so I would suggest businesses showcase their authenticity, diversity, and humanity," Snoddy said.
Many studies have shown that Gen Z is more radically, ethnically diverse and educated than any previous generation, so I would suggest businesses showcase their authenticity, diversity, and humanity.
B2B companies can use BeReal to attract Gen Zers by showcasing their offerings through photo images with a clear caption.
BeReal has a 'discovery' section, allowing users to browse accounts outside their friend list. Users can find potential businesses there and then "friend" them if they find their content dynamic.
Since BeReal is at the same time every day, it is important to plan out well in advance what your team will want to share on the app with the hopes it gets noticed by prospective customers.
2. Showcase Promotional Materials
Similar to Chipotle's initial marketing strategy on BeReal, your business can replicate promotion efforts.
Your business can offer coupon codes for a free consultation, showcase your email subscription list, and promote new services.
Managing these efforts can be tricky since BeReal has strict guidelines about advertising, but businesses can think creatively about how to promote their business with an approach that appeals to audiences looking for authenticity.
3. Facilitate Partnerships
A fun way users engage with BeReal is to post with their friends simultaneously.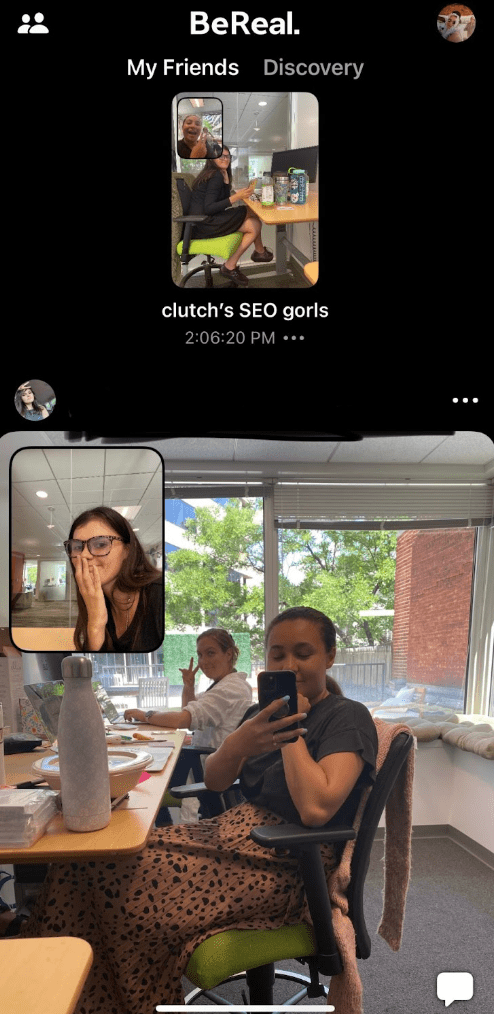 Why can't this work with similar brands or teams?
For example, if your app development company is working on a project with a marketing company, showcase that on BeReal. Take a picture of the project to give users a sneak peek or part of a meeting with a caption that encourages viewers to stay tuned.
BeReal is an app for friends after all – why not spread it out to business relationships and partnerships.
Read this: '4 Essentials for Co-Branding Success'
4. Encourage New Recruits
Did you think about using BeReal as a recruitment tool?
An issue with BeReal is a lack of 'exciting' content. Users are generally showing their day-to-day at a desk or walking to the office. Make BeReal a value-add to your company's recruitment strategy.
Businesses can craft recruitment campaigns on BeReal by showing company perks and more.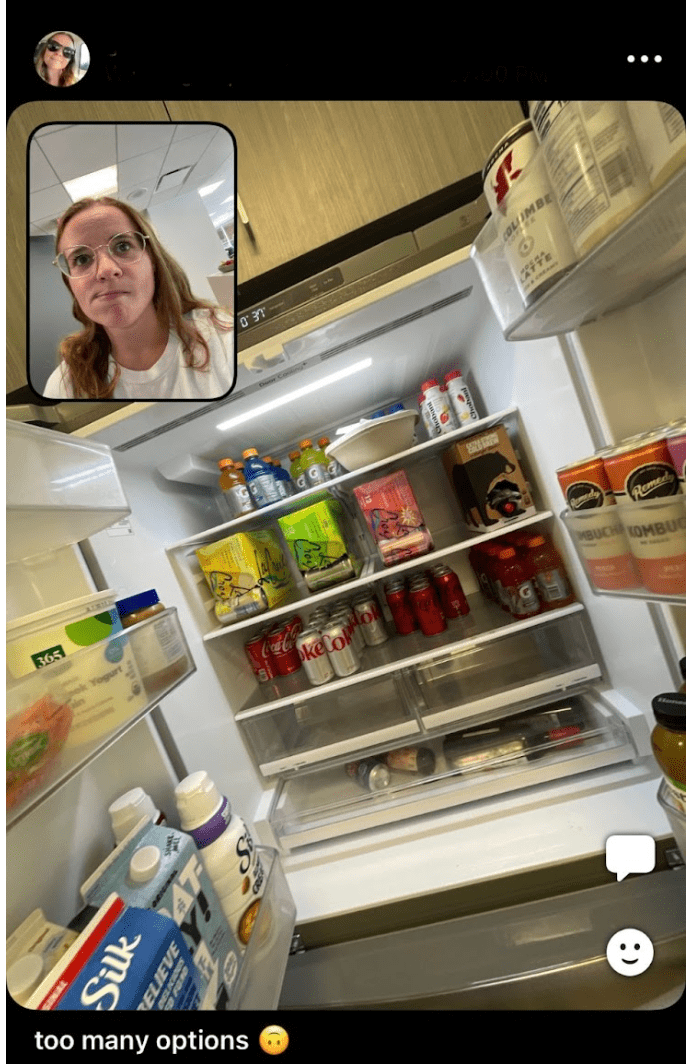 Get your employees involved to use BeReal as an employer branding tool.
Snoddy recommends experimenting "with behind-the-scenes content and use BeReal as a way to engage with consumers in a new capacity."
BeReal is meant to show off real life, so show off what your business does during your 9-5 (if the notification goes off during that timeframe).
B2B Industries that Can Invest in the BeReal Space
BeReal might not be the social media app for every B2B company – but it can work for these industries.
Marketing
As the landscape of BeReal continues to evolve, companies can begin outsourcing their new social media app management to outside marketing teams.
Marketing teams can craft content calendars, be in charge of posting, and strategize with companies on how BeReal can work for their business.
Design
Design companies can showcase their work – without filters.
All types of design companies, from product to interior, can showcase their work using BeReal's photo-sharing capabilities.
If a product design company is working on a new product design for a client, they can show the status of the product from start to finish after the work is completed.
Photos can include each touchpoint of the project while highlighting the excellent work the company completes to prospective buyers.
Development
Development companies might have to go outside of the box to use BeReal, but it does present an opportunity to give users full insight into their process.
If an app development company is building a new app, they can snap screenshots of the app's evolution to showcase the timeline of the app to users.
For example, they can share the app's initial sketches, wireframes, and the final product live. Each day can have a post designated to the app before ending with the final product, which can encourage users that followed the journey to find the app in the Apple App Store or Google Play store.
B2B Providers Can Expand Their Social Media Presence into BeReal
BeReal is the new photo-sharing sensation. But does it have a future in the B2B space – or in the social media world for that matter?
The answer is still uncertain.
"As for longevity, it's hard to say," Snoddy said. "In reality, I would say many users lead quite an ordinary life. Would content at work, home, and [from your] bed be appealing for long?"
While BeReal might become another social media fad, it is clear that it appeals to markets that businesses in all spheres hope to attract.
Human connection and authenticity are all attributes that consumers look for in a service provider. BeReal can be the next social media channel for B2B markets to target.
After all, BeReal's success is all in the simplest photo.
Hire a social media marketing agency for your business.
Additional Reading: