Updated August 9, 2022
With more than 19,000 coworking spaces across the globe, coworking has become a new normal for the worldwide workforce.
People know the names of WeWork, Galvanize, and Bespoke San Francisco - but how do employees feel about working in a shared office space for their own jobs?
Overall, employees are happy in their coworking offices: In a survey of 501 coworking employees across the U.S., Clutch found that 77% are satisfied with working in a coworking space.
Just 11% of coworking employees are dissatisfied with their shared office space, while 12% are neither satisfied nor dissatisfied.
Coworking provides both tangible and intangible benefits — from snacks and social events to flexibility and convenience.
But, just because people are happy in a coworking space does not mean they don't experience challenges working in one.
Clutch also surveyed coworking employees across the U.S. to learn exactly what challenges they face in their coworking space.
We found that nearly all people who work in a coworking space (88%) experience challenges such as distractions, lack of space, and security issues.
We also found that just one-third of coworking employees (33%) would prefer to work in their coworking space, less than the number who prefer to work remotely (39%) but more than the number who would prefer to work in a traditional office (28%).
This report breaks down the specifics of each challenge and benefit of coworking spaces that businesses should consider if they choose to invest in a shared workspace. 
Top 5 Benefits of Coworking Spaces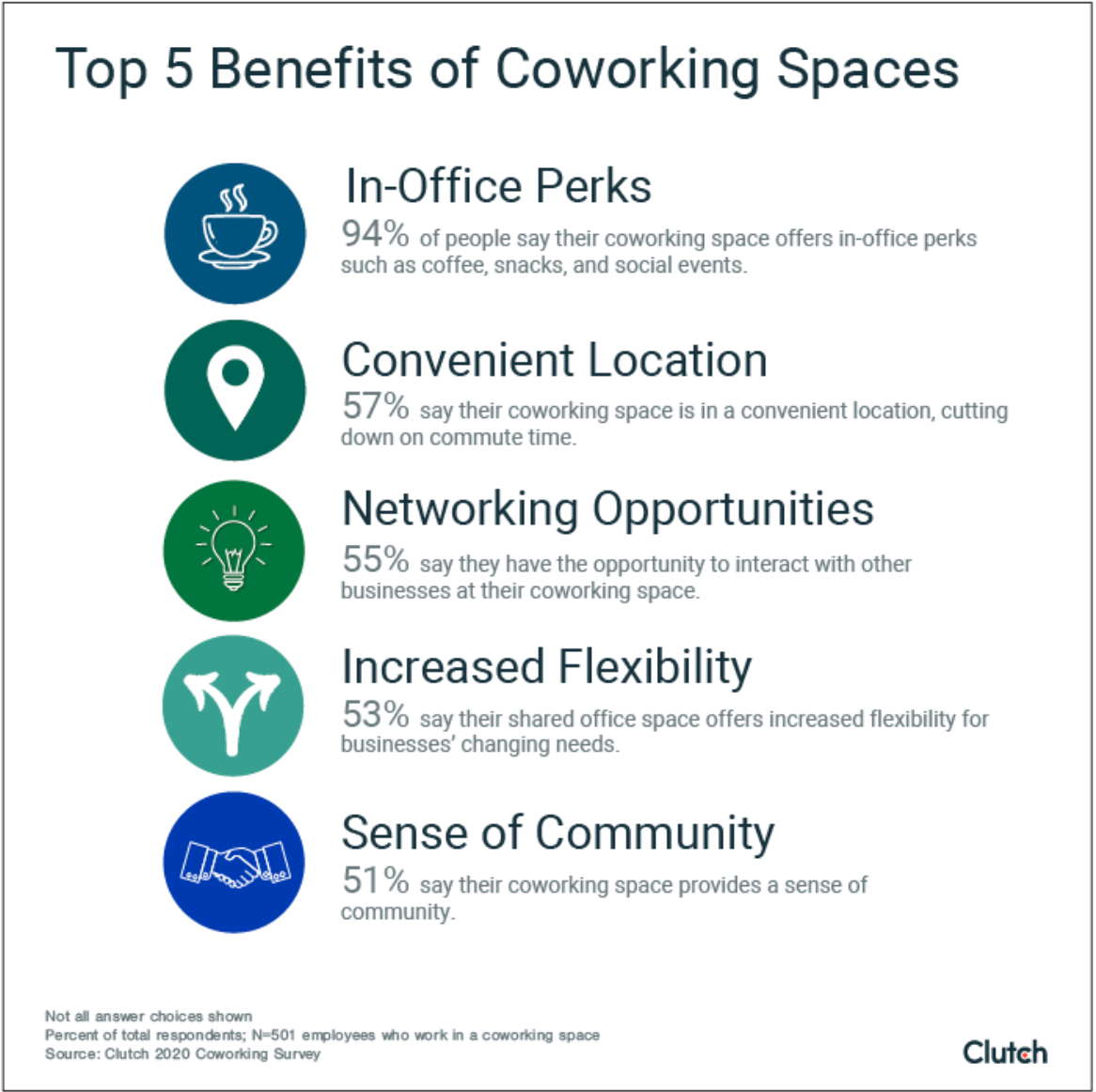 ​
1. In-Office Perks and Events
The general stereotype of a coworking space is that it's not only a place for millennials to get work done but also to play games, drink beer, and socialize.
Many of those stereotypes are true (with a monthly membership). The majority (94%) of coworking spaces include perks beyond workspaces.
​
Breaking it down, the majority of coworking spaces offer:
Coffee and tea (71%)
Snacks/meals (56%)
Networking/social events (45%)
Sit-stand desks (39%)
"Fun" elements such as games (30%)
Gyms/exercise facilities (26%)
Pet-friendly amenities (26%)
People increasingly want a "cool" office space with amenities beyond simply a place to work. Many businesses in a traditional office space don't have the resources for these amenities, though.
For example, imagine a small business with 15 people that signs a lease for a traditional office space. After the moving costs and other overhead costs such as utilities, there may not be more funds for the "fun" aspects of an office, such as drinks and food, games, or social activities like happy hours, wellness events, or networking events. These simple perks the company can't offer may reduce employee morale in their desire for a "fun" office space or working environment.
In a coworking space, the same company has the necessary workspace but also has access to amenities it may not otherwise be able to afford. Its employees enjoy the free refreshments, social events, and games the coworking space offers, and the company's culture and morale increases.
The perks most coworking spaces provide can lead to happy workers.
2. Convenient Locations
People don't always have to travel into the city to get to their coworking spaces. Coworking spaces can be found in rural and suburban areas in addition to urban areas. This reduces the stress of commutes and makes it easy for employees to get to their office space.
More than half of coworking employees (57%) say their coworking office is in a convenient location.

​
A convenient location is important to people. According to another Clutch survey, 49% of employees say that being near their home is the most important factor of an office location, more important than restaurants, coffee shops, parks, and retailers combined.
If a coworking space isn't near employees' homes, it can still be convenient for employees if it's near public transportation stops or major roads.
Next to in-office perks, a convenient location is the most common benefit of the best coworking spaces.
3. Ability to Interact With Other Businesses and Employees
Businesses take advantage of working near other companies in coworking spaces.
About 55% of coworking employees say they have networked with other businesses and people in their coworking space.
​
Many businesses in coworking spaces are small or new. Networking with other businesses — both in similar and different industries — can help a business get off the ground and forge new partnerships.
For example, a startup that sells discounted theater tickets to consumers might need help building its website. Luckily, a web designer works in its coworking space and can help. In exchange, the ticket company's owner might use her digital marketing skills to advise the web design company on its social media strategy.
For mentors, having a coworking space can help provide opportunities for collaboration with different individuals involved in their work goals. For example, if you want your mentee to learn more about a certain project, they can meet up with a freelancer or even spend time with tech entrepreneurs that might frequent the office space. 
In a traditional office space, workers are limited to interacting with their colleagues. At a coworking space, on the other hand, workers can interact with people from other companies. This can grow their skills and knowledge and even better their own business.
Coworking can lead to important professional connections onsite.
4. Increased Flexibility
A traditional office space makes sense for companies that are stable in size. For a changing or growing business, however, a coworking space's varied office spaces and layouts can offer necessary flexibility.
Fifty-three percent (53%) of employees say flexibility is a key benefit of their coworking space.

​
A three-person company may sign up for three cubicles and a small conference room in a coworking space. But one year later, the business has grown to 15 people and needs more space for collaboration and privacy than before. It can switch offices in its coworking space more easily and efficiently than if it signed a long-term lease at a traditional office space, where it is likely stuck for several years.
Coworking spaces provide more flexibility than a traditional office for both businesses and employees.
5. Sense of Community
Coworking helps employees feel like they belong somewhere, which can increase the strength of their work and overall morale at their company.
Just over half of coworking employees (51%) say coworking spaces provide them with a sense of community.

​
Remote working can lead to employees feeling left out and isolated. According to Buffer, 21% of employees said loneliness is their biggest struggle with remote working in 2018. Coworking changes this.
In addition to building professional connections, coworking gives people a feeling of belonging to a wider community outside of a private office. For example, a remote worker may be the only employee at his company in a certain city. However, a coworking space can help him feel like he still has colleagues to interact and socialize with.
Being around others makes people healthier and happier. In fact, people's brains tend to function better when they regularly interact with others. This helps people be more productive.
Coworking spaces give people somewhere to not only work and grow professionally but to also feel welcome and included.
As you can see, the benefits of common work areas impact different areas - so do the challenges that might come with a coworking space. 
Businesses that overcome the top challenges of coworking spaces can make employees happier and more likely to want to work in a shared office space, rather than remotely in a virtual office.
If businesses can't overcome the challenges of their specific coworking space, they may consider finding another coworking office that better suits to their needs.
Top 6 Challenges of Coworking Spaces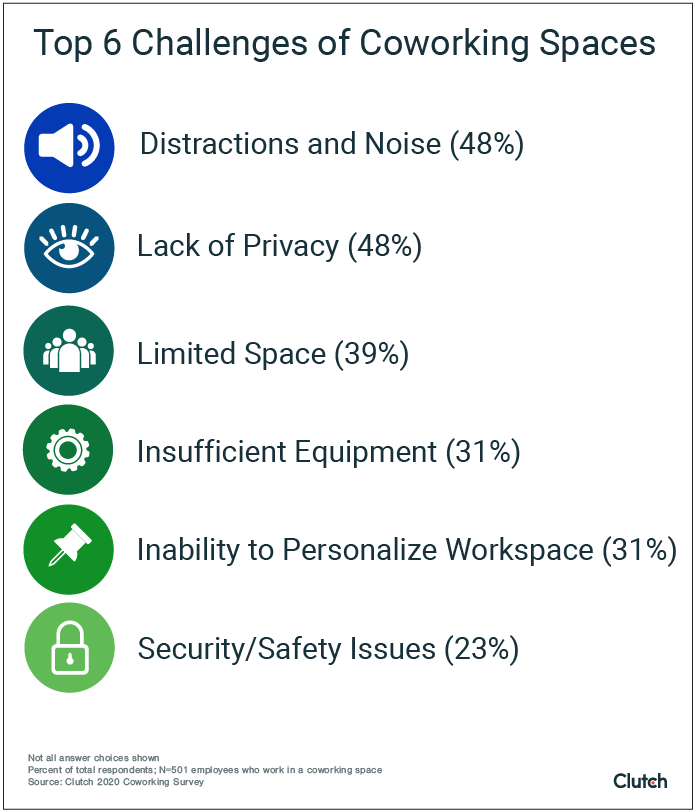 1. Distractions and Noise
More than half of high-performing employees say they need quiet workspaces to succeed. Coworking spaces, though, aren't always conducive to a quiet environment.
Nearly half of coworking employees (48%) say distractions and noise are a challenge in their coworking space.
In an open space working environment, for example, there will likely be constant noise, whether it's from conversations, phone calls, or even loud keyboard typing. In these cases, employees who are most productive in a quiet atmosphere may struggle to focus, experience lower productivity, or produce lower quality of work.
Coworking spaces are also as event spaces – so if your team has reserved a meeting room for your weekly updates, you might be encountering a seminar for entrepreneurs a few square feet away. 
Restricting noise in an open coworking space is challenging, but businesses can reduce distractions by investing in noise-canceling headphones or finding a coworking office that offers quiet spaces.
2. Lack of Privacy
Employees value privacy at work, even if they work at a company that requires collaboration.
Close to half of coworking employees (48%) see privacy as a challenge in their coworking space.

According to a 2019 Fast Company article, there are four reasons why privacy is important at work:
Helps ideas gain traction: People tend to discuss ideas with one or two colleagues before proposing it to a large group. They need privacy for these discussions.
Fosters creativity: Creativity requires private moments to reflect or to brainstorm in small groups.
Encourages focus: People can think, reflect, and concentrate better with some privacy.
Increases employee engagement: Employees tend to be more engaged when their office offers a balance between private workspaces and louder, more collaborative ones.
In a coworking space, the idea of a private office space might be hard to come by, and employees will be trying to find the right hot desk that avoids chaos and distractions. Employees need some privacy to succeed, even if the majority of their work is with a team. For example, if employees don't have privacy, companies can add privacy screens between desks.
3. Limited Space
Employees value their personal space over any other place at their office: An office with limited space can hinder employee satisfaction and productivity.
Thirty-nine percent (39%) of coworking employees say limited space is a challenge of working in a shared office space.

For example, an employee who makes calls frequently as part of his job may be unable to do so at his desk if others in his space are socializing or also making calls.
He may try to find a private office or phone booth area in the coworking space to make a call but may have trouble if the space is too small or not have enough natural light. Not only is this frustrating for the employee, but it also appears unprofessional to the person on the other end of the call if there is too much background noise.
Businesses that work in a coworking space must find an office that has enough space for employees to do their job successfully.
4. Insufficient Equipment
A coworking space may follow the latest office trends — free coffee, game room, snacks, etc. — but if it doesn't have the right equipment for workers (like a dedicated desk), it may struggle to retain tenants.
Almost one-third of coworking employees (31%) say their coworking space has insufficient equipment.

An employee who uses a coworking space to work remotely relies on fast, high-speed internet to communicate with his coworkers. He may choose a different type of workspace if he encounters slow Wi-Fi every day at work.
Someone who uses multiple monitors, a lamp, and a phone will need multiple outlets nearby. If she can't plug in her electronics as needed, she can't do her job to the best of her ability.
A worker with back problems will need a comfortable chair to work in, while others might benefit from sit-stand desks.
Businesses need to invest in the right equipment for their business — even if their coworking space doesn't. The solution could be something as simple as buying extension cords or offering employees unlimited access to different equipment than what the coworking space provides.
Equipment that fosters productivity and meets employee needs is essential to any office space.
The solution may cost a business money — but investing in employees is money well spent.
5. Inability to Personalize Workspace
Nearly all employees (98%) at a traditional office have an assigned space at work. Coworking spaces, like traditional office spaces, need to give employees an assigned spot to make their "own."
The fifth biggest challenge of coworking spaces is the lack of ability to personalize workspaces (31%).

For example, an employee who works at the same spot every day can add personal touches to his desk, such as pictures, cards, and memorabilia. He wouldn't be able to personalize his workspace if he was at a different or hot desk every day or if a coworking space doesn't allow tenants to personalize their desks.
Giving employees the ability to personalize their own space can help them feel more at "home" while at work.
6. Security and Safety Issues
In a traditional office space, equipment and ideas tend to remain secure:
Employees can discuss projects openly without fear of another company stealing an idea
People can feel safe using a company-only Wi-Fi, where other workers and companies can't hack easily into their systems
Employees can leave their equipment overnight in a locked office space 
Not every employee feels safe at their coworking space, though.
Nearly one-quarter of coworking employees (23%) say they face security/safety issues at their office space.

A shared Wi-Fi connection with other companies can increase the chances of hacking or data breaches, especially if anyone in the shared office space can have unlimited access to the network. A conversation of new ideas may be overheard — and stolen by a competitor. Computers left overnight in the shared office space may be stolen.
Security issues at coworking spaces aren't just with technology, though. Many coworking spaces are open 24/7, which can affect the physical security of workers there during off-work hours.
Some coworking spaces have an alarm system and video surveillance to increase security, but many employees still worry about their personal and professional safety at their coworking space.
Businesses Shouldn't Avoid Coworking Spaces, Despite Challenges
Nearly all employees face challenges in their coworking space. Still, one-third would prefer to work in a coworking space over another type of workspace.
The top challenges of coworking spaces are distractions/noise, lack of privacy, limited space, insufficient equipment, and inability to personalize their workspace. One-quarter of employees say they face safety and security issues at their coworking space as well.
Coworking spaces offer many tangible perks such as in-house coffee, snacks, social events, and games. They also offer intangible benefits such as increased flexibility and a sense of community.
Businesses should address these challenges to make employees feel happier, safer, and more productive at work.
Coworking spaces will continue to be part of the modern working world and provide benefits many traditional offices are missing.
Decided that coworking spaces and common areas aren't for your business or startup? Hire a commercial real estate firm to assist with your office search.