Your business's office space is an extremely important part of your company culture and brand identity, so moving isn't something you can take lightly. 
Whether you're looking to increase the size of your space, relocate to a more highly trafficked area of town, or are hoping to downsize to reflect a hybrid work environment, here's what you need to consider before relocating your business. 
Table of Contents
Looking for a new office? Connect with a commercial real estate company on Clutch. 
What Goes Into a Business Relocation Budget? 
Relocating your business requires more than simply hiring a moving van and putting down a deposit on a new lease. 
In addition to hiring movers, lawyers, and corporate real estate agents, you also have to cancel or renegotiate with your cleaning service, discuss disconnecting and reconnecting your WiFi service, and much, much more. Even something as trivial as printing stationary with the new business address or updating your website should be included in the budget. 
Here are a few items that should definitely be included in your business relocation budget: 
Lease expenses
Leasehold improvements
Moving expenses
Interruption in business routine
With a solid business relocation plan in place, you'll ensure that your budget accurately reflects all costs associated with the moving process. 
How To Create a Budget for Business Relocation
Follow these steps to make sure your budget includes all expenses for your business relocation.
With this in mind, you can accurately estimate how much your business will spend when you move. 
Create a Business Relocation Plan
The first step in creating a business relocation budget is to create a relocation plan. This not only outlines the reasons why you're relocating and what you hope to achieve by moving your business, but also a step-by-step guide for your moving process. 
By outlining everything you need to accomplish to successfully relocate your business, you'll be able to itemize everything you need to budget for. When creating a business relocation budget, it's easy to miss small — but important — details that will impact the cost of your relocation. 
Contact Professional Advisors 
Moving your office or business takes more than simply running out your lease and moving to a new location. Hiring professional advisors, such as corporate real estate agents and lawyers, to oversee your move can make sure that your move goes smoothly. 
Corporate real estate brokers can help you find the office or retail space that your business needs. Once they've helped you find a new location, they can then negotiate the contract terms, making sure that your contract is fair. 
At the same time, commercial real estate attorneys can provide other services to protect your business's interests as well. Knowledgeable in commercial real estate law, they can ensure that you comply with state codes and regulations when handling contracts and other paperwork. 
In the end, both these service providers can save your business time and money, so it's important that you include their rates in your moving budget.  
You can search for a service provider that fits your budget on Clutch by filtering by hourly rate. Then use client reviews and ratings to find the perfect partner for your budget. 
Find a Commercial Real Estate Agent here.
Find a Commercial Real Estate Lawyer here. 
Consider Your Lease & Associated Fees 
You must review your lease and meet with landlords and real estate agents to determine upfront fees you'll experience during the move. 
Here are a few expenses you will likely see: 
Down payments/Deposits 
Closing costs
Early lease termination 
Move-in fees
These are just the start of the moving expenses you'll face when you relocate your business. Because some of these fees may be included in the terms of your lease, be sure to consult your landlords, lawyers, and real estate agents to get a full estimation of what the move will cost. 
If you're selling property your business owns, you will also need to consider the cost of selling the land and office your business presides on as well. 
Estimate Moving Costs
Moving your business is just that — a move. Your office or business location is full of equipment, furniture, technology, products, and much more, all of which are assets your business needs to function properly. 
Hiring a moving company to safely pack up, transport, store, and move your stuff into your new business location will simplify your move and prevent any losses from breaking equipment. 
How much it will cost to hire a mover will depend on how much equipment you need to move, as it will impact the size of the truck and number of movers you need. To get a fair and accurate estimate, search for commercial movers in your area on Clutch. 
Contact Service Providers and Suppliers 
It's likely that your business works with several service providers including internet, phone, and cable providers, IT service providers, and cleaning services. 
When you move, you will either have to cancel your service so you can hire new providers or contact your service providers to update your location and contract. 
Some service providers, such as an IT company, may need to help set up your business's equipment in the new location. 
Similarly, you will need to contact suppliers to reschedule and plan shipments.  
Be sure to make a complete list of all your service providers and contact them to discuss options and get a quote. Remember that the cost of hiring a service provider may change depending on your new office location. For instance, it will cost more to hire a cleaning service for a larger office space. Be sure to keep that in mind when outlining your budget. 
Calculate New Expenses After the Move
Whether you're looking to move into a new office space that reflects your company culture or are looking for a retail space that will help display your products and make customers feel welcome, you will likely need to make design changes to your new space. 
The cost of redesigning your new space will depend on what your office or store already has and what your business needs. For example, it will cost more if you need to tear down walls and reconstruct the space rather than simply repainting the office and putting up new signs. 
When you choose a new location, consider how much room you have in your budget to redesign the space. It may influence what office space you choose to buy or lease. Then create a redesign plan before you move. 
Looking to redesign your office space? Hire an interior design company or commercial construction company on Clutch. 
Discuss How Moving Impacts Employees 
Sometimes when a business relocates, it can impact employees significantly — especially if the business is moving over state lines. 
For instance, many businesses, like Tesla, Chevron, Oracle, and Hewlett Packard,  have moved their corporate headquarters to states like Texas in recent years thanks to the tax breaks that the state offers. 
While this may benefit larger companies in the long run, it does create quite the dilemma for employees who then have to consider the cost of moving their families. 
When some companies move their headquarters, they offer their employees relocation packages which can include covering the cost of: 
Travel to the new location
Packing and moving service
Moving insurance
Short-term housing
Storage units or other temporary storage solutions
Home sale or purchase
Tax gross up for benefits
Relocation taxes
These costs can add up, especially if you're moving a workforce of more than a few hundred people, but it can be worth it in order to maintain operations, retain skilled employees, and avoid hiring or training new team members. 
For businesses that are moving locally, this may be less of a concern. However, the move is still likely to impact your employees' daily lives, like their commute. If you plan to offer new commuter benefits, consider adding those fees to your budget as well. 
Notify the Media
Finally, you don't want your move to impact how your business functions. Especially if you have a storefront, you will want to make sure your customers still know where to find your business. 
First, you may want to announce your move through a press release that explains your reasoning and provides the address to your new location. 
You should also make sure customers can find your business online. You should update your website and Google My Business account so it can be found in search. 
While these expenses may be a small amount in your business relocation total budget, you should be prepared to pay for the press release's publication, copywriters, and the website update. 
Get Cost Estimates for Each Item on Your Business Relocation Plan
Once you have a complete image of what expenses you'll incur during your business relocation, you should get an estimate for every item on your to-do list. With a general idea of how much your business relocation will cost, you can create a full, detailed budget. Use our template to break everything down. 
Business Relocation Budget Template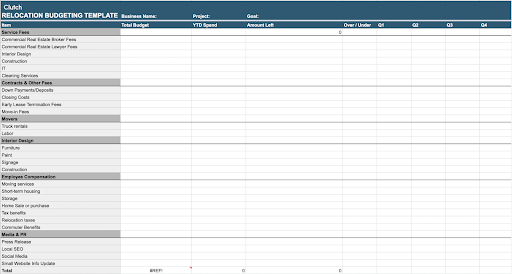 Download the business relocation budget template.  
Factors for Business Relocation Costs 
Of course, the cost of your digital marketing efforts can vary. Here are a few things to consider when developing your digital marketing budget. By considering these factors, you will be able to create a more accurate budget for your business relocation. 
Size of your office space 
Location
How far you're moving 
Number of employees making the move
The extent of your construction & interior design plans
Budget Based On Your Business Relocation Plan
Relocating your business's office or retail space can make a lot of sense for your company and growing business, but it can be a costly endeavor. To keep your expenses to a minimum and avoid any unexpected costs, it's important to create a detailed relocation plan. With this in mind, you can gather cost estimates for each aspect of your move and budget accordingly.