Updated October 26, 2023
Over 332 million people use Snapchat on a daily basis, making it one of the most popular social media platforms in the world. 
Being able to chat with multiple people or 'Snapchatters' — whether they're friends, colleagues, or customers — is a big part of the appeal of Snapchat and other social media apps.
Whether you have an iPhone or Android, here is how you can create a group Snapchat with your friends' list. 
Interested in advertising your business on Snapchat? Check out our list of Snapchat marketing agencies. 
How to Make a Snapchat Group Chat 
Open Snapchat 
Click on the text bubble icon 
Click on the blue message icon to start a "New Chat" 
Click "New Group" 
Change the Group Name at the top of the page 
Add Snapchat Group Members 
Chat away! 
Open Snapchat 
To make a Snapchat group, you first need to open the app. If you don't already have the Snapchat app, you'll need to download it for the Apple App or Android App store and set up your account. 
Additional resource: Download Snapchat here. 
Click on the Text Bubble Icon 
Once the photo screen pops up, you'll see a horizontal menu along the bottom. Click on the messaging chat icon that looks like a text bubble.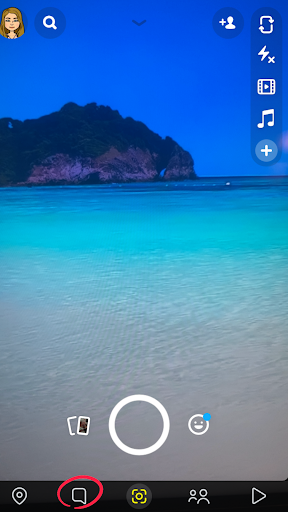 This will take you to a chat screen where you can view messages and Snapchats you've already sent to your friends.
Click on the Blue Message Icon to Start a "New Chat" 
On the bottom right, you will see a bright blue icon just above the menu bar. This is the "New Chat" function. 

By clicking on this chat button, you'll be able to start a new chat with one of your friends or create a new group chat. 
Click "New Group" 
Then tap on "New Group" if you want to indicate that you want to add more than one person or a group of friends to the chat.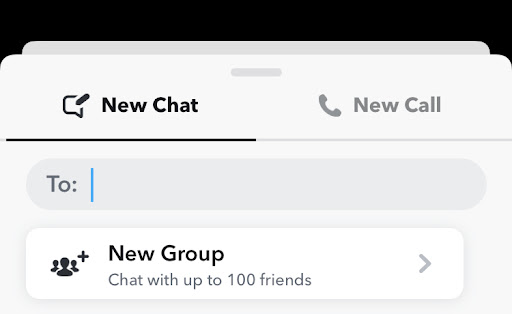 This will bring you to the page where you will be able to create a Snapchat group. 
Change the Snapchat Group Name 
To keep all of your group chats straight, you may want to create a new name for your group chat.
To do so, simply click on the top bar that says "Group Name." Then you can come up with a descriptive group chat name or something clever that informs everybody in the group chat what it's about. You can also edit group names at any time in chat settings.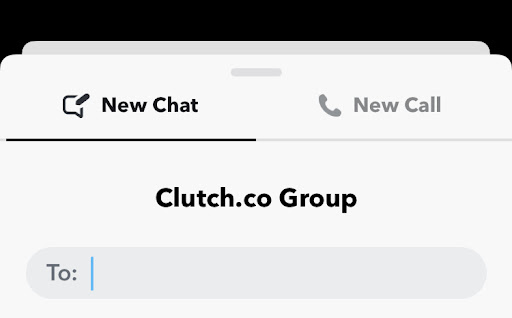 Additional reading, '105 Clever And Punny Names for Your Snapchat Group.'
Add Members 
At this point, you can add new group chat members. You can either search for your existing friends by scrolling down through your contacts list or you can use the search bar to find them quickly.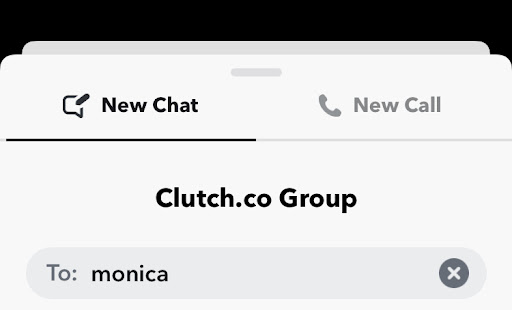 However, at this point, you will only be able to add friends you already have. If you would like to add new people to your group, you will have to friend them first. 
How to Find Snapchat Friends 
Allow Snapchat to access your contact list 
Use the search bar to find a user by their Snapchat name 
Use the Snapchat camera to scan a friend's Snapcode 
Additional reading, 'How to Find Someone on Snapchat.'
Once you find the friends you want to add to your group chat, click on each of their usernames to add them to the group. 
Create Group & Chat Away! 
Finally, tap the blue button that says "chat" to create the group. 

Once the group chat is live, you'll be able to have a conversation with all of your friends, send Bitmojis, snap pictures, and other group options for fun!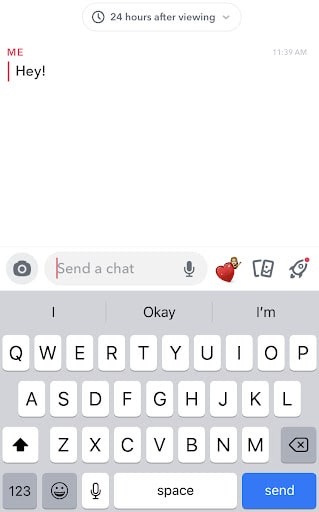 All of these messages will be saved for up to 24 hours, but will then disappear. If you want to save a specific message or chat with your group, tap chat and hit save. 
Snapchat Groups: 5 FAQs  
New to Snapchat Groups? Here are answers to a few questions you might have about the popular social media platform. 
How to Remove Someone From a Snapchat Group?
Snapchat does not allow people to remove friends from a chat group. To get someone to leave the group chat, the admin has to ask them to leave, block the user, or let the group expire. Alternatively, they can start a new group without the person they wish would leave the group.
How Many People Can Be in a Snapchat Group?
There can be up to 100 people in a Snapchat group. Get ready all of the message notifications. 
How to Leave a Snapchat Group?
To leave a Snapchat group, simply click on the group icon in the top left corner of the group chat. Then select tap on the three dots in the top right corner. Then, a menu will appear at the bottom of the screen. Click "Leave Group."
How to Delete a Group Chat on Snapchat?
Only admins are able to delete a group chat. To do so, go to chat settings and click on the group icon in the top left corner of the group chat. Then select tap on the three dots in the top right corner. Then, a menu will appear at the bottom of the screen. "Then select "Delete Group" to permanently delete the group chat.
How to Mute a Snapchat Group?
To mute notifications, open the group and click on the BItmoji icons in the top left corner. Then select "Settings." Another menu of options will appear, where you can click on "Do Not Disturb" to mute notifications without leaving the group.
Additional Reading