People hire SEO companies to elevate organic visibility in search engine results pages (SERPs) for the purpose of generating traffic and conversions. Unlike paid search ads, SEO can be performed by a team without any ad spend. 
This makes SEO work the cornerstone of many marketing strategies around the world — especially for small businesses with limited budgets.
However, identifying the ideal SEO partner can be challenging. This guide will provide you with the insights necessary to decide when choosing an SEO company that aligns with your objectives.
Looking for help improving your company's performance in organic search? Connect with an SEO company on Clutch.
What Makes a Good SEO Company?
SEO needs require experts to improve website content through on-page and off-page strategies. Good SEO companies understand that they need to optimize clients' websites in the following areas:
Enhancing the quality of website content
Improving the site architecture and structure
Addressing technical issues, such as page load speed and internal linking
Engaging in outreach for PR and link-building
Conducting SEO audits to determine any red flags on-site
Keeping up with changes in Google's algorithm and applying them to work  
Collaborating with content, social media, and user experience teams to unify strategy
All of these activities play a role in SEO experts achieving higher Google search rankings, which results in organic traffic growth and increased conversion rates.
A core focus of SEO is attaining sustainable, cost-effective, and long-term results. Reputable SEO agencies can make significant waves by contributing to brand visibility and web traffic.
White Hat SEO vs. Black Hat SEO
Experts in the industry refer to two types of SEO when discussing the quality of work they produce: white hat and black hat SEO.
White hat SEO is an assortment of techniques associated with positive SEO results. These activities include creating a good user experience, creating quality content, and following EEAT guidelines.
Black hat SEO involves techniques that are considered ill-advised for companies looking to appear reputable to Google. For instance, duplicative content or spammy link practices would be considered black hat SEO.
How to Choose the Right SEO Agency
1. Define SEO Marketing Goals
The first thing every company looking for SEO outsourced help should do is ensure they have their own SEO needs and goals established.
Potential SEO partners will likely not understand the scope of the work that needs to be done without a clearly communicated set of milestones. This will only lead to scope creep and additional charges down the line.
Dodge these avoidable issues by writing down what you hope to get from the engagement. For example, you may start with an overall goal like brand visibility, increasing sales, or boosting traffic. All of these are achievable through SEO, but having a specific desired outcome will determine how the SEO service provider will approach the effort.
2. Establish a Realistic SEO Budget
Just like an engagement in any department, creating a budget is critical before connecting with any potential service providers.
While there can be wiggle room left in the budget for fluctuations downstream, it's important that you go into conversations with agencies with a budget in mind because it will play a big part in which company you end up working with.
Remember that SEO pricing can vary based on the complexity, technical skill needed, and timeline for your project. Weigh your goals against your ideal budget to determine if there are any areas in which you'll need to compromise.
Learn more about 'How to Create a Digital Marketing Budget.'
3. Shortlist Potential Marketing Agencies
Now that you've gathered an understanding of SEO needs and budget, you can begin reaching out to possible companies that align with your requirements.   
Starting the search for the right provider may involve collecting word-of-mouth recommendations and reviewing verified online reviews on the agencies.
In addition to a positive online reputation, companies should evaluate the quality and relevance of the services offered, technical SEO proficiency, and overall project management track record with current and previous clients. This information can be found through referrals, online reviews, and the company's website or portfolio.
There is a multitude of good signs that an SEO company is suited to support your needs. In your search, keep these top qualities of reliable SEO agencies in mind:
Transparency
Customization or willingness to tailor services to niche requirements
Ethical practices
Proven track record
Clear communication
Continuous learning
Collaborative
Data-driven
Long-term focus
Each of these characteristics helps companies foresee whether certain companies will bring solid SEO practices to a new engagement.
4. Conduct In-Depth Interviews on SEO Strategy
After shortlisting a couple of SEO companies that appear to be good matches, you can proceed to reach out to those on your shortlist with RFPs (requests for proposals) and invitations to interview.
Before you enter into your interviews with potential providers, you should have a general game plan that involves what questions you plan to ask and how you intend to evaluate the candidates against your requirements.
The main concepts you should shoot to gather information on include methodologies, team expertise or industry knowledge, and proposed strategies.
Questions to Ask Potential SEO Partners
What strategies do you employ for on-page and off-page SEO?
How do you approach technical SEO issues?
What is your link-building strategy?
How do you conduct keyword research?
How often will you provide progress reports, and what metrics will you include?
What is your experience with optimizing for mobile?
How do you adapt to algorithm updates?
Can you provide examples of successful SEO campaigns in our industry?
5. Narrow Down Options to the Best SEO Expert
After interviewing and reviewing relevant materials, it's time to narrow your shortlist down to a single company.
At this point, you should rely on the goals and priorities you set forth in the first stage of the process. The requirements most important to you should guide your decision-making. Stick to your non-negotiable needs, but be ready to compromise on smaller points to ensure you stay within budget.
Here are some common considerations that may distinguish one company from the rest as you trim down your shortlist:
Evaluate Metrics and Reporting: Understand the key performance indicators (KPIs) the SEO agency prioritizes most in their work. Do these metrics align with your goals? Further, companies should provide regular reports on their website's progress, keyword rankings, organic traffic growth, and other pertinent data.
Grasp Their Approach: Explore the agency's on-page and off-page SEO approach. Discuss content creation strategies, approach to earning backlinks, and technical optimization practices. A holistic approach is pivotal for sustainable success.
Request Case Studies: If you're still unsure whether a company can perform well within your industry or for local SEO, request a case study in which the company worked in a similar situation in the past. A real-world example will illustrate how well they can deliver and highlight how the company strategies.
6. Contract an SEO Firm for Marketing Services
Based on your interactions, research, and requirements, you should now be ready to offer your SEO company the job. Communicate this with your point of contact at the company and move forward with developing a contract.
The contract you sign should clearly state the objectives, proposed timeline, and promised deliverables, as well as the expected payments and pricing model on your end. Make sure the contract reads exactly how you'd like before signing.
You must also understand and adhere to the contract for the smoothest possible engagement.
How to Choose an SEO Agency Checklist
Still on the hunt for the ideal SEO company for your business? Download and use this checklist to ensure the agency you choose meets all your requirements.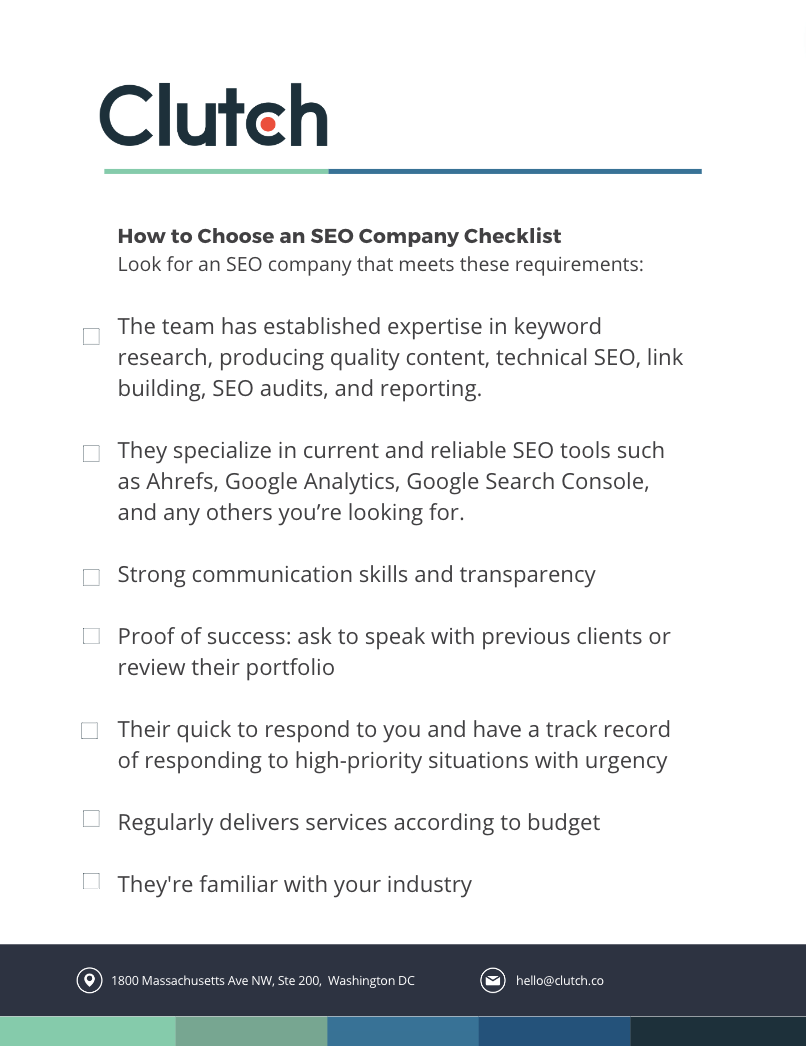 Download this checklist before hiring an SEO company.
The Right SEO Company for Your Small Business is Out There
Choosing the right SEO company is pivotal for achieving a robust online presence and business growth. Diligent research, transparent communication, and alignment with your goals are essential for finding the perfect SEO partner.
Follow these steps and leverage the provided questions and characteristics to confidently hire an SEO agency that propels your business towards higher rankings, increased organic traffic, and enduring success in the digital landscape.