Tailor-made software solutions offer a unique edge, even for businesses in highly competitive markets or niches. They can range widely in terms of purpose, scale, complexity, and features. Whether they're scaling startups or large enterprises, many organizations see the potential benefits of purposefully built software.
Experienced software developers know how to create fully functional, modern, and intuitive tools. These professionals can also identify which type of software best fits the needs of their clients. They can handle the entire software development lifecycle —  from prototyping and development to deployment and maintenance.
The right software programmers can help a struggling business turn their trajectory around by delivering an effective solution. They can assess what the problem is and develop a solution that addresses it.
Continue reading this piece to know more about the factors you'll need to carefully weigh in when identifying the right partner. Here's our ultimate guide to helping you choose a software development company.
How to Choose a Software Developer
1. Define Your Goals
The first step to finding the right developer is determining and understanding your goals. It's crucial to have a clear grasp of your business, what problems it's facing, and what your goal is.
Each business has its own unique challenges and goals. Knowing your ultimate objective allows you to create an outline of the steps you need to take and the solutions you need.
The common reasons why companies need customized software include:
To enhance customer experience and satisfaction
To boost work productivity and operational competency
To monitor and manage staff responsibilities
To automate specific tasks and repetitive functions
To improve reliability and security
Every goal requires a different type of custom software like content management systems, customer relationship management systems, and enterprise resource planning software. If you have a good discernment of your objectives and business needs, you can proceed to the next steps more efficiently. 
2. Prepare a Budget
Budget is always a major concern or focus as businesses want to get the most out of every single dollar they spend. Preparing a detailed budget based on facts can help you as you look for the right software development partner.
Your goal should help you set up a budget. Once you know what your goals are, it's easier to research the average cost to develop that type of MVP.  
When you sit down to determine the capital, expenditures, and forecasted return on investment (ROI), research is key. For example, developing an agile content management system typically costs more than enterprise software development.
Not setting a budget is among the usual mistakes that can lead to unproductive or unsuccessful software development projects. Basically, set budgets will prevent you from overspending and help you when you interview potential developers.
Read more on the cost of software development here: "Software Development Company Pricing Guide 2023"
3. Research Potential Vendors
After you've identified your goal and set a budget, you can go on and research prospective software development companies.
As emphasized above, each developer has their own expertise and focus. For instance, you can search for developers that work with Jira, JavaScript, Python, and more.
The custom software development space is rather vast and so is the business world in general. Thus, you need to find an experienced vendor that has knowledge and experience in your particular industry or the type of solution you need.
To make the process less intimidating and challenging, you can enumerate certain requirements to look for in a partner. You can filter the hundreds of service providers by the following:
Do they have experience working on the type of software you need?
Have they worked in your industry in the past?
Do they handle the entire software development lifecycle?
What are the services they offer?
Does their rate fit your budget?
Do they also offer other solutions like e-commerce or app development?
You can save plenty of time by organizing your requirements. It will be easier to eliminate the service providers that fail to meet those criteria.
4. Shortlist the Top Developers
The number of software developers advertising and showcasing their work can be a little overwhelming at first sight. Now that you've done your research and specified your requirements, you can start shortlisting the options you find appealing.
During this step, take your time reading through their company profiles, case studies, and even client testimonials. All of those are compiled and organized on Clutch. Our directories allow browsers to effortlessly filter developers based on their minimum project costs, team size, average ratings, and location.
Reading through client reviews is a great way to know more about the developer. The reviews published on Clutch answer critical questions about the scope of their project, the impact of the engagement, and if there are any areas for improvement.
Lastly, shortlists are short, so there shouldn't be 15 or 20 developers on your list. Keep it short to avoid spending too much time on reaching out and interviewing them.
5. Interview the Selected Firms
Interviews are great opportunities to learn more and connect with a service provider. When you're done shortlisting the companies, drop them a line for a Request For Proposal (RFP) or invite them for an interview.
The reviews on Clutch are meant to serve as a guide but don't base your final decision on those alone. Talking directly with the vendor can give you a more in-depth insight into their software development services and expertise.
Beforehand, prepare a set of questions that will help you gauge their work like:
What technologies or programming languages are your team proficient in?
How do you ensure the quality of your software?
What project management tools do you use to manage your workflows?
Is my budget and expected timeline realistic for my project?
How do you determine the costs of your work?
Remember, the interview process is your chance to ask all the questions you have in mind.
Make sure you cover all grounds, read here: "B2B Partnerships: Questions to Ask Potential Business Partners"
6. Narrow Down Your List
All the information you've gathered throughout each stage, especially during the interviews, should help you narrow down your choices between two or three developers. It's still not an easy decision to make but following the process and being organized will help.
Sit down with your leadership team and weigh the advantages and disadvantages of each team until you've ultimately ended up with one provider.
The right developer can give you assurance, show you they understand your needs, and match your company's culture. A great service provider won't let their clients or even potential clients feel like another number to them.
7. Hire the Ideal Software Development Company for your Business
If you're already confident about your chosen partner, reach out to them and request a service level agreement (SLA). It's a contract or document between customers and service providers that details key aspects of a partnership including responsibilities, deliverables, expected timelines, and availability.
Make it official and sign the contract once you've chosen the ideal software development company for your needs. However, before you put ink to paper, make sure you take a moment to sit down with your leadership team to read and review the contract.
Contract reviews are essential to reducing any unfair risks before legally agreeing to a service. Both parties must review the contract and understand the terms to ensure work clarity.
How to Choose a Software Developer [Checklist]
It's easier if you have a list to know what to keep track of when choosing the perfect software developer. Check all the boxes on Clutch's checklist.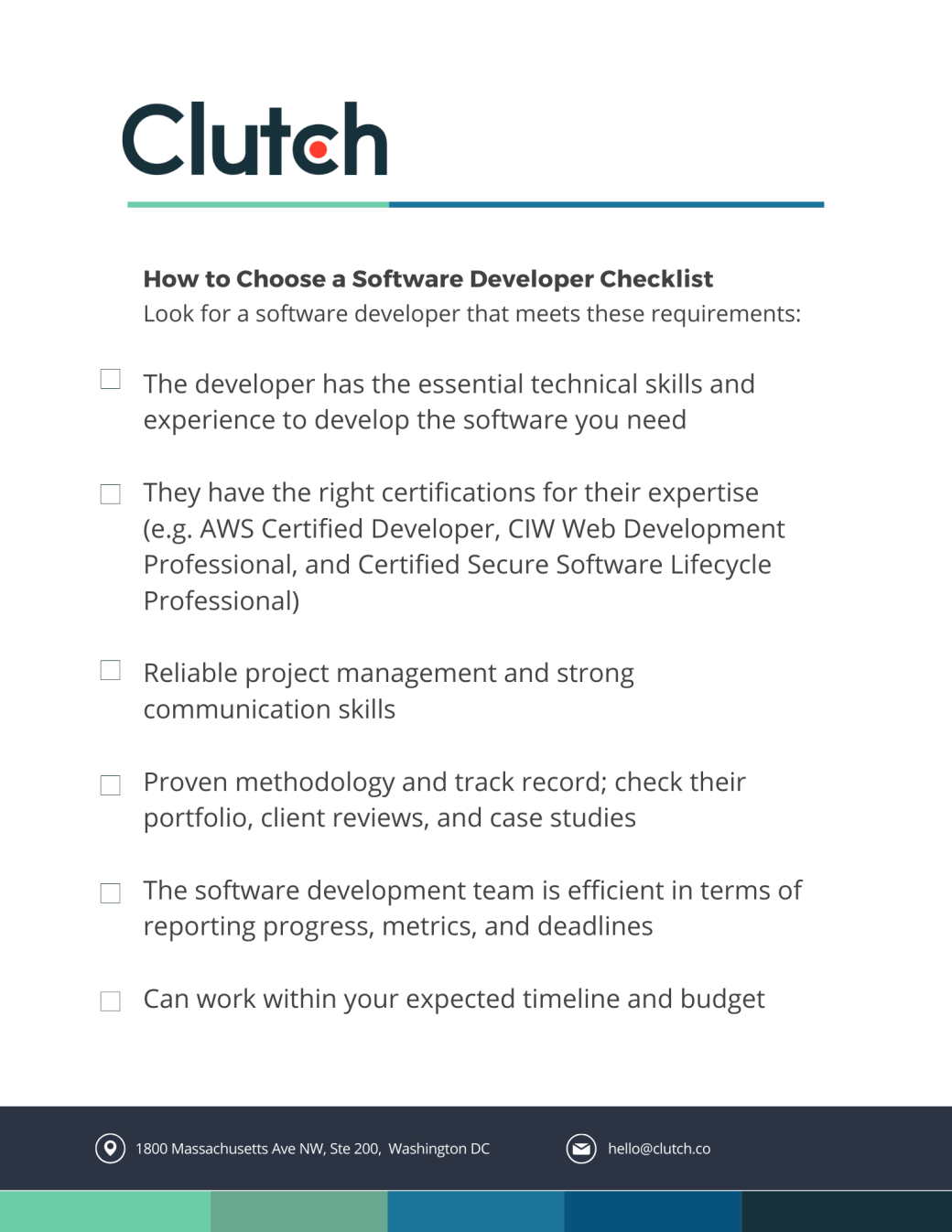 Download this checklist before finding and outsourcing a software developer.
Create Custom Solutions with the Right Software Developer
Finding the ideal partner is as essential as the development process. The right developer will understand what you need and add more value to your investment.
The number of developers vying for your choice, and the options can be overwhelming at first. In reality, knowing what to look for and how to look for the ideal partner makes the choice feel less daunting. Keep an objective eye out when researching and evaluating their work.
Partnerships start at Clutch. Go through our directory of the leading software developers, use the filters we've prepared, and match with a reliable partner.