The amount of time people spend on social media is increasing every year, making it one of the most effective ways for brands to connect with their audience on a regular basis. In fact, social media marketing can grow brand awareness, attract leads, and even increase sales.
Social media marketing is a digital marketing strategy that relies on social media platforms to enhance brand visibility, grow awareness, and advertise products and services.
Of course, managing a social media marketing campaign for a brand is a little different than creating a personal social media profile. Instead, social media marketing includes:
Managing company profiles on each social media platform 
Planning social media posts 
Developing content, such as images, stories, videos, and   
Creating ad campaigns  
Responding to comments, shares, and like  
Monitoring engagement  
Tracking & reporting on performance
So how can your company leverage social media to grow your business? This article breaks down how 8 companies have used different strategies to promote their brand on different social media platforms.
Need help building out your social media strategy? Search for leading social media marketing companies on Clutch. Then filter by location, price, and services offered to find the perfect partner for your business.  
8 Social Media Marketing Examples & What Your Business Can Learn From Them
Facebook: Rent the Runway 
Facebook, Meta's original social media platform, still has over 3 billion daily active users, making it one of the best ways for advertisers   
to connect with target audiences around the world.
Rent the Runway, an e-commerce platform that allows users to rent and buy designer clothing, regularly uses Facebook Ads to target professional women in their 20s and 30s.
Many brands like Rent the Runway choose to advertise on Facebook because of their targeting options. Facebook offers 3 different targeting options: demographics, behaviors, and location. By targeting audiences that are most likely to make a purchase, companies can increase their return on ad spend (ROAS) and get the most out of their social media marketing efforts.
 
Source
In this specific ad, they used a carousel to highlight multiple products and offerings. In a single carousel ad, businesses can feature multiple images with their own headline, description, link, and call to action.
By highlighting multiple products, carousel ads make it more likely for customers to engage with the ad. An increase in the ad's click-through rate also makes it more likely for a potential customer to subscribe to Rent the Runway or to make a purchase.
For businesses of all sizes, social media advertising — whether it's on Facebook or another social media platform — is a great way to reach new audiences and increase sales more quickly than other social media marketing strategies.
Additional reading, '7 Reasons to Consider Paid Social Media Advertising.' 
Instagram: MAC Cosmetics   
Instagram marketing is particularly effective for businesses because it is so visually-driven. More significantly, though, it's a perfect way to engage with creators, influencers, and various audiences.
That's what MAC Cosmetics did back in October 2017 — they created a hashtag campaign #SeniorArtistsSlayHalloween that encouraged makeup artists to share photos and videos of themselves using MAC products to create their Halloween Looks.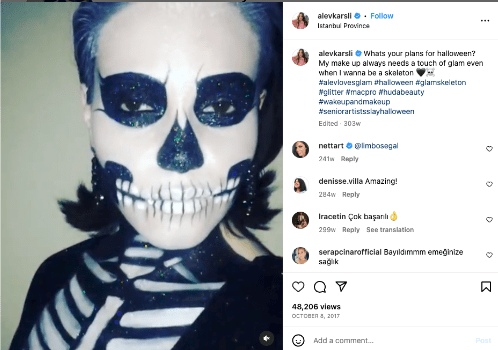 Source
Just one post by the makeup artist and influencer Alev Karsli Kirarslan had nearly 50,000 views and helped expand the brand's visibility.  
This kind of campaign, which relies on a brand's existing audience to create and share trendy content, is known as user-generated content. It is particularly effective at growing brand awareness and engaging users because it acts as a form of social proof. Similar to word-of-mouth marketing, user-generated content seems more authentic and reliable than other marketing strategies which makes it more persuasive.
It's also more likely to go viral, which can get more potential customers on board and increase brand visibility even more. As a result, it's a great strategy for businesses looking to get their name in front of more people without having to spend a lot on advertising.
Additional reading, 'How User-Generated Content Helps Businesses Thrive.' 
X: Wendy's
X, formerly Twitter, is a particularly good platform for engaging audiences. While there is less emphasis on imagery than platforms like Instagram, it provides a great opportunity for brands to showcase their brand voice, build community, and provide excellent customer service.
Wendy's social media team has become famous for their snarky and sarcastic content on X. They often make jokes at the expense of other fast food chains and they often go viral for it.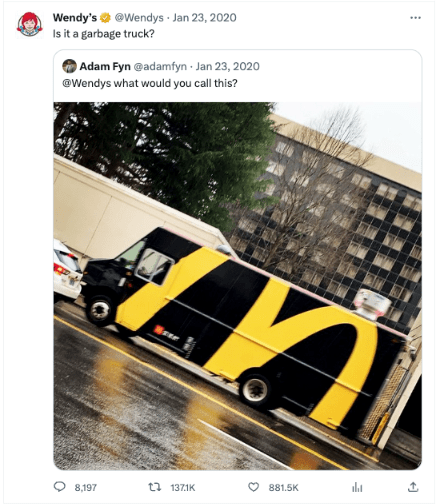 Source
In this post, they shared an image of a McDonalds truck and commented "Is it a garbage truck?" The post received a ton of engagement— nearly 900 thousand people liked it and it was shared over 135 thousand times. This boosted their visibility and had everybody hankering for a Wendy's frosty.  
Snapchat: Bacardi 
Snapchat stands out from other social media platforms because it is so interactive. They provide custom augmented reality (AR) lenses and filters in addition to standard ad offerings. This engages users and encourages them to send images of them using the lens or filter to their Snapchat friends.
It is also important to note that Snapchat's audience is generally younger, so it's particularly great for brands looking to connect with users in their 20s.
That's exactly why Bacardi Rum chose Snapchat for their social media marketing campaign. To maximize engagement with their primary audience, Bacardi created a lens and filter that showed the brand's logo.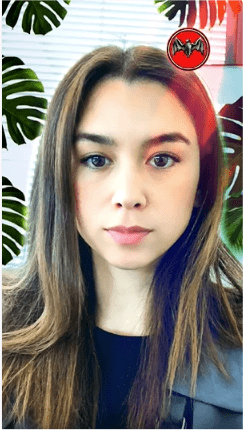 Source
Their lens feature in particular reached over 2.5 million Snapchat users over 10 weeks. Overall the campaign was successful in growing brand visibility with younger audiences. It helped update their image and increase purchase intent in the regions where they ran the campaign.
TikTok: Chipotle  
TikTok users spend an average of 95 minutes on the app every day watching video content. With users spending so much time on the platform, it provides the perfect opportunity for brands trying to engage with their customers.
Chipotle was among the first brands to use the platform to grow their brand. They showcase their products, highlight customer orders, and feature employees to catch the attention of those scrolling through their timeline.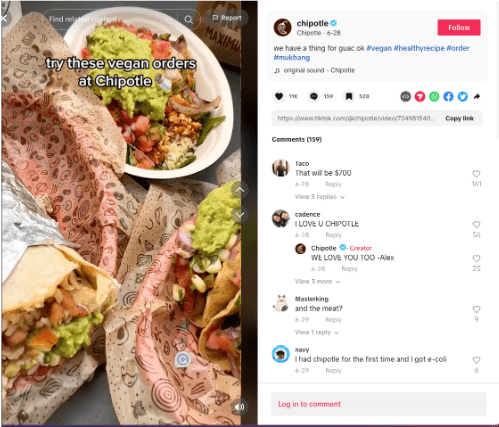 Source
Their videos perform particularly well; they often have between several hundred thousand to multi-million views each. This TikTok, which highlights menu items for vegan customers, reached 2.3 million people
This is a great example of using social media for buyer education. By giving their audience more information about their products, they become more appealing. Particularly if users see their videos when they're hungry, they're more likely to go to their closest Chipotle for lunch or dinner.  
LinkedIn: Clutch 
LinkedIn is often used by B2B companies to connect with potential customers, but it's also used by companies looking to attract new employees. Recently, LinkedIn has become the perfect place for branded content. Through their cover photos, thought leadership articles, and posts, brands can truly showcase what their company is all about.
For example, Clutch used #BookLoversDay to highlight employees and promote their business culture.
 
Source
In addition to helping the recruiting process, regular posting helps brand awareness and visibility. It makes it more  
Pinterest: Ruggable  
Pinterest is a visual search and social platform. Thanks to its visual appeal, pinning features, and shopping functions, it's a particularly effective marketing platform for retailers.
Ruggable, a company that makes machine washable rugs, uses the platform to promote their products. They have multiple boards to show how their rugs can be accessorized in different rooms, which users can then 'pin' to their own design boards.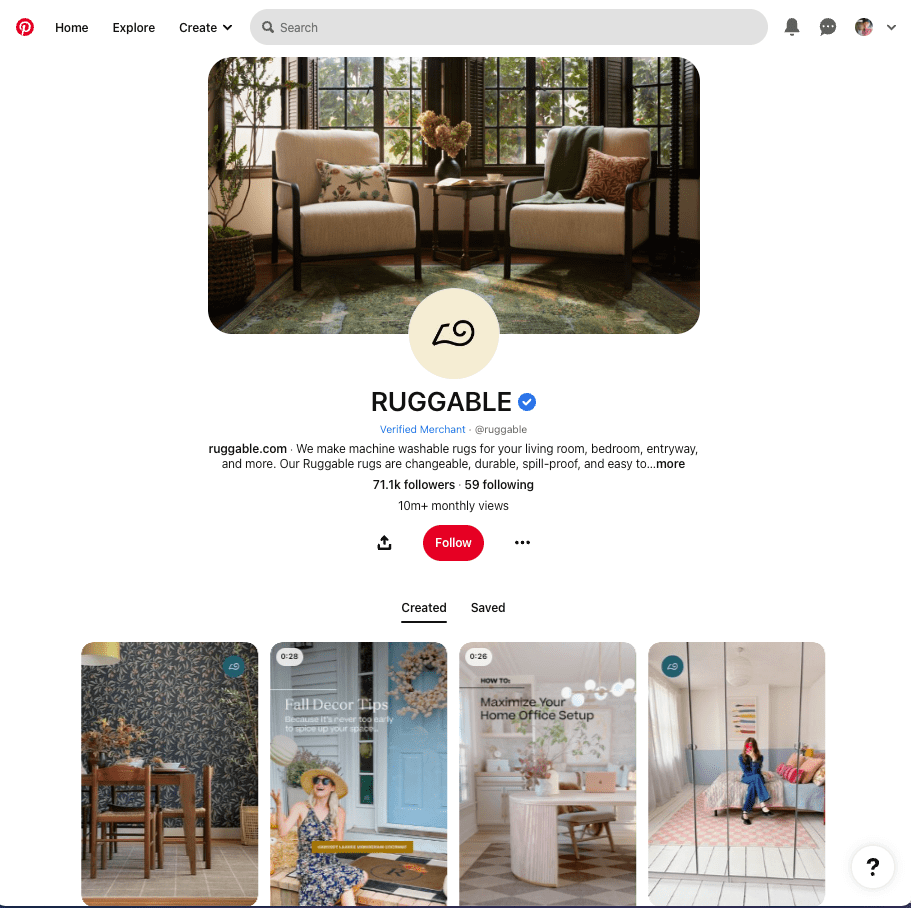 Source
Ruggable also utilizes Pinterest's shopping tab to direct users to their website where users can make a purchase.
Thanks to how well their Pinterest account is managed, they have over 70K followers and receive over 10 million views every month. What more could a brand want?  
YouTube: Lego  
Believe it or not, YouTube is the second most popular social media platform in the US. The video-based social media platform is a great way for businesses to educate followers, advertise, and more.
Lego has built a following of over 16.3 million followers by posting engaging video content of all types. They post everything from clips of celebrities playing with Legos to videos with tips for building certain designs.
This has been a great way for them to engage with Lego fans and keep players of all ages interested in their branded content. 
Find the Perfect Social Media Strategy to Enhance Your Brand  
Whether you're a B2B, retail, or even restaurant business, there are several different ways your business can use social media marketing to connect with your audience.
These companies have used platforms like Facebook, Instagram, TikTok, and YouTube to create high-quality content that highlights their brand voice, showcase products, and increase sales.
Hopefully, these examples inspire your business's social media marketing strategy.