Office relocation is an expensive investment. From upgrading spaces and purchasing new furniture to paying for the actual move and preparing for the loss of productivity, businesses can expect to pay thousands of dollars for each step of the moving process.
But moving offices is essential for businesses that are growing or have changing needs. Office relocation helps many businesses reach their goals, but how does it affect their employees?
Clutch surveyed 503 full-time employees across the U.S. who have relocated offices with their current business within the past 10 years. How does changing offices benefit employees? What challenges does an office relocation pose for businesses?
Businesses considering changing offices can use this report to make office relocation a positive experience for employees:
Frame an office move positively to ease employee worries
Seek an office with comfortable spaces to work
Minimize distractions to prevent loss of productivity when moving offices
Don't sacrifice employee commutes for a better office space
Our Findings
More than two-thirds of employees (68%) say their office relocation had a positive effect on them, indicating the potential benefits of a business moving offices.
Office relocation tends to come with better office space that meets employee needs. The top 2 benefits of moving to a new office space are more comfort (67%) and more space to accomplish tasks (61%).
Despite the overall benefits of an office relocation, two-thirds (67%) of employees faced challenges when moving to a new space, including distractions (30%), a further commute (28%), loss of productivity (20%), and a less desirable location (18%). Businesses should ensure that employees have input on the location, timeline, and other details of an office relocation to make the move easier on employees.
Frame an Office Move Positively in Communication to Ease Worries, Challenges
Moving to a new office space is a positive experience for employees overall.
Sixty-eight percent of employees (68%) say that office relocation had a positive effect on them.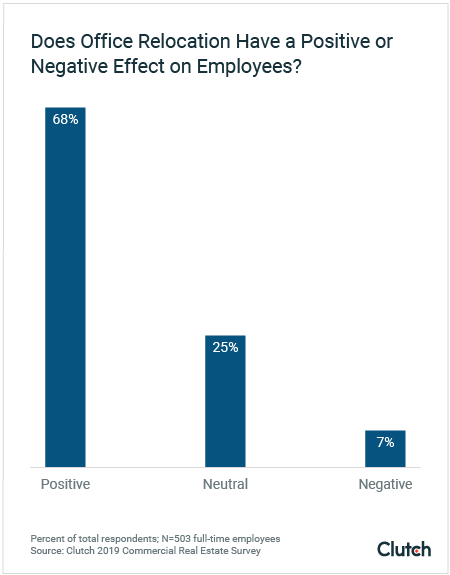 Just 7% of employees say office relocation had a negative effective on them.
Businesses thinking of moving office spaces should address the move positively when communicating with employees.
"It is important for each organization to put someone in charge of the move who will keep communication open and transparent [and] who will also come up with ideas to make the transition fun," said Leslie Saul, owner of Leslie Saul & Associates, an architect and interior design firm in Cambridge, Mass.
Saul recommends including employees in the office relocation with activities and "staying in touch with everyone" about the move. Businesses can send a weekly email or schedule regular meetings to keep employees up to date on the progress of the office search.
Businesses can also take employees to the new space once they narrow the search to a few locations. Businesses that can't take every employee to a new space can take department heads, so not just executive-level employees make the final decision.
"Once the executives have selected their top three to five locations, bringing along the department heads so they can see the vision goes a long way," said Commercial Real Estate Broker Steamer Pease, of Lowerkase Commercial. "The vision is translated better through a direct superior than an executive a few levels removed. This helps to get buy-in from the company, top-down."
"Once the executives have selected their top three to five locations, bringing along the department heads so they can see the vision goes a long way."
Companies that include employees at different levels in the office search guarantee more support from employees when select and moving offices.
Office relocation should be a positive experience for employees, and businesses can help by including all levels of employees in the process.
Seek an Office With Comfortable Spaces to Accomplish Tasks
Businesses moving offices tend to be upgrading spaces, which benefits employees. Companies should seek new offices with more space and better perks than their previous location.
Employees say they primarily benefit from office relocation by gaining access to a more comfortable space (67%) and more space to accomplish tasks (61%).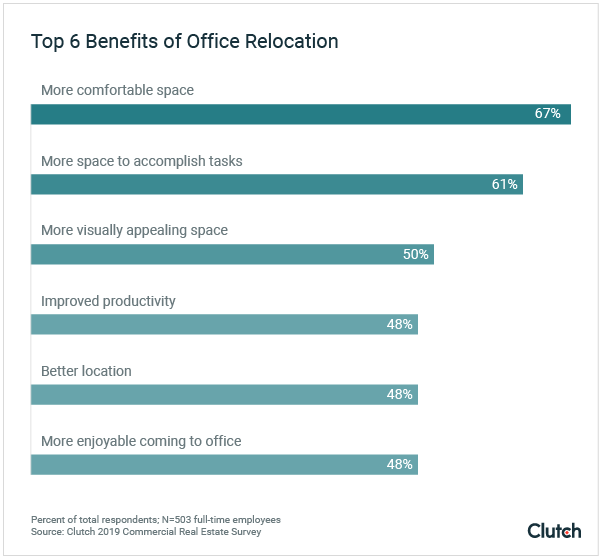 Other benefits of moving office space are a more visually appealing space (50%), improved productivity (48%), a better location (48%), and a more enjoyable office experience (48%).
"By default, a new location is typically exciting because it is new, is often more efficient because the business needs have changed since the last move, and offers some features that were not available at the prior space," said Walt Batansky, chief financial officer of Avocat Group, a commercial real estate consultant.
Businesses moving offices can find a space that meets their new demands.
For example, FIFTEEN, an advertising and marketing agency in Buffalo, N.Y., moved office locations in May 2017 to meet its growing business needs.
"The agency had grown to such a point where we ran out of space for our staff and needed a place that met all of our current requirements and could support future expansion," said FIFTEEN PR Specialist Tara Erwin. "We badly needed more space."
FIFTEEN's new office offers more space for employees to work and is a more comfortable office space – the top two benefits of office relocation.
Office relocation also offers upgraded perks beyond just more space for employees. For example, Samuel Buckner, managing partner at The Tenant Agency, an office tenant representative in Washington, D.C., often sees companies move into offices to obtain perks such as better lighting and more access to amenities.
"Typically, you get a new and improved workspace [when moving offices]," said Buckner. "This would include more natural light, better furniture, and better technology. We also tend to see people moving into buildings that are renovated …  and have better amenities."
"Typically, you get a new and improved workspace [when moving offices]."
A new office space is an opportunity for businesses to upgrade their workspaces and offer new amenities such as fitness centers, secure bike rooms, parking, and even decks or patios.
Income Store, an operational and support services provider for internet entrepreneurs, was in a one-room office connected to a coffee shop until September 2018, when it moved to a three-story building.
"I didn't have a desk for a few years and sat at a conference table," said Income Store SEO Specialist Kara Richards. "The expansion helped unify the company and brought some daily perks for employees."
These perks included free coffee, two break rooms, and private bathrooms, not shared with coffee shop customers.
Income Store's new office space also included a personal space for every employee. Its new office came with larger space, added perks, and, as a result, happier employees.
Office relocation is an opportunity for businesses to provide new perks both big, such as offering a personal space for everyone, and small, such as free coffee.
Businesses should take advantage of the benefits of office relocation and find a space that's more comfortable and offers new perks to employees.
Minimize Distractions and Prevent Loss of Productivity When Moving Offices
Moving offices is an overall benefit for businesses and their employees, but the move can come with initial challenges.
Two-thirds (67%) of employees say their office relocation was challenging.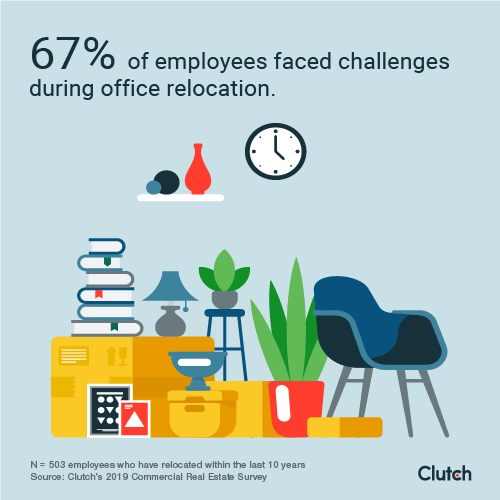 The top challenges businesses faced when moving office spaces was that it was a distraction (30%), required a further commute (28%), and caused a loss of productivity (20%).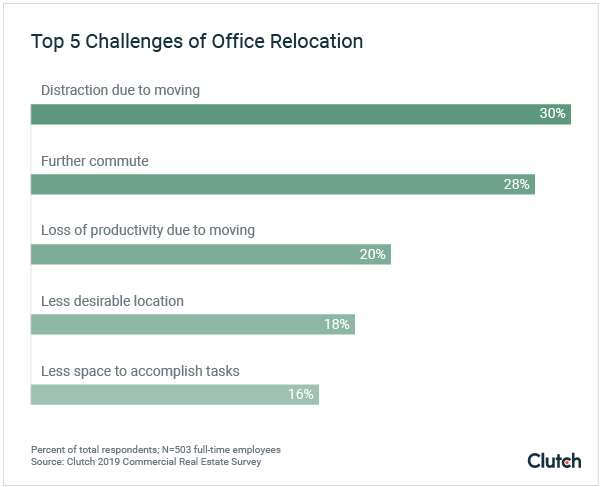 Other challenges include moving to a less desirable location (18%) and having less space to accomplish tasks (16%).
Distraction is inevitable for businesses when moving office spaces.
For example, last year, All Star Cleaning Services in Fort Collins, Colo., moved office locations.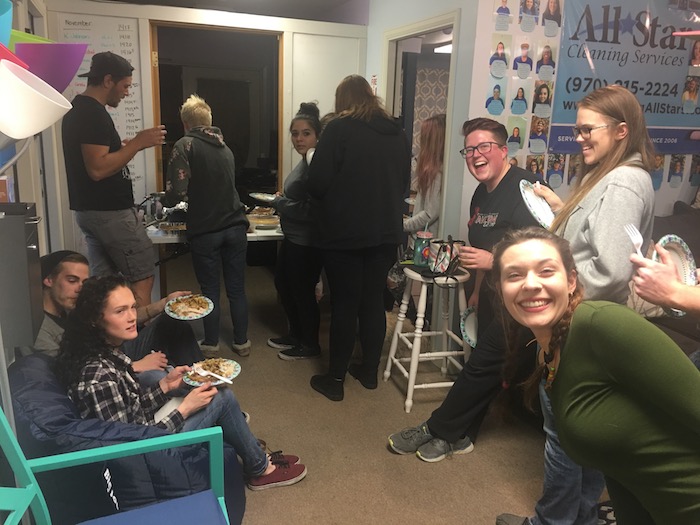 Its old 1,500-square-foot office space was crammed and struggled to fit all of its employees, so the company decided to move.
All Star Cleaning's new office space is more than triple the size of its former location, at 5,000 square feet.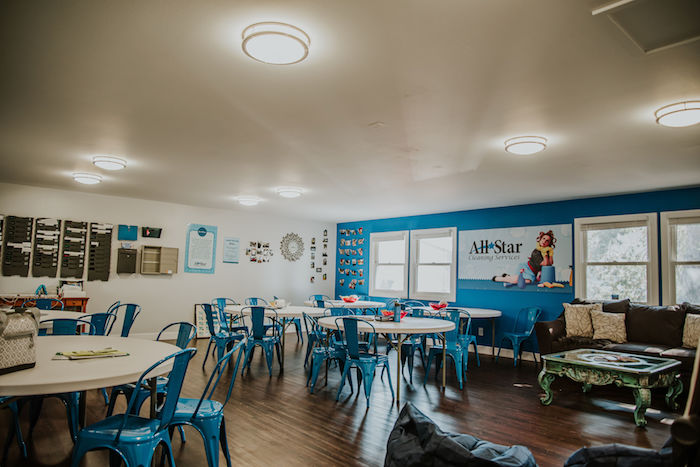 The new office can comfortably fit its employees.
Although General Manager Ajia Holiday said the office move had an overall positive effect on employees and the business, it was a frustrating distraction at first.
"We were working out of the [new] office while we were remodeling, and anyone who has had a remodel knows that nothing happens on time," Holiday said. "What was supposed to take three weeks ended up taking almost three months before we were able to fully move into the remodeled areas. Trying to answer phones and give solid customer service while people are [installing] floor above your head can be a very stressful work environment."
Office relocation may come with extra noise and construction, which can distract employees trying to accomplish tasks.
Businesses should understand the possible distractions that come with moving offices and offer alternatives for employees, such as working from home or at a coffee shop during the remodel.
"Change in general can be a challenge, and moving offices won't always be smooth-sailing," Buckner said. "But businesses can be open and honest about the challenges and offer potential short-term alternatives."
Businesses should address the challenges of moving offices honestly and discuss the overall benefits of the move that employees will notice once the dust settles.
Don't Sacrifice Employee Commutes for a Better Office Space
If a business is moving offices within the same city, it should keep its employees' home locations in mind and try to minimize disrupting their commutes.
More than one-fourth (28%) of employees experienced a longer commute as a result of their office move, the second-most-common challenge for employees.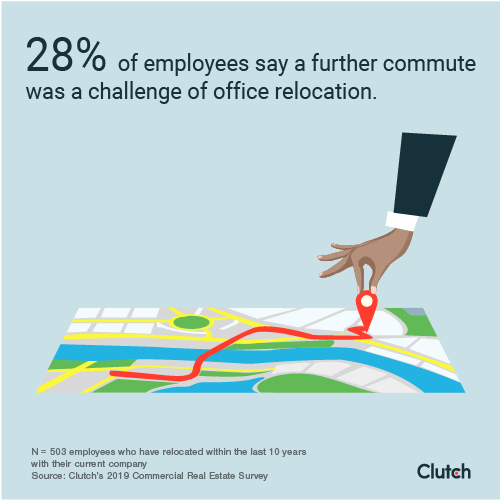 The Cyphers Agency, a mid-size marketing firm in Maryland, relocated last year due to its growing size after 30 years in the same location. The move, however, disrupted employees' commutes. Public Relations Coordinator Steve Adams, for example, saw his commute increase from 4 minutes to 25 minutes.
"The majority of us were at least somewhat worried about how the move would change our daily lives," Adams said. "As someone who lived 4 minutes from the old office and often went home for lunch, I, for one, was very stressed and, admittedly, a bit scared of the impending change."
Other employees at The Cyphers Agency were nervous about the office move at first because they became accustomed to the office's location. CEO Dave Cyphers, however, met with employees and eased their concerns.
"Dave took the time to speak with each of us, one-on-one, about how we felt and what we thought and even provided each of us a budget so that we could personalize our new space," Adams said. "We also all participated in the move, making it seem like we had some ownership over the process and entering our 'new home' as a team."
The company's CEO understood employee concerns about the office move and took time to speak with each of them. Now, employees are happy with the office space, regardless of their new commute, because it features benefits such as personalized workspaces for employees, an upstairs lounge, and free parking.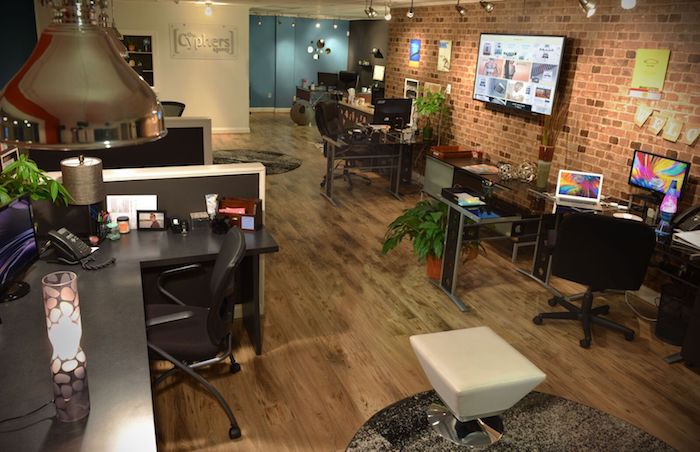 The Cyphers Agency's new office reduced employee concerns about their commute.
"It's a cliché, but our new office really does feel like home," Adams said.
Adams believes a better office space is worth the longer travel to work, despite his initial apprehension.
A business's higher-ups should listen to employee feedback and desires when moving offices to help ease challenges, just like Cyphers did.
"It's important that employees feel they have some say in the moving process – location, accessibility, some design input," said Commercial Realtor Michelle Mumoli, CEO of the Mumoli Bush Group. "After all, if your employees are unhappy, you'll be unhappy."
An office move shouldn't be so challenging that it makes employees unhappy and unwilling to stay at the company.
All Star Cleaning Services, for example, lost some employees because of the move.
"There were some growing pains following the move," Holiday said. "It became really obvious which team members weren't committed to our company's growth during the high-stress time after the move, and our team shrunk a few months after the move."
People left All Star Cleaning Services because of frustration from the office move, but those who stayed ultimately enjoyed the benefits of its new office, especially its larger space, where everyone could "fit."
The benefits of a new office should ultimately outweigh the initial challenges that come with office relocation, including a longer commute or initial distractions.
Work With a Commercial Real Estate Company to Ease Office Relocation Frustrations
Working with a commercial real estate company can ease the challenges of moving offices.
A commercial real estate service helps companies better understand the moving process and how long it will take.
"Office relocation is always a pain point, and I would say the best way to make it smoother is to work with a commercial realtor that is willing to draw a timeline and stick to it," said Marc Glaser, owner of Tenant Science, a commercial real estate broker in Atlanta.
Although working with a commercial realtor is an increased investment, it can make the move better for both the business and its employees.
For example, businesses that work with a commercial real estate broker can help employees negotiate with property managers.
Businesses that work with a commercial real estate broker can help employees negotiate with property managers.
Hans Steege, CEO of Dero Bike Racks, wrote in Inc. about his experience moving office spaces without a commercial realtor.
"When building owners realized we did not have representation, they thought they could take advantage of us," Steege wrote. "And without a realtor acting on our behalf, we were also often seen as a company that didn't need to be taken seriously."
Building owners were not helpful to Steege in his office search and even ignored his proposals when he was ready to sign a lease.
"A good commercial realtor is worth his or her weight in gold," Steege said.
Working with a commercial real estate company is a worthy investment for businesses looking to find an office space efficiently and hassle-free.
Challenges with office relocation are inevitable, but businesses can ease the move by communicating with employees and working with a commercial real estate company.
Make Office Relocation Positive for Employees
Office relocation is necessary for many businesses that are changing in size or have needs their current office space doesn't fulfill.
A new office space can provide employees with more comfort and more space to accomplish work.
However, moving offices can initially cause distractions, reduce productivity, and disrupt people's commutes.
Businesses looking to move office spaces should take employee desires into account when choosing the new location. They should also be communicative and open to feedback, which will help make the transition to a new office space go smoothly.