Advertising is a great way to boost brand awareness, communicate with the target audience, and educate them about your products or services. Not only does it help generate interest in your brand, but it also helps you position it in the marketplace.
Great advertising solutions and strategies can help brands make an impactful impression on their demographics. Startups, e-commerce businesses, and all sorts of organizations can reap long-term benefits when an ingenious campaign is done correctly.
Ad agencies are third-party service providers that are experts in telling brand stories. These professionals have the necessary know-how for creating, planning, and executing advertising campaigns. While there are some overlaps regarding their goals, advertising firms are completely different from marketing agencies.
A dedicated ad agency gives businesses access to talented professionals like art directors, account managers, and copywriters. Their skills are invaluable to maximizing your return on investment (ROI).
The advertising world is filled with vibrant firms that are advertising themselves to get your attention. Knowing what to look for is important when matching with the right partner for your business growth.
In this article, we'll go through all the steps you need to take and every factor you need to consider when choosing the perfect advertising partner.
How to Choose an Advertising Firm
1. Establish your Goals
No matter what stage your company is in, hiring an advertising agency is always possible. But before you explore the firms in the market, it's crucial that you understand and define your business goals.
Why do you need an advertising agency? Of course, everyone wants every possible benefit of advertising all at once but answering this question first will help you focus on your main priorities as you go forward.
Typically, businesses hire advertising agencies for the following reasons:
To diversify their advertising channels
To access professionals with reliable insights and skills
To establish a consistent image
To educate customers on new products or services
To save time and resources from handling the responsibilities internally
As you sit down with your team to discuss this, you can also opt to create a priority list for your requirements. Categorizing each item based on the level of importance will guide you through the next steps.
Establishing your objectives will also help you prepare and communicate what you need when discussing with potential agencies.
Lastly, if you're already working with a digital marketing agency for your marketing plan, consult your leadership team if you need and can afford to work with an advertising agency too. If you're short on resources, maybe you can forgo one for the other for the team meantime.
2. Draw Up a Budget
Budget is always a massive talking point in business. Now that you've understood your goals, you can go on and draw up a budget.
When in talks with a vendor, you can present a ballpark range of how much resources you can allocate for the project. However, it's important that you set a limit internally.
The cost of hiring an advertising agency depends on factors such as the scale, timeline, team size, and services you need.
For instance, you should expect to pay more if you're project requires more professionals working on it because of its scale. In contrast, modest campaigns don't usually cost a lot.
Remember, in budget discussions with potential service providers, make sure you ask about the pricing structure and terms. Ask questions on what determines the cost of their services and other important factors.
Learn more here: "How to Make An Advertising Budget [With Template]"
3. Check Out Potential Vendors
The third step of the process is to research potential advertising firms after you've discussed your needs internally and prepared a budget.
You can find trusted service providers by asking for personal referrals from colleagues who have experience working with advertising agencies in the past. Additionally, you should also explore the firms on independent directories such as Clutch and The Manifest.
Clutch is a B2B reviews and ratings website that allows browsers to connect with reliable service providers across different industries. As you read different profiles on the site, keep the following factors in mind:
Services offered: are they experts in search engine advertising, pay-per-click (PPC), or content creation?
Industry experience: do they have the necessary expertise working in your industry?
Cost of services: do their rates fit with your budget?
Company size: are you in need of a big agency or a small team?
Aside from those factors, evaluating their soft skills also ensures you don't have a tough time working with the firm. Communication skills, problem-solving, and time management are all essential to great partnerships.
4. Shortlist the Top Bets
Each company has unique requirements for advertising. Based on the factors mentioned above and the priority list you've prepared, begin shortlisting the ideal firms that fit them.
On Clutch, you can read countless portfolios and client reviews to help you effectively filter the options.
Portfolios or case studies are important to understand how the vendor approached and managed their previous projects. Meanwhile, client reviews and testimonials will help you see their projects from another perspective. That way, you get both sides of the coin and see if there were challenges or issues with the vendor that are typically not mentioned in their portfolios.
A shortlist should only have 3 to 5 advertising agencies. Having more than those defeats the purpose of creating a shortlist, and you will just put in more time to reach out and interview them.
5. Conduct Interviews
Once you've identified the top agencies that fit your criteria, it's time to get in touch with them to ask for a Request For Proposal (RFP) and schedule an interview. This is your opportunity to get a feel of the vendor and see their culture.
Every question you ask during your interview with them will be crucial. Make sure you prepare ahead of time before you discuss with them.
Here's our list of potential questions to ask an advertising agency:
Do you have any experience within my industry?
Do you have current relationships with any of my competitors?
Who will I be working with directly on my project?
Can you walk me through your creative process when developing an advertising plan?
What are your firm's core values?
How do you conduct research when starting a new project or campaign?
What do you look for in a successful client relationship?
How many team members will be working on my project? And will there be any freelancers?
Remember to ask for further clarification or explanation of any concerns that you may have during the interview process. Give them the opportunity to share their services and listen intently.
Read here as you prepare to hire: "B2B Service Providers: Questions to Ask Potential Business Partners"
6. Narrow Down Your Options
With the information you've gained from the interview and research, it's time to narrow down your choices to identify the right firm for you.
Based on the interview, did they give you the right answers and the confidence? Since they have their own strengths and expertise, it's important to consider which focus aligns with your high-level priorities carefully.
If you feel overwhelmed by the decision, always reflect on your criteria. Assess which firm best meets your objectives, culture, and preferences.
7. Hire the Ideal Advertising Firm for your Business
The right partner will make or break the partnership. After you determined which advertising agency has all the right cogs aligning with your business, it's time to let them know about your choice.
Reach out to them again and request a Service Level Agreement (SLA), a document detailing the partnership, the vendor's responsibilities, expected metrics, and other terms.
Before you put ink to paper, take a moment to read and review the document. Feel free to negotiate if you feel like there is vague language in the contract or there are unfair risks. 
How to Choose an Advertising Firm [Checklist]
Don't overthink the process. Use this checklist to ensure you cover all grounds when choosing the perfect advertising partner.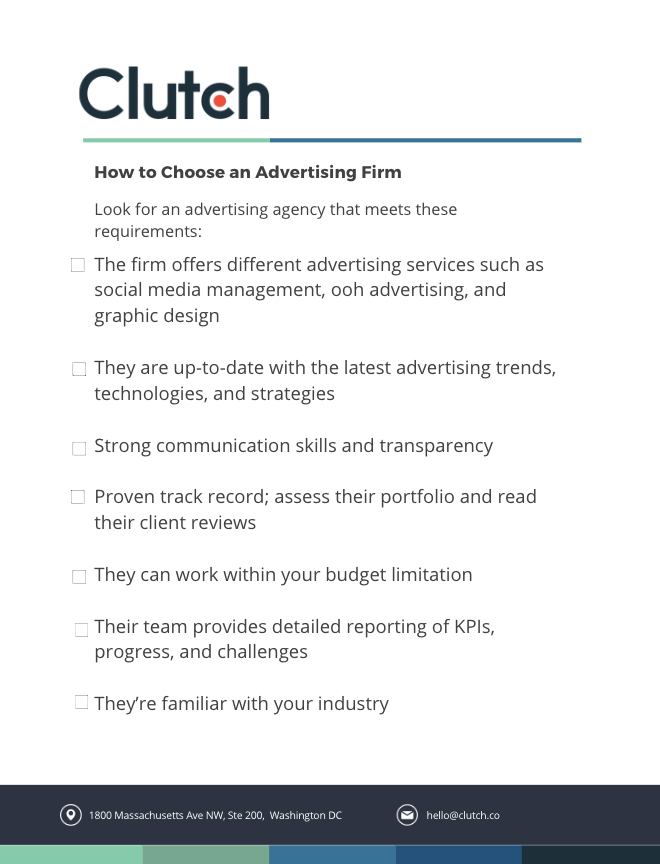 Download this checklist and use it to search for the ideal firm.
Boost Your Revenue with the Right Partner
Whether it's online or offline, no one can deny how impactful good advertising strategies are. All of the most memorable, recognizable, and iconic brands can attribute their success to great advertising.
Investing in advertising is as important as working with the right partner. If you jump too hastily into a partnership and they don't understand your vision, don't expect stellar results for your investment.
Don't settle for less when you're with the right advertising partner. Check out the leading advertising agencies on Clutch. Apply everything you learned in this piece as you search for the ideal firm.