Websites are nonnegotiable nowadays. The design of your website should not only capture your audience's attention but also play a part in converting and nurturing them into leads. It's part of the bigger user experience of your customers. 
A well-designed website adds credibility to your business. In fact, a survey conducted by Top Design Firms among 500 consumers shows that half of the respondents, 50%, believe that web design is important to a business' overall brand image.
When designing a website, there are many things to consider and the process alone can be time-consuming for a business owner to personally take care of. That's why it's crucial for your business to invest in good web design services. 
Web designers are responsible for many tasks including:
Planning and creating the website's layout or pages
Combining elements such as graphics, videos, and texts
Working closely with marketing teams to cohesively incorporate brand elements 
Coordinate with back-end developers to make sure the design carries over
Optimizing the website for the best speed and functionality
With those duties in mind, identifying whether you will need a freelancer or a full-fledged agency can be tough. There's no straightforward answer, but it will ultimately depend on what type of partner your company needs. Here are some points you should consider: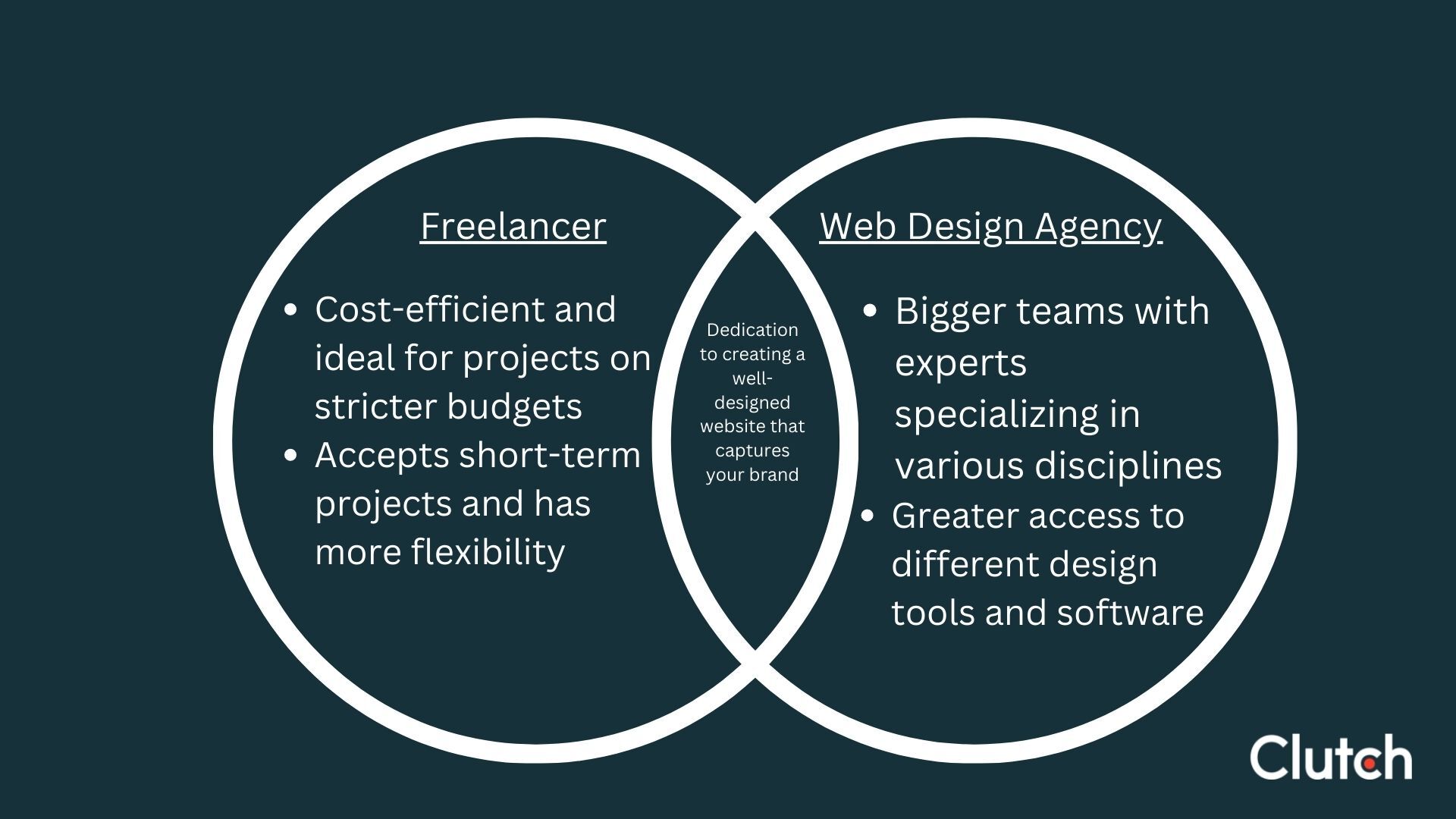 In search of a reliable web design agency for your new website? Take a look at Clutch's rankings of the top-performing web design agencies. Browse through their projects and use the filters to find the perfect firm for your project.
Freelance Web Designer
What is a Freelance Web Designer?
A freelance web designer is a self-employed expert who creates and layouts websites for independent clients or businesses. They have backgrounds in disciplines such as web development, graphic design, and digital design. 
More often than not, web design freelancers handle their own administrative tasks and market their services through networking platforms. In contrast to web design agencies, freelancers work alone without extensive teams. Clients can hire them for part-time, short-term contracts, or full-time basis.
5 Benefits of Hiring a Freelance Web Designer
If you're planning to enlist the services of a freelance web designer, consider these benefits:
Cost-Efficiency
Compared to hiring an entire team of web designers from an agency, a freelance web designer is more affordable. Typically, this is one of the biggest factors that encourage businesses to hire freelance designers. They are ideal for small businesses.
Hiring a freelancer means that businesses don't have to worry about the overhead agency fees for office space, benefits, and overtime pay. They usually charge per project, not per hour — and since they work by themselves, they waste no time when finishing their projects. You won't have to worry about paying expensive overtime fees or benefits. 
Learn how much web design costs with our pricing guide. 
More Flexibility
Freelance web designers don't have fixed office schedules, thus they are more flexible when it comes to their schedules. Most businesses hire freelancers when they're on tighter schedules because they don't operate within the usual business hours.
If you can find the right freelancer and agree on a schedule, they can accommodate your timelines and adjust to contract lengths. Their flexibility is one of their biggest assets.
Better Control
With a freelancer, you work more closely together, which leads to more control over the process and direction of your website's design. Because you're only working with one person, you and the freelancer can make decisions more quickly. 
Plus, you don't need to worry about miscommunication and contact persons not articulating your ideas effectively to their designers.
No Long-Term Commitments
There are little to no strings attached when working with freelance web designers. Unless you signed a long-term contract with them, which is the most unlikely case, you don't have to commit to their employment.
This makes it easier for you to conclude your partnerships after your initial agreement ends. You have more power to extend or terminate if the partnership doesn't go as planned.
Learn how to create a web design budget for all lengths of engagements with our customizable template.
Access to Bigger Talent Pools
The freelance web design market is abundant. There are countless web designers with strong portfolios and backgrounds– you just need to know where to look.
Because you have the final say, you can even choose to work with a freelance web designer from a different country. There are already international payment options that allow businesses to work with freelancers anywhere in the world.
5 Drawbacks of Web Design Freelancers
The traits that can be considered their biggest pros can also be linked to their cons. Since we've already gone through the advantages, let's talk more about the drawbacks of hiring a web design freelancer:
Lack of Supervision
A freelancer is only a single person, and that fact alone is their biggest double-edged sword. Needless to say, there are no supervisors looking over and checking the quality of their work. 
Because you don't work with them in the same office or location, there's no way to supervise them and track their progress. You don't know if they are cutting corners when designing your platform or whether they're putting in the work to translate your ideas into reality. In some cases, this also results in a lack of accountability. 
Less Stability
Unlike agencies, freelancers don't follow structures to ensure the stability and consistency of their services and terms. They work on their own time, and that time may not work with your timeframe.
You won't have full control if they're only working on your project and if they're fully committed to your business, especially if they're working with other clients. This lack of stability can be the cause of delays with your projects. 
Limited Perspective and Ideas
Freelance web designers are lone wolves– they don't collaborate with teams and don't have others to bounce ideas off of. Your business won't get different sets of eyes looking at your project. Without someone else giving suggestions, the website will be limited to the ideas and skill sets of the freelancer.
Bounded by Resources
Compared to an agency, freelancers don't have access to a lot of specialized resources such as equipment or software. The designs they create will be limited to the assets they have.
Learn more about the world of web design with our web design glossary. 
Unreliable Communication
Expect to encounter communication issues when hiring a freelance web designer.  Considering that they follow their own time and don't have fixed schedules, you may not be able to contact them all the time. 
Not having a designated schedule means that you don't know when they're available. There's no guarantee that they'll reply to your message quickly. When hiring a freelancer, make sure that communication expectations are clearly laid out in your contract. 
Web Design Agencies
What is a Web Design Agency?
A full-fledged web design agency is an organization that specializes in planning and designing websites. Generally, it is made up of web designers, developers, copywriters, account managers, and even SEO experts.
Just like with freelancers, working with web design agencies has its ups and downs.  Let's break them down.
5 Benefits of Hiring a Web Design Agency
Experience & Expertise
Web design agencies work with a plethora of clients from different backgrounds and industries. They often have years of experience to hone their expertise and know more about what're the best solutions.
Experience is the best teacher. The projects they've handled in the past refine their creative approach, ensuring that you get quality work delivered. They can make insightful suggestions and give advice on what to do or not to do because they have many experts with various degrees of proficiencies and accomplishments.
Access To More Resources
Agencies usually have more equipment and better access to software solutions compared to freelancers who run on a limited budget. There will be certain designs that will require specific design tools, and on most occasions, agencies are ready with those tools.
With more resources comes more talent, and an agency has a team of professionals that specialize in certain tasks — making them more well-rounded service providers, unlike lone freelancers. You'll have access to more professionals with proven skills who can handle complex projects.
Consistent Support
Web designs, especially for e-commerce platforms, constantly need maintenance and updates. A web design company assures you have ongoing support.
Generally, web design agencies prefer working with clients for long-term partnerships, so you can expect to have someone dedicated to guiding you. Agencies have teams composed of team leads or account specialists that are always ready to answer your questions and accommodate your concerns.
Reliability
Reliability is arguably one of the biggest advantages of an agency against freelancers. An agency has more stability and structure, so in case of emergencies, you can rest easy and rely on them. 
A stable project management structure is also a form of reliability that freelancers can't offer. When working with an agency, you can expect a project manager or a team leader to oversee the project. You won't need to worry about constant delays as you rely on their supervision and guidance.
Connection to More Professionals
Most web design agencies offer additional services such as search engine optimization and digital marketing.
 
One way to determine the performance of a website's design is to see how it fairs in search engines. Unlike freelancers who may not be able to handle everything you need, agencies have a bigger team and offer more extensive service packages that can help set your business up for success.
When you hire a web design agency, you can expect them to have an SEO or digital marketing specialist on their team. They can guide the designers about the strategies needed to take into account in order to help the website perform strongly. 
5 Challenges of Working with a Web Design Agency
Now that we've covered ground on what benefits you can reap from working with a web design agency, let's weigh up the challenges here:
Higher Costs
Hiring a web design agency is not the most cost-effective solution if you're on a rigorous budget. In fact, it's not an affordable choice because you'll most likely spend thousands more compared to just hiring a freelancer.
Agencies have more people, and that means higher costs. You will get what you pay for and, at least, you can expect that there is a sizable team working on your web design project. 
Ineffective Line of Communication
Miscommunication is a huge hurdle when working with a team, and due to the fact that web design agencies have more people doing tasks, this could be an issue. In all probability, your only point of contact will be routed through the account managers, and sometimes they may not deliver the message effectively to the designers and other team members. 
In trickle-down communication, there's a probability that your message or idea may be misunderstood once it gets relayed to other people. Not everyone on the team may not get the concept and requirement immediately, taking more time going back and forth about the brief. 
Struggle to Accommodate Stiff Timelines
Not every agency is willing to accept projects on rigid timelines. In contrast to freelancers that work on flexible schedules, agencies follow traditional business hours, meaning less wiggle room for them to accommodate rush or hectic project timelines.
Not Open to Smaller Projects
Agencies need revenue to keep themselves up and running, and because of that, sometimes, they prefer taking on bigger projects over smaller ones. Of course, this is not the case for every web design agency, but it's the truth in most situations. 
If you have a small project, there are still some agencies out there that are willing. You just need to look for them.
You're Not Their Only Client
In line with the other challenges, expect that your project isn't their only responsibility and concern. You will not have their full focus.
Web design agencies don't work with one client at a time. They also serve other clients, and some may have larger projects than yours, making those the top priority of some agencies.
Key Factors You Should Consider
Website designs play pivotal roles in helping you establish your online presence. For some, freelancers are the way to go while others may prefer working with an agency instead. 
Here are some factors that you should consider when choosing which service provider suits your needs:
Budget and costs
Scale and complexity of the project
If you need other services like SEO and marketing
Project timeline
Determining how much you need and will spend on your project isn't easy too. Read our web design company pricing guide so you can know what to expect.
It All Depends on What You Need
At the end of the day, only you can figure out which service provider you need after you've carefully considered everything on the table. There will always be advantages and challenges when working on a project, what is more important is knowing how to handle the situation. 
Working with a reliable partner, whether it's an agency or a freelancer, also makes a difference. Connect with proven web design leaders on Clutch for your project. Filter by location, client ratings, and cost to find the perfect match for your business. 
Additional Readings