Digital marketing provides intrinsic value to businesses of all sizes, especially in a world that lives online. Digital marketing agencies offer services such as PPC (pay-per-click) (search engine optimization), SEO, content marketing, and more that help generate company traffic and revenue.
A prime digital marketing strategy can help businesses increase brand awareness, drive conversion rates, and more.
Businesses can benefit from outsourcing digital marketing services to relieve in-house marketing teams of becoming overwhelmed while providing them with a fresh, creative approach from agencies with the right industry experience.
This article will explain how to find a digital marketing partner to help your business meet your goals.
How to Choose a Digital Marketing Company
1. Determine Your Goals for Marketing Efforts
Before working with a digital marketing agency, it's important for business owners to set goals for their marketing strategy and partnership.
Consider why you're hiring a digital marketing agency. Small businesses and large enterprises all need digital marketing support but likely have different needs in terms of marketing campaigns and deliverables.
Some popular digital marketing goals are:
increasing website visitors
crafting a social media presence
increasing ROI, KPIs, and other metrics with different marketing campaigns
grow overall customer base
A good way to start identifying marketing objectives is by looking at your target audience and how your current marketing strategy impacts them. If your company targets a younger audience, is your social media marketing up to snuff?
The better your business understands its needs for digital marketing support, the easier it will be to describe the scope of work to a digital marketing agency.
2. Create a Budget
Having an allocated amount of money for your company's marketing strategy is key for business growth.
Your budget should align with your company's business objectives – the more important marketing is to your team, the more money should be allotted aside. Depending on those objectives and other factors, your budget will be split based on different marketing tactics.
For example, a small healthcare company might want to spend its budget on target ads with PPC and local SEO strategies, whereas an e-commerce platform might want to focus on landing page optimization and email marketing strategies to convert site visitors into customers.
Another thing to consider when crafting a budget is how long you'd want the partnership to be with the digital marketing agency of your choice. This will impact the engagement as a whole.
Remember, many marketing partnerships will have different marketing budgets for services like PPC, social media management, and lead generation support - those extra costs must be included in your overall budget for hiring a digital marketing agency.
Additional Reading: 'How to Create a Digital Marketing Budget [With Template]'
3. Research Potential Digital Marketing Partners
After determining your company's budget and marketing goals, your team can begin researching digital marketing companies. Companies can begin the research process by contacting others in their industry or other professionals for recommendations or by searching online.
Researching digital marketing agencies is critical because your team should never work with a group that hasn't proven their skills. This is also a great opportunity to find any red flags before the next stage of the selection process - shortlisting a selection of top choices based on services and other factors. 
Look at: 
Testimonials 
Case studies 
Reviews 
Their website (their messaging, team members, social media, portfolio) 
If your business proceeds with researching digital marketing firms first, you will save a lot of time and money in the long run and put yourself one step closer to finding the best digital marketing agency for your team. 
4. Interview Your Top Choices 
When your team has a shortlist together of potential choices, it is time to schedule some interviews. It is their turn to impress your team and show off what makes them the right fit to meet your business goals. 
The interview structure is completely up to you, but use it as a time to gauge best how they would approach a digital marketing project and how well they will work with your team. 
Here are a few potential questions you can ask digital marketing agencies during the interview process: 
What are your rates? 
What services do you offer? 
What is your preferred communication style? 
Who would manage my account? Are there different team members dedicated to aspects of the project? 
What type of reporting do you provide? How do you measure success? 
What are your timelines are specific projects? 
What is your overall process for online marketing? 
What value can your company provide that others can't? 
5. Narrow Down Your Choices 
Once interviews have concluded, your team can further narrow down your digital marketing support choices. 
Of course, one digital marketing company might meet business needs for some and not others. Determine the best fit for your company based on key considerations that matter most to your business. 
Many companies can request RFPs from top choices, or they can narrow it down by working style, their full-service marketing repertoire, location, and more. 
Be sure to consider all the factors of working with a digital marketing provider before hiring.  
6. Hire a Digital Marketing Agency for Your Marketing Strategy 
Selecting the right digital marketing agency to collaborate with is easier said than done. But if companies keep their marketing goals in mind, the selection process should be efficient. 
One of the best ways to find the right digital marketing agency for your team is to read through client reviews on third-party platforms like Clutch. Clutch reviews have information about different projects, costs, project management tools, and more details that are key to having a successful engagement. 
Business owners should search for and select the best digital marketing agency that works with their industry, budget, and more.
How to Choose a Digital Marketing Agency Checklist
Need a little more help finding a digital marketing agency? Use this checklist to find the right fit for your marketing plans.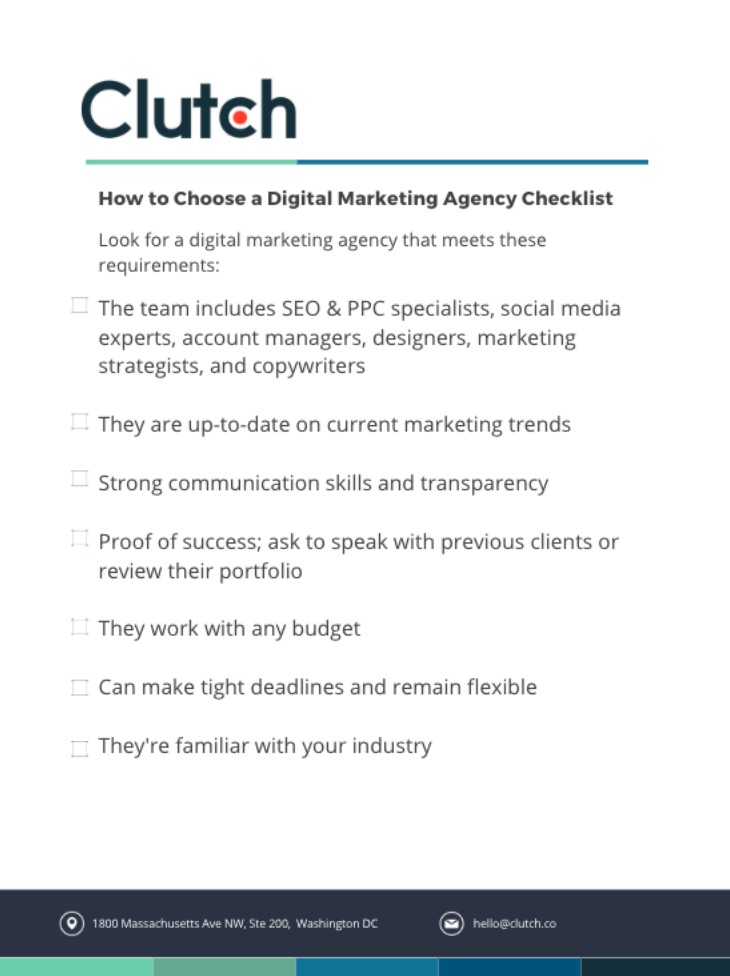 Download our digital marketing checklist to help your business choose the right fit.
Meet Your Marketing Goals with the Right Digital Marketing Agency
Choosing the right digital marketing agency is a pivotal decision that can greatly impact the success of your business goals. 
You can find an agency that aligns with your unique needs and objectives by considering key factors such as expertise, experience, industry knowledge, and a tailored approach. Remember to thoroughly research and evaluate potential agencies, seeking references and case studies to ensure their track record matches your expectations. 
Investing time and effort into selecting the right agency will undoubtedly yield long-term benefits, as they can provide the expertise and strategic guidance necessary to drive your digital marketing efforts and propel your business toward growth and success. 
Our checklist can help make the process easier. 
Use Clutch to find the best digital marketing agency for your business goals.