It's fair to say that 2016 was a pretty wild year for social media.
Vine is dead, Twitter is struggling, and fake social media news gained national attention.
When it comes to the constantly shifting landscape of social media, each year brings its own unique challenges, discoveries, and opportunities for growth. And 2017 will be no exception.
With plenty of new features and platform changes rolling out as we speak, there's no shortage of topics to cover. Still, there are a few standouts that deserve special recognition for the impact they're likely to have on the social media industry as a whole.
Obviously, it's impossible to predict with 100% certainty what will happen over the next year, but by taking a look at the trends that dominated 2016, we can develop a better understanding of what social media marketing will look like this year, and what you can do to tackle the trends head-on.
1. Tracking Social Media Analytics For Greater Efficiency
For those of us who work in the world of social media marketing, metrics and analytics are nothing new.
A KPMG survey shows that 81% of enterprises are already using analytics to gain marketing insights and improve their understanding of customers.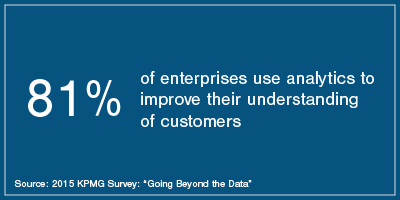 There's always been a general understanding that without metrics, you're basically just guessing at the effectiveness of your campaigns. However, 15% of social media marketers still struggle to track the results of their social media efforts.
Perhaps this challenge stems from persistent questions about the value of tracking social media metrics:
Which metrics matter the most?
What does a 'like' on Facebook really mean?
What's the power of a re-tweet?
Each of these questions stems from the desire to prioritize social efforts and be more efficient.
Fortunately, as companies, like Instagram, mature (both as businesses and as platforms), they begin to adopt a more straightforward approach to advertising.
Case and point, 2016 marked the beginning of Instagram's Business Tools feature, designed to work the same way that Twitter Analytics and Facebook Insights does.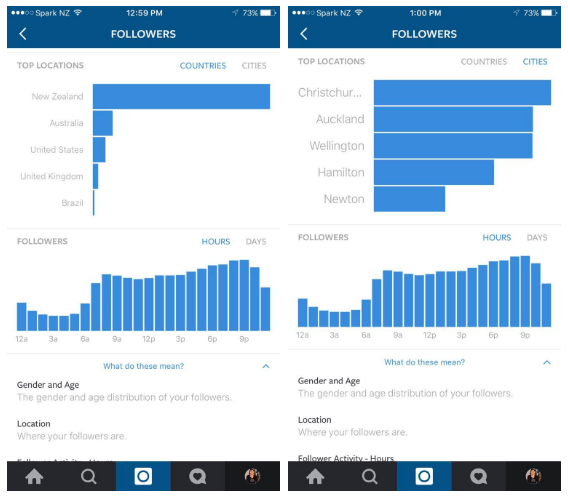 More and more companies are using social media metrics to try and dominate the social media landscape. With companies streamlining their analytics, it's only a matter of time before the competition has just as much access to metrics as you do.
That being said, it seems like the only way to win on social in 2017 will be to determine what the key components of your social media strategy are and to collect metrics that help you make better decisions.
When it comes to social media analytics, having the data isn't enough anymore. To win, you'll have to understand that data better than everyone else.
Calculating Conversion, Amplification, Applause Rates & Economic Value
If you're new to the world of social media analytics, figuring out where to start can be frustrating.
Avinash Kaushik, Digital Marketing evangelist for Google, developed four principles to help you navigate the world of social media analytics:
Conversation Rate: Number of Audience Comments Per Post
Amplification Rate: Number of Retweets/Shares per Tweet/Post
Applause Rate: Number of Likes/Favorites Per Post
Economic Value: Short Term Revenue + Long Term Revenue + Cost Savings
2. Paid Social Is More Powerful Than Organic
Over the last few years, there's been a vocal minority of people who seem convinced that paid content is on its last leg.
For whatever reason, there is an idea floating around that eventually, there will not be a place for ads on social.
Their reasoning is, in part, fueled by the idea that content is king and pay-per-click (PPC) ads can't convert on social. To be fair, an argument could easily be made that content is indeed king – the backbone of any successful social media marketing campaign. (It's hard to convert if your product is garbage, after all.)
But to say that paid content is on its way out is simply not true. In fact, 86% of social media marketers are most likely to use a combination of both paid and organic social media, and 59% agree that paid is more effective than organic social, according to Clutch's 2016 Social Media Marketing Survey.
Don't take my word for it, just look at the numbers. Traditional banner ads may be dead, but paid content is growing faster, quarter after quarter, with social media spending expected to exceed $17 billion in the U.S alone.
With consumers only paying attention to the most impressive content in 2017, it's clear that having high-quality, engaging content will be massively important. But even the best content can't convert if no one sees it.
Nearly every major social network uses some type of content prioritization system, which attempts to balance paying brands' interests with the experience of their users. Even with companies like Twitter being on the ropes in 2016, they managed to increase their advertising revenue by $32 million.
While there is still room for organic social content to spread, it seems like these platforms will spend 2017 favoring brands that are willing to pay-to-play.
Try Paid Content Promotion on Reddit, Instagram
There are plenty of social media networks more than willing to take your money, but let's assume that you're looking for the best place to try paid content promotion.
While targeted Facebook ads and promoted tweets on Twitter are the default answers, don't be afraid to experiment with advertising services on Reddit and Instagram.
3. Live Video Integration Helps Brands Show Personality
Without a doubt, one of the most exciting trends to watch in 2017 will be the development of live video content.
Sure, platforms like Twitch had live video content for a while, but it's never been this well integrated into the average consumer's social media networks.
Periscope and Facebook Live are the two clear leaders in this race, with Periscope boasting 110 years-worth of live video being watched every day.
With Instagram trying their hand at live video this year, it's clear that social media platforms intend to explore this world and see how it helps users and brands stay connected. And with good reason.
Live video, integrated directly into the average consumer's favorite social media networks, gives brands an opportunity to engage with their community authentically, whenever and however they want, absolutely for free.
With Facebook claiming that live videos have massive rates of engagement, it's no wonder that brands have already started to embrace this method of creating content. Beyond being a tool to encourage engagement, live video is helping brands stay fresh by coming up with unique ideas for content.
Some brands have already used live video to stream interviews, host Q&A sessions, and demonstrate their products.
Some have even gone as far as to create a series of live videos, most notably Allure's lipstick reviews, with a new product, in this case, type of lipstick, being demonstrated and reviewed every week.

Whether you're an artist that wants to showcase your creative process, a video blogger that wants her community to be right there with you while skydiving, or a brand that wants to share an in-office event with it global audience, live video offers a new way to create meaningful engagement with your community.
Use Live Video as a Tool to Showcase Authenticity
While some businesses are lucky enough to have content that easily fits the mold of the live video world, there are quite a few that simply have no idea how to create live video content for their audience.
To understand how to get started, you need to wrap your head around the idea that live video is a tool that showcases authenticity.
Live videos are the polar opposite of most of the content businesses put out. It's unpolished, unrehearsed, and raw. Instead of shying away from it, savvy business owner can choose to lean into this.
Performing informal Q&A's or showing your audience around the office are two simple things your business can do. What matters is that you blur the lines between your audience and you, giving them a behind-the-scenes look at your business.
4. Chatbots Are Turning Automation into Management
If you've been paying attention to social media trends over the last decade, you've almost certainly noticed that the way consumers and brands communicate has fundamentally changed.
Customer service was seen as something that routinely took place over a frustrating phone call.
Of course, that's no longer the case. Customer service is now a public affair, and handling complaints poorly can spell disaster for your brand's online reputation.
In an effort to make customer care easier for users, apps started having built-in messaging so users could get their questions answered faster.
Speed and efficiency are the name of the game, and nothing signifies that quite like the growing popularity of chatbots.
Now, let's address something before we go any further: do NOT try to fully automate your customer service. Even if you could make sure it worked 100% (which would be impossible), consumers like to be able to explain their particular situation to another human being.
That being said, chatbots like the ones on Slack and Facebook Messenger, are perfect examples of how to handle automation. These bots handle basic communication with customers, addressing frequently asked questions, and providing basic information on products/services. If you're operating with a limited staff, having the ability to provide your users with an immediate answer is particularly useful.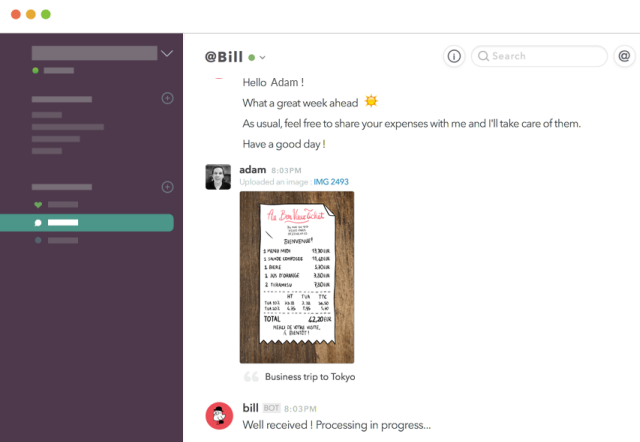 The companies responsible for these chatbots aren't slowing down any time soon. Slack currently has more than 400 helpful bots that handle everything from basic customer issue management to full-on customer support software. That's the beauty of these bots: you can mix and match them to suit your brand's needs.
5. Social Commerce on the Rise for Displaying Products
One of the most exciting trends to keep an eye on in 2017 is social shopping – the integration of e-commerce into social media. It has the potential to become a potent avenue for sales.
To understand why social commerce is such a powerful concept, you need to look beyond the simple 'everything under one roof' theory.
There's no doubt that having e-commerce linked directly to sites like Instagram and Twitter is convenient, but to dominate this aspect of social media, I invite you to take a step back and look at the bigger picture.
According to a recent survey from Aimia, more than 56% of consumers who follow brands on social media do so to view products. These people are coming to you on social media to interact with your brand's unique content.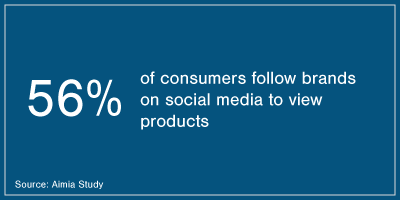 Share Content That's Valuable to Your Audience
Instead of defaulting to the "spamming people with ads method," give your audience value by sharing current industry trends and potential gift ideas.
You can even demonstrate new products (via either a live video or a traditional post) to excite people about a brand they're already passionate about. This way, you can provide value and encourage social shopping without compromising your online reputation in the process. And that's really the point, isn't it?
Closing Thoughts
If there's one thing we can count on year after year, it's that social media marketing will continue to evolve.
So, what will social media marketing look like in 2017? Well, it looks like customer service will be less painful, brands will be finding new ways to create unique, engaging content and searching for better ways to reach more people.
Those are some pretty lofty goals, but with the right tools and approach, we can all make 2017 a fantastic year for social media marketing.
---
About the Author

Eric is an SEO virtuoso and CEO of Sachs Marketing Group, a company focused on being of service to business owners – helping to better position them in the eyes of their audiences.