Business process outsourcing (BPO) refers to when businesses hire third-party service providers to handle various business functions. It involves contracting a specialized vendor to handle specific operations such as customer support, data security, and front-office services.
Essentially, BPO providers offer omnichannel services to improve their clients' scalability, flexibility, and lower costs. They're often associated with outbound call centers, but that's just one of their many services.
Instead of spending time building or expanding their own in-house teams, organizations can easily access high-quality talents from countries with booming BPO industries, such as India and the Philippines. The right outsourcing partner can guide a business towards their goals.
When searching for a partner, it's easy to feel swamped by options in the market. In this piece, we'll guide you through every step when it comes to choosing a BPO provider.
How to Choose a BPO Provider [Checklist]
1. Outline Your Goals
More often than not, most businesses immediately think about improved operation flexibility when deciding to hire a partner. While that's the primary goal of all BPOs, it's too vague to be your main basis when finding the right partner.
The entire BPO scene is broad, some firms provide human resource solutions, inbound marketing services, and accounting functions. In addition to those, there are different kinds of BPOs — offshore BPO, nearshore BPO, and more.
Knowing your objectives and needs will allow you to quickly identify what type of service provider you should look for.
Some of the common goals when hiring a BPO provider are:
To allow internal team members to focus on more important responsibilities
To gain access to qualified experts and specialized tools
To improve customer experience and customer satisfaction 
To handle complex or time-consuming business workflows
For this phase, you should sit down with your leadership team and discuss your SMART goals — specific, measurable, achievable, relevant, and time-bound. These objectives should align with your priorities and address urgent or crucial issues.
Don't proceed to the second stage if you can't complete this yet. Proceeding to the next steps will be easier once you confidently outline your goals.
2. Prepare Your Budget
Budgeting should be a big focus for you and your team. The goals you've determined during the initial stage will be your biggest criterion when preparing your budget.
Remember, your budget will vary depending on what services you need. Computing the expected cost for BPO services can be tricky, especially considering the dynamic variables in play. That is why it's important to clearly understand your priorities before you map out your budget.
Business owners must look at factors such as type of services, type of BPO, project scale, and expected time frame. For instance, businesses that only need to outsource one function or type of service will spend less than those that will require more.
In addition to those, the industry and expertise will also play a considerable role in determining the costs. Specific expertise in niche industries generally costs more than broader fields like sales and marketing.
Do your research when you allocate your budget. Look at the industry average and see how much firms with similar projects spend on their BPO needs. 
3. Explore Potential Firms
Once you've identified your goals and created a budget, the next step is to research potential BPO providers. During this process, you can ask your team to research different companies and eliminate the options that don't meet your requirements.
Typically, businesses consider the following when searching for the ideal partner:
Services offered: do they provide the service you need? e.g. telemarketing, data entry, and back-office support
Expertise and experience: are they well-versed in your industry? for instance, they've worked with clients from a similar industry in the past
Cost of services: do their rates fit your budget?
Company size: are you looking for a bigger firm or a smaller team?
Clutch has compiled a ranking of the leading BPO providers to help you contact reliable partners. You can easily filter firms based on the average ratings they've received, by location, and by how much they charge for their services.
4. Shortlist the Top Providers
As you will see when you research different BPOs, every company has its strong suits and unique expertise. Following your criteria, the fourth stage is to carefully shortlist the top companies that piqued your interest and met your requirements.
The best way to approach this stage is to read through more of their case studies and client testimonials. It looks like a tedious and taxing job, but on Clutch, you'll have easy access to crucial information.
Case studies will help you better understand the scope of a service provider's projects. These reports provide crucial details on how the project addressed the client's problems, how they overcame challenges, and what are the results of the engagements.
Meanwhile, reviews greatly help to see their projects from their clients' perspective. Naturally, service providers won't highlight projects that don't work out for them, so, reading honest reviews will give you an idea of recurring problems faced by clients.
The criteria you've set and all the data you've gathered will ultimately help you create a shortlist consisting of 4 to 6 providers. Remember, don't keep it short. A shortlist with more than 10 firms isn't really a "short" list.
5. Carry On Interviews 
After you've finalized your shortlist, it's time to reach out to those providers to schedule an interview and ask for a Request For Proposal (RFP), a formal document that solicits a proposal for professional services.
As you prepare for your upcoming interview, you can use the RFP as a reference point much like a resume. In addition, it's your responsibility to put together a set of interview questions that will help you extract the crucial information you need to decide.
Questions to ask potential BPO partners include:
Do you have real-time reporting dashboards or applications your clients can view?
Can you walk me through your recruitment and training process for filling outsourced roles?
What level of involvement do your clients typically have during the training period?
Based on your understanding of our company culture and mission, how does your company culture match?
Can you walk us through your quality assurance process for the type of service we need?
How do you ensure my sensitive data remains safe and secured?
How do you manage and improve employee retention?
Can you walk us through your account management policies?
The questions should help you gauge whether they're the right fit for your needs. Lastly, the interview process is also about allowing them to clarify any questions or concerns you may have.
Get ready and read here: "B2B Partnerships: Questions to Ask Potential Business Partners"
6. Cut Down the Choices
Now that you're done with the interviews, it's time to narrow down your choices to two or three service providers. For this, you can call your leadership team to discuss each company's advantages and disadvantages.
The information you've gathered throughout your research and the interviews will help you select which providers best fit your needs.
Of course, not every BPO seamlessly matches with your business. Some firms might not meet your expectations, so you can remove them from your final list to make the choice easier.
Be sure to consider all the factors that matter most to you carefully. The important thing is to go with the company that perfectly fits the priorities you've set.
7. Hire the Ideal BPO Provider
Finalizing the decision is much easier said than done, especially considering that hiring a BPO provider is a big investment. Following the steps above and staying aligned with your priorities, however, should give you more peace of mind.
If you already feel confident with your choice, it's time to contact the provider once again to let them know about your verdict and ask for a Service Level Agreement (SLA).
An SLA is an important document that formally details the expectations, responsibilities, and conditions of a partnership. It is an outsourcing contract or agreement that may also serve as a measurement tool to track the performance of the BPO provider.
Before you put your signature on that contract, make sure you review and understand every detail. It's up to you to ensure that your business avoids unfair risks.
How to Choose a BPO Provider [Checklist]
Checklists can guide you in your journey. Use our list when choosing the right BPO provider for your business.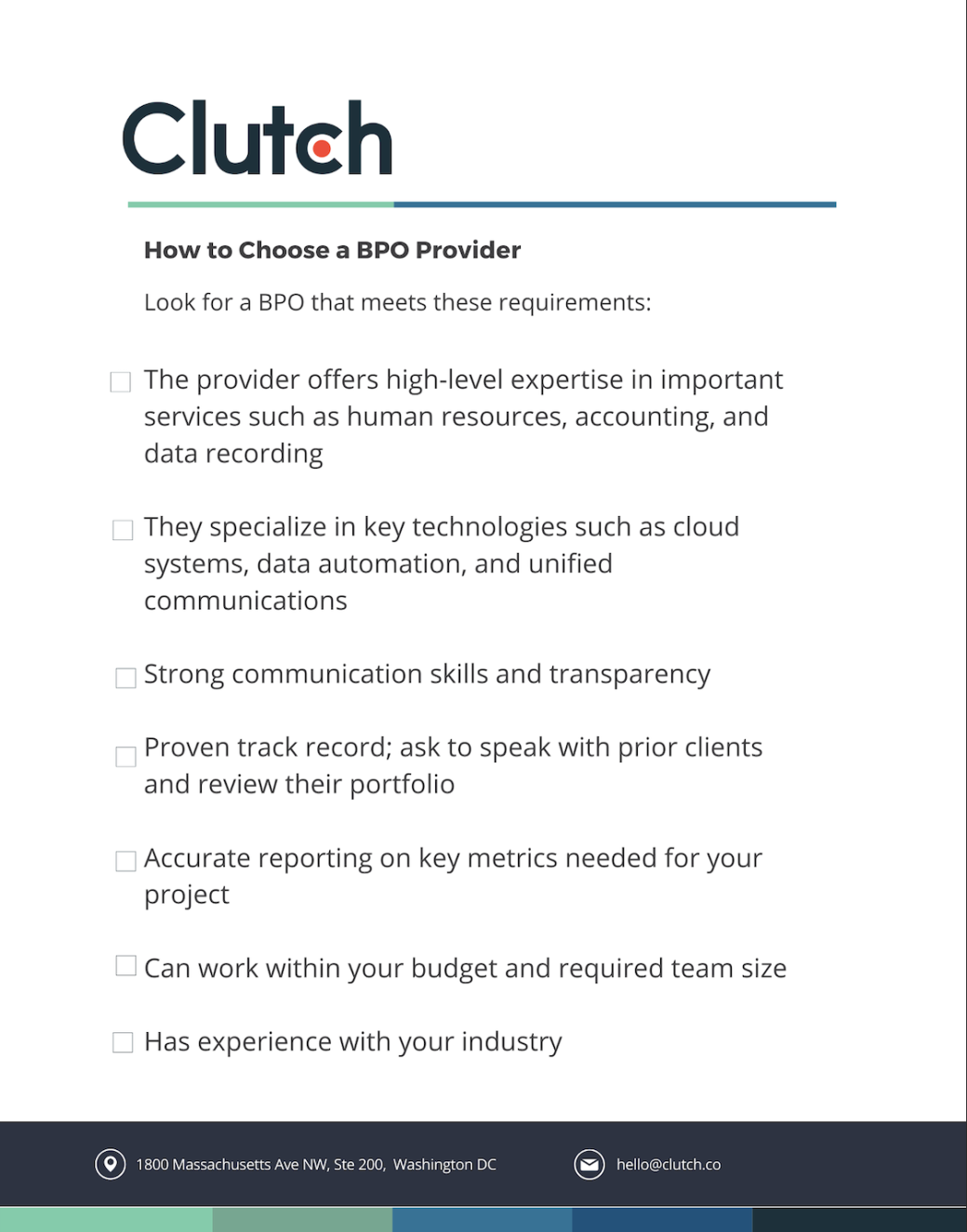 Download this checklist and stay aligned with your priorities.
Transform Your Business with BPO
The BPO industry has proven time and time again that it can bring plenty of benefits to many startups, companies, and organizations. Finding and hiring the right BPO company can boost your business needs.
BPOs offer massive advantages to businesses that want to optimize their operations and improve their bottom line. Unfortunately, if you don't match with the right provider for your needs, you won't get the most out of your investment.
Don't look elsewhere. Clutch has listed all the top business process outsourcing companies ready to help you with your business efforts. Maximize the filters we've prepared and match with the perfect partner.