If you're starting a business or looking to rebrand, creating a logo is one of the most important steps. In this pricing guide, we'll explore the factors that influence logo design costs and give you a better understanding of what to expect when working with a designer.

A well-designed logo can make your brand memorable and recognizable, and it's often the first thing potential customers will see. However, figuring out how much to pay for a logo can be challenging.
Many businesses, in particular small businesses, might invest in tools like online logo makers that can generate professional logo design artwork quickly at a low cost. But for a personalized touch, companies should hire a logo design agency with the right level of expertise.

Being the first point of contact with customers, businesses assume that logo design work is highly expensive, but finding the perfect fit that works with your budget will lead your company to new heights.

This pricing guide for logo design services will help business owners and marketing teams discover how to craft the perfect arrangement with a logo designer while finalizing a key aspect of their brand identity.
Logo projects reviewed on Clutch typically cost
< $10,000
As shown in the chart above, logo design services on Clutch can be a few thousands of dollars. Much of this relies on several factors, including project phases, the scale of work, and any additional graphic design services.
Without a successful logo, companies will lose themselves in competitive markets without a feature that sets them and their brand apart.

Don't let your company get lost – explore your options for superior logo design services at a reasonable price point.

Price of Logo Design Based on Industry
The complexity of a logo is a main factor in figuring out the cost of hiring a logo designer. Your logo's appearance can also be a key indicator of your industry's target audience.

Want to know more about how much logo design firms charge to build the type of logo that fits your industry? This table shows what select business types can expect to pay for a logo based on their market.

| Industry | Average Project Size |
| --- | --- |
| | Less than $10,000 |
| | Less than $10,000 |
| | Less than $10,000 |
| | Less than $10,000 |
| | $10,000–$49,999 |
| | $10,000–$49,999 |
| Healthcare | Less than $10,000 |
| | $10,000–$49,999 |
| | Less than $10,000 |
| | $10,000–$49,999 |
Note: Price ranges above are in U.S. dollars
As you may notice, several industries have an average project cost that mirrors or exceeds the average cost for logo design services on Clutch. For example, a real estate firm is less likely to pay as much for a logo design project than a company in the nonprofit industry.

This makes sense when you think about the industries themselves. For instance, a real estate firm will likely want a simple logo that is the name of the firm whereas a nonprofit might have a more robust logo design.

The best way to estimate the cost of your logo design company's project is by breaking down what is considered a "good design" for your company's logo. For example, an e-commerce business might need a logo design that reflects their specific product or have a set list of colors they want to be included. That will impact the cost of a logo and help your team budget for the hiring process.

What is the Real Cost of Hiring a Logo Design Agency?
The average cost of hiring a logo design agency on Clutch is between $100-$149 an hour.

Before hiring a logo design firm, it is important for businesses to think about different factors related directly to their company: their mission, values, and target audience.

With those in mind, companies should know what they're looking for in a simple logo or a more complex design. Companies should have a logo that reflects their brand identity, gives a memorable perception of their brand story, and uses the right fonts, shapes, and colors that appeal to their target audience.

What Services Do Logo Design Agencies Offer?
Logo design agencies can offer a plethora of services:

Ideate and design a logo with sketches and revisions
Run branding questionnaires with their clients
Brainstorm typography & color types
Competitor & market research
Assist with marketing materials for other avenues like social media, style guides, and business cards
What Impacts the Cost of Hiring a Logo Design Agency?
Logo type
Length of design process & additional tasks
Formats, programs & tools
Size of team
Agency location
The complexity of your ideal logo will impact the cost of hiring a logo design agency due to the time commitment. If your company wants a complex logo with different fonts and designs, it will take more time and resources, putting it on the high end. If your team is interested in a simple logo, revisions and brainstorming will be less needed. That logo design job could be completed within a week.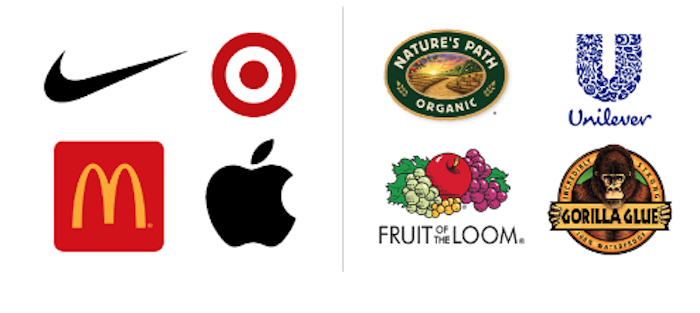 The length of the design process will impact the overall collaboration and price tag. Many companies offer logo packages that include all of these steps: nailing down a creative brief, market research & strategy, sketching & concepting, revisions & reflection, any trademarking/IP work, presentation, and delivery.

Logo Design Process
Write creative brief
Complete market research & strategy
Sketch designs and concepts
Revisions & feedback
Complete IP work
Present logo
Final delivery
Your company could ask your designer to deliver the logo in different file formats (PDF, JPG, EPS, SVG), so your company can print the logo on different marketing materials like brand design templates or t-shirts. Your logo could also include various features like animations to make your custom logo stand out, impacting the overall cost. Logo design agencies might also charge a fee for certain tools they use, like Adobe Illustrator or Sketch.

A single designer might be limited, so you might have a larger team working on your project than anticipated. This will give your company many different logo options, but logo design studios will likely charge based on the number of resources.

Your company could also use members of the logo design agency's team for other tasks that could be completed by a branding agency, like crafting marketing materials and helping with graphic design. These extra services and creating high-quality logo for your company will impact overall pricing.

Additional Reading: 'Graphic Design Glossary: 78 Essential Terms'
Another factor that determines the pricing of logo design services is where the design agency is located.

2023 Logo Pricing by Location

Browse hourly rates for Logo companies by popular locations.

| Country | Average Cost per Hour |
| --- | --- |
| United States of America | $100 - $149 |
| India | <$25 |
| United Kingdom | $150 - $199 |
| Canada | $100 - $149 |
| Australia | $100 - $149 |
| Phillippines | <$25 |
| Ukraine | $25 - $49 |
| Poland | $25 - $49 |
| Spain | $25 - $49 |
| Mexico | $25 - $49 |
Typically, logo design agencies in North America and Western Europe have higher hourly rates than companies based in Asia, Africa, and other areas of the world.

If your company is still lost on who to hire for logo design services, browsing customer testimonials and portfolio items can help, along with requesting quotes from your top choices or asking about their design processes. This critical information can influence your final decision.

Find the Perfect Logo Designer for Your Company's Vision
Make the right first impression with the best logo. Doing it internally or hiring a freelance designer could be things to consider, but investing in a professional logo design service will produce a new logo that accurately reflects your company's values, mission, and product offerings.

Companies need to have realistic expectations while keeping in line with their budgets. With the right knowledge about the logo design process, businesses can get the best value for their money by viewing our pricing guide.