FOR IMMEDIATE RELEASE
Media Contact
Morgan Flores
Director of Performance Marketing
awards@clutch.co
Washington, D.C., August 16, 2022 — Clutch, a data-driven B2B ratings and reviews platform, honors the best service providers from Puerto Rico that satisfied their strict selection criteria this 2022.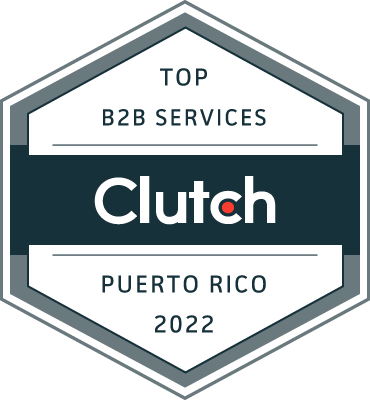 Puerto Rico has one of the most competitive economies in Latin America, and its investments in technology are laying the foundation for its future expansion. According to reports, the country's digital economy is potentially worth $15.8 billion each year.
The Clutch Leaders Awards for 2022 celebrates the service of Puerto Rico's leading B2B companies across different industries and categories. All throughout the year, Clutch carefully curates data-driven rankings for the top firms that exceptionally meet the following criteria:
Awards received
Social media presence
Services offered
Former clients
Case studies
"The road to success isn't easy. Everyone needs a partner who can support them through thick and thin. These leaders' outstanding commitment and contributions to their clients deserve to be spotlighted," said Clutch Sales Development Representative Laith Masri. "Clutch is honored to be a witness of their hard work. Congratulations on the award!"
Your company can also be ranked in next year's list. Find out how by getting listed on Clutch today.
Top Service Providers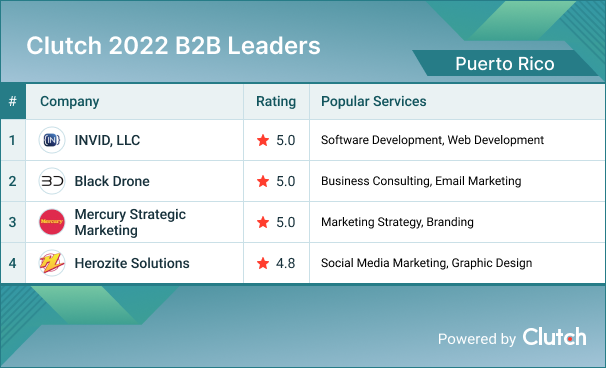 Results are a snapshot of Clutch's Leaders Matrices on August 8, 2022. Rankings are dynamic and this report may not reflect the rankings currently listed on Clutch's website.
About Clutch
Clutch is the leading ratings and reviews platform for IT, marketing, and business service providers. Each month, over half a million buyers and sellers of services use the Clutch platform, and the user base is growing over 50% a year. Clutch has been recognized by Inc. Magazine as one of the 500 fastest growing companies in the U.S. and has been listed as a top 50 startup by LinkedIn.