FOR IMMEDIATE RELEASE
Media Contact
Morgan Flores
Director of Performance Marketing
awards@clutch.co
Washington, D.C., September 13, 2022 — Clutch, the leading B2B reviews and ratings platform, announces its official rankings for the Philippines' top-performing B2B firms for 2022.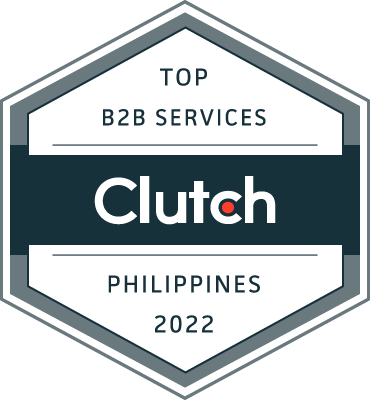 The Bangko Sentral ng Pilipinas hopes for bullish growth for the economy for the next two years predicting its economy to jump between 6-7%. The emerging nation sees a positive uptrend in its BPO and technology sectors, helping boost digital transformation.
Today, the Clutch Leader Awards highlight the contributions and impact of the highest-ranking service providers from the Philippines. Awardees from various categories and industries are determined during the platform's rigorous research methodology. Factors evaluated include the following:
Services offered
Former clients
Case studies
Awards received
Social media presence
"It's such a pleasure for us at Clutch to witness the Philippines' leading B2B companies make a difference," said Clutch Customer Experience Manager Jeremy Fishman. "All of you have proved that hard work really pays off. This award is just another feather in your caps. Congratulations!"
The search for the best and brightest leaders doesn't end here. Find out how your business can qualify for next year's rankings by getting started on Clutch today.
Top Service Providers

Results are a snapshot of Clutch's Leaders Matrices on September 6, 2022. Rankings are dynamic and this report may not reflect the rankings currently listed on Clutch's website.
About Clutch
Clutch is the leading ratings and reviews platform for IT, marketing, and business service providers. Each month, over half a million buyers and sellers of services use the Clutch platform, and the user base is growing over 50% a year. Clutch has been recognized by Inc. Magazine as one of the 500 fastest growing companies in the U.S. and has been listed as a top 50 startup by LinkedIn.