FOR IMMEDIATE RELEASE
Media Contact
Morgan Flores
Senior Manager of Content Strategy & SEO
awards@clutch.co
Washington, D.C., August 9, 2022 — Clutch, an established market research platform, takes a moment to commemorate the outstanding B2B leaders from Maryland for 2022.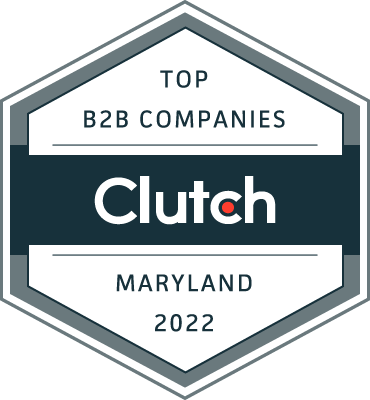 Maryland's economy continues to outperform the national average as its Gross Domestic Product (GDP) increased from $410.7 billion in 2020 to $438.2 billion in 2021. The state also ranks highly on the Milken Institute's State Technology and Science Index, indicating that the state's innovation greatly contributes to its economic health.
In this report, Clutch showcases the top B2B agencies across several categories, industries, and locations year after year. The prestigious Clutch Leaders Awards are decided using a stringent evaluation process that takes into account various variables, including:
Recency, number, and quality of Clutch-verified reviews published to a company's profile
Types of clients a company has worked with
Services a company offers and their experience providing those services
Brand reputation and visibility in a company's target market(s)
"Maryland's leading service providers set a wonderful example for firms that want to make an impact," said Clutch Customer Experience Manager Jeremy Fishman. "Our team admires their contributions to their clients and the community. Congratulations on the award!"
Your team can also make a difference and rank on next year's list! Create a Clutch vendor profile to find out more about the qualifications.
Top Service Providers

Results are a snapshot of Clutch's Leaders Matrices on August 1, 2022. Rankings are dynamic and this report may not reflect the rankings currently listed on Clutch's website.
About Clutch
Clutch is the leading ratings and reviews platform for IT, marketing, and business service providers. Each month, over half a million buyers and sellers of services use the Clutch platform, and the user base is growing over 50% a year. Clutch has been recognized by Inc. Magazine as one of the 500 fastest growing companies in the U.S. and has been listed as a top 50 startup by LinkedIn.
###