FOR IMMEDIATE RELEASE
Media Contact
Morgan Flores
Senior Manager of Content Strategy & SEO
awards@clutch.co
Washington, D.C., August 2, 2022 — Clutch, an independent market research platform from Washington DC, identifies and awards the top-performing B2B service providers from Kentucky this 2022.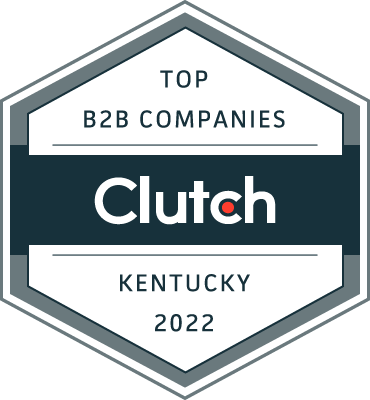 In 2017, Kentucky released its Digital Inclusion Plan to help solve the digital divide in the state — focusing on improving internet accessibility, teaching crucial skills, and more. The plan proved to be effective as it allows the state's digital economy to remain competitive, especially during critical times.
The 2022 Clutch Leader Awards takes a moment to recognize the hard work of Kentucky's finest service providers across different industries and categories. The awardees are identified following extensive research into their industry expertise, thought leadership, and ability to deliver stellar results or services.
"Hard work is invaluable. Having the best team that's absolutely committed can be the difference between success and stagnation," said Clutch Senior Customer Operations Manager Ariel Smith. "These leaders showed how far they are willing to go to deliver the services stellar services to their clients. Clutch admires their dedication and efforts."
To be eligible for the leaders' awards, you must first get listed on Clutch. Learn more about the methodology and how your company may rank on the list for the following year!
Top Service Providers

Results are a snapshot of Clutch's Leaders Matrices on July 25, 2022. Rankings are dynamic and this report may not reflect the rankings currently listed on Clutch's website.
About Clutch
Clutch is the leading ratings and reviews platform for IT, marketing, and business service providers. Each month, over half a million buyers and sellers of services use the Clutch platform, and the user base is growing over 50% a year. Clutch has been recognized by Inc. Magazine as one of the 500 fastest growing companies in the U.S. and has been listed as a top 50 startup by LinkedIn.