FOR IMMEDIATE RELEASE                                      
Media Contact
Morgan Flores
 Senior Manager of Content Strategy & SEO                                                
awards@clutch.co
Washington, D.C., July 26, 2022 — Today, Clutch, the leading B2B ratings and reviews platform, is highlighting the best B2B companies in Florida, Tampa, Jacksonville, Miami, and Orlando.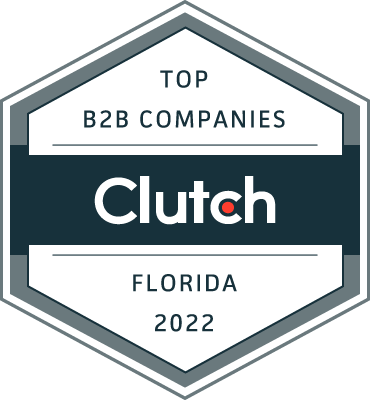 Florida is the third most populous state in the US – it is also a hub for small businesses. In the Sunshine State, there are 2.5 million small businesses, which make up over 99% of all businesses in the state. 
Throughout the year, Clutch takes the time to highlight the highest-ranking firms across industries and locations. 
Clutch identifies its leaders using a selective methodology that evaluates companies based on industry expertise, services offered, ability to deliver, and more. 
"Our team is happy to celebrate the top B2B providers in Florida," said Clutch Senior Revenue Operations Analyst Jake Cox. "Every single team on this list is committed to delivering the best results for their clients." 
Top Service Providers in Florida

Top Service Providers in Tampa
In the early 20th century, Tampa was known for the cigar industry. It is now a hub on Florida's west coast for commercial and financial industries. 
Clutch highlights the best and brightest in Tampa, Florida, for 2022.

The selected companies specialize in IT services, logo design, PPC, SEO, and more. 
Top Service Providers in Jacksonville
Some of the biggest healthcare, B2B, and retail companies are based in Jacksonville. 
Clutch recognizes the top 30 B2B providers in Jacksonville, Florida, for 2022.
The honored companies are skilled in public relations, mobile app development, cybersecurity, and more. 
Top Service Providers in Miami
Following pandemic lows, the hub of Miami's technology and e-commerce sectors are booming with growth. 
Clutch celebrates the top 100 B2B companies in Miami, Florida, for 2022. 

The companies on this list specialize in email marketing, web design, SEO, and more. 
Top Service Providers in Orlando
Outside of being a hospitality hub with Disney World, Orlando leads the nation with advanced manufacturing, biotech, and other technological innovations. 
Clutch is highlighting the top 100 B2B service providers in Orlando, Florida, for 2022.

The leaders specialize in corporate training, video production, development, and more. 
To be part of next year's list, companies are invited to create a vendor profile on Clutch to get started.
Results are a snapshot of Clutch's Leaders Matrices on July 15, 2022. Rankings are dynamic and this report may not reflect the rankings currently listed on Clutch's website.
About Clutch
Clutch is the leading ratings and reviews platform for IT, marketing, and business service providers. Each month, over half a million buyers and sellers of services use the Clutch platform, and the user base is growing over 50% a year. Clutch has been recognized by Inc. Magazine as one of the 500 fastest growing companies in the U.S. and has been listed as a top 50 startup by LinkedIn.