Event marketing is a great way to grow brand awareness and grow leadership in your industry, but how much does it cost? This pricing guide dives into the expenses surrounding event marketing and the factors that influence the price.
One of the best ways to promote your business is by getting your brand in front of the most people possible. Both B2B and B2C companies have been able to use event marketing to engage with customers and build brand awareness. 

Whether planning an event or simply participating in one, your business can use events to build relationships with potential customers and network with leaders in your industry. Often, these events are a great opportunity to educate customers and showcase your products and services. 

Most importantly, though, these events are a great way to build credibility in your field and generate qualified leads. 

However, organizing an event is a lot of work. Event marketing companies have the resources needed to plan the event from start to finish.  

This pricing guide dives into how much it costs to hire an event marketing agency and the factors that influence their pricing. 

Event Marketing projects reviewed on Clutch typically cost
$10,000 - $49,999
Most event marketing projects cost several tens of thousands of dollars. Though whether your project is on the low or high end of that scale depends on the type of event you're hosting, how many attendees you have, and where you're hosting it. 

How Much Do Event Marketing Agencies Charge for Their Services?
The average cost of hiring an event marketing agency on Clutch ranges between $100–$149 per hour. 

Whether you're planning to host a conference for a thousand people, simply need help designing a booth for a job fair, or are planning a virtual workshop, these rates apply to everything the event marketing company needs to do to bring your vision to life. 

Naturally, some of these projects require more time and effort than others. Larger events require more planning, making them more expensive. These projects will also likely have additional expenses not accounted for in your event marketing agency's rates. 

What Is Involved in Event Marketing?
Planning
Event design
Hiring vendors
Getting permits
Bringing in speakers
Booking venues
Set up & clean up
Promoting events through social, email, and OOH advertising
Depending on the type of event and the scope of their involvement, an event marketing agency should be able to break down everything they need to accomplish for the event to go smoothly and estimate how much it should cost. 

Types of Event Marketing & Hourly Rates 

The type of event can also influence the average hourly rate that the event marketing agency charges. Additionally, the type of event will greatly impact the amount of time required to plan and organize the event. 

This table shows the average hourly cost for popular types of event marketing. Use this information to get a better estimate of how much your particular event will cost. 

| Service | Description | Average Hourly Cost |
| --- | --- | --- |
| | Conferences and conventions host industry professionals to discuss a particular top in depth. It helps industry leaders learn new approaches, stay up to date on trends, and build connections. Often, the conference is a conglomerate of many other events such as networking events, speakers, trade shows, and more. | $25–$49 |
| | Networking events are gatherings such as a cocktail hour, lunches, meeting, career fairs, and seminars, to help professionals in the industry connect. | $25–$49 |
| | Hiring speakers or organizing a workshop is a great way to share knowledge and educate professionals. Company leaders often speak at these events as industry experts in order to build credibility in their field. They can be both virtual and in-person. | $100–$149 |
| | Festivals and parties, such as holiday parties, product launch parties, and retreats are a great way to generate hype both internally and externally. | $100–$149 |
| | Trade shows or expos focus on showcasing products, technology, and services. Companies can use these as an opportunity to showcase groundbreaking innovations and generate highly qualified leads. | $100–$149 |
| | Experiential marketing is an engagement strategy that encourages potential customers to participate in a fun event. For example, immersive events, photo booths and other photo opportunities, AI-generated filters for social media, and product sampling are all experiential marketing. | $100–$149 |
Note: Price ranges above are in U.S. dollars
How Should You Budget for Your Event?
If you're planning to host an event as part of your marketing strategy, you also need to budget for expenses outside of hiring an event marketing agency. Often, these rates don't include the cost of rentals, venue space, decor, food & beverage, permits, and other items that are needed for the event to run smoothly.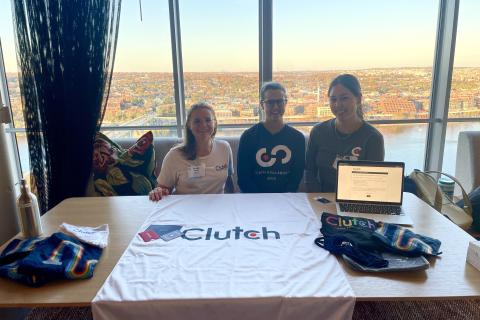 Of course, a good event marketing agency will help manage your budget to ensure that you meet your goals and provide the best experience possible for your guests. Still, it's good practice to know what you can expect to pay for each item on your to-do list.

Generally speaking, here is how you can break up your event budget:
Food & Drink: 20%
Decor: 10%
Speakers: 15%
Advertising the event: 10%
Venue & Equipment: 20%
Contingency: 25%
Of course, not all events will require these expenses. For instance, if you're planning to attend a job fair or an expo, you will need to budget for your booth and if you want to provide free samples, but you don't need to reserve a venue or book a caterer. 

Instead, break up your budget depending on your priorities and what is needed for your specific event.

Insert your text here
Size & duration of the event
Event type
Team size
Experience
Location 
As discussed, a big factor when it comes to pricing event marketing is the type of event and the scale. Certain types of events require more hands-on planning and will naturally be more expensive. You also have to take into account the number of attendees, the size of the venue, and cost of the equipment. 

How much an event marketing agency charges for the project also depends on their team size, their experience, and where they're located. If your event requires a large staff, you will have to pay more to reflect the work that the team is doing.
Also, how experienced and how well-established they are in the field could have an impact on their hourly rates. Companies that have a well-documented history of creating engaging event marketing events and campaigns are often highly sought-after. Because of this, they may be more expensive to hire than their competitors. 

Finally, the location of the event marketing agency is likely to have an impact on the overall cost. This is because the labor costs vary depending on the market where the company is located. 

 2023 Event Marketing Pricing by Location

Browse hourly rates for Event Marketing companies by popular locations.
| Country | Average Cost per Hour |
| --- | --- |
| United States of America | $100 - $149 |
| India | $25 - $49 |
| United Kingdom | $100 - $149 |
| Canada | $100 - $149 |
| Australia | $150 - $199 |
| Phillippines | $25 - $49 |
| Ukraine | $25 - $49 |
| Poland | $25 - $49 |
| Spain | $50 - $99 |
| Mexico | $50 - $99 |
While it's possible to work with offshore service providers for event marketing, usually companies work with service providers in their area because they have built relationships with vendors, venue owners, and more. 

Local event marketing agencies also are familiar with the market in your region and are able to be on-site if needed. 

While Event Marketing Ranges in Price, Various Options Make Them Viable for Businesses of All Sizes

While the cost to hire an event marketing agency varies depending on the type of event you're planning to host or attend, the scale of the project, and the location, the range in options means that businesses of all sizes can get involved.

Event marketing is a great way for businesses to build connections with customers and other professionals in their industry, improve their credibility, grow awareness, and even generate leads.
Even companies with low budgets can get involved in trade shows, job fairs, and networking events. However, companies with larger event marketing budgets can spend more to host branded events. 

Browse leading event marketing companies on Clutch.
Browse