This updated research identifies eleven leading inbound marketing agencies that have a proven ability to meet their clients' expectations.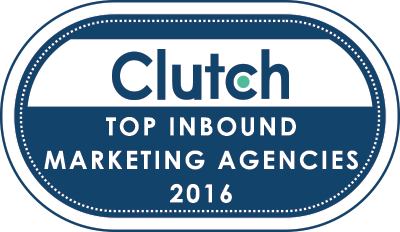 WASHINGTON, August 18th, 2016 — Today Clutch published a report on the leading inbound marketing agencies. The research leverages Clutch's proprietary methodology which maps each agency based on their ability to deliver and their inbound marketing focus.
The leading companies are: Pyxl, AMP Agency, Square 2 Marketing, Revenue River Marketing, 601am, Nova Solutions, Adhere Creative, Blue Group Solutions, inSegment, Weidert Group, and Bizzuka Inc.
"Each agency has demonstrated a strong ability to provide results for their clients through comprehensive inbound marketing campaigns," stated Jeff Westling, Analyst at Clutch. "The ability of a company to not only bring in a high volume of prospective clients but also a high percentage that convert into customers is crucial to a company's continued success."
Analysts at Clutch took into account various qualitative and quantitative factors when evaluating these agencies. Some of those factors include client reviews, past experience, industry recognition, market presence, and focus on various types of inbound marketing services. Some of these services include content creation for blogs and social media, email marketing campaigns to grow lead possibilities, PPC, and general SEO work to improve a website's presence online.
Clutch's effort to identify leading inbound marketing agencies is ongoing, and the firm encourages companies to apply to participate in future research updates. Upcoming publications will highlight Web Designers and App Developers in Washington DC and SEO Consultants.
The full research and reviews can be found at:
https://clutch.co/agencies/inbound-marketing
https://clutch.co/agencies/inbound-marketing/leaders-matrix
About Clutch
A B2B research firm in the heart of Washington, DC, Clutch connects you with the agencies and software solutions that can help you enhance your business and meet your goals. Our methodology maps agencies and software solutions based on consumer reviews, the type of services offered, and quality of work.
Jeff Westling
202-400-3836