FOR IMMEDIATE RELEASE
Media Contact
Morgan Flores
Senior Manager of Content Strategy & SEO
awards@clutch.co
Washington, D.C., June 14, 2022— Clutch, an established review and rating website based in Washington DC, goes through countless service providers and awards Wisconsin's top-performing B2B leaders for 2022.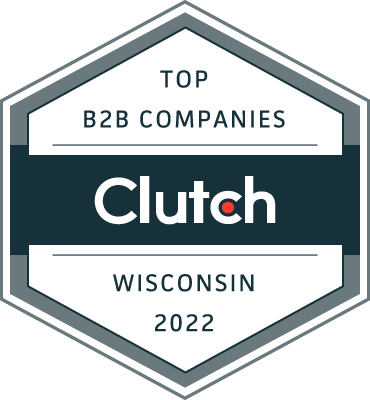 So far, Wisconsin's 2022 run has been bullish, seeing record highs in its gross domestic product at $306.7 billion in the first quarter of the year. The great news signals brighter digital inclusion and possibilities for investors.
In light of the optimism, Clutch is taking a moment to give the center stage to Wisconsin's finest B2B leaders for 2022. 
All throughout the year, the platform's analysts collected crucial data to determine and rank the best of the best agencies. Market reputation, case studies, client testimonials, and services offered were all factored in to identify the official leaders.
"It's inspiring to see Wisconsin's best B2B companies strive for greater results," said Clutch Account Executive Rida Haq. "Their thought leadership and extraordinary commitment deserve to be celebrated. Congratulations on the recognition!"
Clutch's extensive research for the top B2B players runs all year round. To find out how your company can qualify for its category, create a vendor profile now.
Top Service Providers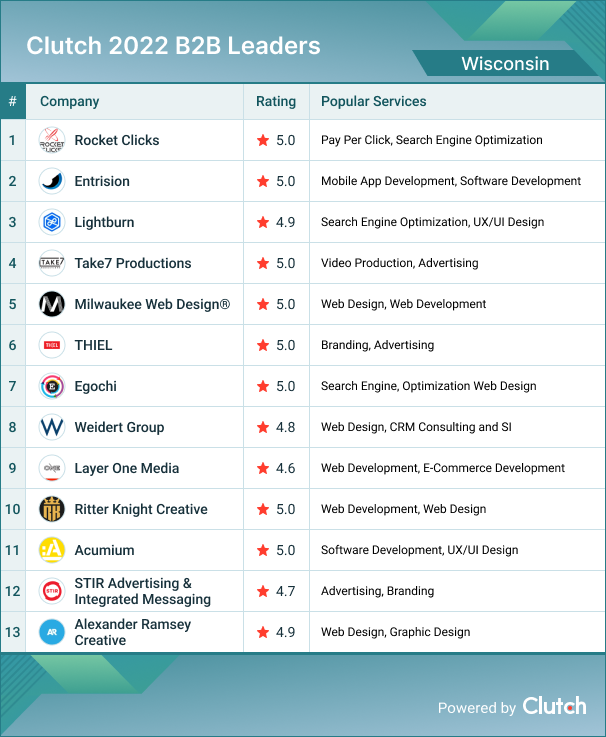 Results are a snapshot of Clutch's Leaders Matrices on June 7, 2022. Rankings are dynamic and this report may not reflect the rankings currently listed on Clutch's website.
About Clutch
Clutch is the leading ratings and reviews platform for IT, marketing, and business service providers. Each month, over half a million buyers and sellers of services use the Clutch platform, and the user base is growing over 50% a year. Clutch has been recognized by Inc. Magazine as one of the 500 fastest growing companies in the U.S. and has been listed as a top 50 startup by LinkedIn.