The B2B buyers' journey of 2019 is powered by research. Recent industry statistics offer some surprising insight:
Nearly all B2B buyers (89%) use online search during their buying journey.
More than 70% of B2B buyers start their online search with a generic keyword.
On average, most B2B consumers perform 12 searches before even contacting a vendor.
Most B2B buyers are at least 60% through their sales journey by the time they reach out to the first agency on their list.

Source: Marketing Desk
If this is you, rest assured that you are not alone.
By the time most potential clients contact you, they know exactly what they're looking for, what to expect, and even what your competitors have to offer.
To make the best first impression, use your portfolio to show potential B2B clients you have the experience, resources, ability, and track record to deliver measurable results.
All too often, marketers consider the portfolio section of their website nothing more than a footnote.
A limited collection of logos or generic links to client websites does little to promote you. Maximize this space by describing your hard work and the results it achieved in detail.
What to Know About B2B Buyers – and Where Providers Fall Short in the Process
Busy B2B buyers have limited time and are constantly bombarded with lackluster and irrelevant content and pitches. Marketing that revolves solely around the hard sell rarely capitalizes on the small window of opportunity to secure prospective clients.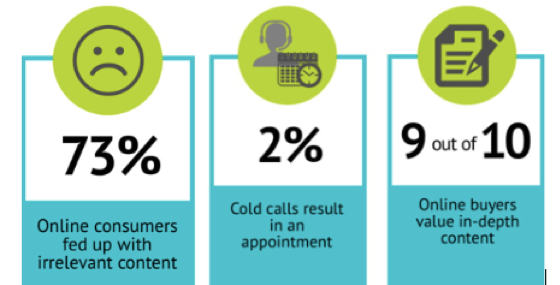 Source: The Marketing Blender
For a more effective content strategy, aim to position your agency as uniquely equipped to solve B2B consumers' problems.
Consider a few statistics on B2B buyer behavior:
About 80% of B2B decision makers prefer to receive information from prospective vendors and service providers in article form (Translation: They prefer relevant, quality content over intrusive and irrelevant ads).
Even though more than 50% of B2B buyers use social media to research potential vendors, email crushes other channels with twice the ROI.
How important is good content? According to the CMO Council, it has a 90% rate of influence on B2B purchasing decisions.
Nearly two-thirds (65%) of B2B buyers indicated that more than mistakes, a marketer's attitude of indifference to their problems and concerns turns them away from a vendor.
Under-delivering on promised services and results is a major concern for B2B buyers. According to Gallup, fewer than 50% of consumers felt their vendors had delivered the goods as promised.
More than 90% of B2B customers would be happy to give referrals – if only vendors would ask for them. Just shy of 11% of B2B service providers and salespeople actually do.
As you plan your next outreach strategy, think about how these insights apply to your efforts in the past. Accounting for B2B buyers' needs and preferences will help you incorporate best-practice techniques that position your brand as a valuable and reliable service.
The Benefits of a Strong and Optimized Portfolio
Rethinking your approach can make your portfolio one of the most powerful lead conversion tools in your marketing arsenal.
As you plan your new strategy to structure past projects, keep the following outcomes in mind to target.
Portfolios Power Your Reputation
B2B clients usually have key criteria in mind for an agency to hire for projects and services. Most look for quantifiable proof that you can deliver on or exceed their desired outcomes.
Nothing serves as solid proof of your capabilities and credentials like a portfolio with a full range of projects. Use your portfolio to solidify your reputation as a reliable and highly skilled vendor.
A great portfolio is more than a laundry list of campaigns. How your deliverables have grown and evolved is just as notable.
Alongside websites and brands that have come to life under your agency's wings, showcase your team's diverse talents and technical skill sets, scalability, and design prowess.  
Whether you're just starting to set up your portfolio or need to revisit an existing one that could use a little upgrade or revamp, here are a few things to consider when curating and showcasing your best work:
Think of your portfolio as a narrative that communicates your abilities, services, and accomplishments in a compelling and informative way.
Establish credibility by showcasing your best strengths and biggest wins. Highlighting work for big-ticket and highly recognizable brands and clients is valuable, but what it actually accomplished is just as important, if not more so, than who it was for.
A thoughtful and selective portfolio paints a detailed and irresistible picture of the work you've completed in the past, and what new clients can look forward to in the future.
Strong portfolios distinguish you from the competition. By the time a potential B2B buyer reaches your website, he or she has already conducted extensive research and comparison shopping to scope out your competitors. A great sales pitch and marketing deck may catch B2B consumers' attention, but your portfolio is the proof they need to trust that you can deliver results.
Portfolios Power SEO
Before clients can hire you, they have to find you first.
Buyers look for products and services using specific keywords such as "web design agency for manufacturers," so you want to be at the top of those search results.
A project portfolio full of relevant content and examples will create visibility and establish a rock-solid reputation for your agency.
According to Search Engine Land: "[T]he best content marketing option for small and local businesses is the creation of portfolio content that widens the search terms you will be found for and demonstrates your credibility in completing jobs for your local customers. When executed well, your portfolio content [… will] attract more local search engine users while simultaneously demonstrating your credibility for an SEO and marketing win-win."
Providing a deep explanation of your projects, including industry vertical, type, and geographic location will increase your chances of being found when a client is targeting those search terms. Customers looking for a creative firm that specializes in biotechnology might type in the search term "creative agencies for biotech in Houston." If that's you, specific content about your projects in biotech will improve your ranking for those keywords.
The graph below breaks down the most sought-after skill sets on the market. Which ones apply to you? Include relevant search terms that elevate your web presence as a market leader in one of these industry niches.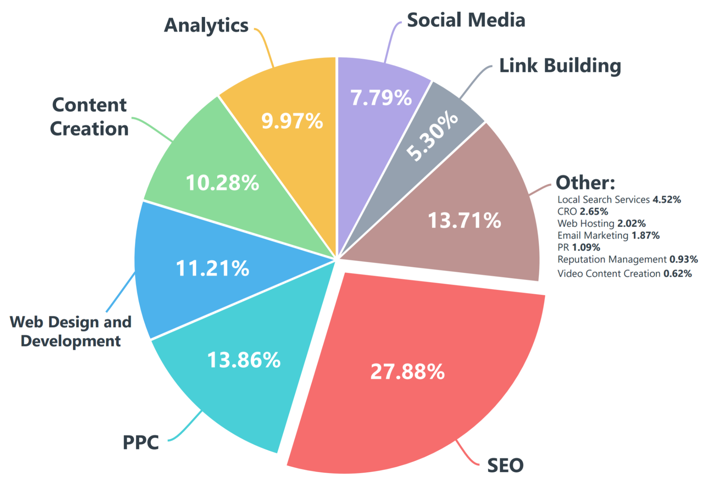 Source: Advanced Web Ranking, 2017
For example, professional SEO services are requested by almost 30% of all B2B consumers.
Keywords and other inbound marketing tactics might get prospects to your door, but the quality of your portfolio will ultimately convince them to cross the threshold and choose you over competitors.
Portfolios Power Qualified Lead Generation
When buyers can see your projects match their criteria for a vendor with specific experience, you know that a lead is going to be more qualified by the time they contact you.
In fact, once a B2B buyer reaches out and engages with your website, they're already more than halfway through their buying journey. At this point, the sale is basically yours to lose.
Since most consumers have done their due diligence in spades before reaching out, hitting them with a hard sell or generic sales pitch is a waste of their already-limited time. Irrelevant marketing is a proven way to encourage them to move along and keep looking.
Cut to the chase with a targeted portfolio. When clients see you've done the types of projects and deliverables they're looking for, they'll know they've found the right partner.
Portfolios Power Your Content Engine
If you're struggling to find content to promote your products and services, use examples and case studies from your portfolio to create relevant and actionable content that matches your target audience's needs.
Quotes, pain points, ROI rates, and testimonials can all power social media, blog posts, videos, and podcasts. Your portfolio contains countless digital assets to attract the ideal customers to your brand.
According to Salesforce: "B2B buyers are more empowered and informed and have higher expectations than ever before, and traditional sales strategies will continue to decline in effectiveness."
Buyers want to feel comfortable with and informed about the companies they consider hiring. A plain, simple overview of who you are and what you do just doesn't cut it anymore. In-depth case studies, examples and content will put consumers at ease with your agency when they're making a sales decision.
Use your portfolio to cut through the noise on the internet. As the saying goes, show potential buyers your strengths and abilities instead of "telling" them.
Portfolios Power Your Brand
Last but not least, make sure your portfolio aligns with your brand goals.
To brand yourself as the best digital agency for inbound marketing, center your portfolio around past projects that prove that you can deliver in this niche.
Use the power of your portfolio to boost your brand. You'll close deals more decisively than a generic and vague sales pitch ever could.
Think of Your Portfolio as Your Brand's Unique Fingerprint
The ideal portfolio showcases your best work and tells a compelling story that differentiates your agency from the competition.
As you look over your portfolio with fresh eyes and a new perspective, show prospective B2B buyers how your products and services are uniquely positioned and equipped to address their pain points, solve a specific problem, and deliver a significant return on their investment.
---
About the Author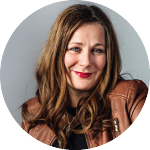 Lysa Miller is a partner at the award-winning digital agency, 3 Media Web in Hudson, MA. She is an expert source for topics relating to all things web, social media, and entrepreneurship, has been featured on Entrepreneur.com, Fortune.com, Business Insider, CIO, Daily Worth and Business Insider and is a blogger for MassVacation.com, along with a regular content contributor to various other online publications.  Lysa is a co-founder of the MetroWest Women's Network, a professional network empowering women in MetroWest Massachusetts, and a co-founder of the collaborative workspace Cowork Hudson.