When we first started to send onboarding emails welcoming early users of our Chanty team chat, we had no idea what we were doing. And it's no surprise that our open rates and click-through rates (CTR) were far from successful.
At the same time, we realized the way we onboarded our new users set the tone for an ongoing relationship with them.
Successful onboarding emails can increase customer lifetime value, reduce churn, and turn new users into loyal, paying customers. In other words, we were missing many opportunities, and statistics could prove it:
Considering the above, it is no surprise that companies put a lot of effort into the customer onboarding process. The result? Consumers are bombarded with endless "onboarding" (read: salesy and useless) emails every day. I bet your inbox is full of them, too.
With our growing list of users, we knew we needed a good onboarding email marketing strategy. Our marketing team has gone through many optimization tricks, and today I'll discuss which of them have actually paid off.
Start With Clear Success Metrics and a Thorough Strategy
You must understand the short-term milestones, or micro goals, as well as long-term objectives of your onboarding email campaigns. Otherwise, your efforts will be worthless.
For Chanty, micro goals may be the number of teammates invited to the chat or messages sent. For Trello, it may be the number of boards users create or cards they add to a board.
Then, analyze the bottlenecks for each micro goal and long-term objective.
This information is a starting point for creating an onboarding email sequence. But remember that each user type will have specific behavior and, as a result, a unique onboarding flow.
Send Onboarding Emails Without Irritating Customers
There is so much noise attacking our inboxes. You probably already know how not to onboard users with emails simply by looking through your inbox. People receive many irrelevant, impersonal emails from companies every day, and it can be irritating.
Use the following tips to write onboarding emails that your prospects and customers will appreciate receiving:
Educate prospects by focusing on product values, not features. People don't really care about features, as they don't understand how they can help. When you instead focus on value, you highlight the challenges that people can solve with your product.
Eliminate choice paralysis. Use a single, eye-catching call-to-action that makes it obvious what the next step should be.
Keep emails as short and simple as possible in order to not stretch your customers' patience. The ideal length of emails is between 50 and 125 words.
Every time you onboard a new customer, ask for feedback so you can continually improve your process.
Cater to multiple learning styles, and provide more than one way for customers to access information. Consider videos, GIFs, webinars, live help, etc.
Send behavior-triggered emails with content that relates to a user's specific progress. This will eliminate the risk of repeating the information users already know or don't need yet.
Break down competitors' email onboarding flow into pieces, and mimic their best practices.
4 Essential Onboarding Emails
Now, let's take a look at how you can implement the above-listed tips in your own onboarding flow.
We recommend 4 types of onboarding emails, which will help you set a friendly tone and build productive relationships with your prospects and customers.
Welcome Emails Engage New Customers
Welcome emails are probably the most important ones in your customer onboarding process.
First, welcome emails have the highest open rate compared to any other emails you send. In addition, they have on average 5x the click-through rate than a standard email marketing campaign.
A good welcome email should be brief and must have:
A short reminder of what your company is doing and how your service or product can fulfill customers' needs.
A clear explanation of what to do next: create an account, invite team members, provide additional information, etc.
A single and focused call-to-action that links to a getting-started page.
Automation in order to send welcome emails as soon as the customer signs up. The figures show that real-time welcome messages drive up to 10X better results.
Here is the welcome email every new Chanty user gets within 10 minutes of signing up: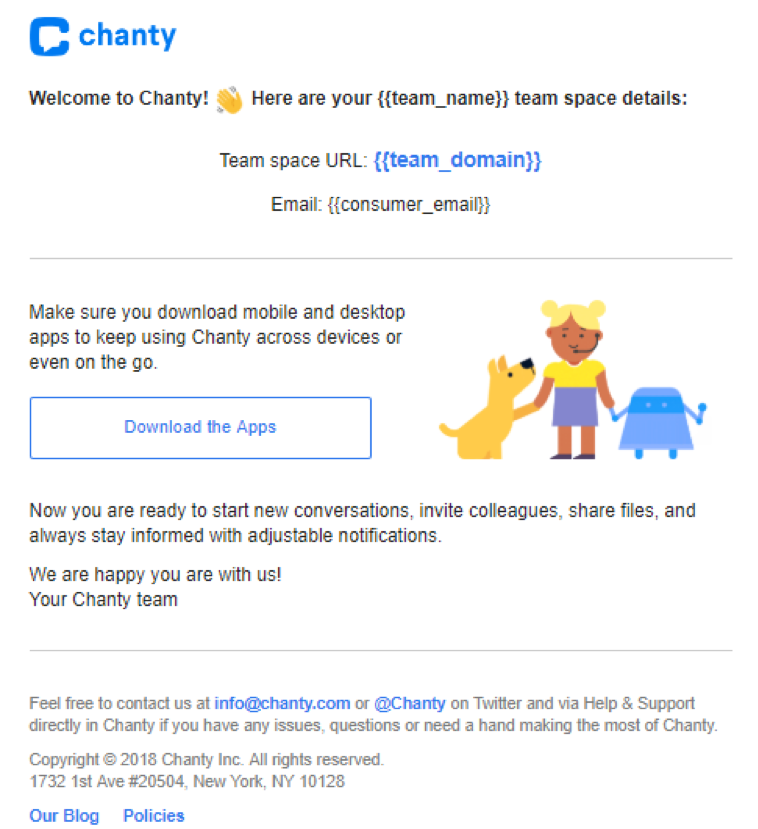 This welcome email is short, to the point, and includes a clear call-to-action.
Universe offers another example of a successful welcome email: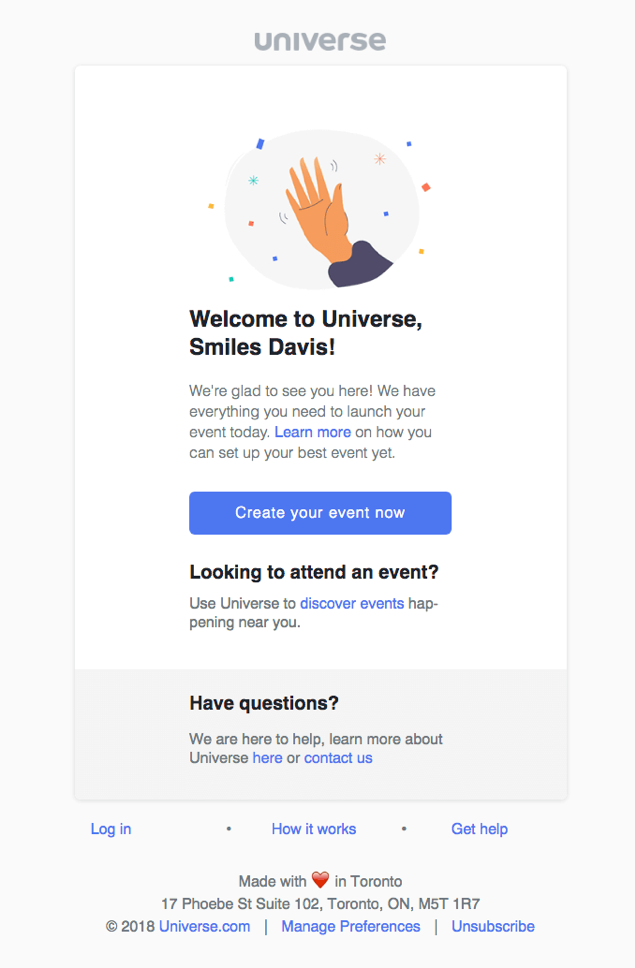 Universe's email has a clean look and bold call-to-action.
The odds a customer will open your welcome email are much higher than other types of emails, so you need to make yours successful.
Re-Engagement Emails Keep Users Interested
Your interaction with customers doesn't stop when they've made a purchase or used your service. You must keep them engaged.
Let's say you have a new user who downloads your app. That still doesn't mean the user will become loyal. Unfortunately, 40 to 60 percent of users will open an app once and never log in again.
Why? – They may lose interest, not find value in the product, or simply not understand something. However, sometimes new users need a little motivation to explore your product, and you can minimize this churn.
It's ideal to customize your email sequence according to user behavior. Every person using your product has unique needs – your re-engagement emails should reflect that.
For instance, when new Chanty users successfully create a team space but have not invited any colleagues to the chat, we send the following email to foster their engagement: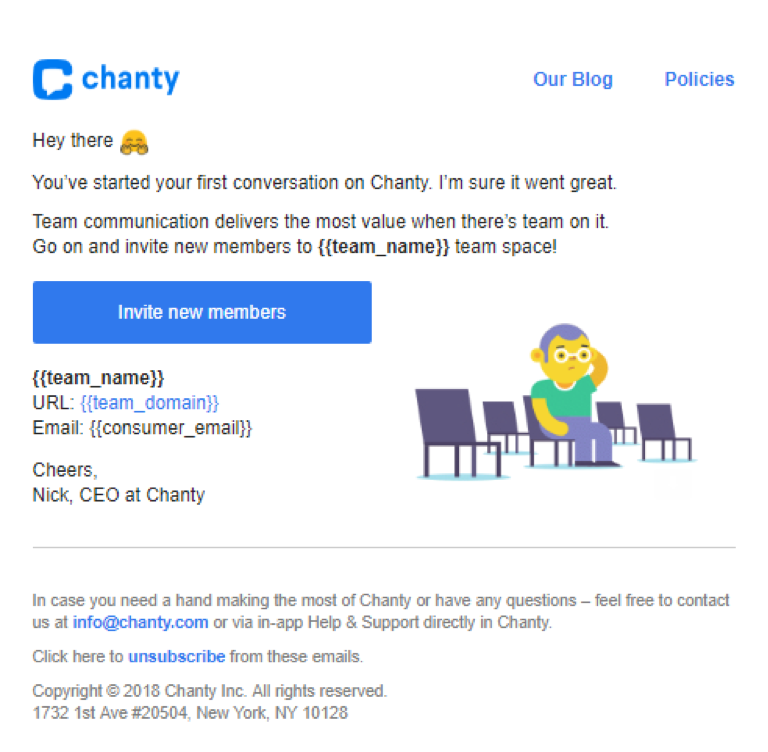 This email keeps Chanty at the top of users' minds and encourages them to take the next step.
Re-engagement emails should be personalized and tailored to each step of the customer journey.
Educational Emails Answer Questions
People will likely have questions about your product or service; it's up to you to answer these questions so customers don't lose interest.
As an SaaS startup that offers a tech product, we often get the following support requests:
"How can I add people to the team I've created?"
"Where can I find the notification settings?"
"How do I change my profile photo?"
Some users can become overwhelmed by a new product. And that's exactly where educational emails come into play. They are the best way to proactively engage with your users by addressing common questions and concerns.
For example, Remote's educational email provides users with clear tips on how to make the most of its services.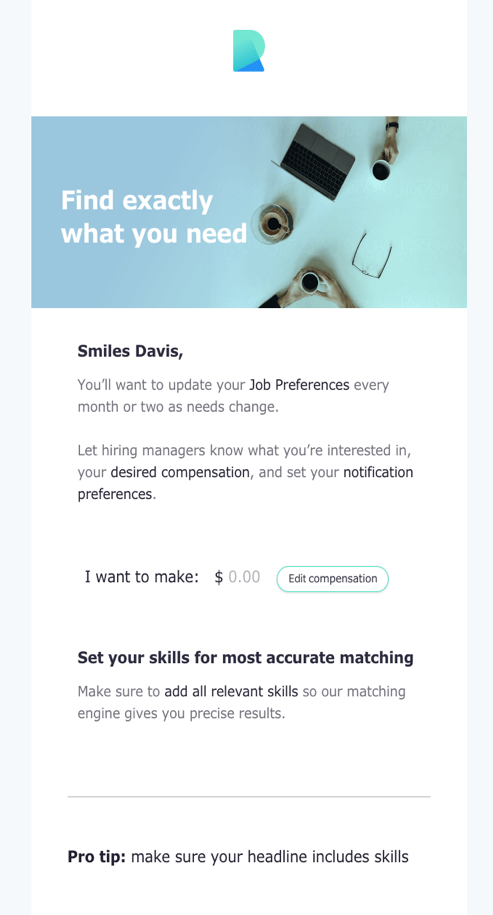 Remote's email keeps its customers engaged and thinking about its service.
Evaluation Emails Encourage Repeat Purchases
By now, your users have likely had enough time to test your product and hopefully benefit from it.
The next step in your relationship with users is to send them an evaluation email that motivates them to upgrade their plan or purchase additional services.
You can also ask users to invite a friend to sign up or visit your website.
For example, Medium's evaluation email specifies the benefits that users will gain once they upgrade, includes the pricing details, and makes its call-to-action stand out.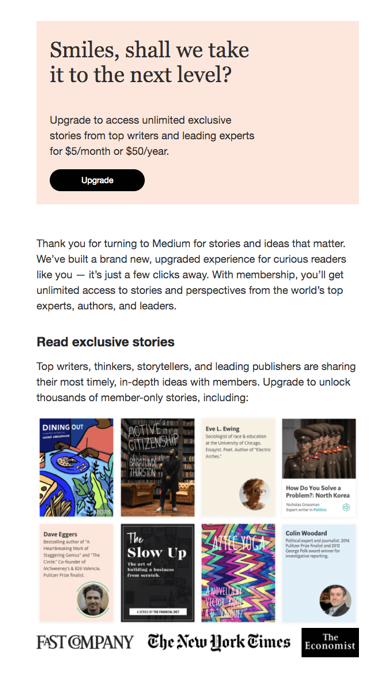 This encourages users to keep using the product and upgrade to its premium version.
Track and Measure Your Email Campaigns
While crafting and polishing your onboarding emails, don't forget to measure and analyze their effectiveness.
Email marketing analytics systems show how many recipients opened the email, where in the world they are located, which links they clicked on most, etc.
MailChimp can show how your campaigns compare with other MailChimp users in your industry. So, don't hesitate to employ analytics tools, analyze the data, and implement these insights into further onboarding activities.
Create a Successful Email Onboarding Campaign
Getting people to sign up is half the battle; nurturing your relationships takes time and effort. Onboarding emails demonstrate the value your services deliver to your clients and smoothly walk them through the customer journey.
Whether it's a welcome, re-engagement, educational, or evaluation email, a great onboarding process helps your clients receive maximum benefits from your services.
Successful email onboarding optimization will help prevent interested users from turning away and will keep current customers happy.
About the Author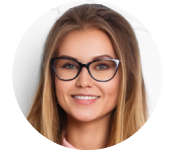 Olga Mykhoparkina is a Chief Marketing Officer at Chanty, a simple AI-powered business messenger and a single notification center. Having 9 years of experience in the digital marketing field, Olga is responsible for Chanty's online presence strategy, managing an amazing team of marketing experts and getting things done to change the way teams communicate and collaborate. Follow Olga on Twitter @olmykh or feel free to connect on LinkedIn.