Interactive voice response (IVR) menus route incoming callers through options, which they can select by pressing buttons or speaking certain words. 
Often referred to simply as "phone menus," IVR systems connect callers to a business' appropriate resources without a human operator.
Clutch surveyed 501 people who called a business at least three times in the past six months to understand consumer opinions of phone menus.
We found that many customers find phone menus frustrating, especially if they aren't formatted to best meet customers' needs. Despite saving businesses money, phone menus can waste customers' time if they result in an endless maze of options or if they lack personalization.
We use our data and expert insight to offer tips about when it's appropriate for a business to set up a phone menu and how it should be organized to minimize frustration.
Our Findings:
Almost three-quarters of people (71%) encountered a phone menu "always" or "most of the time" when calling businesses in the past six months.
Most people rank listening to irrelevant options (69%) and an inability to fully describe an issue (67%) in their top three frustrations with phone menus. Experts say these issues can be remedied with a well-crafted phone menu.
Nearly 9 in 10 people (88%) prefer speaking to a live customer service agent over a phone menu, indicating the importance of a human touch.
After encountering a phone menu, 72% of people always or frequently end up speaking to a human.
To bypass a phone menu and reach a human more efficiently, 70% of people have pressed zero, and 65% have said words such as "operator" or "agent." Phone menus should always include the option to speak to a human.
Use Phone Menus Only When Needed
Most customers interact with IVR menus regularly when calling businesses.
Seventy-one percent (71%) of respondents said they encountered phone menus "always" or "most of the time" when calling businesses in the past six months.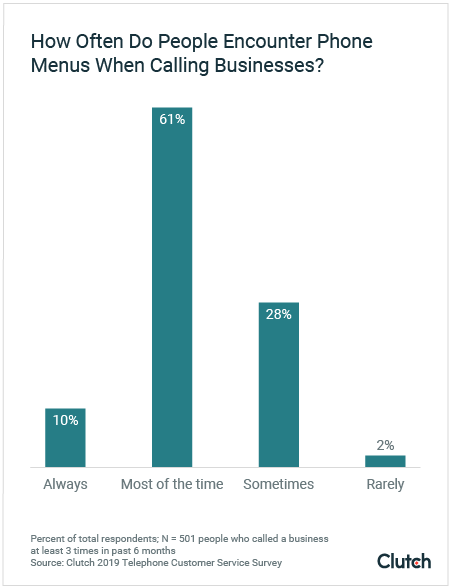 Only 2% of respondents said they "rarely" came across a phone menu.
Businesses typically use phone menus to route customers to the employee who can best answer their question.
Ty Givens, founder and CEO of The WorkForce Pro, a contact center consultancy, described how businesses with multiple departments often benefit from phone menus. 
For example, telecommunications companies often have employees dedicated to specific services such as cable, phone, or internet.
"Companies like Spectrum, AT&T, or T-Mobile make good examples of companies where a [phone menu] is appropriate," Givens said. "For Spectrum, a customer may require help with their cable, phone, internet service or home security services. 
Employees working for one service may not be able to answer questions about another. A phone menu can connect customers with the appropriate expertise quickly and with no extra human labor.
IVR menus may be unnecessary, however, for smaller businesses with employees who have general knowledge about the company. These employees can likely answer any questions customers may have.
"IVRs should not be used when anyone who answers the call can answer the question, or if you do not need to track data based on what the customer is calling about at the onset," Givens said.
Overall, businesses should only use a phone menu if it directly helps customers, not just the bottom line.
"If [a phone menu] is going to more quickly resolve a customer's issue and better route them to the right person they need to talk to, it's definitely beneficial," said Tania Kefs, vice president of customer relations at Aircall, a cloud-based phone system.
Businesses with multiple departments can benefit from the automatic routing of phone menus, but those with simpler needs often don't need the technology.
Keep Customers' Time in Mind When Designing IVR Menus
Businesses should be respectful of what callers experience when listening to a phone menu, instead of assuming the best solution.
For example, businesses may design their phone menus with a long list of options to ensure all customers hear an option that's relevant to their issue.
Yet, listening to irrelevant options (69%) is the top frustration people experience with phone menus.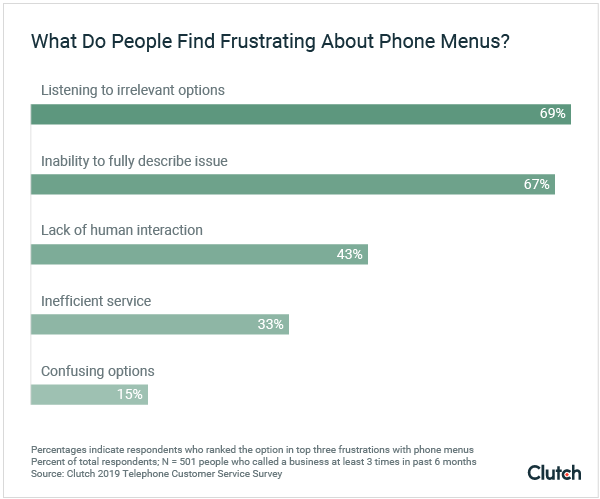 People also find an inability to fully describe their issue (67%) and a lack of human interaction (43%) annoying.
Businesses may be surprised at how few options should be offered on a phone menu.
Givens of The Workforce Pro tries to limit phone prompt options to 3 choices or fewer. He found that if phone menus are longer than 3 choices, customers tend to bypass the options offered.
Michael Bolls, an associate at Mu Sigma, a management consulting firm, has analyzed IVR menus for clients and noticed a similar trend: "Shortening the number of redirects greatly improves Net Promoter Scores (NPS), [or how willing customers are to recommend a product or service], in a short period of time."
Businesses can find unique solutions to personalize phone menus without requiring customers to listen to endless options or press numerous buttons.
For example, Kin Insurance, a home insurance provider, does much of its call routing before the customer even hears a phone menu or a live agent.
"Whereas many companies try to make calls more efficient for their employees – which means sending callers through long, automated routing scripts – we strike a balance by automating the call routing process before a customer knows it's happening," said Jamie Ahern, chief operating officer (COO) of Kin Insurance.
Kin Insurance detects the phone number of the incoming caller and routes it directly to customer service if it's an existing customer or straight to a dedicated agent if it's from a recent applicant. 
"We want to make every minute of every call count," Ahern said.
IVR menus should be short to minimize customer annoyance, and businesses should pursue alternate methods such as automatic routing to make customer communication personalized from the beginning.
Support Customers' Desire for Human Interaction 
Most customers still prefer speaking to a human so it's important for businesses to provide in-person support at critical moments during customer service exchanges. IVR menus should not eliminate human interaction but rather increase the efficiency of interactions over the phone.
Nearly 90% of people say they prefer speaking to a live customer service agent compared to a phone menu.
This supports 2017 data that found "human interaction" to be the quality people value most when calling a business.
Businesses must consider customers' desire for human interaction, even when IVR menus may be more cost effective.
"Companies still need human representatives to handle the complexities of certain voice-interactions that cannot be satisfactorily synthesized and automated," said Chris Connolly, vice president of product marketing at Genesys, which offers omnichannel customer experience and contact center solutions.
Technology such as AI-powered phone menus and chatbots may effectively automate customer communication in the future. Regardless, businesses should support human-to-human interaction. 
"Businesses that offer their customers the ability to talk with a real human at their convenience have a value that a bot can't quite replace," Connolly said.
Businesses should not use IVR menus to eliminate human interaction over the phone, but instead to increase the efficiency and effectiveness of their live customer service agents.
Always Offer the Option to Speak to a Human Through a Phone Menu
Phone menus should always offer the option to speak to a human.
In fact, 72% of people say they always or frequently end up speaking to a human after encountering a phone menu.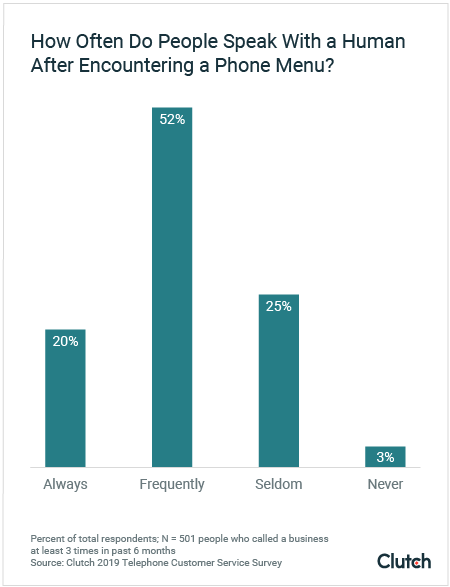 Well-designed phone menus should only aim to reduce the time customers speak with live representatives, instead of eliminating it completely.
Phone menus can decrease the time it takes to connect a customer to the appropriate resource or automate some communication, but it can't replace human contact.
Customers will try to bypass a phone menu and reach a human if it:
Features too many options
Fails to offer an option that answers their inquiry
Requires them to repeat information 
If a phone menu does not easily offer the option to speak to a human, customers will often resort to a few common actions, including pressing zero (70%) and saying words like "agent" (65%).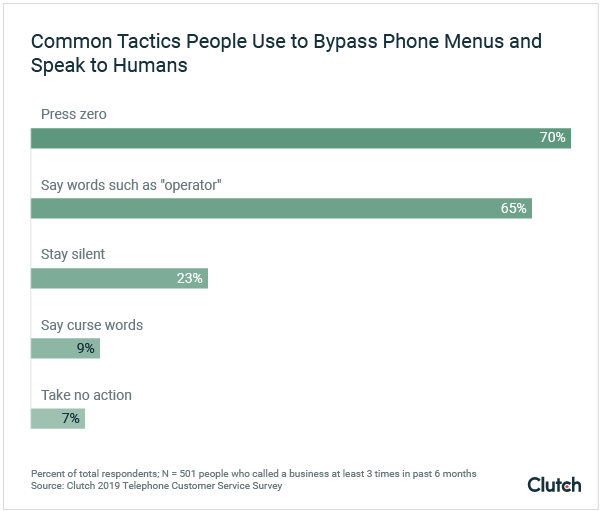 After the invention of the telephone, people could reach operators to connect their calls by pressing zero. While modern technology connects most calls automatically, the concept evolved and many people believe they can reach a human by pressing zero from a phone menu.
Overall, the popularity of these actions demonstrates that many people find phone menus inadequate when trying to communicate with a business. Therefore, businesses should always include the option to speak to a human in a phone menu.
"You should always have an open-ended option [to speak to a human]. You can map out all the theoretical questions, but there's always going to be a percentage that you can't guess," said Kefs.
While businesses shouldn't eliminate the option to speak to a human, they may be able to reduce the time customers need to speak to a human by designing better phone menus and integrating new technologies.
AI-Powered IVR Menus Can Better Answer Customer Inquiries
New artificial intelligence-powered tools can effectively understand customers' needs over the phone, possibly minimizing customers' desire to immediately speak to a live customer service agent.
For example, Automated Speech Recognition (ASR) systems can be cost-effective options for improving phone menus. ASR systems allow customers to speak their issue into the phone, instead of listening to a phone menu. The technology will then analyze the customer's words for key terms and connect them to the best resource.
"What we've found is that [ASR] reduces the number of false transfers (people typing numbers wildly on a phone tree hoping to reach a live person) and improves accuracy (getting people in the right place where they need to be)," Bolls, of Mu Sigma, said. "And if the system doesn't understand the caller, it can always redirect to a live person."
Businesses can leverage new AI-powered technology to increase the efficiency of their IVR menus. No matter what, though, every phone menu should include the option to speak to a human.
Invest in Outside Resources to Support Human Interaction
Businesses choosing phone menus purely for cost-effectiveness may benefit from outsourcing some of their phone support, instead of frustrating customers by trapping them in a phone menu that cannot adequately answer their questions.
Some options for outsourcing include:
Virtual assistants: Remote workers that assist with administrative tasks such as answering phone calls.
Call centers: Larger companies that receive inbound calls and answer questions from a provided script.
Answering services: Smaller, specialized services for answering phone calls, which can sometimes offer more personalization than a call center.
Businesses should not automatically default to a phone menu to handle an overwhelming number of customer calls. 
Instead, they may benefit from outsourcing some of their communication so customers wanting to speak to human representatives can still be satisfied.
Carefully Consider How to Effectively Implement Phone Menus
Phone menus can be effective tools for reducing the time and money businesses spend on phone-based communication with customers. Many businesses adopt phone menus – 71% of people encountered them frequently when calling businesses in the past six months.
Businesses should carefully consider the design of their IVR menus to minimize customer frustration, though. People find listening to irrelevant options and an inability to fully describe their issue most frustrating.
Seventy percent of people (70%) have tried pressing zero to bypass a phone menu and speak to a human. Businesses should always include an option to speak to a live agent in their phone menu.
Phone menus cannot replace the value of human-to-human interaction. They should always improve the customer experience; if a phone menu only benefits the business's bottom line, it will do more harm than good in the long term.
Businesses that struggle to keep up with customer communication over the phone may want to consider outsourcing their communication to a virtual assistant, answering service, or call center. AI-powered tools can also increase the effectiveness and quality of an IVR menu.