Updated August 16, 2023
Finding the perfect partner for your business can be challenging with what seems like an endless list of service providers on the market.
As you begin your search for a service provider, you will likely have introductory calls with a variety of different vendors. These calls aim to discover more about these B2B companies by asking the right questions.
With additional information about their resources, reliability, and communication skills, you can properly assess, compare, and ultimately select the right vendor for your project.
Questions to Ask a Potential B2B Partner:
On your first call with a potential B2B partner, consider asking the following: 
By asking these questions, you can better determine whether a service provider is a good choice for your new project. 
What is the Makeup of Your Staff?
You need a service provider that can meet your specific customer needs. To ensure this happens, you need to ask for more details about the team.
A question to ask a potential partner would be about the makeup of their staff.
As you go into your first phone call with a potential partner, keep in mind what skills your team needs to meet your goals and how many people you will require for your project.
For example, if you're planning to craft a marketing strategy, ensure that a potential digital marketing partner has a specific strategist on their team and that they're readily available. If the vendor only has two marketing strategists, and they're working on other projects, your digital marketing project may be delayed due to a lack of resources.
Additional Reading: 'How to Choose a Digital Marketing Company [With Checklist]'
When you discuss the resources you require for your project, it can be helpful to have a complete scope of work. A scope of work can help identify what resources and skills you will need to meet your goals and how many people will need to support your team. For example, if you're developing a mobile app, you will need to outline all factors, including tools, metrics, pain points, elements for potential customers, and more, in a scope of work for your development partner.
In addition to developers, you may find that you need a full team of designers, QA specialists, and a sales team to carry out the project from conception to launch. This image showcases how each team member has the skills needed to complete a certain project area.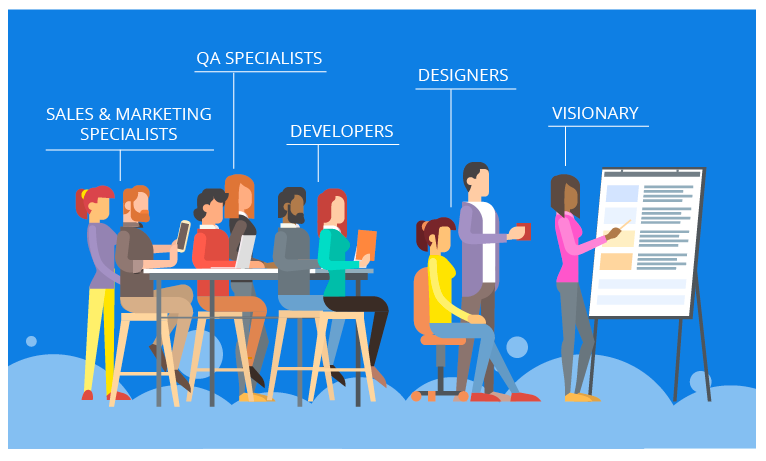 Source: Octal IT Solution LLP
A team with varying skill sets, like this, can work together to bring the product to life.
While the staff size doesn't necessarily guarantee quality, it impacts how long the project will take and can impact cost. For example, a larger team may be able to work more quickly and efficiently but entail more labor costs.
Often, you can learn more about the team you're interviewing by scrolling through the company's website, finding a team page, and researching their qualifications through LinkedIn.
How Reliable Are Your Services?
As you evaluate various service providers, you must feel confident that your partner is reliable.
A question to ask a potential partner could be about their overall services.
To assess their dependability properly, you need to know more about their delivery time and how quickly they'll be able to fix a problem if one comes up.
By asking for time-related data, such as how quickly they respond to clients on average,  you'll have a more accurate idea of what to expect by partnering with them.
Some companies track how closely they stick to project timelines, while others, such as web hosting services, record how frequently they experience outages and how long they last.
As a partner, they're supposed to keep things running smoothly and have your back when things go wrong.
For example, think about what would happen if your website went down — how quickly will your partners be able to find the problem, fix it, and get it up and running again? The longer it's down, the more money you lose.
By asking for data on their reliability and responsiveness, you'll know you'll receive the best possible service.
Do You Work With Other Vendors?
When you hire a new service provider, you also become partners with their vendors. You need to know if they're reliable as well. A great service provider can't make up for another vendor's shoddy work.
A question to ask a potential partner could be about their current and past partnerships. 
If you're working with an ad agency, ask about the creative teams they work with. What if they hire an outside video production agency? You'll want to see examples of their work to see if it's up to par.
Additional Reading: 'How to Find & Hire Video Marketing Services'
For other partnerships, it's important you know what technology and service providers they work with most often so you can assess them individually and determine if they meet your needs.
To learn more about their providers, ask how long they've worked together and if they've collaborated on any other projects.
Ask more about who else they work with and their company names to get a better picture of what your project will look like.
How Do You Communicate with Your Partners?
Communication is key for establishing any strong partnership. Whether you're starting to work on a project, or are looking for a partner to keep on retainer, how well you work together can have a huge impact on the outcome of your collaboration.
A question to ask a potential partner could be regarding their communication and messaging style with projects.
Outlining how you plan to communicate progress, make changes, or ask questions can limit miscommunication and disagreements later on in the engagement.
Keep in mind how involved you want to be with the entire process and communicate that from the start.
Communication issues can also arise if it's unclear who you should contact if there are questions and how they will keep you updated on progress. Therefore, it's important to ask if you will have a primary point of contact or will be working with the team directly and if you'll be using project management software to collaborate.
By asking these questions, you can compare how different B2B companies communicate and determine which would work best with your team. 
Do You Offer Guarantees?
Some service providers offer guarantees to differentiate themselves in the market. While this may seem gimmicky, it can be a major benefit later in the collaboration.
If they can back it up, it can make a huge difference in the service you receive, and if they fail, there is some compensation.  
A question to ask a potential partner could be about their packaged services and offerings:
Package Services on Clutch:
Often, guarantees are related to customer service. For example, IT service providers often promise to respond within a certain amount of time, which can be important if you're in a crisis and need immediate support.
If they do have a guarantee, ask more about what happens if they're not able to meet their promises.
Companies that offer a satisfaction guarantee may provide a full or partial refund if you are not pleased with the final result, which reduces the risk you take when you partner with them.
Do You Have References We Can Contact?
A question to ask a potential partner could be about their references.
If you're seriously considering a service provider, verify they can provide services: Study their portfolio, read reviews online, and talk with former and current clients. 
Online reviews can provide independent insight into the quality of a company's work, though interviewing clients yourself allows you to ask specific questions, giving you a more comprehensive idea of what to expect from a partnership.
Questions you can ask former clients include:
Did they consistently deliver on time?
How did they respond when challenges arose?
What was it like to work with them?
Were you satisfied with the results?
Were you unhappy with an aspect of their service?
Do you have any advice for me if I decide to work with them?
After just one or two calls with former clients, you can feel more confident moving forward in your own selection process, whether that means you decide to hire the service provider or not.
Can I See Examples of Your Previous Work?
To fully evaluate a potential partner, ask to see their portfolio and case studies. While reviews from previous clients can give you insight into the engagement, only you can determine if a service provider can meet your needs during the buying process.
It's likely that a vendor will redirect you to their digital portfolio, which showcases other projects they've worked on.
EIGHT25MEDIA, for example, features more than a dozen web design projects in its portfolio.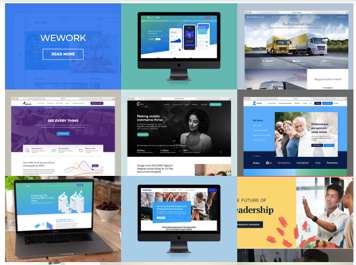 Source: EIGHT25MEDIA
Interested parties can easily search for the type of project it is and click on the examples that interest them.
Vendors have different styles and strengths, and you may find that one service provider better suits your needs than another.
By reviewing examples of their work yourself, you'll better understand what your potential partners are capable of and how well it fits your vision.
Ask if the same team will work on your project as you consider their work. A high-quality portfolio that meets your standards is a good sign, but the outcome may be different if there are other people working on your project.
Ask the Right Questions for Potential Partnerships
In your initial call with a service provider, you need to ask questions that will help you evaluate the reliability of the firm and the quality of their work.
To determine if they're the right partner for you, ask about the size of their staff and what resources they have on their team. Collect data that can help you understand how reliable their services are, how quickly they respond, and outline how you'll communicate with them throughout the engagement.
Additionally, determine whether or not they work with external vendors so you can evaluate the quality of their work as well.
You can get even more out of the call by asking if they have guarantees to ensure quality service while reducing your risk.
Finally, ask to see their portfolio and speak with a few of their current or former clients to verify what the service provider claimed during your initial call. Don't forget to ask follow-up questions when needed during the decision-making process.
After conducting several introductory calls with vendors, you'll be able to narrow down your list of potential partners and move on to the next step in your selection process – choosing and onboarding a service provider.