WASHINGTON, DC - November 29, 2021 - The leading B2B reviews and ratings platform, Clutch, ranks the finest and most innovative service providers from the development and IT services industries worldwide.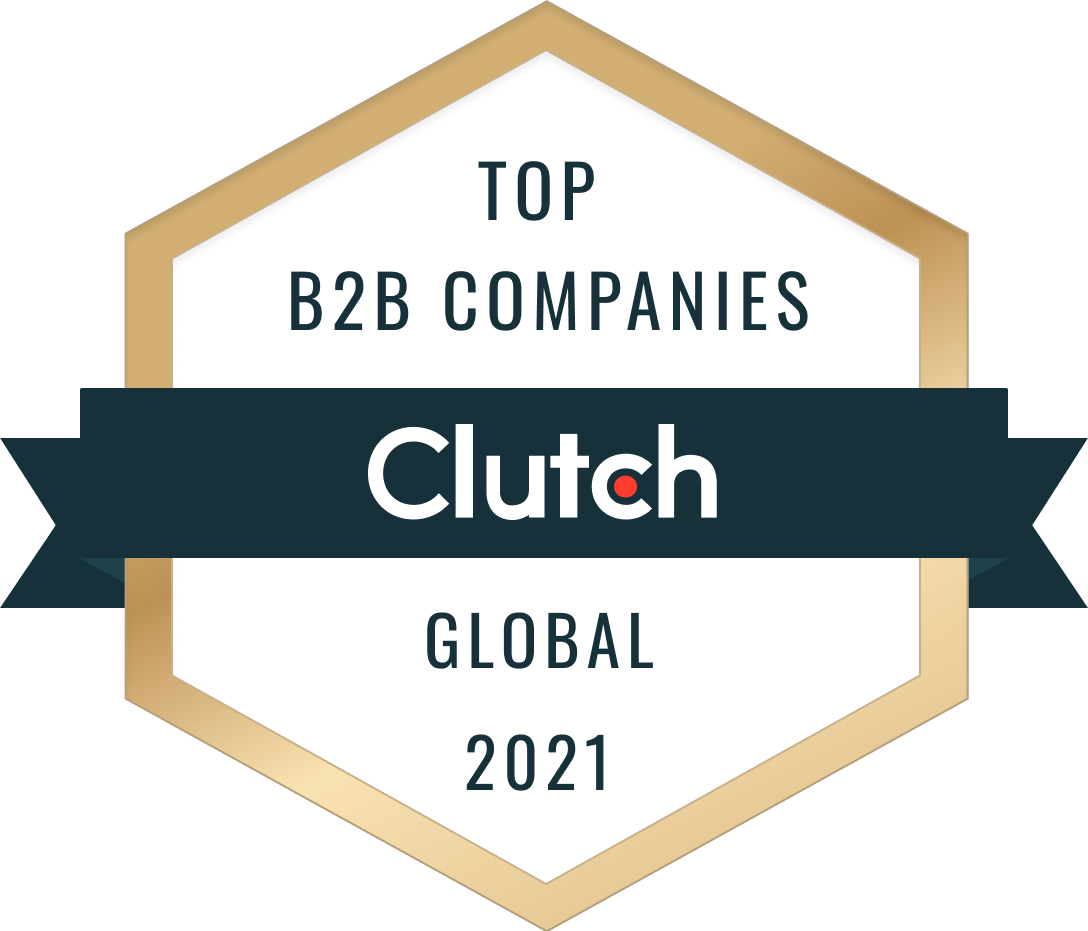 ​
Innovation has always been the game in the development and IT services landscapes. The constantly evolving industries are considered one of the main pillars in today's global economy. In fact, research shows that global IT spendings are jumping at least 9% this 2021.
In today's report, Clutch takes a moment to applaud and recognize the brilliance of the top service providers from those industries. There will be 15 leaders ranked from various segments including:
Cloud computing
Managed services providers
Big data
Software development
Web development and more
What is the basis for the Clutch Global Awards? The platform's team goes through a meticulous evaluation process. Analysts from the platform take a look at countless B2B firms' market positions, client feedback, past recognitions, online presence, and more.
"It's a massive honor for us at Clutch to celebrate the global leaders in the development and IT services industries!" said Clutch Customer Experience Manager Jeremy Fishman, "These firms cemented their reputation through invaluable hard work and dedication. Their passion pushes the sectors forward!"
Be part of history and rank among the best in 2022's awards cycle! Get listed on Clutch today and learn how you can qualify for next year.
Check out the leaders below:
Enterprise App Modernization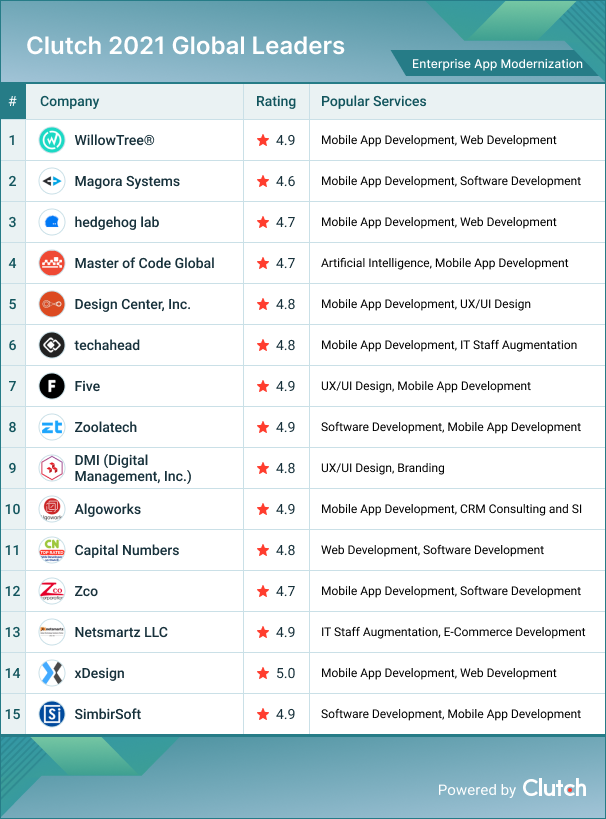 Software Development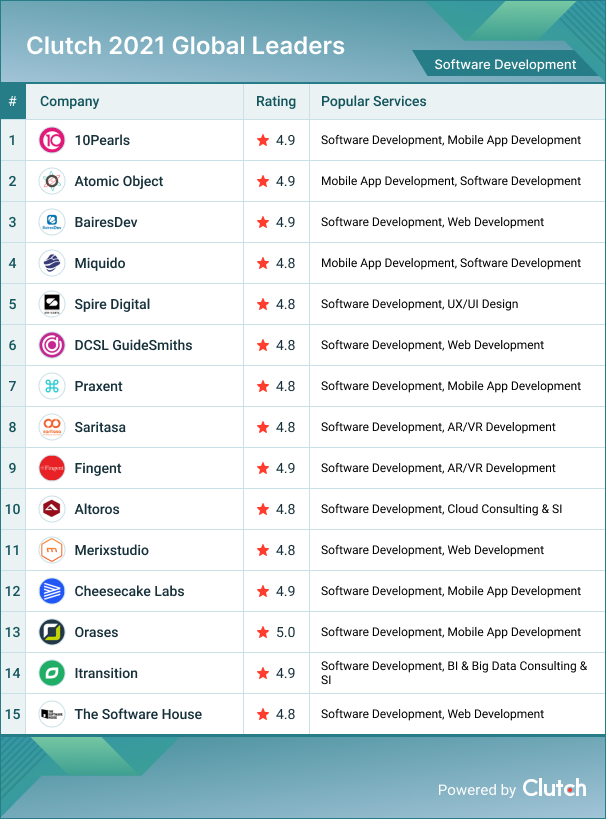 Software Testing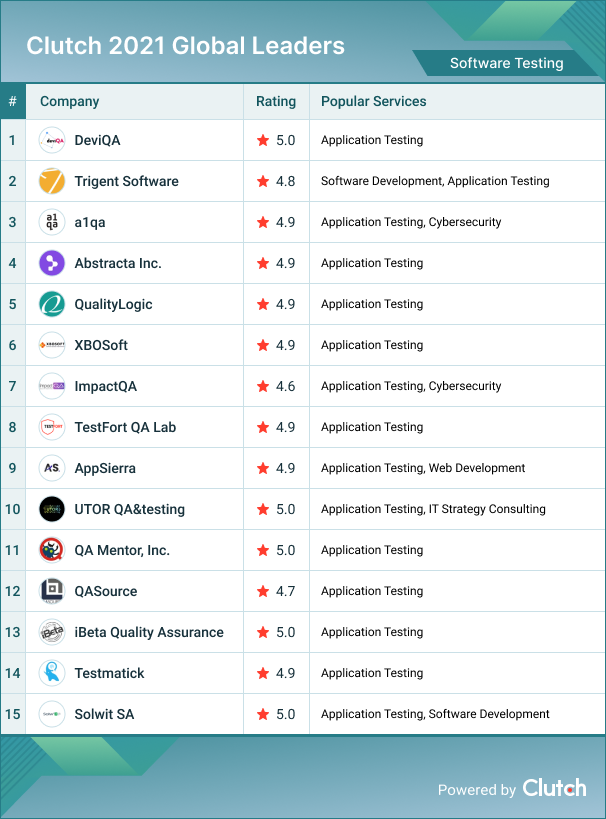 Blockchain Development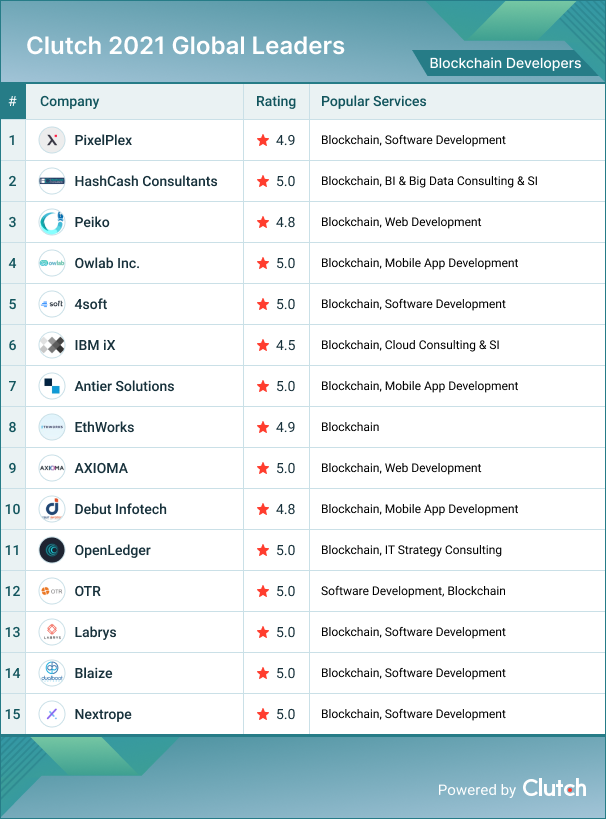 Artificial Intelligence Companies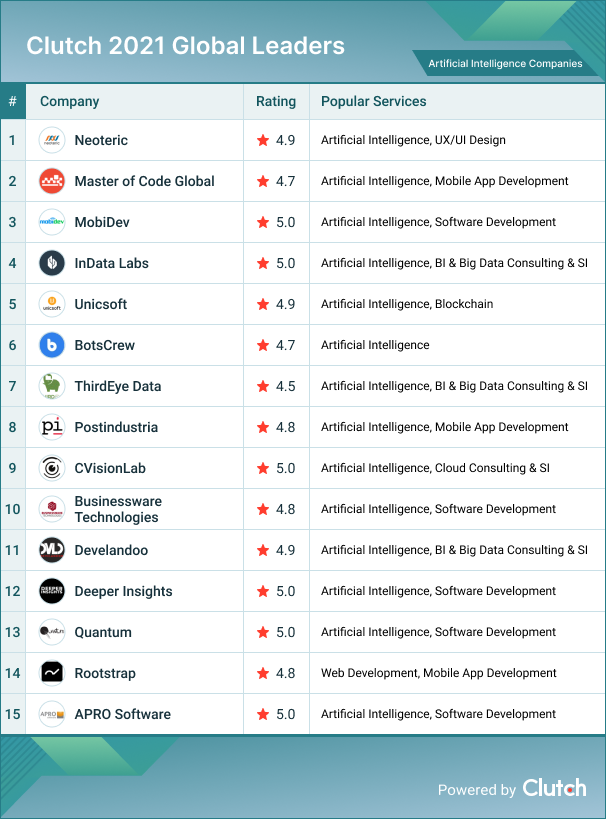 IoT Developers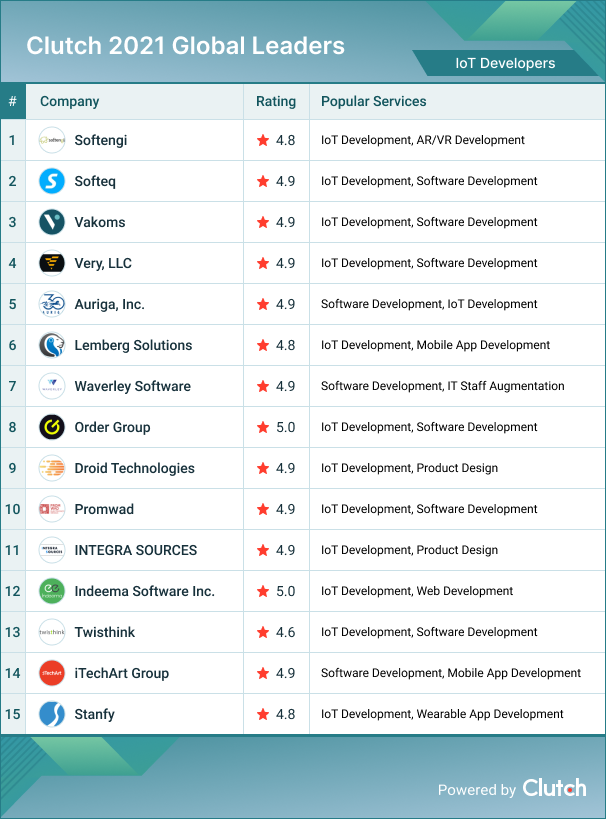 AR/VR Developers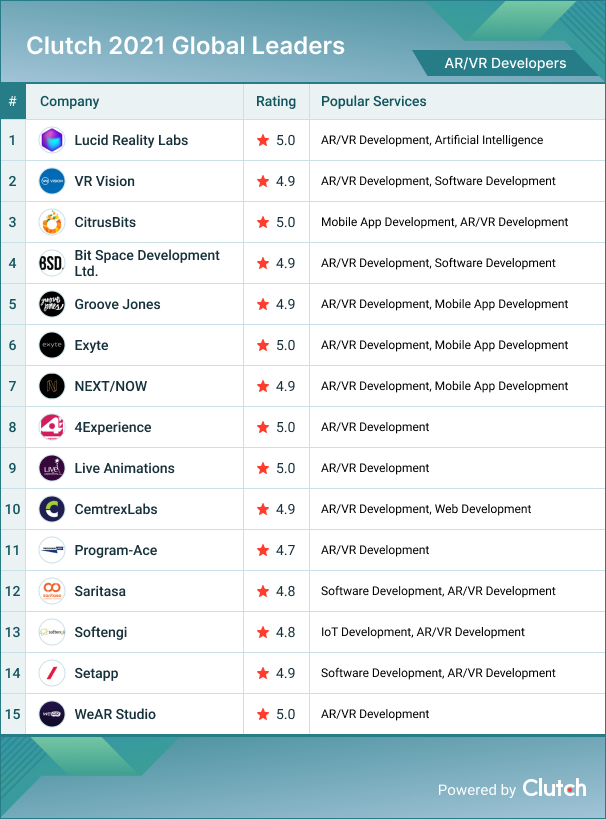 Android App Developers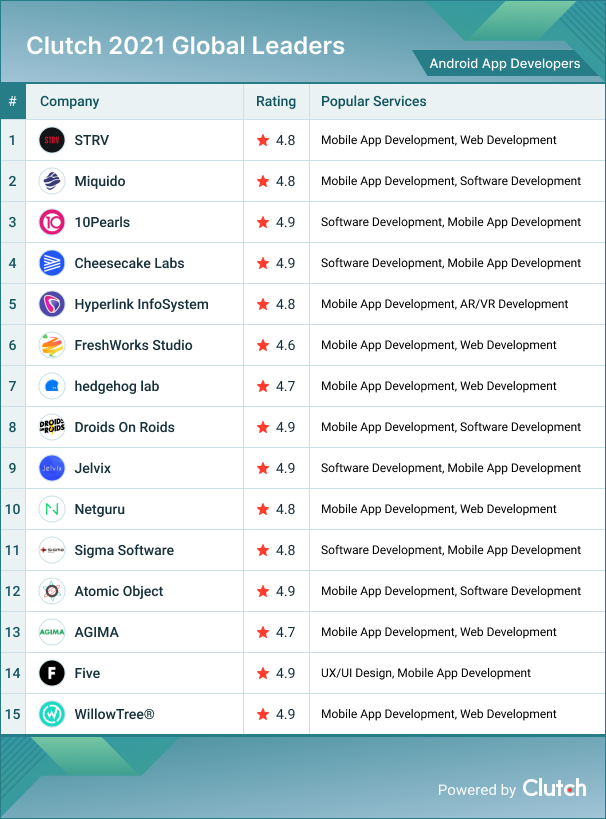 iPhone App Developers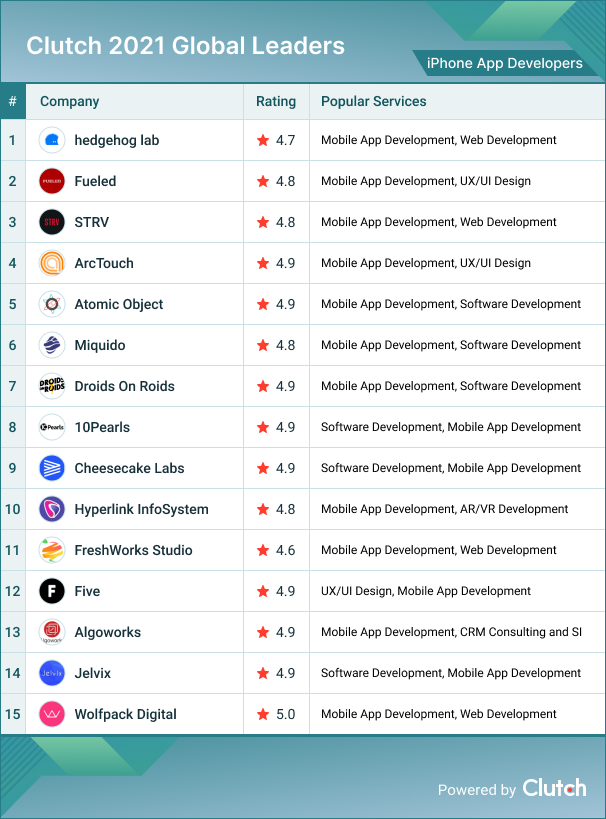 E-Commerce Developers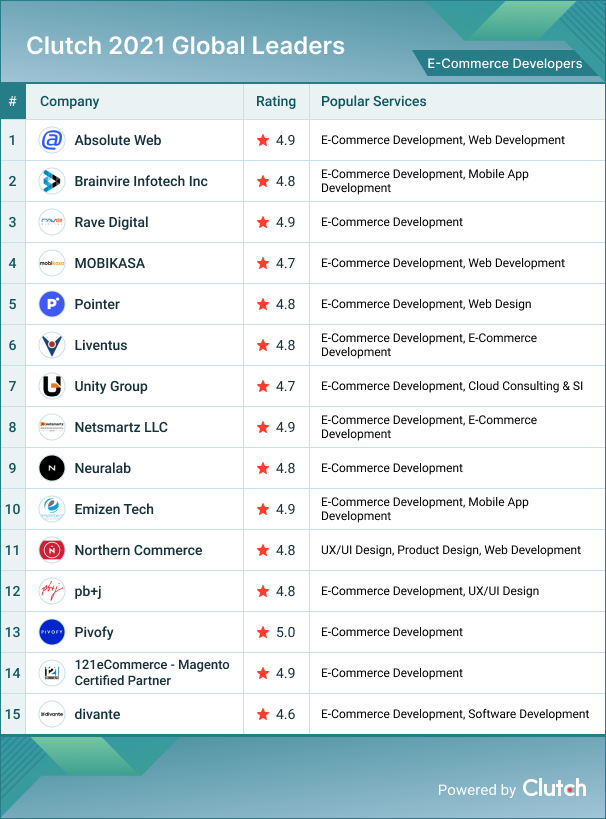 Wearables Companies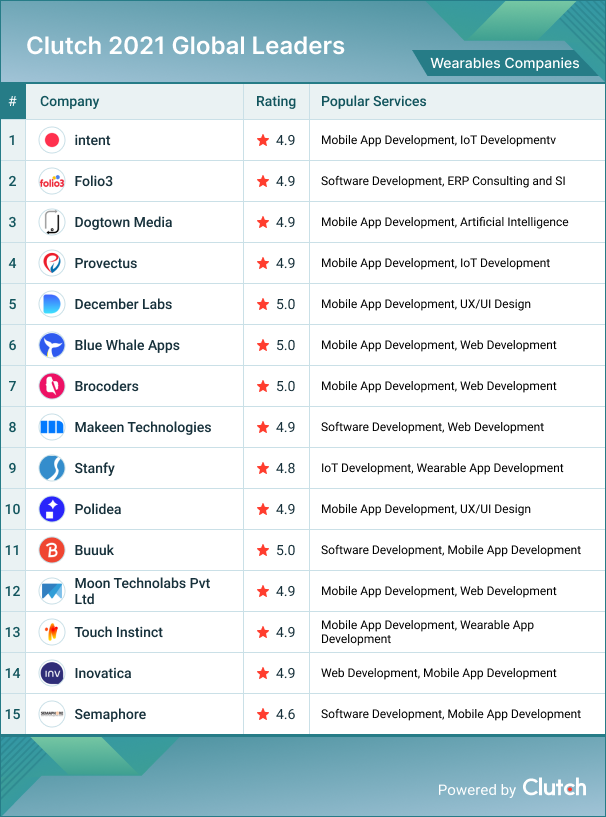 Mobile App Developers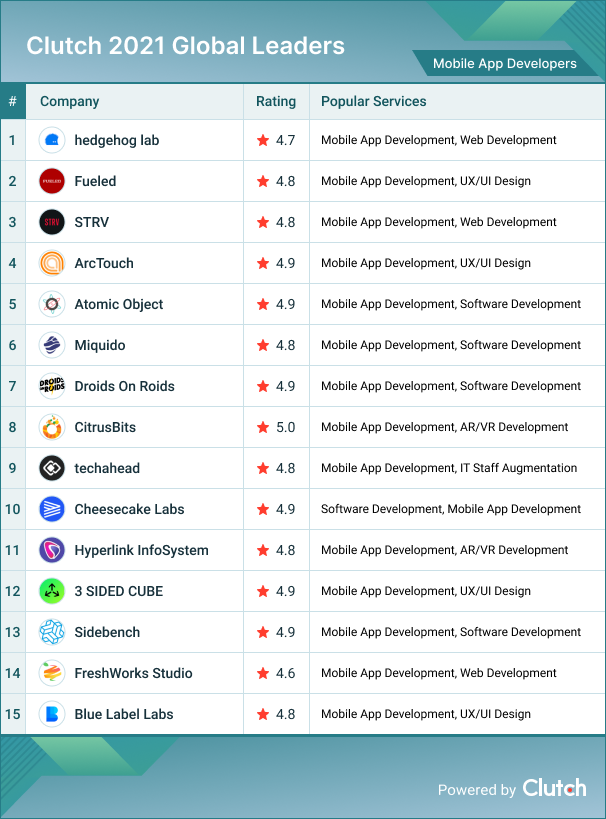 Web Developers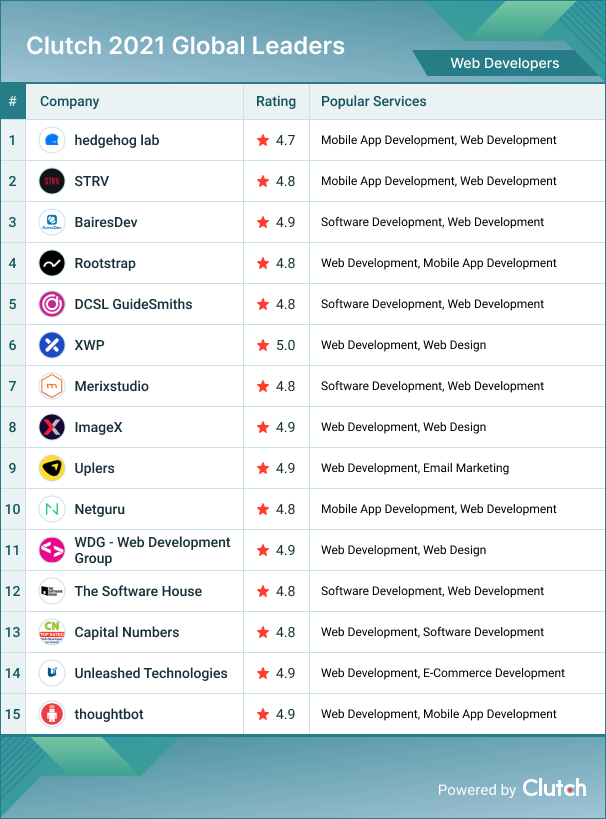 IT Consulting Companies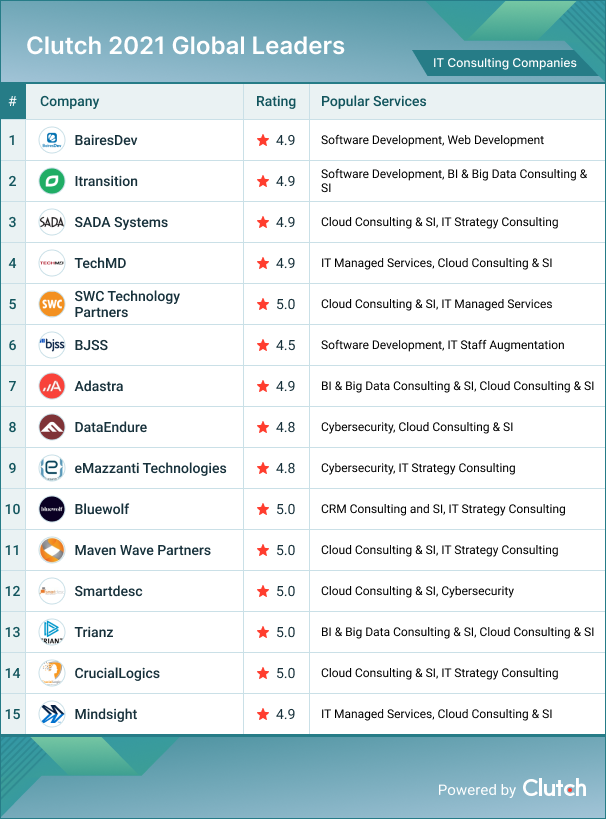 MSP Services
Data Analytics Providers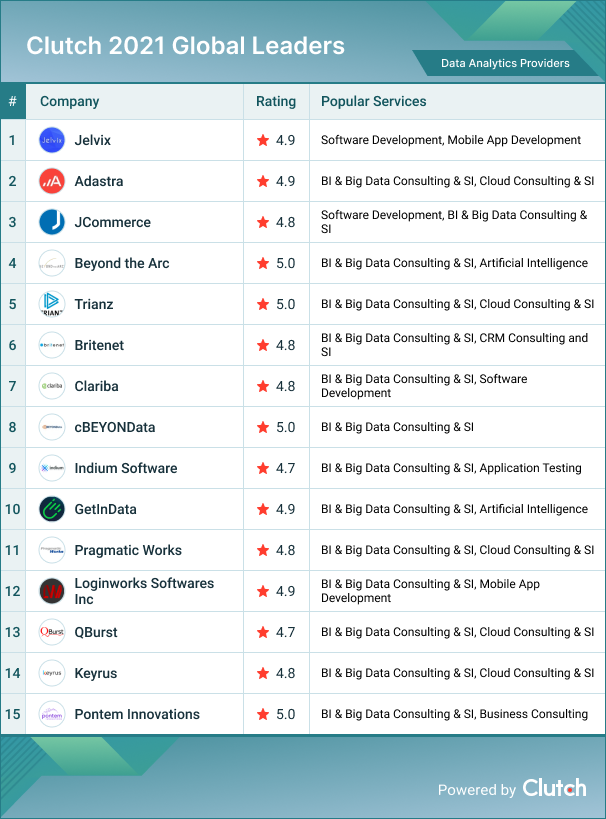 Cloud Computing Companies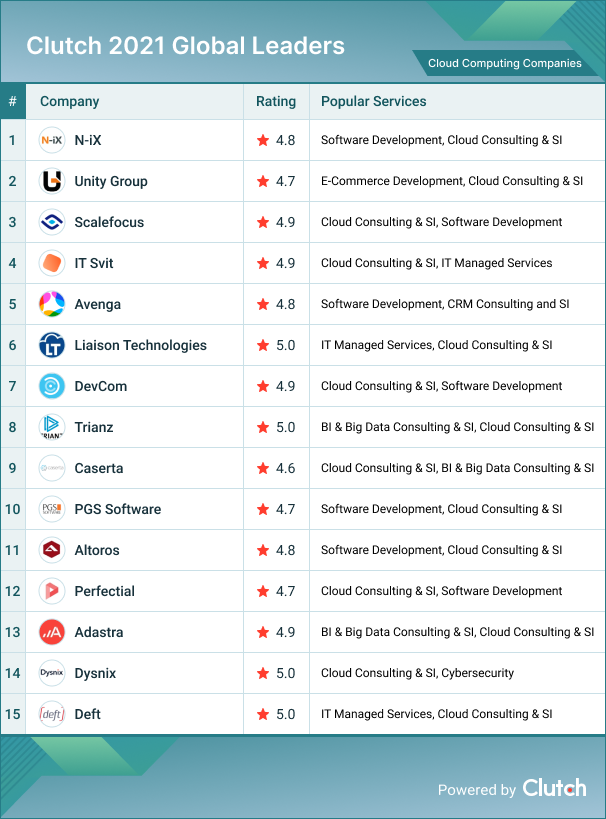 CRM Consulting Companies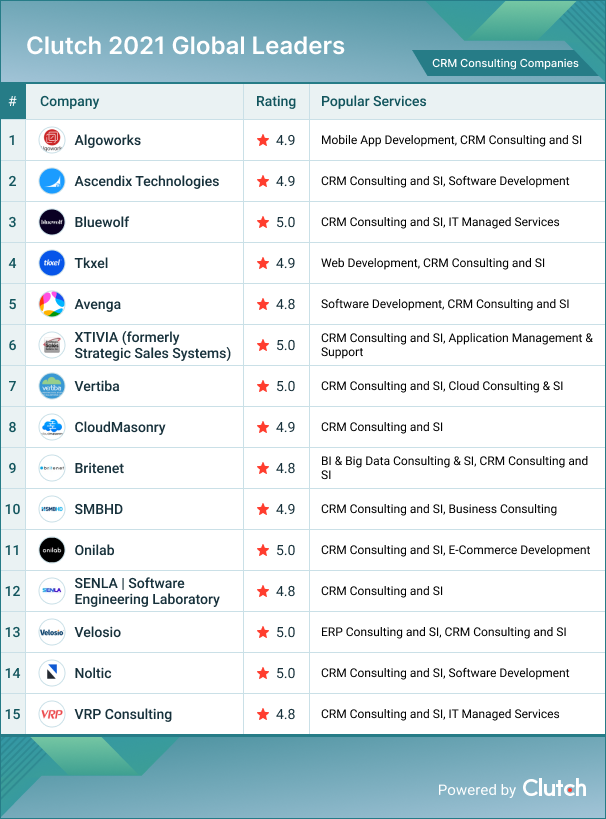 ECM Consulting Companies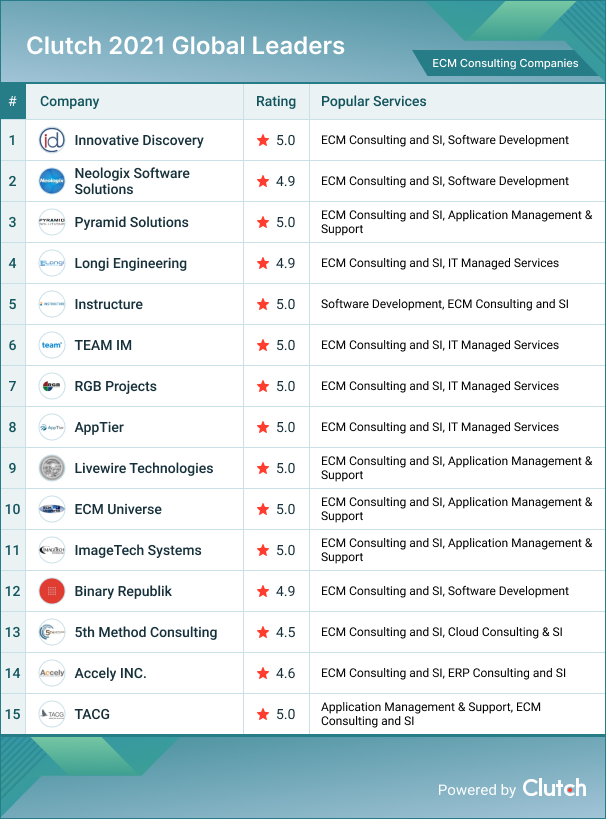 ERP Consultants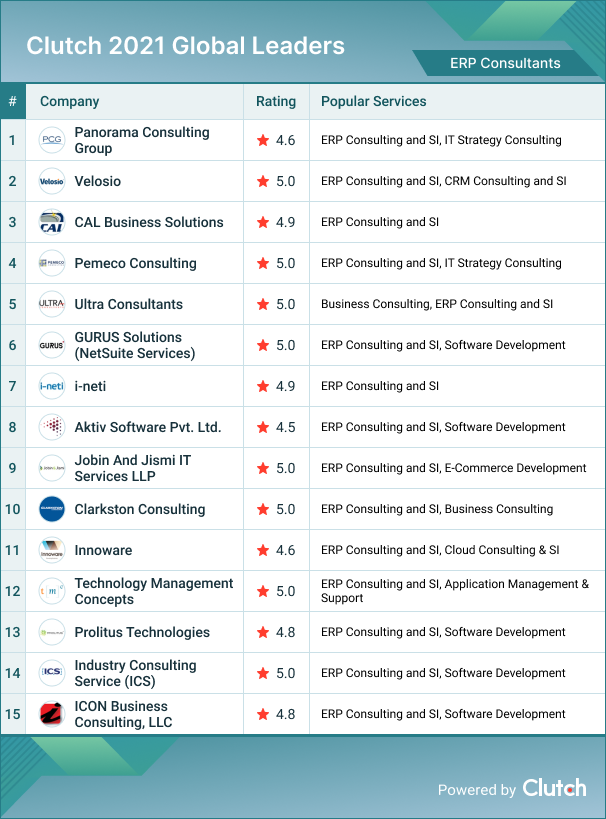 Productivity Service Providers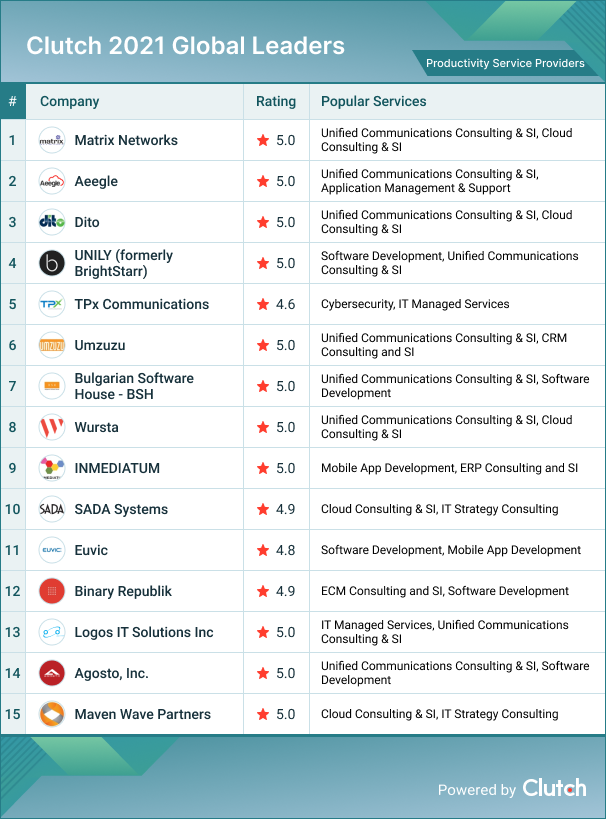 Cybersecurity Companies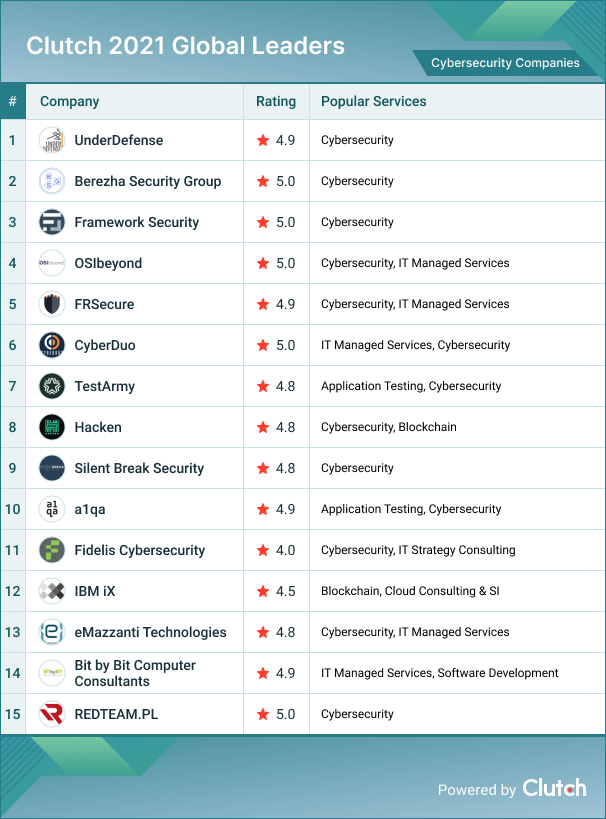 Staff Augmentation Providers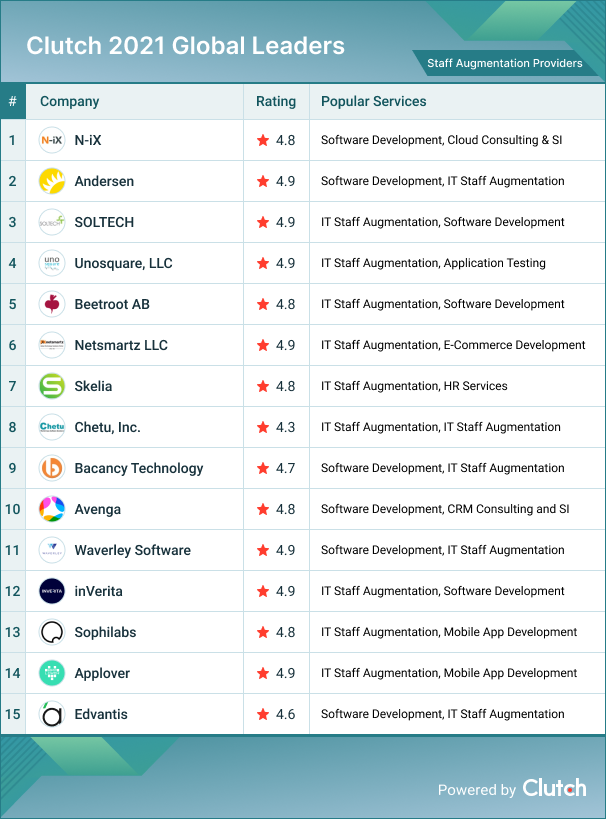 Systems Integration Providers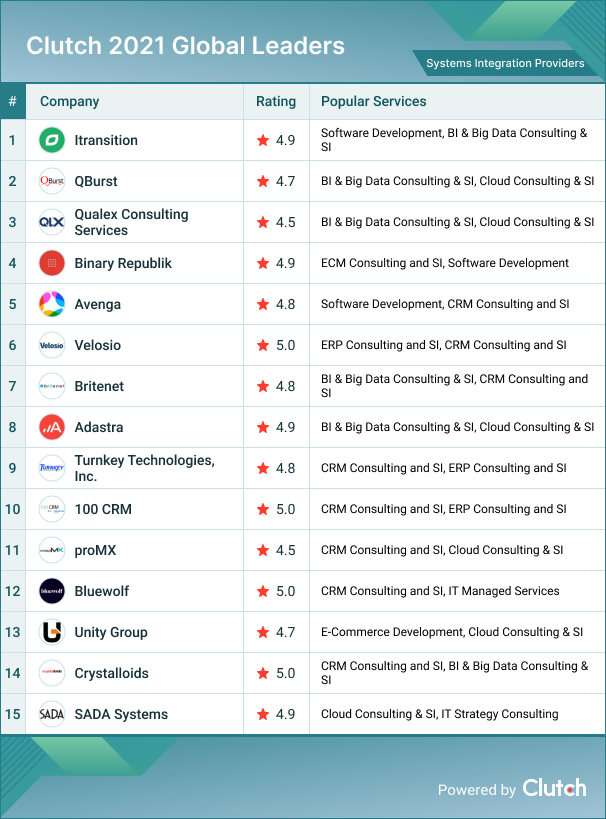 Results are a snapshot of Clutch's Leaders Matrices on November 11, 2021. Rankings are dynamic and this report may not reflect the rankings currently listed on Clutch's website.
About Clutch
Clutch is the leading ratings and reviews platform for IT, marketing, and business service providers. Each month, over half a million buyers and sellers of services use the Clutch platform, and the user base is growing over 50% a year. Clutch has been recognized by Inc. Magazine as one of the 500 fastest growing companies in the U.S. and has been listed as a top 50 startup by LinkedIn.
Contact
Anna Peck
awards@clutch.co