This updated research identifies sixteen leading digital agencies that excel at social media marketing.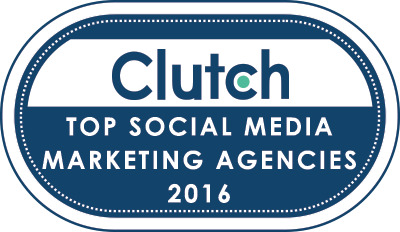 WASHINGTON, January 21, 2016 – Today Clutch published an updated report on leading social media marketing agencies. The research identifies firms with an outstanding record of client satisfaction in social media marketing among other digital marketing services.
The selected firms are: Project Bionic, Friendemic, LYFE Marketing, Social Vantage, Viral In Nature, SociallyIn, Bad Rhino, True Voice Media, Single Grain, Appency, EMSI Public Relations, Intrapromote, The Mechanism, Shelton Interactive, Booyah Advertising, EnVeritas Group.
 "Social media marketing increases brand recognition and inbound traffic, giving businesses more opportunities to convert those leads into projects," stated Eleonora Israele, Analyst at Clutch. "The selected firms have a proven record of creating social media marketing campaigns that deliver results to their clients."
Clutch analysts performed a thorough assessment of social media companies from all over the country. The top agencies were evaluated on market presence, company experience, industry recognition, and client feedback among other criteria.
Clutch's effort to identify leading social media marketing agencies remains ongoing, and the firm encourages companies to participate in future research updates. Upcoming publications will highlight SEO companies in Canada and the UK.
About Clutch
Clutch is a Washington, DC-based B2B research firm that identifies top service providers and solutions firms that deliver results for their clients. The Clutch methodology is an innovative research process melding the best of traditional B2B research and newer consumer review services. To date, Clutch has researched and reviewed 1000+ companies spanning 50+ market segments.
Contact
Eleonora Israele
(202) 540-9093