FOR IMMEDIATE RELEASE
Media Contact
Morgan Flores
Director of Performance Marketing
awards@clutch.co
Washington, D.C., August 23, 2022 — Independent B2B ratings and reviews site, Clutch announces its highly anticipated leaders' rankings for New York's top B2B firms this 2022.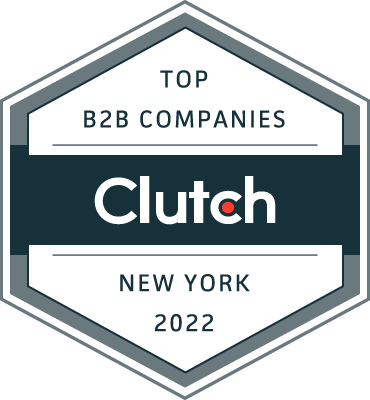 Last year, New York released its Internet Master Plan, a momentous step towards bridging the digital divide for minority- and women-owned businesses. The plan is to incentivize and invest more in affordable internet services for New Yorkers, buoying confidence among business owners and skilled professionals.
The Clutch Leader Awards are highlighting the outstanding dedication and skills of New York's finest service providers. The platform's analysts meticulously researched each leader in the rankings throughout the year. For the prestigious list, a number of factors, including client feedback and social media presence, are carefully considered.
"The entire Clutch team couldn't be more proud of the determination and contributions of New York's B2B leaders," said Clutch Senior Customer Operations Manager Ariel Smith. "This award is a curtain call and the well-deserved applause for hard work. Here's to more success ahead!"
Interested to win this award one day? Learn more about the requirements for the Clutch Leader Awards and register right away.
Top Service Providers
Results are a snapshot of Clutch's Leaders Matrices on August 16, 2022. Rankings are dynamic and this report may not reflect the rankings currently listed on Clutch's website.
About Clutch
Clutch is the leading ratings and reviews platform for IT, marketing, and business service providers. Each month, over half a million buyers and sellers of services use the Clutch platform, and the user base is growing over 50% a year. Clutch has been recognized by Inc. Magazine as one of the 500 fastest growing companies in the U.S. and has been listed as a top 50 startup by LinkedIn.
###